Tea Party Ideas for Kids
Make an ordinary day memorable by having a Tea Party for the special little ones in your life! I've compiled the Ultimate Guide to Tea Party Ideas for Kids with step-by-step ideas and recipes to help you make it happen!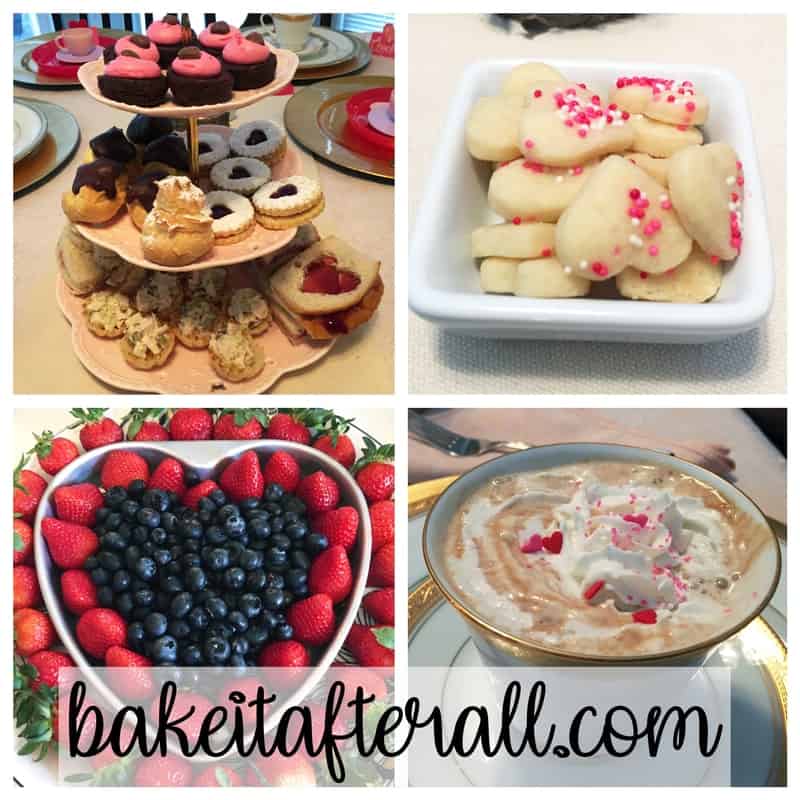 Years ago when I was in a Mothers of Preschoolers (MOPS) group, one of my friends in the group mentioned that she hosted tea parties for her daughters. This was very intriguing to me, so I asked a bunch of questions. I loved the idea so much I decided to try it with my girls. I included my nephews because I thought they would like it too.
We have since had many tea parties, some at my house, some at my sister's. The kids absolutely love these tea parties! Building family traditions has always been very important to me because I grew up with an extended family with very strong traditions. I think having that sense of dependability is very important to children, so I strive to create and reinforce traditions with my kids.
In the same way that vacations create family memories by breaking up the everyday and providing an impressionable moment in time for your children, so do tea parties. My girls still talk about tea parties we had years ago, and they often remember more than I do about them!
I thought this post might be most topical now, when many of us are home a bit more, when many planned vacations have been canceled, and when our kids' activities are being reduced, postponed, or canceled altogether. I think many parents are facing a summer of "what the #@%* are we going to do?!" Sure, you may have plans to pull out the inflatable pool or hit up a park, but what if it rains? Having a few indoor activities planned can help break up the boredom and the urge to hand your kids the iPads.
In fact, on my last grocery trip before lockdown I grabbed some St. Patrick's mini desserts in anticipation of a very boring spring break. We had our St. Patrick's Day Tea Party in Quarantine- and it was Bob's first tea party with us! 
Tea Parties are NOT just for girls!
Break out of those gender stereotypes! My nephews enjoy tea parties just as much as my daughters. Perhaps it's their young age, but even if your boys are a little older, you can take the tea party concept and call it something else so they don't refuse to attend 🙂 Are they really going to turn down desserts?!
Planning a Tea Party
I've outlined a few steps that I take when I throw a tea party to make it a little easier to get started. So let's take a look.
Decide on a theme
I typically let the season dictate the theme of the tea parties I've thrown. The first tea party I had was simply a "Summer Tea Party." We've also done a "Fall Tea Party," a "Christmas Tea Party," a "Valentine Tea Party," a "St. Patrick's Day Tea Party," an "Easter Tea Party," and so on. We're very creative . . .
Rather than focusing on a season, a kid-themed tea party would be super cute. I can imagine a Unicorn Tea Party, a Disney Tea Party, a Princess Tea Party, and many more. It may depend on the age group of the children you're hosting the tea party for and what their specific interests are.
Develop a menu
I will be sharing recipes to make homemade food and drinks, but depending on the time of year or what we had going on, I definitely have taken advantage of store bought items to fill in. You'll notice from my past tea party pictures that I often have a combination of homemade and store bought desserts. You do not need to be a baker to host a tea party! In fact, all of the desserts from this Fall Tea Party were purchased at Trader Joe's and a local grocery store! Some of my favorite little brownie bites from that store are topped with edible, seasonal decorations – for fall they had little pumpkins on top and for Christmas little gingerbread people.
You can even dress up a homemade dessert with a premade item, like my sister did with these Sugar Roses on her homemade brownie bites.
We usually do a featured drink, scones or biscuits, little sandwiches or savory bites, and desserts.
Drinks
It's a tea party so you have to have tea, right? Not necessarily. We usually pick a kid friendly drink that goes with the theme. We've done a Strawberry Tea Punch (which has a small amount of decaf tea) or lemonade in the warmer months, Fancy Hot Chocolate in the cooler months, and Shamrock Shakes for St. Patrick's Day.
My kids don't get juice on a daily basis, so they get excited for even plain lemonade, but there are endless possibilities of punch recipes (of all colors!) out there. My all time favorite punch being our Christmas Punch, which you can serve any time of year it's just that we happen to make it on Christmas Eve! I also love the punch we have at our annual Halloween Party, the Witches Brew Punch.
Scones
Scones are the quintessential tea party food. Nothing exudes "British Tea Party" more than a good scone. I try to include scones at each tea party. Once I did Cheddar Bay Biscuits, but just about every other tea party has included scones. I usually choose a sweet scone like Classic Cream Scones but have also made Cheddar Dill Scones as well. The same MOPS friend who told me about the tea party concept recommended her mini scone pan, and I just love it! This pan makes 16 mini scones from a typical batch. These mini scones are the perfect size for a tea party, especially when there will be desserts as well.
Savories
Tea sandwiches – Any kind of sandwich cut into small pieces will do. I sometimes use cookie cutters to make the sandwich into a specific shape, like a leaf for Fall. I have also used a cookie cutter on just the top piece of bread so that the filling is showing through the cut out, like a heart for Valentine's Day in a cream cheese and jam sandwich or a PB&J. We've also done warm paninis cut into smaller pieces.
Even something simple like peanut butter on toast or grilled cheese cut with a cookie cutter can be fun!
For our most recent Quarantine St. Patrick's Day Tea Party, I kept it super simple and just had peanut butter & jelly sandwiches cut into triangles. We didn't even cut off the crust – no need to waste bread at a time like this! Except on the sandwich for my youngest, who refuses to eat crust . . .
For Christmas Tea Parties I've served these Turkey and Cranberry Tea Party Sandwiches. The colors are so festive, and would work for Valentine's Day too.
Small bites – we've done phyllo cups filled with chicken salad, spinach artichoke filling, or caramelized onions, big pieces of puff pastry tarts cut into small pieces, mini quiche, tartlets, and warm appetizers. Pretty much any appetizer that can be made into a smaller portion is perfect for a tea party.
Snack items – consider serving small crackers, pretzels, or popcorn if you think your kids may not like the appetizer-type food. Goldfish crackers, pretzel Goldfish, or popcorn can easily be served in a paper cupcake liner for a cute presentation.
Fruit
Our tea parties ALWAYS include fruit. My kids love it, and it's easy to make it cute and themed. We've done fruit cups in little plastic containers, fruit in aluminum cupcake liners, fruit kabobs (like these adorable Grinch kabobs on mini bamboo skewers), and themed fruit trays. If you're in a rush, a bowl of seedless grapes will do just fine!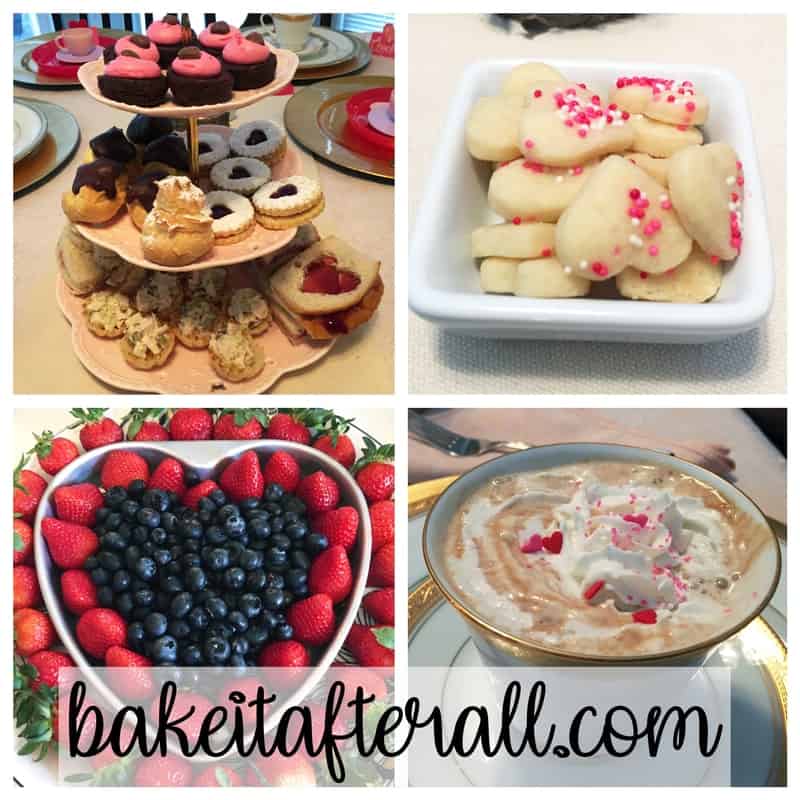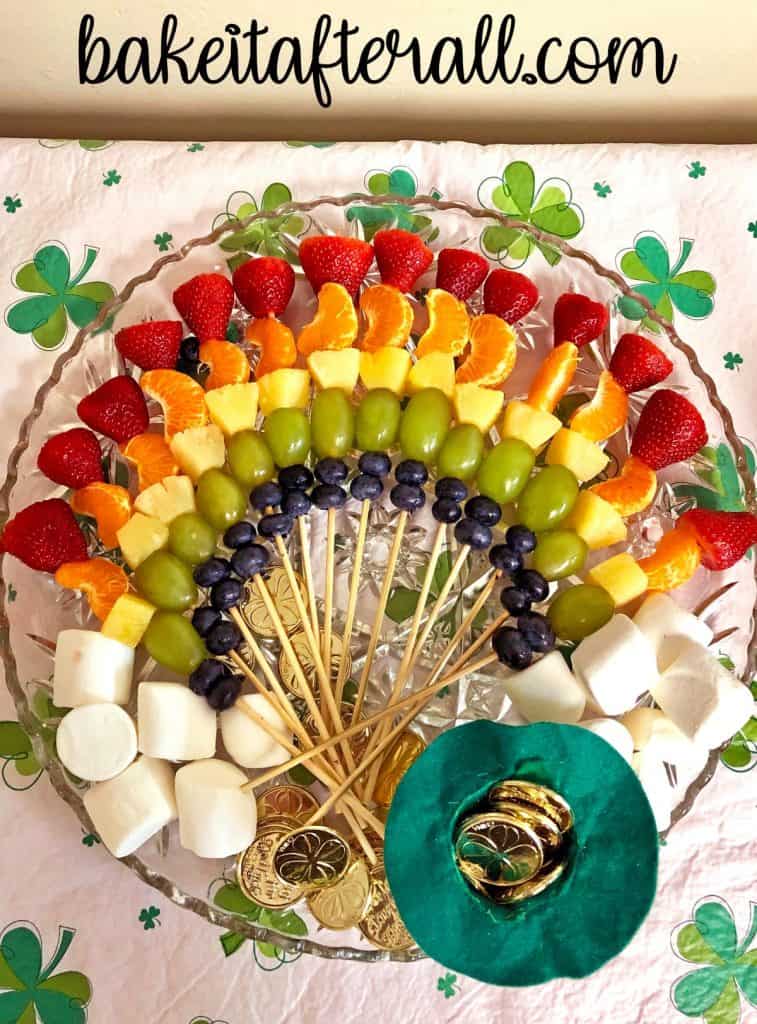 Sweets
Most tea parties have at least 2 small dessert offerings. I try to have 2 – 3, not including the scones which may be sweet and sometimes the "drink" is also a dessert – such as Pink Citrus Sherbet Punch, hot chocolate, or Shamrock Shakes in the case of our St. Patrick's Day Tea Parties.
Some ideas for small desserts include mini cheesecakes, cookies, cupcakes, brownies, and mini cream puffs.
Attire
We usually dress up a little for tea parties. My girls ask to wear fancy dresses and sometimes jewelry. My nephews come in the most adorable little outfits- sweater vests, bow ties, the works. It's a fun chance to get to dress up a little fancier than you normally would for lunch at a friend's house.
Decorations and Place Settings
Tea Parties are my excuse to break out my cloth tablecloths and fancy dishes. If you have fine China, now is a good time to use it! Even if you don't trust your toddler with fragile plates, you can use the China for serving platters or only give China to the adults and give the young kids paper or plastic plates. Once each of my older girls turned 5, I started letting them use the China plates. It depends on the personality of the kid though because I don't envision giving my 4 year old China anytime soon! 
Cloth linens are certainly not required for a tea party. A colorful disposable tablecloth and cute paper plates and napkins will work perfectly! In fact, some stores even sell the most adorable paper tea cups with handles and paper plates. They are a little pricey but SO CUTE!
I like to use table cards on holidays when we are sitting in the dining room so everyone knows where to sit. It's often a strategic placement of our kids in proximity to us so we can help them with their food, my Dad in an easier to access seat, my sister near her kids, etc. Normally I make table cards using my Silhouette, but a couple times at tea parties I've used a cookie to indicate the seating arrangement. I did this either by piping melted white chocolate onto a dark chocolate background with the Espresso Chocolate Chip Shortbread Cookies, or by using Edible Food Markers on Royal Icing and my go-to Sugar Cookies.
These markers can also be used directly on Iced Vanilla Shortbread Cookies to write names. This avoids having to use royal icing! Full details are in my Painted Watercolor Cookies post.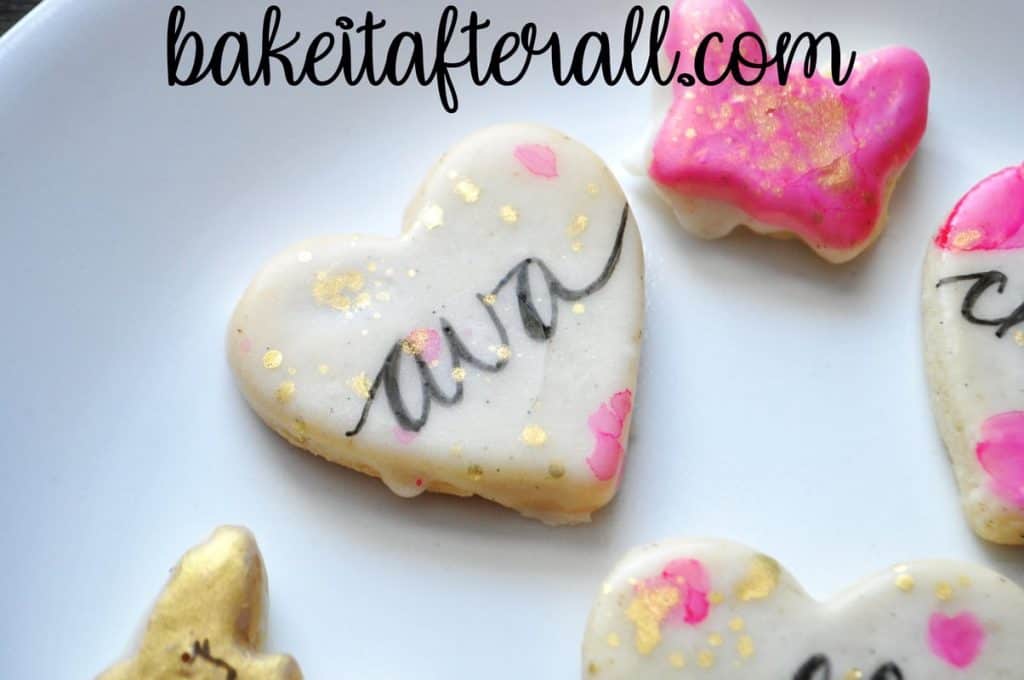 I like to use 3-tiered servers at tea parties. I sort of have a thing for 3-tiered servers . . . I have a basic white one, one I bought to match my grandma's China, and I got this one three years ago for our Valentine Tea Party. It's pink and gold and has little butterfly cut outs. I also have this clear acrylic one with a gold handle that is more neutral and goes with everything. If you don't already have a 3-tiered server, consider using a cake plate, or just nice serving platters. I always break out my teapots as well. I'm guessing many people my age may not even own a teapot, but I have one to match each set of China I own. I suppose I'm an old soul in that regard.
Break the Rules
Just like at real Afternoon Tea, I serve all the food at the same time. So the rule of "if you finish your lunch, you get dessert" goes out the window. I don't have any rules regarding eating on Tea Party days. If my 4 year old wants to eat a cookie and fruit and nothing else, that's ok. It's sort of my policy for holidays as well. I don't stress if they don't eat much food on Thanksgiving – they still get pie. It's a special day, and the rules are different on special days (in my humble opinion).
Say Cheese!
Remember to take pictures of your kids at your tea party. I promise, you will look back on them and smile. In preparing this post, I looked back on 5 years of tea parties, and I'm so glad I have the pictures. Most importantly, I'm glad that my kids have the memories. They kept seeing photos pop up on the screen and would say things things like, "oh! I remember that! That was the BEST DAY EVER!" Then my 6 year old said, "Mommy, when I grow up I want to throw tea parties. Will you help me?" Melt my heart!
Tea Party Recipe Ideas
I've compiled suggestions from each category in list form below. Recipes labeled "coming soon" will be updated as the recipes are posted. Some items in the list, such as apple cider, are store bought, so no link is required. 🙂
Drinks
Pink Citrus Punch {Christmas Punch}
Witches Brew Punch
Fancy Hot Chocolate with Homemade Marshmallows
Oreo Shamrock Shakes
Lemonade Tea
Lemonade
Apple Cider
Strawberry Tea Punch (coming soon!)
Scones
Cheddar Dill Scones
Cheddar Bay Biscuits
Classic Cream Scones
Chocolate Chip Scones
Skinny Chocolate Chip Scones
Pumpkin Scones
Dark Chocolate Cranberry Scones (coming soon!)
Savories
Turkey and Cranberry Tea Party Sandwiches
Chicken and Pumpkin Tart Appetizer
Tomato Tart
Bruschetta Grilled Cheese Sandwiches
Turkey Pastrami Reuben Sandwiches
Harvest Chicken Salad on croissants or in phyllo cups
Baked Southwestern Egg Rolls made mini
Caprese Salad Skewers
Prosciutto and Melon Bite Sized Appetizer
Bacon Stuffed Cherry Tomato Appetizers
Double Tomato Bruschetta
Whole Foods Copycat Spinach Artichoke Dip in phyllo cups
Cucumber Rye Sandwiches (coming soon!)
Benedictine Spread on Pumpernickel (coming soon!)
Tomato, Mozzarella & Basil Puff Pastry (coming soon!)
Peanut butter and jelly sandwiches, cut into triangles
Jam and cream cheese sandwiches, cut into triangles
Mini Quiche
Sweets
Iced Vanilla Shortbread Cookies
Painted Watercolor Cookies
Painted Rainbow Cookies
Mini Red Velvet Cheesecakes
Mini New York Cheesecakes
Bailey's Irish Cream Mini Cheesecakes
Mini Hot Chocolate Cheesecakes
Mini Mocha Cheesecakes
Black Bottom Caramel Pumpkin Cheesecake Bites
Mini Pumpkin Cheesecakes
Mini Pina Colada Cheesecakes
Pumpkin Spice Magic Bar Minis
Red Velvet Brownies with Cheesecake Swirl
Oyster Pearl Cookies
Best Gooey French Brownies
Outrageous Brownies
Chewy and Fudgy Brownies
Cranberry Christmas Cake
Poppy Seed Bread
Pineapple Carrot Bread
Zucchini Bread
Mexican Chocolate Black Bottom Cupcakes
Easy Homemade Cream Puffs made mini
Santa's Whiskers / Leprechaun Whiskers (same recipe but no red cherries)
Tres Leches Cupcakes with Dulce de Leche Buttercream
Baby Bluebird Cupcakes
Carrot Cupcakes
Espresso Chocolate Chip Cookies
Triple Chocolate Biscotti
[Not My] Granny's Sugar Cookies
Browned Butter Sugar Cookies
Citrus Glazed Butter Cookies
Chocolate Butter Spritz Cookies
Chewy Oatmeal Cookies
Butter Cookies
Chocolate Covered Cherry Cookies
Coconut Macaroons
Soft Frosted Sugar Cookies
Stuffed Strawberries
Chocolate Covered Strawberries
Nut Free Linzer Cookies
Oatmeal Cream Pies (coming soon!)
Sugar Plum Jam Cookies (coming soon!)
Fruit Tartlets (any tart recipe and make in muffin or mini muffin pan)
Filed Under:
Appetizers
,
Brownies
,
Cake
,
Cheesecake
,
Chocolate
,
Cookies
,
Cupcakes
,
Dessert
,
Gluten Free
,
Holiday
,
Party
,
Snack
---
---