Mini Mocha Cheesecakes
Mini Mocha Cheesecakes have a smooth, creamy mocha flavored filling on top of a chocolate sandwich cookie crust. A bite sized dessert ideal for chocolate and coffee lovers!
My mom found a full sized mocha cheesecake recipe in Good Housekeeping Magazine and sent it to me. Not only because we both love mocha, but because the original recipe calls for a gluten free cookie crust, which is pretty rare! In line with my Mini Bailey's Irish Cream Cheesecakes, Mini Pina Colada Cheesecakes, and Mini Pumpkin Cheesecakes, I decided to turn it into a mini version!
The cheesecake filling from this recipe is super smooth and creamy, and the flavor is perfect for a chocoholic like myself. Although my girls are not picky about desserts, they loved these. As with other coffee flavored desserts such as Chocolate Layer Cake and Outrageous Brownies, the espresso/coffee helps enhance the flavor of the chocolate. I think even people who don't like coffee would like these!
I loved the chocolate mocha filling of these cheesecakes so much that I'd like to try making the full sized version some time, or perhaps I'll tweak it into a new flavor! (Update: see the full sized Mocha Cheesecake HERE).
Recipe Details
Making the Crust
This simple crust consists of chocolate sandwich cookie crumbs (such as Oreos or a gluten free variety) and melted butter. As with most recipes, I like to mix the crust using one of my favorite small silicone spatulas.
The crust mixture is divided among the wells of two mini cheesecake pans and pressed down. The mini cheesecake pan has removable bottoms that you push up from underneath that help remove them from the pan. If you don't own a mini cheesecake pan, you may use a mini muffin pan or a standard muffin pan. I highly recommend using cupcake liners if you do this to allow you to easily remove the cheesecakes from the pan. Alternatively, you could use silicone muffin pans that would allow you to remove them easily.
The crust is baked and then set aside to cool while you make the filling.
Making the Chocolate Mocha Cheesecake Filling
The filling is a basic cheesecake filling, with the addition of melted chocolate, cocoa powder, brewed coffee, and espresso powder. I use Medaglia D'Oro brand espresso powder. Years ago I had to purchase this at a specialty Italian foods store, but now my local grocery store carries it by the instant coffee.
For the chocolate, I recommend using Ghirardelli bittersweet chocolate chips. Most recipes suggest NOT to use chocolate chips because of the coating on them that prevents them from sticking together. I find that Ghirardelli brand melts easily and makes a super smooth melted chocolate.
Once all the ingredients have been beaten together, the chocolate coffee batter is ready to be added to the pan.
My favorite way to fill mini cheesecake pans is by using a medium sized batter scoop. Depending on the size of your scoop, you may need 1 or 2 scoops to fill each well of the pan 3/4-full.
Once the batter is scooped into the pan, the cheesecakes are ready to bake. This recipe made 21 mini cheesecakes, so I used both of my mini cheesecake pans.
Once the cakes have baked, they need to cool to room temperature. They are then ready to be drizzled with melted chocolate, or they can be refrigerated and the drizzle added later.
Optional Drizzle Topping
After the cheesecakes have cooled completely, they are removed from the pan and placed on top of piece of waxed paper on a cooling rack.
I like to use a disposable piping bag and small round tip with a plastic coupler to drizzle the melted chocolate on top. This gives you much more control and stability over how the drizzle comes out. You can also use a gallon sized resealable bag with the tip of a corner cut off.
I just wave the bag back and forth while pressing gently to make a zig zag drizzle pattern across each cheesecake.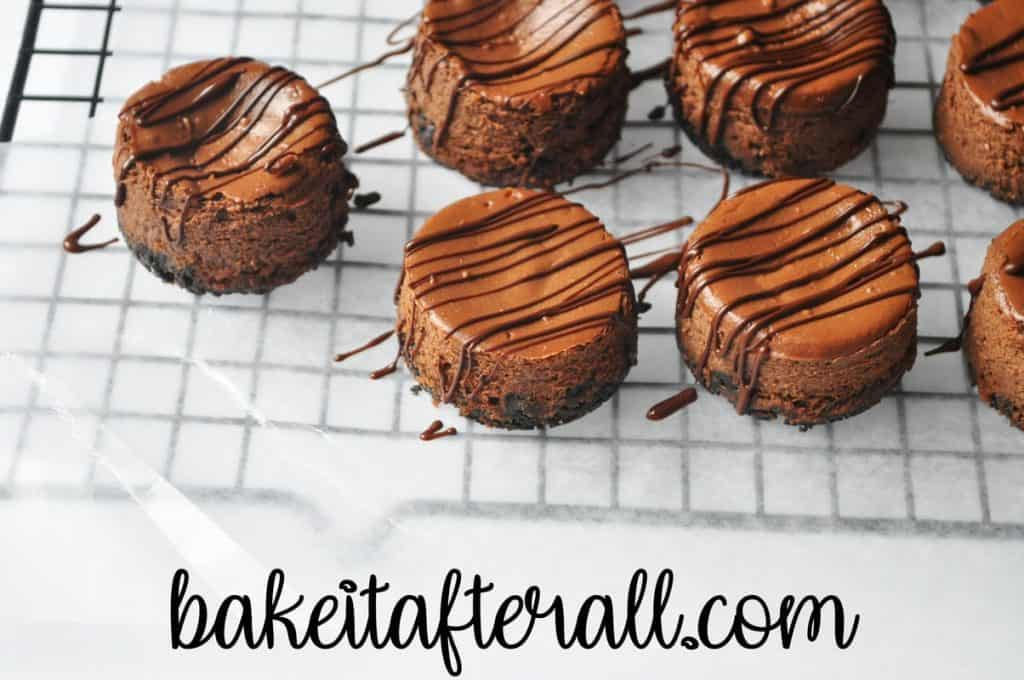 The cheesecakes are finished and can be refrigerated until ready to serve!
Gluten Free Mocha Cheesecakes
Use gluten free chocolate sandwich cookies (such as Glutino) in place of Oreos for the cookie crust for an entirely gluten free dessert!
Looking for More Mini Desserts?
Check out these other Bite Sized Desserts:
Mini Hot Chocolate Cheesecakes
Mini Red Velvet Cheesecakes
Bailey's Irish Cream Mini Cheesecakes
Mini Pina Colada Cheesecakes
Mini New York Cheesecakes
Mini Pumpkin Cheesecakes
Black Bottom Caramel Pumpkin Cheesecake Bites
Pumpkin Spice Magic Bar Minis
See my Best Mini Cheesecake Recipes for a roundup of great recipes and lots of mini cheesecake tips and answers!
Looking for More Desserts for Chocolate Lovers?
Check out these other recipes featuring Chocolate:
Mocha Cheesecake
Mocha Cream Cake
Espresso Chocolate Chip Shortbread Cookies
Godiva Chocolate Cheesecake – Cheesecake Factory Copycat
Ina's Outrageous Brownies
Chocolate Layer Cake
Chocolate Fudge Layer Cake with Coffee Buttercream
Best Gooey French Brownies
Dark Chocolate Mascarpone Brownies with Blueberry Gananche
Salted Caramel Chocolate Fudge Cake
Rich Chocolate Bundt Cake
Cherry Chocolate Cheesecake Bundt Cake
Bailey's Irish Cream Cheesecake
Mini Mocha Cheesecakes have a smooth, creamy mocha flavored filling on top of a chocolate sandwich cookie crust. A bite sized dessert ideal for chocolate and coffee lovers!
Equipment
two 12-cup mini cheesecake pans
Ingredients  
For the Crust:
3

tablespoons

salted butter

(melted)

16

chocolate sandwich cookies

(such as Oreo or gluten free)
For the Filling:
3

ounces

bittersweet chocolate

2

tablespoons

strong coffee or espresso

1/2

tablespoon

espresso powder

1/2

teaspoon

vanilla

12

ounces

cream cheese

(1 1/2 packages)

2

tablespoons

unsweetened cocoa powder

2

eggs

1/2

cup

sugar
For the Drizzle Topping:
1

ounce

bittersweet chocolate

(melted)
Instructions 
Preheat oven to 300 degrees F. If using mini muffin or standard size muffin pans, line the pans with cupcake liners.
Make the Crust:
In a small bowl, combine the cookie crumbs and melted butter. Divide into the cups of a mini cheesecake pan or mini muffin pan and press down.

Bake the crust for 8 – 10 minutes until fragrant. Cool completely.
Make the Filling:
In a small bowl, melt the bittersweet chocolate at 50% power in 30-second intervals, stirring in between, let cool.

In another small bowl, stir together the coffee, espresso powder, and vanilla. With the mixer on medium-high speed, beat the cream cheese until smooth. Reduce the speed to low and beat in the cocoa powder and sugar, scraping down the bowl occasionally.

Beat in the coffee mixture. Increase speed to medium and add the eggs once at a time, beating well in between additions and scraping down the bowl.

Beat in the melted chocolate just until well mixed.
Bake the Cheesecakes:
Scoop the batter into the wells of the mini cheesecake or mini muffin pan, filling each well 3/4-way full. Bake for 15 – 25 minutes until the cheesecake is set.

Set pans aside to cool to room temperature before removing from pan or refrigerating.
Add the Drizzle (optional):
Carefully remove cooled cheesecakes from pans and place on top of a cooling rack lined with waxed paper.

Melt chocolate at 50% power in 30-second intervals in the microwave, stirring between each interval. Transfer melted chocolate to a piping bag or a resealable gallon sized bag with a corner cut off.

Drizzle melted chocolate over the top of each cheesecake.
Notes
Source: Adapted from Good Housekeeping
You're Gonna Bake It After All
bakeitafterall.com
---
---