Best Mini Cheesecake Recipes
The BEST Mini Cheesecake Recipes rounded up in one place with gluten free cheesecake options! No mini cheesecake pan? No problem. I'll answer all of your mini cheesecake questions! Instructions for baking in different pans included.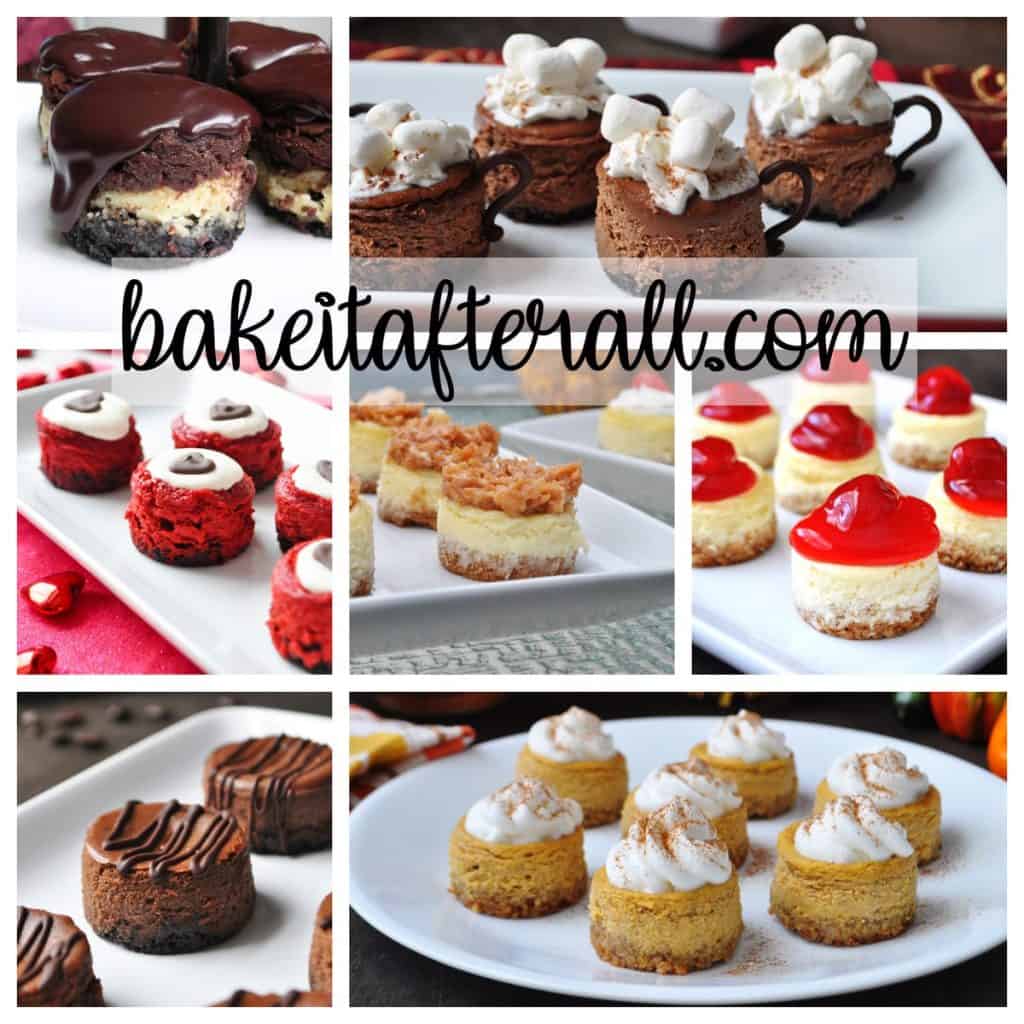 Mini cheesecakes are just about the perfect dessert. They have all of the flavors and texture of cheesecake in a miniature version. I have made them for parties, potlucks, Tea Parties, and Holiday Open Houses. Due to their small size, they are easy for guests to grab and still socialize. Unlike a full piece of cheesecake, you're not having to commit to just one dessert and can sample several. They don't even require a fork!
Here I summarize everything you want to know about mini cheesecakes! I'll take you through topics such as how to make mini cheesecakes in muffin pans, how to make mini cheesecakes with graham cracker crumbs or cookie crumbs, and how to store mini cheesecakes. At the end, I roundup some of my favorite mini cheesecake recipes!
You absolutely do not need a mini cheesecake pan to make mini cheesecakes, although it does make it easier. The reason for this is because the pan features removable bottoms in each well that you push up on from underneath to easily remove the cheesecakes from the pan. The same idea as a springform pan. If you plan on making mini cheesecakes repeatedly, I do recommend investing in one or two of these pans. I own two so I can make a large batch (24) of cheesecakes for parties, trivia nights, etc.
While I have two of these pans, there are less expensive versions such as these pans. Although I haven't tried that brand myself, the reviews are quite good.
How to Make Mini Cheesecakes in Muffin Tins
If you do not own a mini cheesecake pan and it's not the right time to invest in one, you can certainly use a mini muffin pan to make any of these recipes. In that case, I highly recommend using mini cupcake liners. You can remove them before you add the topping and decorations, but without using them it will be nearly impossible to get the cheesecakes out of the pan.
One other option is to use a standard size muffin pan. You will need to adjust the baking time to longer than for the mini cheesecakes. Like with the mini muffin pan, I highly recommend using cupcake liners in each cup before filling them with crust and cheesecake. Again, you can remove the liner before topping and decorating to give the cheesecakes a more finished look.
How to Make Mini Cheesecakes without Liners
If you're wondering how to make mini cheesecakes without using cupcake liners or a mini cheesecake pan, I recommend using a silicone mini muffin pan. The flexible "pan" allows you to push out the mini cheesecakes more easily from underneath.
Mini silicone baking cups are another option if you don't have a silicone pan.
For larger cheesecakes, a silicone muffin pan will help you avoid using liners as well.
Alternatively, you could use individual silicone baking cups for the cheesecakes.
How to Make Mini Cheesecakes
I will take you through the basic steps for assembling and baking mini cheesecakes. If you're looking for how to make mini no bake cheesecakes, I recommend these No Bake Chocolate Cheesecakes.
How to Make Mini Cheesecakes with Graham Cracker Crusts
Classic New York Cheesecake has a graham cracker crust. It's classic and simple. A typical graham cracker starts either with graham cracker sheets or store bought graham cracker crumbs. If you have the sheets, you can crush them using a food processor or by placing them in a resealable gallon sized freezer bag and crushing them with a rolling pin or meat tenderize. I recommend using a freezer bag because the crumbs often poke holes in thinner storage bags.
The crumbs are combined with melted butter and sometimes sugar depending on your recipe. Some recipes have a spiced graham cracker crust like these Mini Pumpkin Cheesecakes. You can add any flavoring or spices to the crust that you like, but you should avoid using liquid flavoring like extracts that may make the graham cracker crumbs soggy.
Mini Cheesecakes with Cookie Crust
Some mini cheesecake recipes call for a chocolate cookie crust. Many recipes call for using chocolate sandwich cookies, such as Oreos. These Chocolate Pumpkin Cheesecake Bars have a chocolate animal cracker crust.
First you'll need to crush your cookies into crumbs. You can do this with a food processor or by using a rolling pin or a meat tenderizer. The crumbs are combined with melted butter and sometimes granulated sugar.
How to Bake Mini Cheesecake Crust
Once your crumbs have been mixed up with melted butter and any other ingredients, you can divide the crust among the wells of your pan. You will typically add a few tablespoons to each well, depending on the size of your wells. The crumbs need to be pressed down in each cup. You can use your fingers, but I prefer to use a small cup and press down the crumbs to an even layer.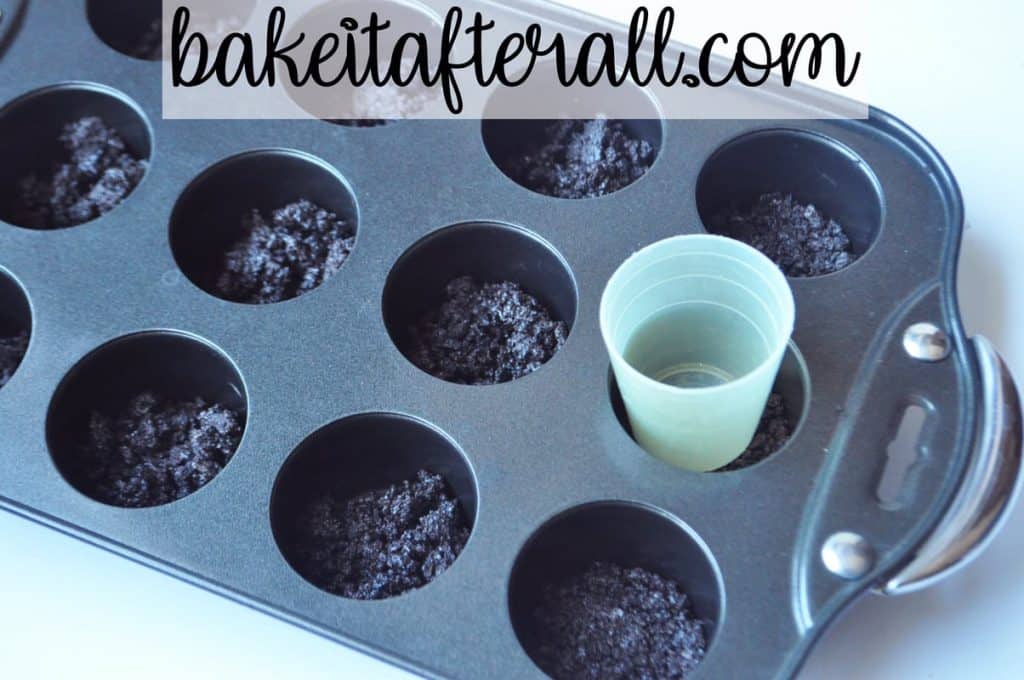 While I have seen mini cheesecake recipes that do not call for prebaking the crust, all of my recipes do include this prebake step. It helps crisp up the crumbs and allows them to hold together better. The crust is baked for around 8 to 10 minutes until fragrant and set. The crusts are set aside to cool completely while you make the filling.
How to Make Mini Cheesecake Filling
The ingredients in your mini cheesecake batter will depend on the recipe. Most have cream cheese, granulated sugar, and eggs at a minimum, then some kinds of flavoring such as vanilla, lemon zest, or chocolate. The batter comes together quickly in a stand mixer, but a hand mixer will work as well. My all time favorite kitchen tool is a mini silicone spatula. I have over 10 of them! These spatulas make scraping down the bowl in between mixing so much easier!
My favorite way to fill mini cheesecake cups is by using a mini cookie dough scoop. Depending on the size of your scoop, you may need 1 scoop or 2, sometimes I use 1 full scoop and then a half scoop.
It is very important with mini cheesecakes not to overfill the wells! The cheesecake filling typically rises during baking, so you'll want to fill your wells 3/4 of the way full.
If you overfill, your cheesecakes will rise up above the top edges and spill over. They will end up looking like muffins rather than cheesecakes! This has happened to me in my early days of making mini cheesecakes, and trust me, you want to avoid this. You're left with having to break off those overhang pieces and trying to cover it with ganache glaze or decorations. You've worked so hard making these, so you're going to want them to look as nice as possible!
How Long to Bake Mini Cheesecakes
Mini cheesecakes bake at a lower temperature than cookies. Most cookies bake at 350 degrees F, while mini cheesecakes bake at 325 or even 300 degrees F. This helps prevent them from baking too fast and cracking.
Full sized cheesecakes are often baked in a water bath to help regulate temperature and prevent cracking, but mini cheesecakes do not need a water bath. You may get some cracking, but all of my mini cheesecake recipes include a topping to cover that up!
How to Decorate Mini Cheesecakes
The decoration for your cheesecakes will depend on the type of cheesecake. The possibilities are endless, especially with whipped cream because you can add sprinkles for any occasion. I'll take you through some specific examples to give you some ideas!
One of my favorite toppings for mini cheesecakes is a chocolate ganache glaze, like on my Bailey's Irish Cream Mini Cheesecakes. The best thing about the ganache, other than the taste, is that it hides any imperfections in your cheesecakes. Little cracks are not a problem when covered with ganache.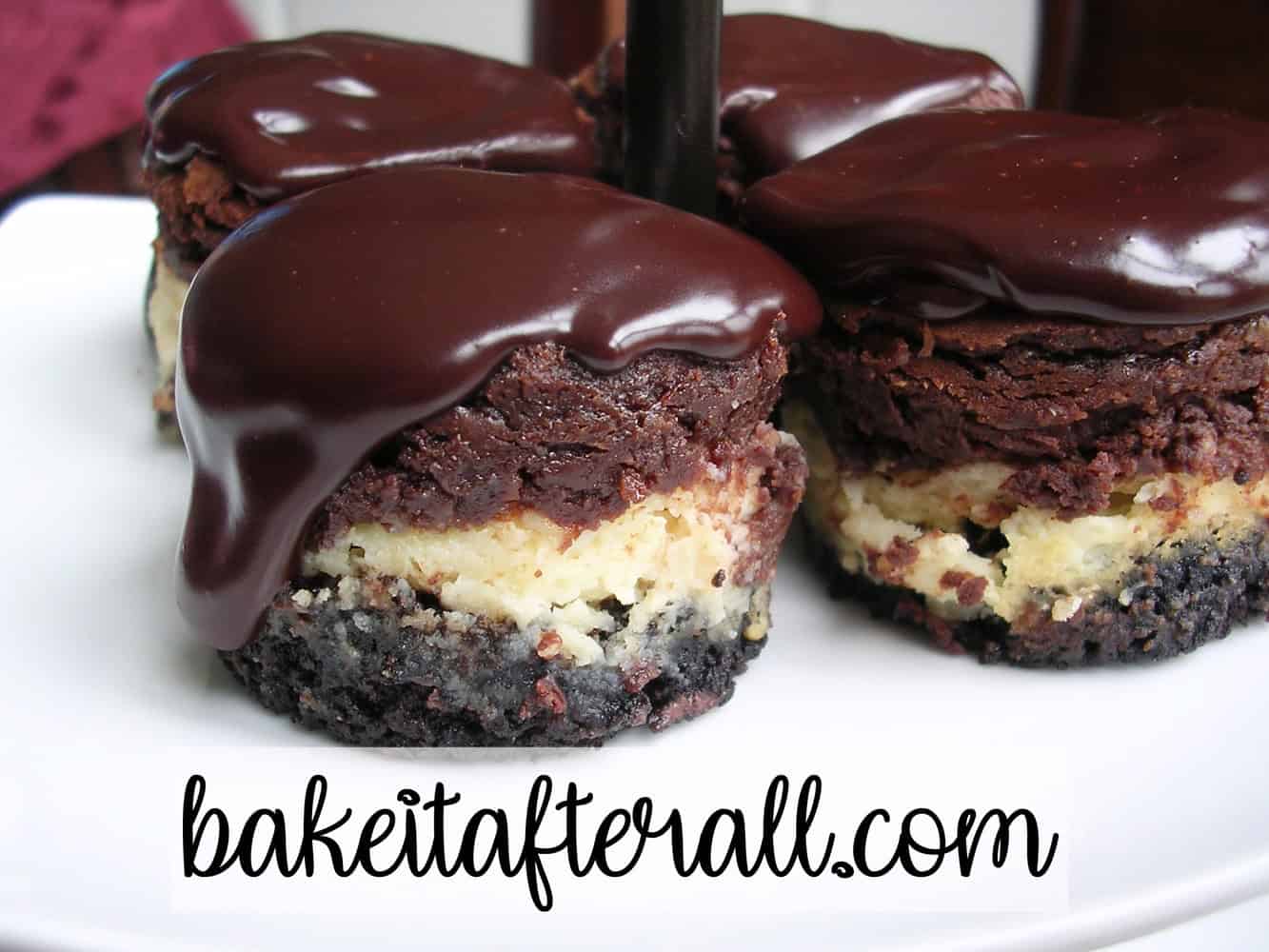 I love how the ganache drips down the sides. If you want a cleaner look, you can leave your mini cheesecakes in the pan or in a liner while adding the ganache, then remove them or remove the liner. That will give a more polished look if drips aren't your thing.
For my Mini New York Cheesecakes, I used strawberry pie filling because I didn't have any cherry pie filling. You can decorate mini cheesecakes with any flavor of pie filling, jam or preserves, whipped cream, or ganache.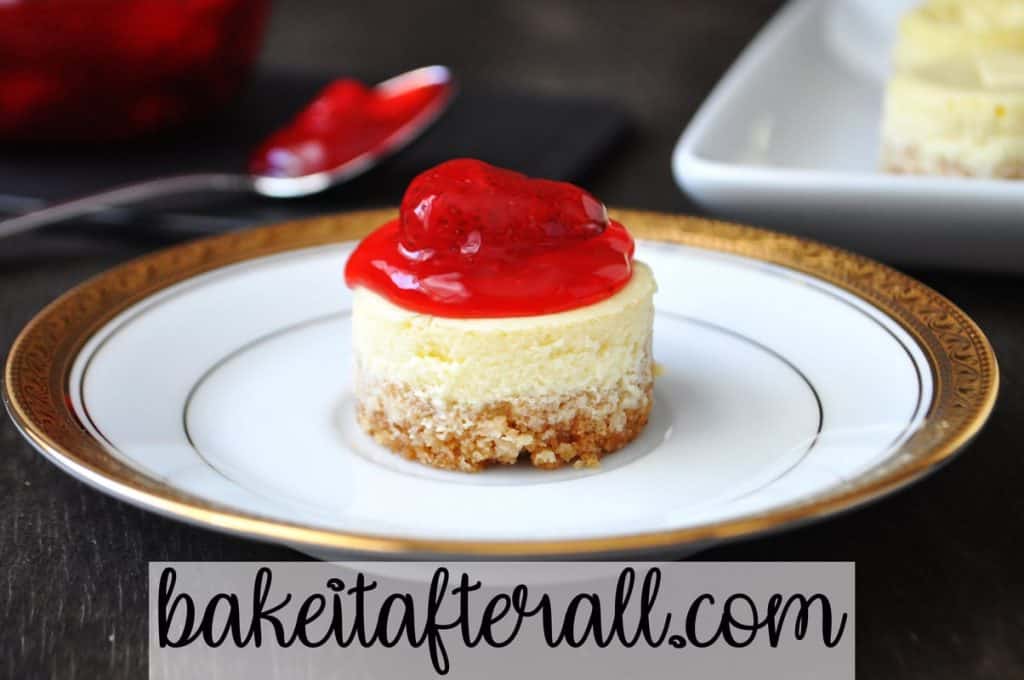 The whipped cream or ganache can be topped with any kind of sprinkles or edible glitter or stars to add a little festivity. I love using the edible stars, both silver and gold, any time I can! I put them on mini cream puffs, royal icing cookies, and cakes.
Sometimes a simple chocolate drizzle is all you want, like on these Mini Mocha Cheesecakes. These Mini Hot Chocolate Cheesecakes have a more elaborate decoration. With little chocolate handles on the side and mini marshmallows and whipped cream on top, they look like tiny mugs of hot chocolate. I dusted mine with cocoa powder for a little contrast against the white topping.
With a whipped cream topping, sometimes the only decoration needed is a little sprinkling of cocoa powder or spices on top. My Mini Pumpkin Cheesecakes can be sprinkled with cinnamon, nutmeg, or pumpkin pie spice.
Using the same method as making the handles for the Mini Hot Chocolate Cheesecakes, I made these mini chocolate heart transfers for my Mini Red Velvet Cheesecakes. This is the same technique used to make royal icing transfers, which could be used as a decoration for mini cheesecakes just as I used them to decorate my sister's Bridal Shower Mini Cupcakes.
How to Freeze Mini Cheesecakes
Although mini cheesecakes are best served within a few days of making, they can be frozen. They should be placed in a deep lidded container or lidded casserole dish in a single layer. I do not recommend stacking them. If you must use multiple layers, place a piece of waxed paper, parchment, or aluminum foil in between the layers, and consider holding off on adding a topping until the cheesecakes are thawed. This will ensure the top doesn't get smashed, dented, or damaged. They will still taste good but won't look as pretty.
If the topping for the cheesecake recipe is whipped cream, do not add that before freezing. It may deflate and melt during thawing. If you have cheesecakes leftover that do have whipped cream, you can go ahead and freeze them as is. They may not look as nice when you thaw them, but the flavor will be there.
Gluten Free Mini Cheesecakes
All of my cheesecake fillings are naturally gluten free. This is because cheesecakes almost never (or never!) have flour. The crust is a different story.
Cheesecakes typically have a graham cracker or a chocolate cookie crumb crust. Both of these crusts are easily adapted to gluten free by using gluten free graham crackers or gluten free sandwich cookies, which come in chocolate or vanilla. Other options include gluten free animal crackers, which come in chocolate, vanilla, and graham style cookies. Each recipe below includes specific instructions for making the cheesecakes gluten free.
The Best Mini Cheesecake Recipes
Here's a round up of my favorite mini cheesecake recipes with descriptions!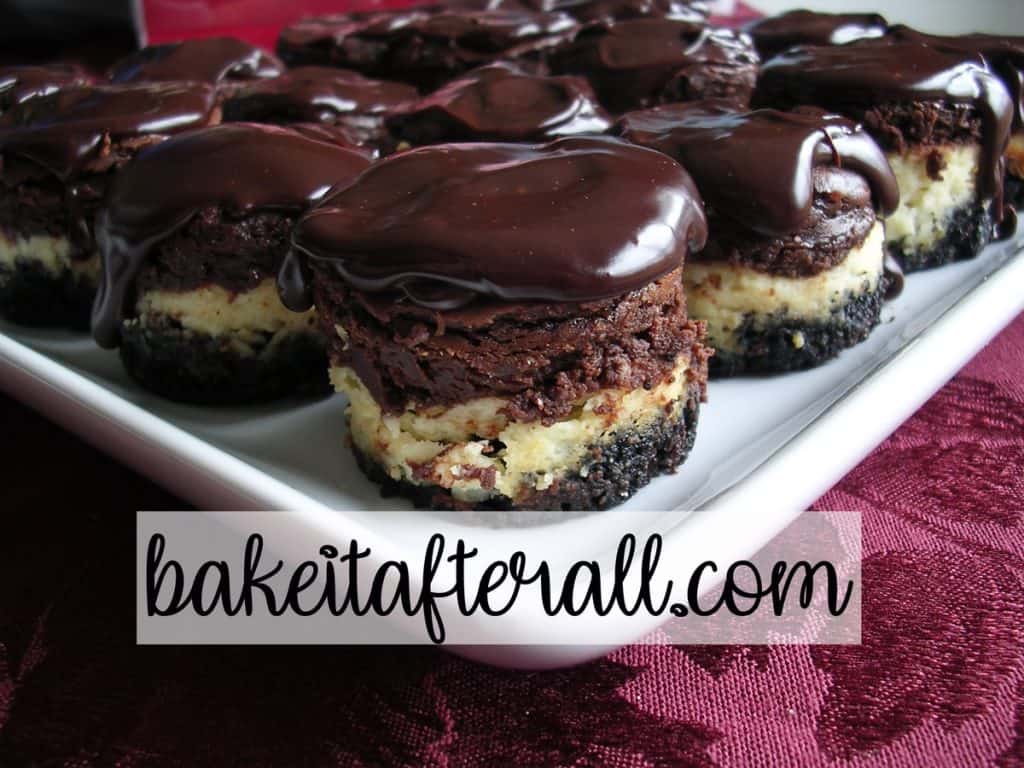 My first mini cheesecake creation, these Bailey's Irish Cream Mini Cheesecakes are one of my most popular recipes. With a chocolate sandwich cookie crust, which can be gluten free, two layers of cheesecake, and a ganache glaze topping. The Bailey's cheesecake filling is divided into two portions. One is combined with melted chocolate to make the second layer of filling. I keep my ganache plain, but you could flavor it with more Bailey's if you want!
Mini New York Cheesecakes have a smooth mild flavored cheesecake on top of a classic graham cracker crust. Adapted from an America's Test Kitchen recipe, these basic mini cheesecakes are a blank canvas for an endless array of toppings. I topped mine with strawberry pie filling, but you could do cherry pie filling, whipped cream, a ganache glaze, and more.
Mini Mocha Cheesecakes have the creamiest cheesecake filling flavored with coffee/espresso and chocolate. They have a chocolate sandwich cookie crust and a simple chocolate drizzle on top. You could change this up and do a ganache glaze or whipped cream with a chocolate covered espresso bean on top!
These adorable Mini Hot Chocolate Cheesecakes look just like little mugs of hot chocolate! With a chocolate crust and a chocolate cheesecake filling, these mini cheesecakes are decorated with whipped cream, mini marshmallows and a dusting of cocoa powder. The chocolate handles on the side complete the look.
I turned my mom's favorite full size cheesecake into these Mini Pina Colada Cheesecakes. A simple graham cracker crust, a creamy filling flavored with actual pineapple and coconut flavoring (not actual coconut). They have the most delicious candied coconut topping. For those who must avoid coconut, consider simple whipped cream and a maraschino cherry on top, just like on a real pina colada!
The bright red color of these Mini Red Velvet Cheesecakes is perfect for Valentine's Day or Christmas. They have a chocolate cookie crust and a cream cheese frosting topping. It is thinner than typical cream cheese frosting so just forms a little pool on top. These can be decorated with sprinkles, Valentine's sprinkles, colored sugar, edible glitter hearts, or even a ganache glaze. I chose to pipe out chocolate hearts on parchment paper and then place them on top of the frosting after they were set.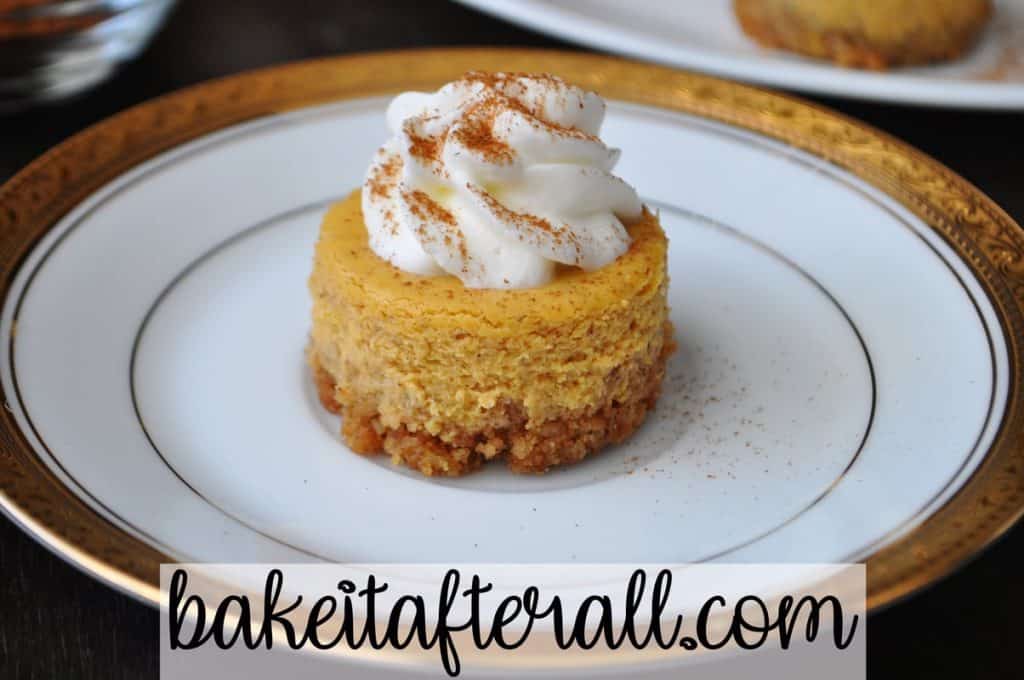 Mini Pumpkin Cheesecakes have a spiced graham cracker crust with a classic pumpkin cheesecake on top. Because pumpkin pie is often served with whipped cream, I added whipped cream and cinnamon on top. You could also use pumpkin pie spice. I like the contrast of the dark spice on the white cream. A delicious, basic pumpkin cheesecake in mini form!
These Black Bottom Caramel Pumpkin Cheesecakes have a chocolate sandwich cookie crust, pumpkin cheesecake swirled with caramel before baking and then topped with extra caramel after baking. I added a piped chocolate decoration in the shape of a pumpkin, made similarly to the hearts I used for the Mini Red Velvet Cheesecakes. They can be left plain too.
Pumpkin Spice Magic Bar Minis have a simple graham cracker crust, a soft pumpkin cheesecake flavored filling, and a coconut magic bar topping inspired by Magic Cookie Bars, or Seven Layer Bars. Caramel sauce on top finishes these mini desserts.
Looking for More Cheesecakes Recipes?
Check out these other cheesecake recipes:
Bailey's Irish Cream Cheesecake
Cheesecake Factory Godiva Chocolate Cheesecake
Red Velvet Cheesecake
Red Velvet Brownies with Cheesecake Swirl
Chocolate Pumpkin Cheesecake Bars
Pumpkin Chocolate Cheesecake Bars
S'mores Cheesecake Bars
Chocolate Cheesecakes for Two
Ambrosia Pie – Tippin's Copycat
Cherry Chocolate Cheesecake Bundt Cake
---
---