Welcome to You're Gonna Bake It After All! I started this cooking and baking blog in March of 2009. I named it after the theme song from one of my favorite shows, The Mary Tyler Moore Show.
When I first started graduate school many years ago and was living alone in my studio apartment in downtown Chicago, I thought of myself as career girl Mary Richards. I now fondly refer to that time as my Mary Tyler Moore Days. Coincidentally, my married initials are MTM.
Many things have changed since my MTM Days – I now live in the suburbs and have 3 little girls #girlmom!
What hasn't changed is my love for cooking and baking. I have now added a tab for MTM Crafts where you'll find some basic home projects, crafts, and Girl Scout craft/meeting ideas (coming soon!)
I even incorporated my love for baking into the Gender Reveals for each girl: an Oreo Truffle Gender Reveal for #1, a Cupcake Gender Reveal for #2, and a Sugar Cookie Gender Reveal for #3.
Gender Reveal Oreo Truffles
A fun way to announce whether you're expecting a boy or a girl to family and friends! Each person gets his/her own truffle to discover the news.
Check out this recipe
Cupcake Gender Reveal 
Surprise your family and friends with these Gender Reveal Cupcakes! Each guest takes a bite of his/her own cupcake to reveal a blue or pink filling inside.
Check out this recipe
Sugar Cookie Gender Reveal
Surprise your family and friends to reveal whether you're expecting a boy or a girl! These Sugar Cookies are filled with Royal Icing and decorated on top. When guests bite into or break open their cookies, blue or pink icing will reveal the answer.
Check out this recipe
What You'll Find on My Blog
I often use my blog as a reference for my tried-and-true recipes, and I hope you find it useful as well! Whether it's a recipe that has been handed down in my family, like my Grandma's Classic Christmas Butter Cookies, or something I started making on my own that has been my own little family's favorite, like this Baked Ricotta Cavatelli, I keep all of those recipes here, along with the stories behind them.
Christmas Butter Cookies
My Grandma's Christmas Butter Cookies are a variation of a buttery spritz cookie. The dough is pressed with a cookie press into seasonal shapes.
Check out this recipe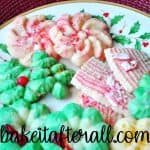 One of my favorite ways to connect with people is through talking about and sharing recipes. Everyone has a story about a favorite dish a loved one has made for them, or a recipe they make every single year at a certain time. Many of our family traditions and memories are built around these recipes.
Gluten Free Recipes
I have been eating gluten free due a food intolerance for the last 18 months. I try to provide a gluten free alternative in each of my recipes (this Chocolate Layer Cake made with gluten free flour is AMAZING!). I have always approached being gluten free with an open mind. I am convinced that I can still enjoy the same foods I did before, it just may require an extra bit of creativity.
Chocolate Layer Cake
The best chocolate cake you'll ever make or taste! This recipe takes the classic Hershey's Black Magic Cake and adds in extra chocolate for the most decadent and moist cake.
Check out this recipe
I still cook with gluten occasionally for my family and in baking, so it's important to me that each of my recipes works either way. I will indicate when substituting a gluten free product is not recommended.
MSPI Recipes
When I was nursing my second baby, I had to avoid dairy and soy proteins due to her reflux. I found it very difficult and confusing to begin this way of cooking and eating. I now have a handful of recipes that are MSPI (Milk Soy Protein Intolerance) friendly. These MSPI Brownies and MSPI Chocolate Chip Cookies are the most popular!
Dairy Free Soy Free Brownies (MSPI Friendly)
These brownies are so chewy and fudgey you'll never miss the dairy or soy!
Check out this recipe
Where to Begin
If you're new here, welcome! I'd like to direct you to my most popular posts in each of these main categories:
Drinks: Pink Citrus Punch
Pink Citrus Punch
Called Christmas Punch in our family, a delicious festive punch with the flavors of orange, pineapple, lemon, and cherry. It's perfect for the holidays or any special occasion.
Check out this recipe
Appetizers: Double Tomato Bruschetta
Double Tomato Bruschetta
Double Tomato Bruschetta combines fresh tomatoes with sun dried tomatoes and classic Italian flavors. Toasted bread is broiled with the tomato mixture and mozzarella cheese.
Check out this recipe
Main Course: Costco Chicken Street Tacos with Cilantro Lime Crema
Chicken Street Tacos – Costco Copycat
Marinated chicken, crunchy cabbage mix, salsa, and cilantro lime crema served in a warm corn tortilla!
Check out this recipe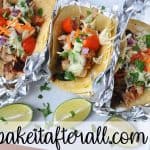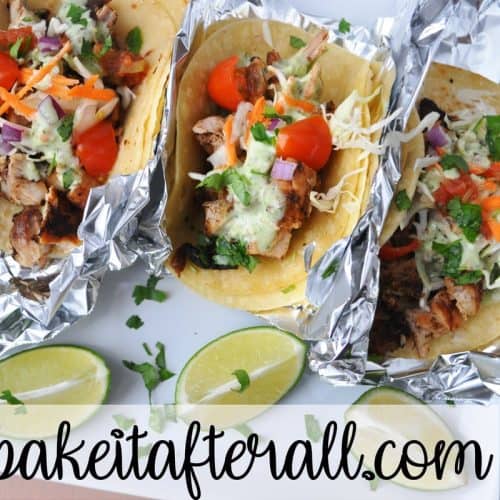 Sides Dish: Fleming's Potatoes Copycat
Fleming's Potatoes Copycat
Fleming's Potatoes Copycat recipe recreates the famous potatoes au gratin side dish from Fleming's Steakhouse. Thinly sliced potatoes baked in a creamy jalapeno cheese sauce, these scalloped potatoes are a truly special side dish!
Check out this recipe
Dessert: Bailey's Irish Cream Mini Cheesecakes
Bailey's Irish Cream Mini Cheesecakes
Bite sized Bailey's Irish Cream Mini Cheesecakes have an Oreo sandwich cookie crust (or gluten free cookies) and a chocolate ganache glaze.
Check out this recipe
Candy: Homemade Oreo Truffles with Truffle Making Tips
Oreo Truffles
Homemade Oreo Truffles are so easy and can be decorated for any holiday or celebration!
Check out this recipe
Decorating Cakes and Cookies for Parties is one my passions, so I have a page dedicated to Cake Decorating and one to Royal Icing. One of my newer decorating techniques is Painted Watercolor Cookies, an egg free way to decorate cookies without piping!
Painted Watercolor Cookies
Painted Watercolor Cookies feature several techniques for painting cookies. Use either royal icing or a simple egg free icing for an easier, faster alternative to royal icing with no piping required! Instructions for how to apply edible paint for cookies and how to paint with luster dust, including gold luster dust. Easily make edible rose gold paint with this method. Simple guide for how to add handwritten calligraphy to cookies.
Check out this recipe
One of my personal favorite posts that I poured a lot of love into is my Tea Party Ideas for Kids! You may also enjoy my roundup of Best Mini Cheesecake Recipes.
For Holiday Entertaining, I recommend my 10 Best Dessert Recipes for a Holiday Open House and 10 Best NYE Party Snacks Ideas.
INTERESTED IN SMOKING AND GRILLING RECIPES? Check out my partner site Mad Backyard.
I truly thank you for visiting my site and invite you to stick around to see what I have cooking up next!
Thanks for stopping by!