Oreo Truffles
Homemade Oreo Truffles are easy to make and perfect for Holiday parties. They can be decorated for any occasion. I include tips for how to make the perfect truffles!
This post was originally published on December 15, 2009 as the 6th Day of Christmas in my 12 Days of Christmas Series. In July 2020, I moved the Tips for Dipping Truffles from the Snowflake Gingerbread Cookies post to this post and provided additional commentary for clarity.
I've only had Oreo Truffles one time before. It was a few years ago at work. A fellow graduate student brought in some Halloween-themed ones (decorated like eye balls!). They were incredible!
I immediately started brainstorming the possibilities for decorating them – pink and red for Valentine's Day, red/white/blue for the 4th of July/Memorial/Labor Day, and of course red/green for the holidays. For some reason, I've never gotten around to making them. My group of girl friends had our annual holiday party this past weekend, and I decided it was finally time!  
This recipe is originally from Kraft, and I found a more detailed recipe at Good Eats n' Sweet Treats.
Ingredients for Oreo Truffles
The truffles are made with just 3 simple ingredients.
I prefer to use a food processor to crush the Oreos to crumbs, but you can certainly use a meat pounder. The softened cream cheese can then be stirred or food processed into the crumbs to make the truffle filling.
This photo shows the crushed Oreos on the left and on the right is the mixture after the cream cheese was added.
You can shape the Oreo mixture into 1-inch balls using your hands. If the mixture is sticky, use the trick from the Triple Chocolate Biscotti recipe. Spray your hands with nonstick cooking spray before shaping. Reapply the cooking spray to your hands as needed.
After all of the balls are shaped, they need to be placed in the freezer for a bit before coating with chocolate. While they are chilling, it's time to melt the chocolate!
Choosing a Chocolate for Coating the Oreo Truffles
Truffles can be coated in any kind of chocolate. The first time I made these, instead of using semi-sweet chocolate as the recipe calls for, I decided to use Wilton Candy Melts. You also can just use white chocolate and dye it with red and green food coloring gel (and actually I did end up adding some green to the green melts because they weren't quite "green" enough!) One thing about the candy melts – once the truffles were in the fridge, they turned a little white (see the pics). This went away when the truffles were out at the party (reaching close to room temp). I had that problem last year when I used red/green swirl morsels to coat peppermint sticks . . .  
These were a big hit at the party! Although I love the festivity of the red and green candy melts, taste-wise I would have preferred the semisweet chocolate, so perhaps next time I will use the red/green as the drizzle instead 🙂 UPDATE: When I made these for our Holiday Open House, I used semisweet chocolate and then topped them with either holiday sprinkles or drizzled red or green white chocolate. You could use white chocolate, milk chocolate, or even bittersweet chocolate.
These Ghirardelli Dark Chocolate Melting Wafers work really well for the truffles too.
Tips for Dipping Homemade Truffles
I've had a few people tell me that they have trouble dipping truffles, and I actually had quite a bit of trouble dipping the Cookie Dough Truffles. While I am not a truffle expert by any means, I've complied a few tips that I've found from trial and error.  
Melting the Chocolate
First you need to get your chocolate the right consistency for dipping. While you can melt the dipping chocolate in the microwave, I prefer to melt it in a double boiler (or in a glass bowl set over a pan of barely simmering water – make sure water does not touch bottom of bowl). This way, the chocolate is continuously heated during the dipping process.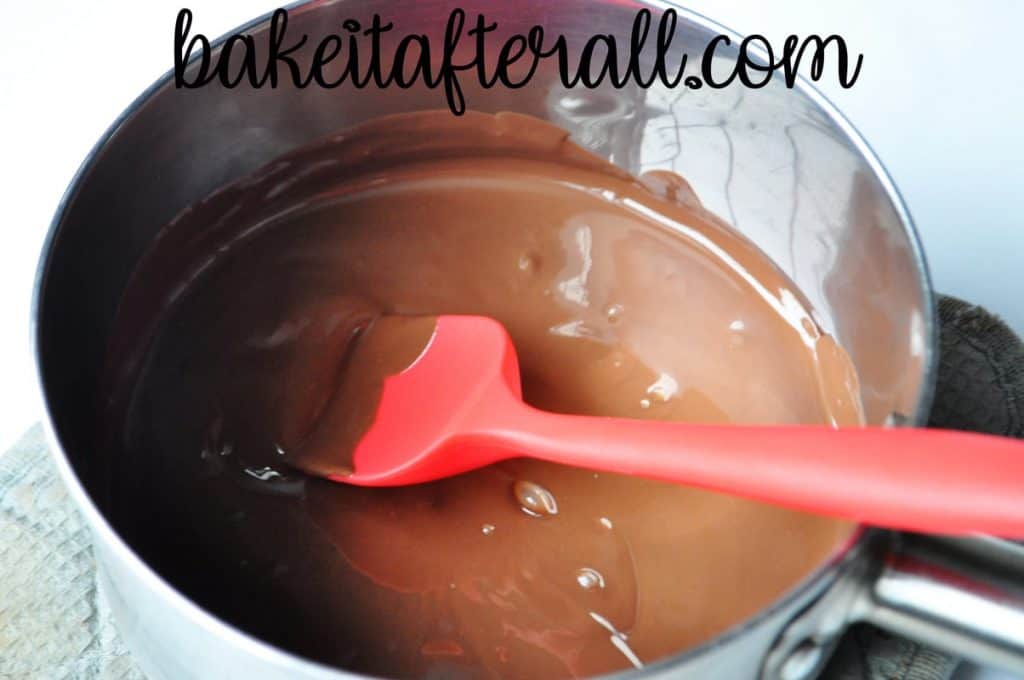 Melt the chocolate and add a little vegetable shortening (Crisco) – this really helps thin out the chocolate. You can start with a teaspoon of shortening and keep adding a little more – maybe a total of a tablespoon depending on how much chocolate you are using. Basically, you want the chocolate to be thin enough so that dipping isn't a pain in the butt. I've read that vegetable oil works similarly, but I've never tried it.
Dipping the Truffles
Next, determine a method for dipping that works well for you. The way I found that worked best was to drop the formed truffle into the chocolate, one at a time, roll it around gently with two forks, then use only one fork to life it out, shaking off the excess chocolate as you lift up, then transfer the coated truffle to wax paper by gently sliding the truffle off the fork. To be clear, the fork does not stab the truffle, it is just use like a "fork-lift" if you will. This should help reduce the excess chocolate running off the truffle as it sits on the wax paper and pools at the bottom, making it look like a big blob.
One other thing that might make the process easier is freezing the truffles (even if just for 30 minutes) before you dip them in chocolate; I did this with the cookie dough truffles, but not the Oreo, but I might try it next time. I made my truffles all the way through, then froze them for a week before the party – they turned out perfect! In fact, and I'm a little embarrassed to admit this, but I actually chose our particular fridge/freezer partly because it's conducive to freezing trays of candy!
In my experience, chocolate is much easier to work with than white chocolate (and tastes better in my opinion!), so from now on I mostly plan to use white chocolate for the design on top rather than dipping the whole truffle. But, the easiest way to melt white chocolate is the same exact way – double boiler and Crisco to thin. You can also do it in the microwave, but it's more difficult to control the temperature, and white chocolate is more prone to seizing up in my hands.
Decorating the Truffles
One option to decorate the tops of the truffles is to reserve some of the Oreo crumbs to sprinkle on top of the dipped truffles before the outer chocolate has set. This allows the crumbs to stick to the chocolate.
For my sister's Bridal Shower Truffles, I added sugar pearls and cake sparkles on top immediately after dipping the truffles.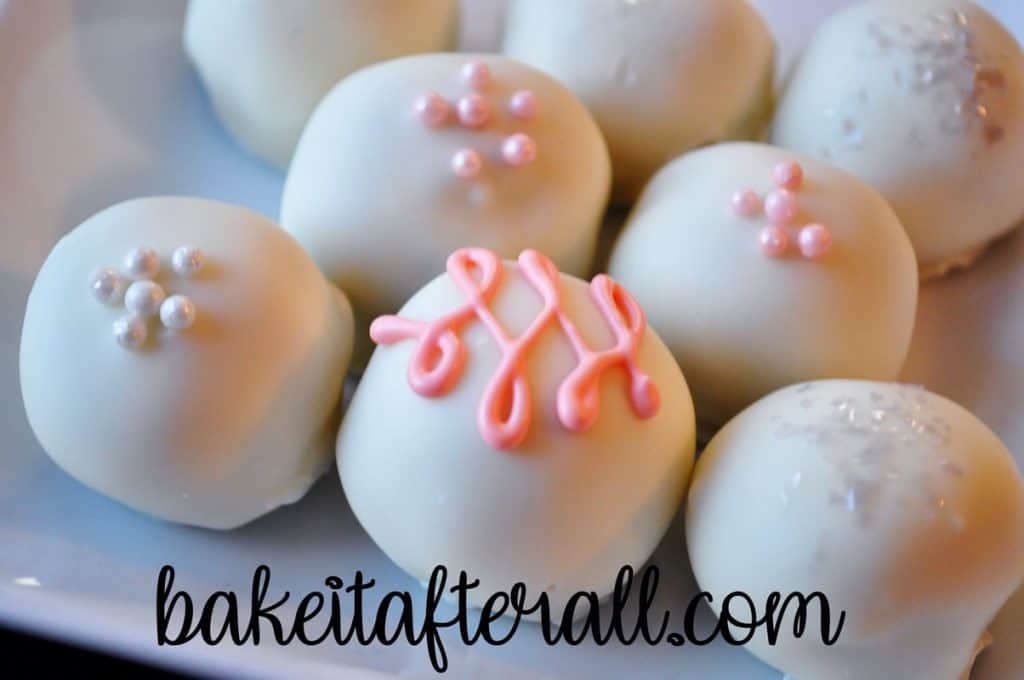 When I do the designs on top, it's fine to let the chocolate set before adding it. I just put the melted chocolate into a small resealable sandwich bag and snip off a corner. If I want more control with intricate designs, I use a disposable pastry bag with a plastic coupler and a round metal tip.
Festive Sprinkles
These candies are all dressed up for Valentine's Day!
Here's some with some fall colored sprinkles.
And some everyday type sprinkles.
I LOVE edible gold or silver stars, and these would be so pretty sprinkled on top of the truffles. I've used them for Mini Cream Puffs before!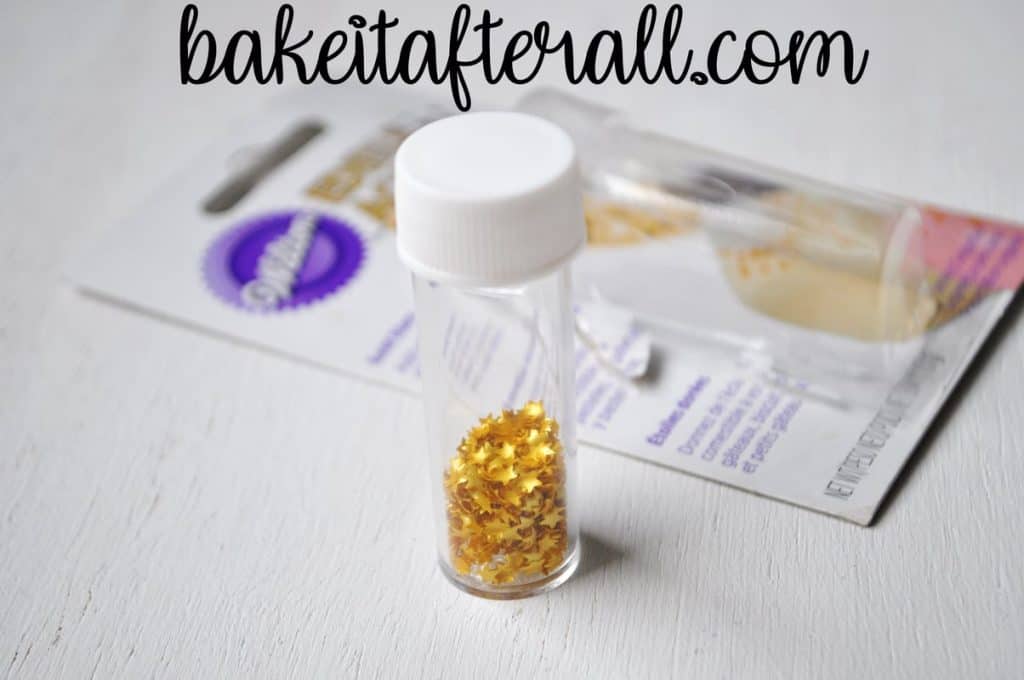 Truffles Painted with Luster Dust
I absolutely love luster dust, especially gold luster dust. I typically purchase my luster dust at a local cake decorating store, but other brands are available online.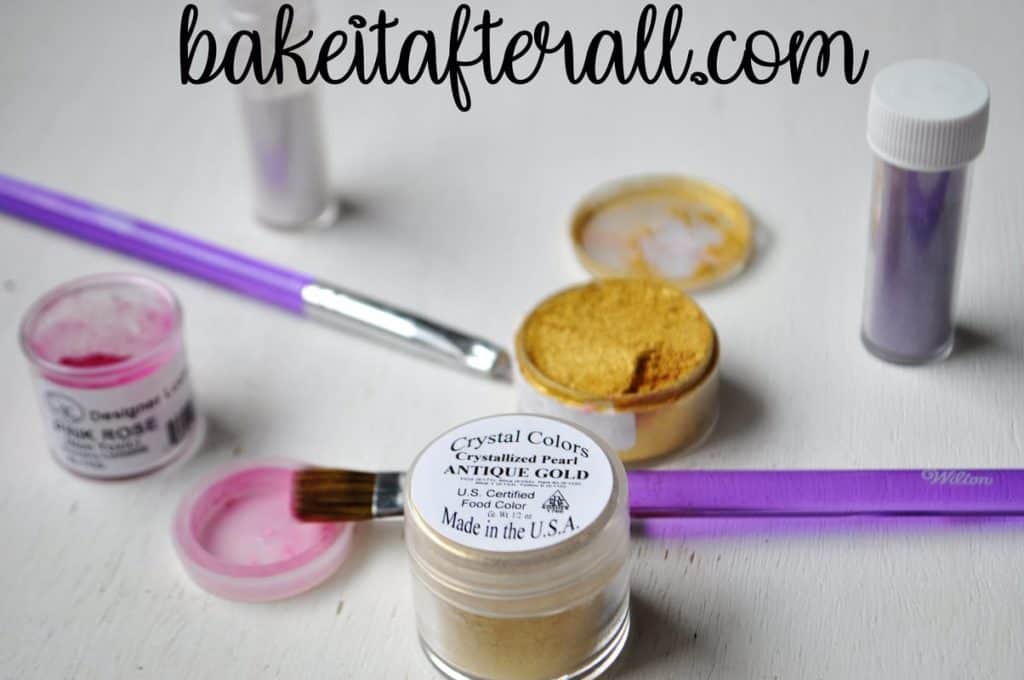 To make some truffles that truly sparkle, dip the truffles in chocolate and leave them undecorated. Allow them to set and refrigerate for a few hours. Then come in with a food grade paint brush and brush on some luster dust over the surface of the coating chocolate.
You can use any color of luster dust to brush the truffles. This pink looks so pretty for Valentine's Day truffles.
Peppermint Oreo Truffles
Peppermint Oreo Truffles are a variation of Oreo Truffles that are perfect for the holidays. These are great to give away as gifts!
I like to use Mint Oreos (or peppermint Oreos if you can find them!).
I crush candy canes by placing them in a resealable gallon sized bag then hitting them with a meat tenderizer.
The crushed candy canes should be sprinkled on top of each truffle immediately after it has been dipped in the chocolate. If you wait, the chocolate will set and the pieces of peppermint will not stick.
How to Gift Homemade Truffles
To give truffles as gifts, it's nice to put them inside mini paper baking cups.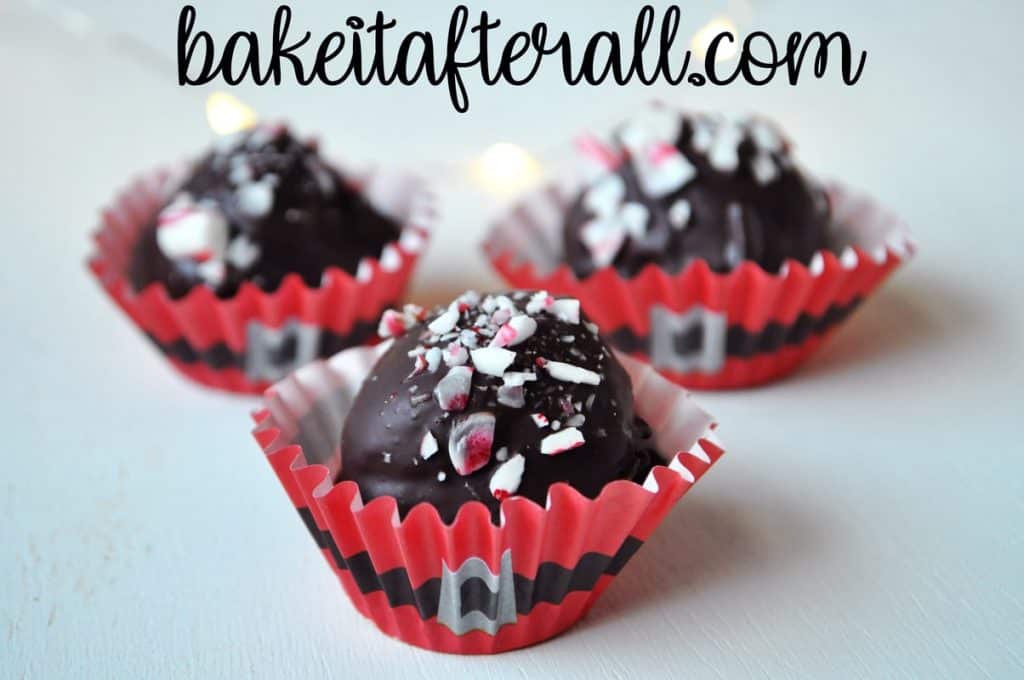 Then you can arrange them in a holiday container.
You can even put them on a festive paper plate and cover with plastic wrap.
Happy Candy Making!!!
Gluten Free Oreo Truffles
I have used Glutino chocolate sandwich cookies in place of Oreos in any recipe that calls for Oreo cookies. I have also tried the Great Value Brand (Walmart) of gluten free chocolate sandwich cookies, and they are just as good.
Looking for More Homemade Truffle Ideas?
Check out these other Truffle and Cake Pop Ideas:
Oreo Truffle Gender Reveal
Bridal Oreo Truffles
Cookie Dough Truffles
Football Shaped Oreo Truffles
FROZEN Cake Pops
Sesame Street Cake Pops
Original photos published December 15, 2009.
Homemade Oreo Truffles are so easy and can be decorated for any holiday or celebration!
Ingredients  
1

package Oreo cookies

(finely crushed, divided)

8

ounces

cream cheese

(softened)

16

ounces

semi-sweet chocolate or candy melts
Optional Decorations:
Reserved Oreo cookie crumbs

Sprinkles or sugar pearls

1/2

cup

White chocolate or colored candy melts

(for drizzling)
Instructions 
Reserve 1-2 Tablespoons Oreo crumbs if using them to decorate. Mix the rest of the crumbs with the cream cheese until well blended.

Shape the mixture into 42 1-inch balls, placing them on a waxed paper lined baking sheet. Freeze the balls while preparing the chocolate.

In a double boiler (or in a heatproof bowl set above a pot of simmering water), add the chocolate and stir frequently until melted.

For colored candy melts, follow package directions for achieving a dip-able consistency. This may involve adding a bit of vegetable shortening to the melts, especially if you are adding extra food coloring.

Remove the cookie balls from the freezer. Add a few balls at a time to the melted chocolate and roll them around with two forks. Remove the truffles with forks and allow excess chocolate to drip back into the bowl before placing truffle back on waxed paper lined baking sheet.

As soon as the truffles have been dipped, sprinkle with remaining cookie crumbs, if using, so they will stick before the chocolate has set. If drizzling with chocolate decoration, the truffles can all be dipped before preparing the drizzle.

To make a drizzle, melt the white chocolate or candy melts carefully in the microwave in 30-second intervals at 50% power. Transfer the melted chocolate to a resealable sandwich bag and snip off the corner. Alternatively, use a pastry bag with a small round tip.

Refrigerate 1 hour or until firm. Store in a tightly covered container in the refrigerator.
---
---