Chicken Street Tacos – Costco Copycat
These Chicken Street Tacos – Costco Copycat are inspired by the chicken street taco kit sold in the prepared food section at Costco. They include flavorful marinated chicken, crunchy cabbage mix, and a cilantro lime crema!
When I would take my youngest to physical therapy, I had about 40 minutes to myself. #momwin. I always went to a nearby Costco for some kid-free shopping. It was there I discovered their chicken street tacos next to the massive chicken pot pies and 10 lb trays of mac and cheese. It's basically a build-your-own kit with seasoned chopped chicken, shredded cheese, coleslaw mix, salsa, and a cilantro lime crema sauce. The first time I tried them, I was very impressed! Bob and I loved the cilantro lime crema. In subsequent Costco trips, I found myself compelled to buy them to get more of the crema.
Even before the "Stay Home" orders hit our area, I was avoiding Costco due to the crowds resulting from panic buying. To be clear, I do not fault these panic buyers in the least. My natural reaction in these situations is to stock up as well. It is the only sense of control we feel we have over the situation. Sometimes having a year's worth of toilet paper is comforting to someone when there are so many unknowns, especially for those of us with underlying existing conditions making us more vulnerable to complications for any respiratory illness.
So while I do not judge the panic buyers, I did not want to be subject myself to the madness of a packed Costco. It's bad enough in there trying to get a turkey the weekend before Thanksgiving. I can only imagine when everyone is as stressed as we all were at the beginning of this.
Because I avoided Costco for a couple weeks before lock down, I was really missing my Costco items a couple weeks into quarantine. I set up a "same day" delivery which now can mean 5-8 days later.
As I was searching through their website, I remembered the chicken street tacos. At the time, we were avoiding takeout and prepared food out of an abundance of caution. Then it dawned on me that they often use products they carry in their prepared food items, which actually only makes sense. That prompted me to search for the cilantro lime crema, and there is was! A two pack of bottles of Don Pancho Cilantro Lime Crema! I was so excited! It really is the little things when you're stuck in your house and can't see your friends and extended family…
I quickly added the bottles to my online cart. Once my order was set up, I started searching for chicken marinades and planning our taco dinner for the night my Costco order was arriving.
As my shopper was shopping, I received many alerts of things that were out of stock. I was worried about the crema, but supposedly it was still coming. When my order arrived, many things were incorrect. Many. Substitutions I didn't authorize, often with vastly different products than I had purchased, and even one rather expensive item that was just missing completely. This was really frustrating, but the one silver lining was that the crema made it! Dinner was saved! Again, little things folks. UPDATE: I created a homemade version of Costco Cilantro Lime Crema to avoid this frustration!
Marinate the Chicken
The marinade I used for the chicken is from Gimme Delicious. It reminds me of the chicken from Chipotle or Qdoba, both of which use chicken thighs, so I stuck with those. I've also since made it using chicken breasts which were good as well.
This is a thick marinade. I like to whisk it with a small kitchen whisk. I put the marinade into a resealable gallon sized bag with the chicken and refrigerate it until I'm ready to grill it.
Grill and Bake the Chicken
After the chicken marinates, I brush a grill pan with olive oil (regular, not extra virgin) or grapeseed oil. These oils have higher smoke points than extra virgin olive oil, and we're going to be turning the heat up high here! You want your pan to be nice and hot because the next step is just getting some color and grill marks on your chicken. It will finish cooking in the oven. Typically if you're wanting to cook the chicken through, you don't want your heat too high or you will start drying out (or even burning) the outside before the center is done. Not here.
Cook one side until nice grill marks develop, then flip and repeat on the other side. Transfer the chicken to a baking sheet and finish it in a 375 degree F oven until the internal temperature registers at least 165 degrees F. Remove the chicken from the oven and let rest for 5 – 10 minutes.
Rather than using the grill pan/oven method, the chicken can be cooked from start to finish on an outdoor grill.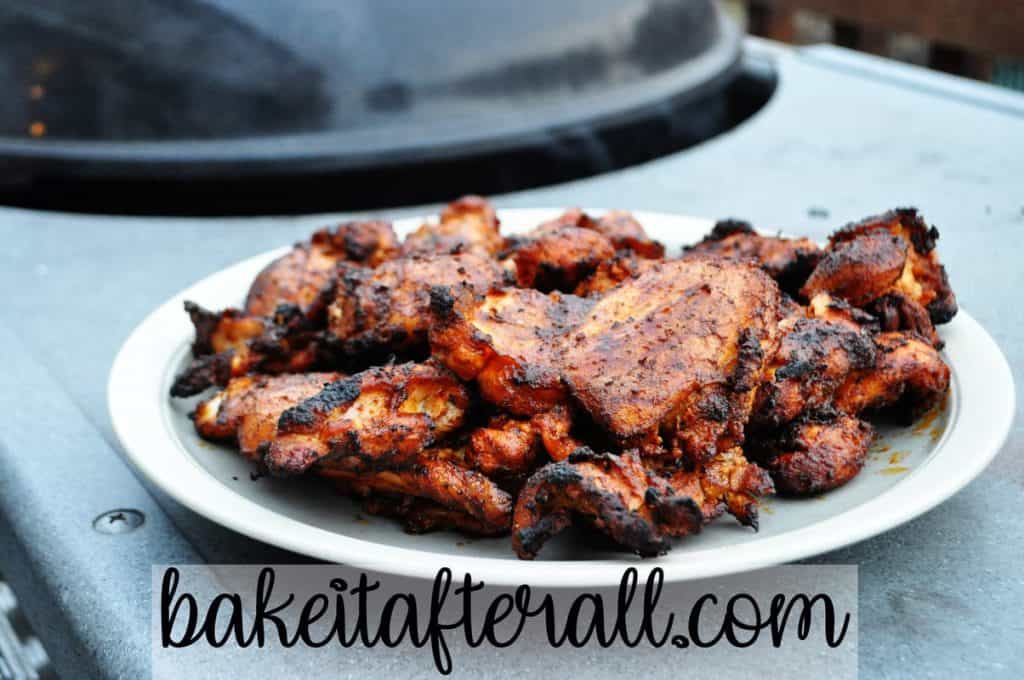 Then chop it up. The result is flavorful, delicious chicken that you can use for virtually any Mexican recipe – tacos, burritos, quesadillas, salads, etc.
Prepare the Corn Tortillas
For the Street Tacos, the next step is to prepare the corn tortillas. I used to think I didn't like corn tortillas. Straight from the package, corn tortillas tend to be dry and inflexible. Years ago when making the Chicken Enchiladas with Red Chile Sauce, I followed an America's Test Kitchen method of using the oven to make them more pliable. I realized then I had been using corn tortillas wrong all along! They are not meant to be used straight from the package, at least not for maximum delicious factor. If you haven't been grilling your corn tortillas, it's time to start now.
While the ATK oven method worked well, my current favorite way to do this is to spray each side of the corn tortillas with cooking spray (such as Canola oil spray or even extra virgin olive oil spray), then place them 3 at a time in a large round skillet. Heat over medium heat just until that side is warm, then flip to warm the other side and remove to a plate. Not only are the tortillas warm, but the bit of cooking spray helps them become soft rather than stiff, so they are so much easier to work with, not to mention tastier.
Assemble the Chicken Street Tacos – Costco Copycat
Once your tortillas have been prepped, you're ready to start setting out your toppings. In line with the Costco tacos, we used prepackaged coleslaw mix (chopped green and purple cabbage and carrots), shredded cheese, salsa, and of course the cilantro lime crema. The tacos would still have been delicious without the crema. If you want to use the crema but don't have access to a Costco, consider making the Cilantro Lime Drizzle from my Chicken Tostada post. It's just ranch dressing, cilantro, and lime juice. You could sub sour cream for the dressing and just up the amount of lime juice to make the sauce thinner. UPDATE: I now have a Homemade Cilantro Lime Crema Costco Copycat recipe!
Need a homemade salsa recipe for your Chicken Street Tacos?
Check out my favorite salsa recipes. Also read about my Salsa Showdown where 3 of them face off against each other.
Pioneer Woman's Restaurant Style Salsa
Fresh Homemade Salsa
The Best Corn and Tomato Salsa (AKA Blackbean(less) Salsa)
Mango Salsa

Gluten Free Option for Chicken Street Tacos – Costco Copycat
Most corn tortilla brands are certified gluten free. I usually buy Mission brand. The rest of this recipe is naturally gluten free! As with any allergy, please check the labels on the ingredients you use before consuming.
LOOKING FOR MORE MEXICAN FOOD?
Check out these favorites:
Panera Chile Lime Ranch Dressing
Panera Southwest Chile Lime Ranch Salad with Chicken
Turkey Tacos
Grilled Chicken Fajitas
Skillet Chicken Fajitas
Chicken Mexican Pizzas
Chicken Enchiladas with Red Chili Sauce
Red Chili Chicken and Rice
Pico de Gallo Chicken Quesadillas
Chicken and Spinach Quesadillas
Baked Southwestern Egg Rolls
Layered Taco Dip
Jalapeno Popper Dip
Mexican Rice
Chicken Tortilla Soup

And for dessert . . .
Tres Leches Coconut Cupcakes with Dulce de Leche Buttercream
Mexican Chocolate Cupcakes with Cheesecake Filling
Sweet Corn Tomalito – Chevy's Copycat
Cinnamon Ice Cream
Easy Homemade Dulce de Leche
Samoa Cupcakes with Easy Dulce de Leche Buttercream

or see all of my Mexican recipes HERE.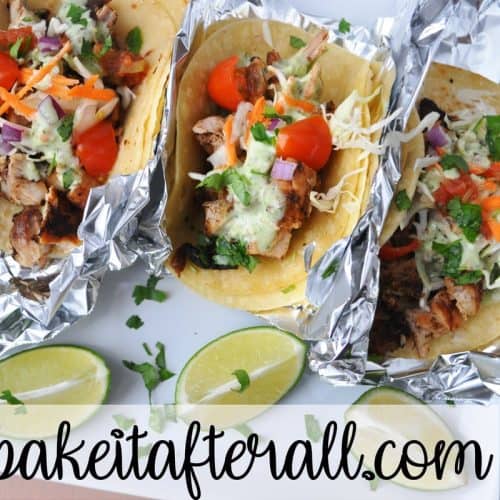 Marinated chicken, crunchy cabbage mix, salsa, and cilantro lime crema served in a warm corn tortilla!
Ingredients  
For the marinade:
2

pounds

boneless, skinless, chicken thighs

(or breasts)

2

cloves

garlic

1

tablespoon

olive oil

1

tablespoon

lime juice

1

tablespoon

chili powder

1

teaspoon

cumin

1

teaspoon

smoked paprika

1/2

teaspoon

oregano

1

teaspoon

salt

1/4

teaspoon

black pepper
For the tortillas:
8-12

corn tortillas

Canola or olive oil spray
Taco toppings:
shredded cheese

coleslaw mix or shredded cabbage

salsa

cilantro lime crema

tomatoes, lettuce, chopped red onions, limes

(optional)
Instructions 
To make the chicken:
Place marinade ingredients into a resealable gallon sized bag, and squish around to mix. Add chicken. Marinate for at least 30 minutes but up to 24 hours.

Brush grill pan with oil, then turn heat to high. Once grill is hot, place chicken onto grill pan and cook on each side until color and grill marks develop. Meanwhile heat oven to 375 degrees F and line a baking sheet with aluminum foil.

Transfer chicken to foil-lined baking sheet and bake for 15-20 minutes until cooked through and chicken has reached an internal temperature of at least 165 degrees F.

When chicken is done, remove from oven and transfer to a cutting board/mat to rest for 5 to 10 minutes.

Chop chicken into bite-sized pieces.
To prepare the corn tortillas:
Heat a skillet over medium heat.

Spray each side of the tortillas with Canola or olive oil spray.

Add tortillas to the skillet in a single layer, as many will fit at once (typically 3 depending on the size of the skillet).

Heat until warm on one side, flip, and heat until warm on the other side, then transfer to a plate until ready to serve.
To serve the tacos:
Set out chicken, tortillas, cheese, slaw mix, salsa, any other toppings you prefer, and crema in individual dishes for a build-your-own taco experience.
Notes
Marinade adapted from Gimme Delicious
You're Gonna Bake It After All
bakeitafterall.com
---
---