Layered Taco Dip
Layered Taco Dip is a classic party dip with taco flavors and customized to your taste. Great served with tortilla chips or veggies!
This dip has been a party staple in my family for many years. It's easy to prepare, and almost everyone loves it. I'm sure there are many versions of it floating around, but I wanted to share this one. I made it last year for my and Bob's birthday party, and people went nuts over it. It's easily adaptable because if you don't like a layer (like black olives!) you just omit it!
In general, I'm not a huge fan of baked chips/snacks (Baked Cheetos are a big exception because those things are amazing!), and I really didn't like the Baked Tostitos that came out a few years ago – I thought they tasted like cardboard. Within the last year I tried Baked Tostitos Scoops, and they are surprisingly good! I don't know if they changed their recipe or if the scoops are different than the other shapes, but these things are really great. Not quite the same as the original, but close enough that I don't mind swapping to be a little healthier!
Recipe Details
The first layer of this dip is jalapeno bean dip. This has a little bit of a kick to it but is not spicy. You can substitute refried beans if you prefer.
I omit the avocado layer when I make this dip due to an oral allergy I have to avocados. I have the instructions for this layer included in the recipe card.
The third layer consists of a mixture of sour cream, mayonnaise, and taco seasoning.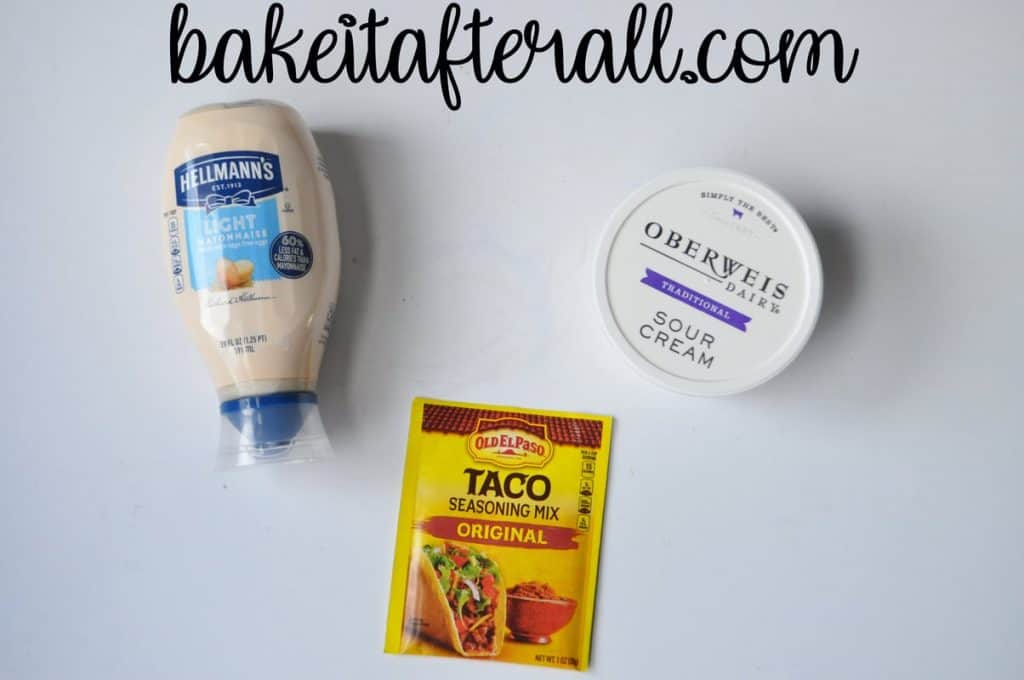 I like to mix up this layer ahead of time to let the spices meld into the sauce. I refrigerate it until I'm ready to assemble the dip.
After the taco seasoning layer, green onions, tomatoes, and black olives go on top. Bob doesn't like black olives, so I usually omit them from a section of the dip. Here I put them on half of the dip.
The last layer is shredded Mexican style cheese. You can use any kind of cheese you like.
This dip can be made ahead and refrigerated until serving. I do not recommend making it more than a day in advance or the liquid from the tomatoes may cause some separation in the dip.
Gluten Free Taco Dip
This dip is naturally gluten free. As with any food allergy or intolerance, please check your packaging for cross contamination.
Looking for More Dip Recipes?
Dips are pretty much my favorite food! Check out these other dip recipes:
Buffalo Chicken Dip
Jalapeno Popper Dip
Fluffy Pumpkin Dip with Cinnamon Tortilla Cut Outs
Pan Fried Onion Dip
Whole Foods Copycat Spinach Artichoke Dip
Dill Dip
Honey Yogurt Dip

A classic party dip with taco flavors that can be customized to your personal preference. Great served with tortilla chips or veggies!
Ingredients  
1

st layer – 2 cans jalapeno bean dip

(note this is dip not refried beans, and it may not say jalapeno but will have it in the ingredient list)

2

nd layer – 3 ripe avocados mashed with 1 tablespoon lemon juice, 1/4 teaspoon pepper and 1/2 teaspoon salt

(omit if desired)

3

rd layer – Mix 1/3 cup mayonnaise, 1 cup sour cream and 1 packet taco seasoning mix

(I use light mayo and sour cream)

4

th layer – 1 bunch green onions

(with tops, sliced fine)

5

th layer – 3 tomatoes

(juice and seeds removed, diced)

6

th layer – 1 small can sliced ripe black olives

(drained)

7

th layer – 1 package

(or less shredded cheddar or Mexican blend cheese)
Instructions 
Assemble all of the layers in order on a platter.

Refrigerate until ready to serve, but make the day you plan to serve. Goes great with tortilla chips.
Notes
Source: My Mom
You're Gonna Bake It After All
bakeitafterall.com
---
---