Fleming's Potatoes Copycat
Fleming's Potatoes Copycat recipe recreates the famous jalapeno potatoes au gratin side dish from Fleming's Steakhouse. These scalloped potatoes are a truly special side dish!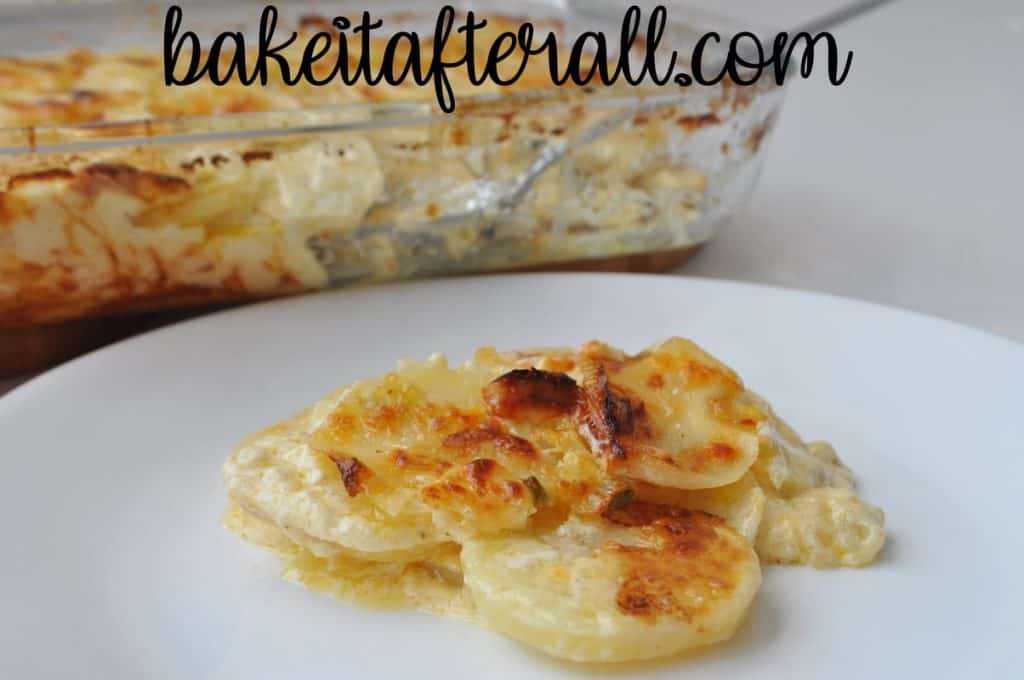 Each year for Bob's birthday, he chooses a restaurant for dinner. For the last several years his choice has been Fleming's. We have been there many times over the last 10 years since moving back to St. Louis. It's quite the splurge, but the service and food are reliably good. Since we rarely go out to dinner, we don't like to risk our rare opportunity on an unknown place.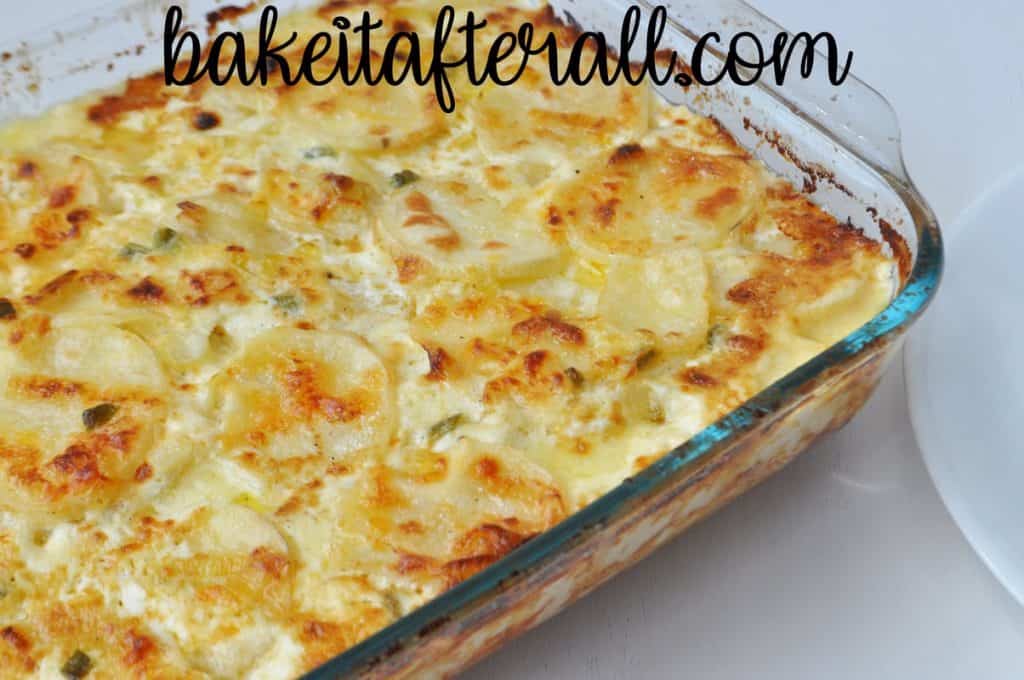 Our favorite Fleming's side dish is called "Fleming's Potatoes." It's basically a version of potatoes au gratin but much, much better than any I've ever had! Thinly sliced potatoes are baked in a cheesy, jalapeno cream sauce. I don't eat red meat, so there have been times where I order these potatoes as my dinner – that's how good they are.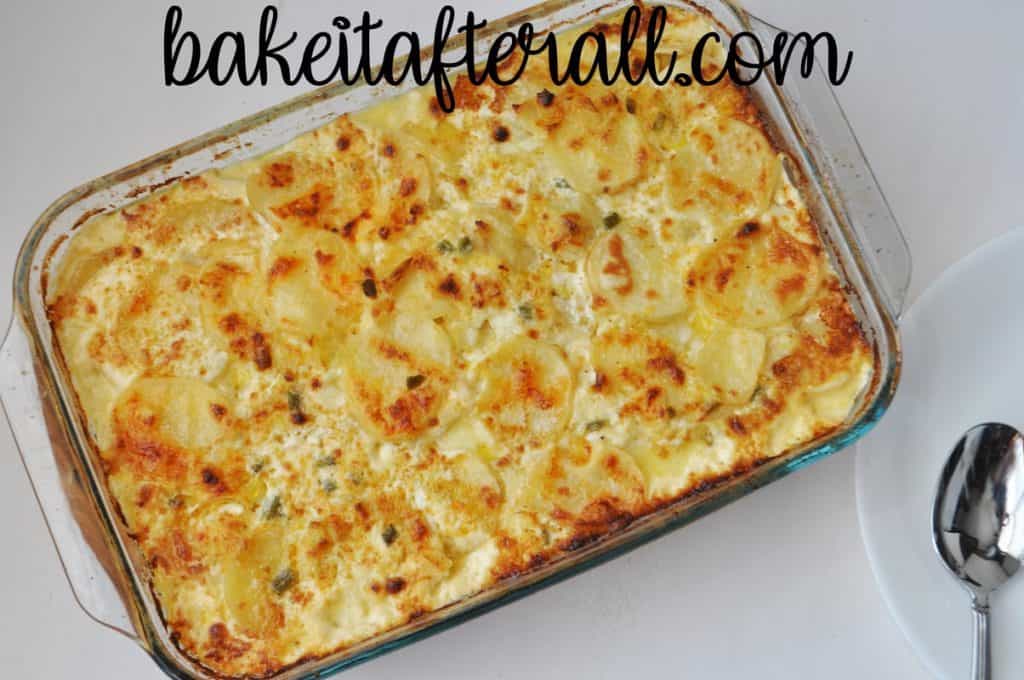 Due to COVID, we are not able to go out for Bob's birthday dinner this year. I wanted to make a copycat version of Fleming's Potatoes so we could still enjoy this restaurant favorite at home. I found a recipe that claims to be written by the original developer of Fleming's Potatoes. I was a bit skeptical, but these are just about spot on! We were so excited to have been able to replicate this dish. With heavy cream, half & half, and lots of cheese, it's not something we would make regularly, but perfect for special occasion dinners and holidays.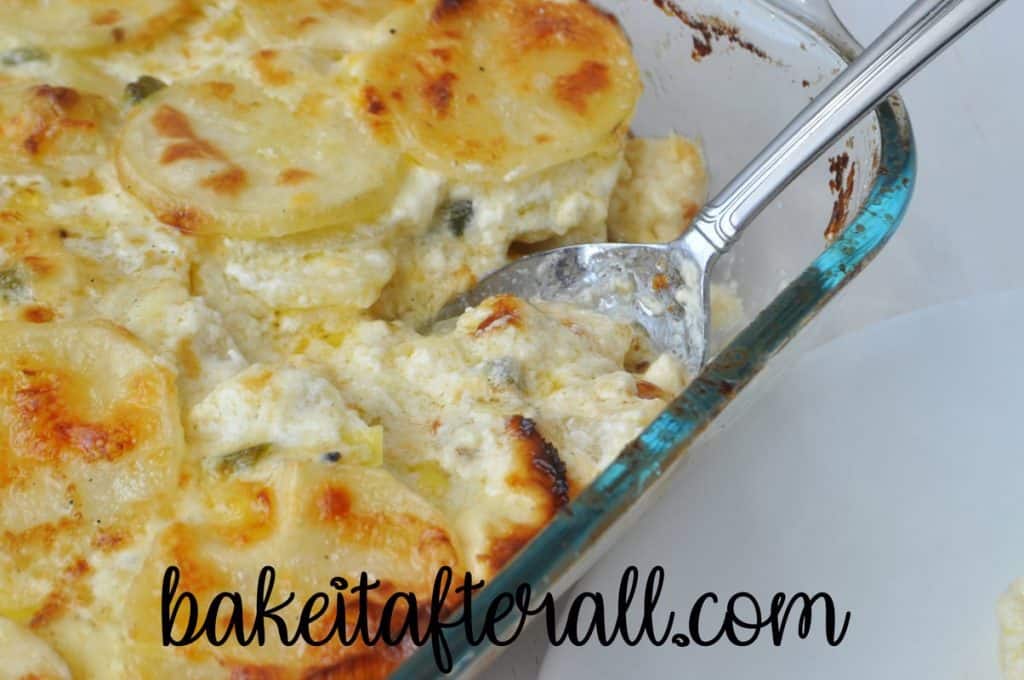 Recipe Details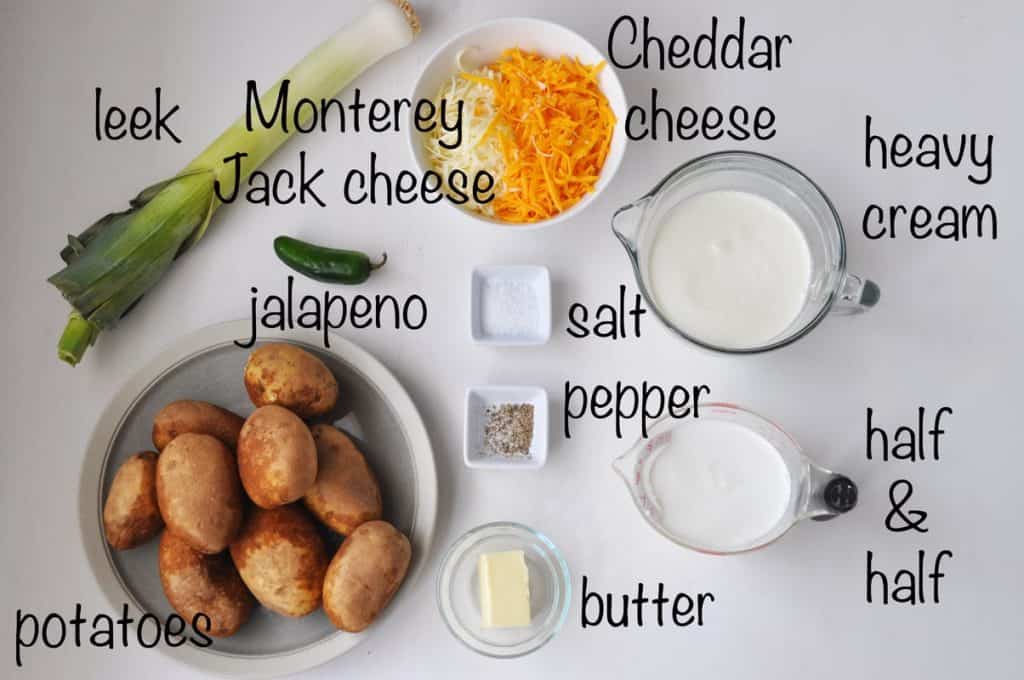 Prepping the Vegetables
First the vegetables need to be prepped. The potatoes are peeled and thinly sliced.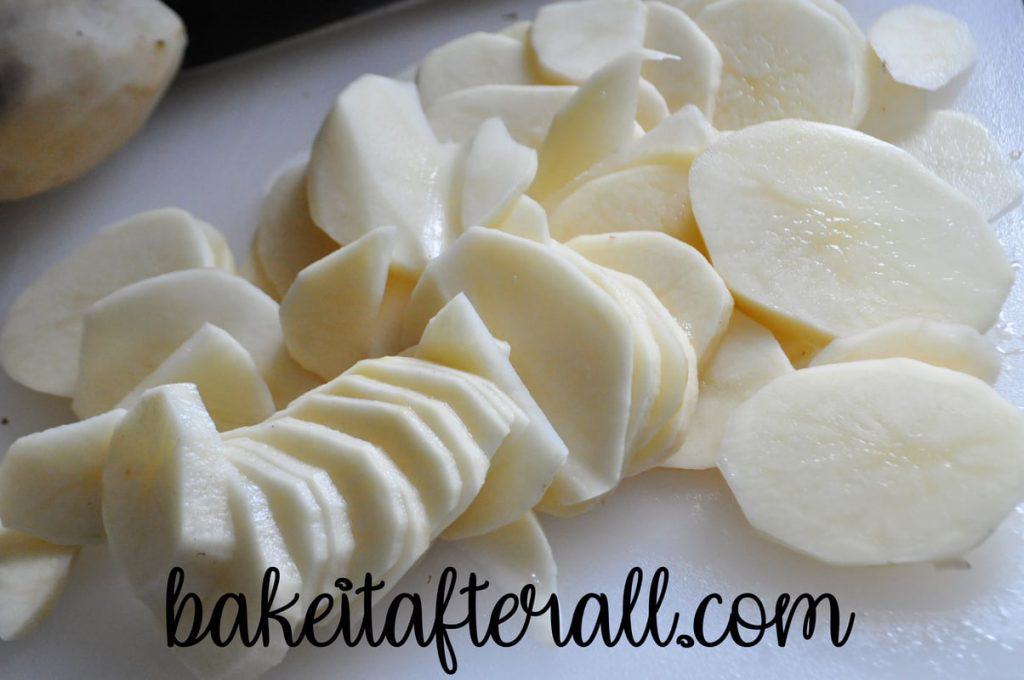 The jalapeno is cut, ribbed, and seeded, then diced. Next, the leek needs to be cut.
How to Cut a Leek
Leeks notoriously have sand and dirt in between their layers and must be cleaned properly. The easiest way to do this is to start by cutting off the fibrous, dark green end of the leek.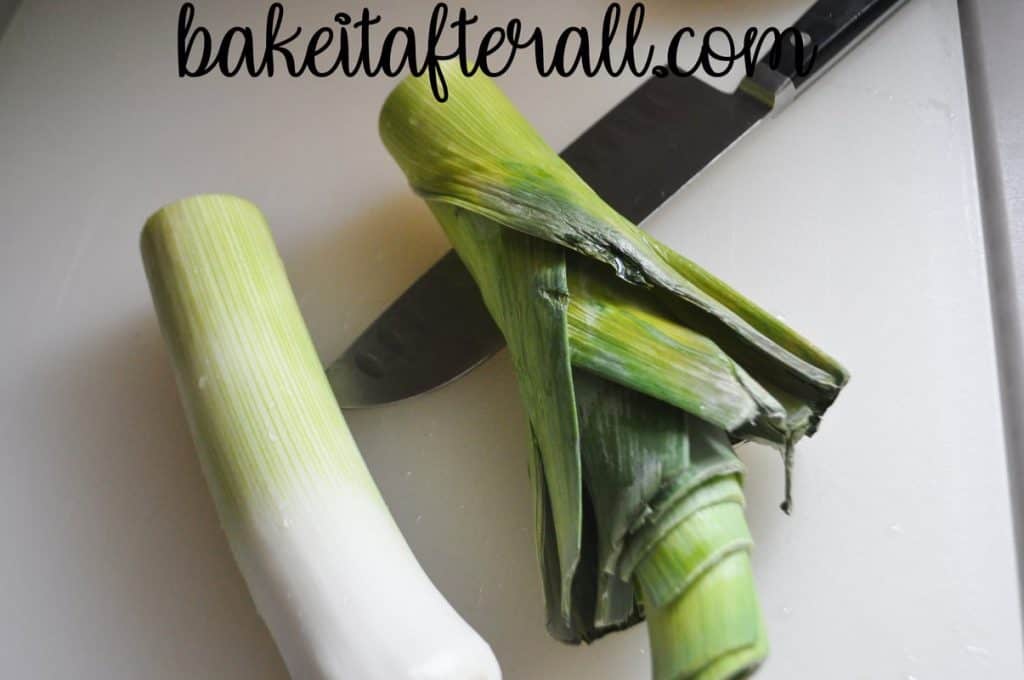 Then, make cuts lengthwise in both directions on the leek but keeping the root of the leek intact and uncut. This allows you to spread apart the layers under running water to remove the sand and dirt easily without the leek falling apart.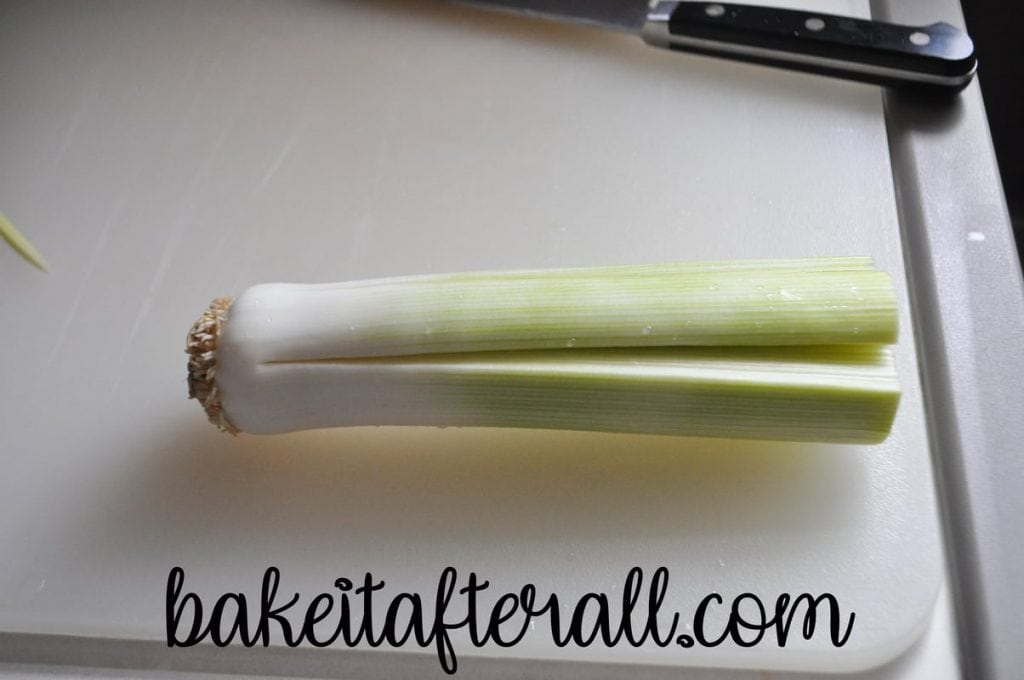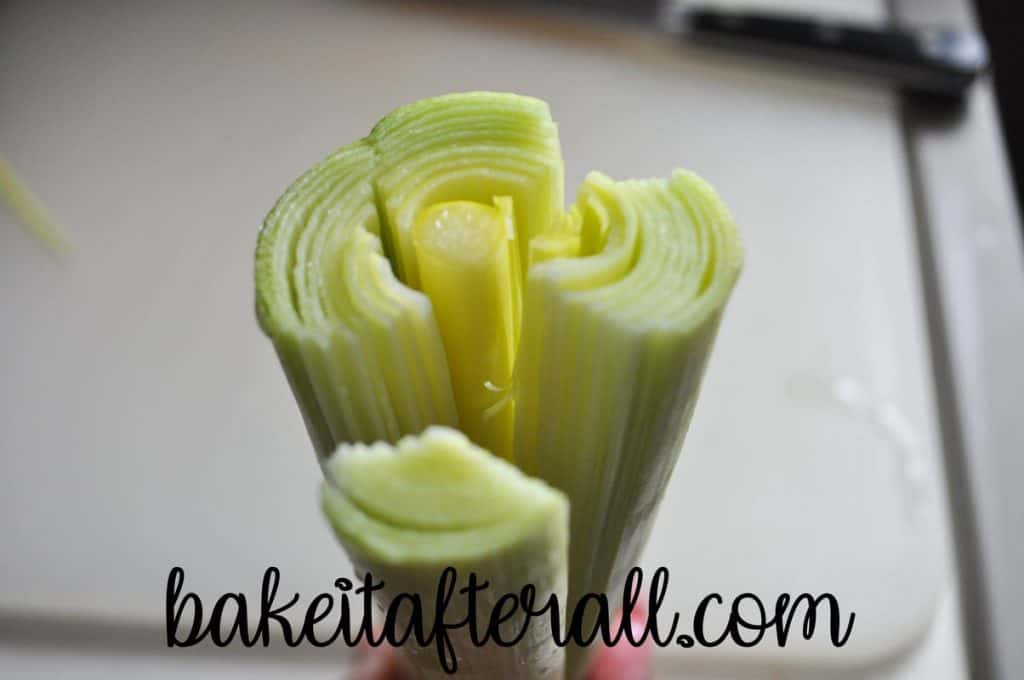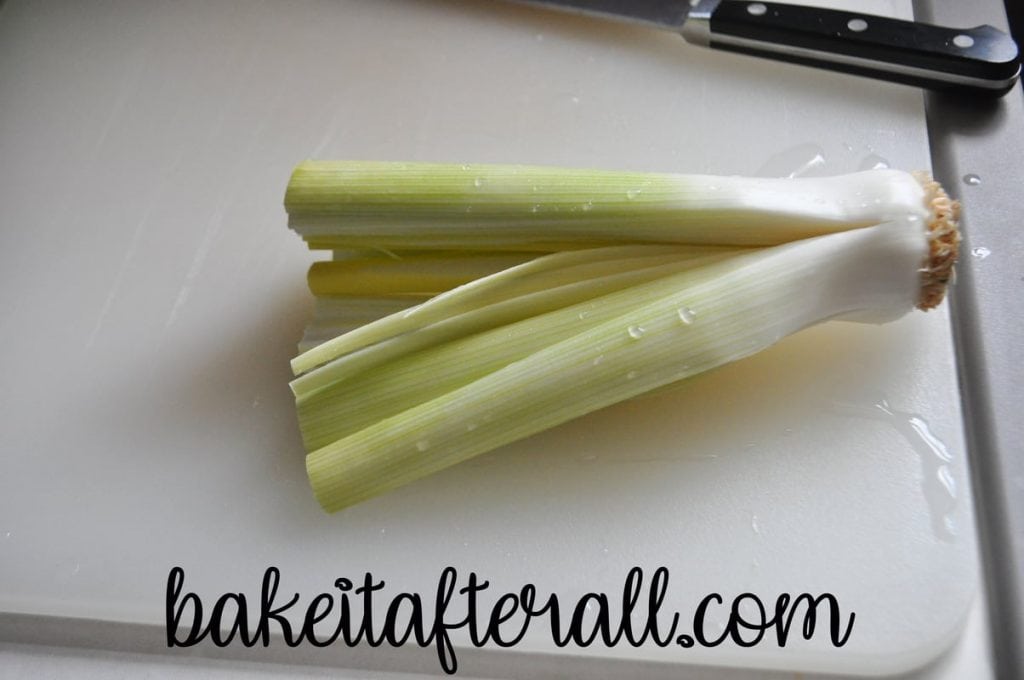 After the layers have been properly cleaned, the leek is placed back on the cutting board and thinly sliced.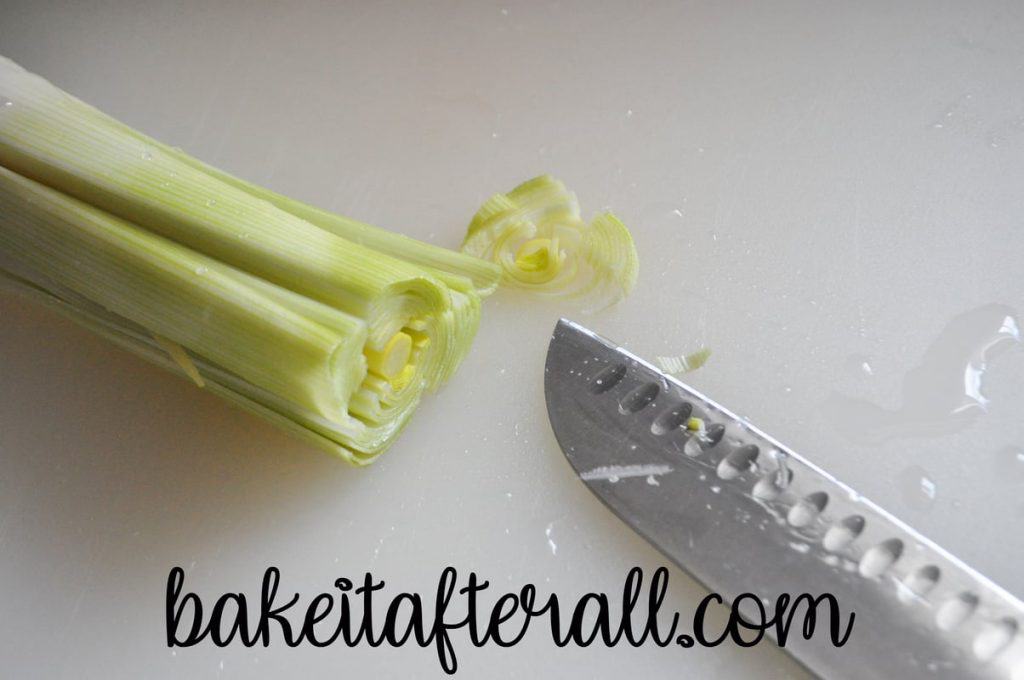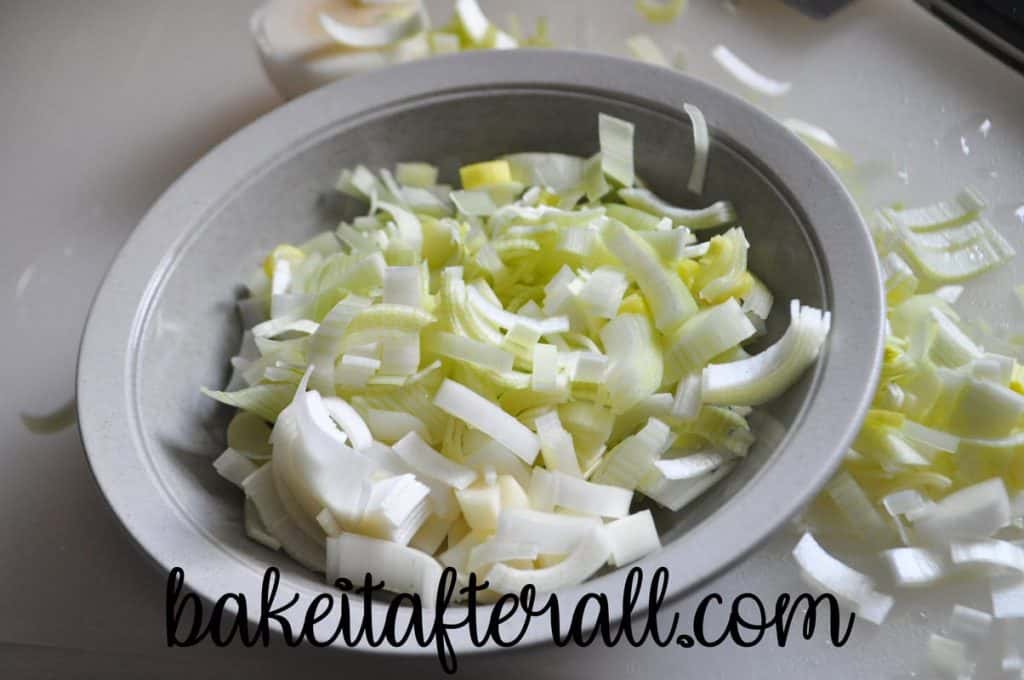 Making the Cheese Sauce
The jalapenos and leeks are sauteed in butter until soft in a cast iron skillet or saute pan.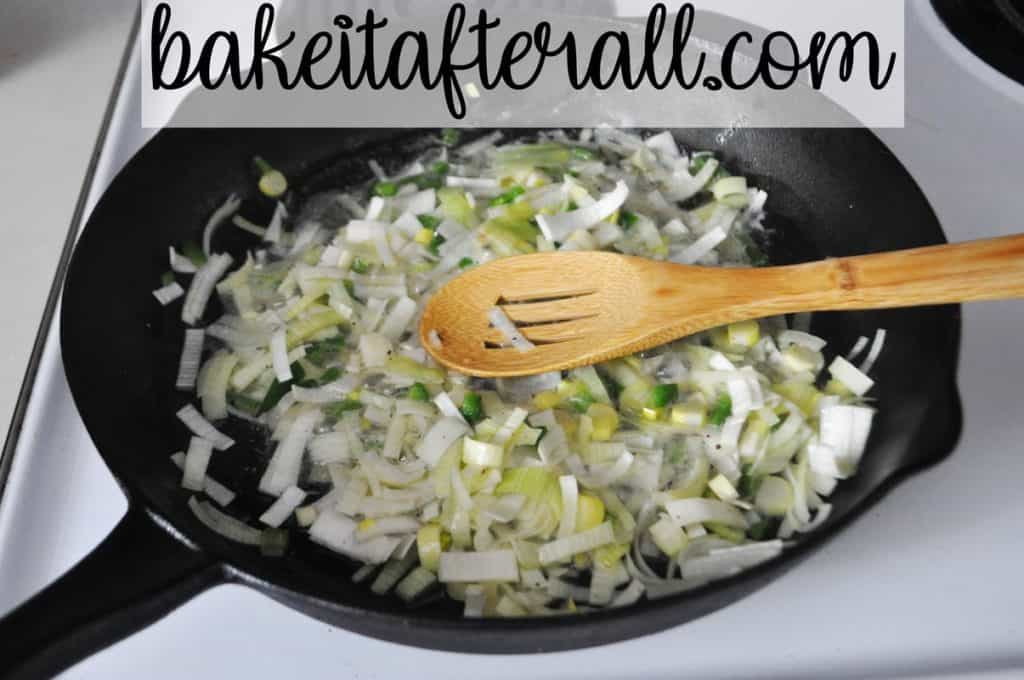 Then the cream and half & half are added and brought to a simmer.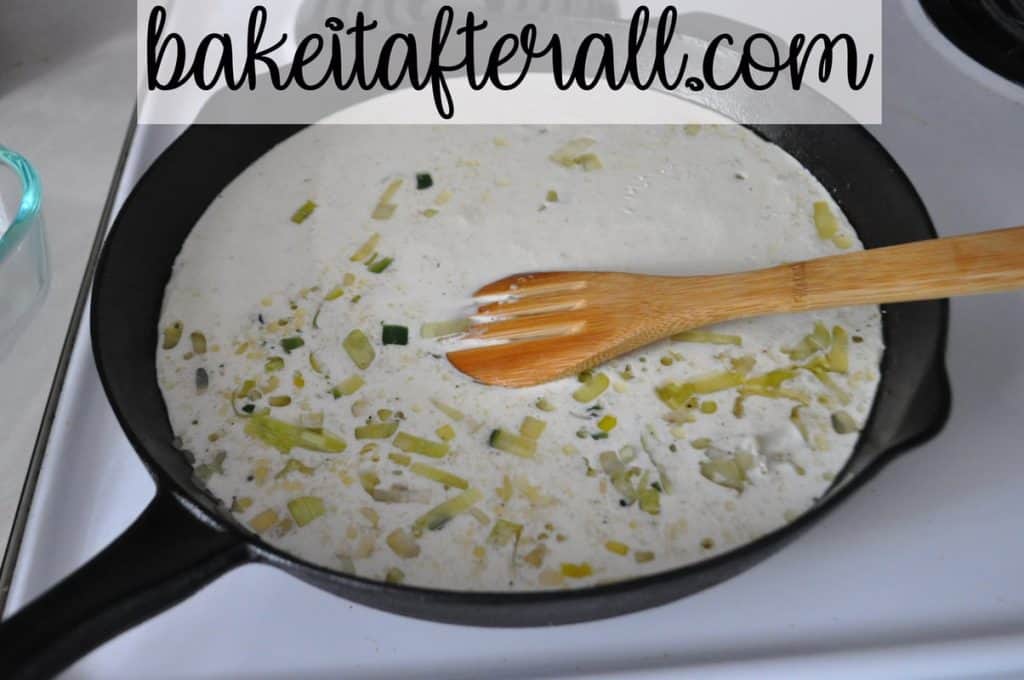 The mixture is removed from the heat and the cheeses are added.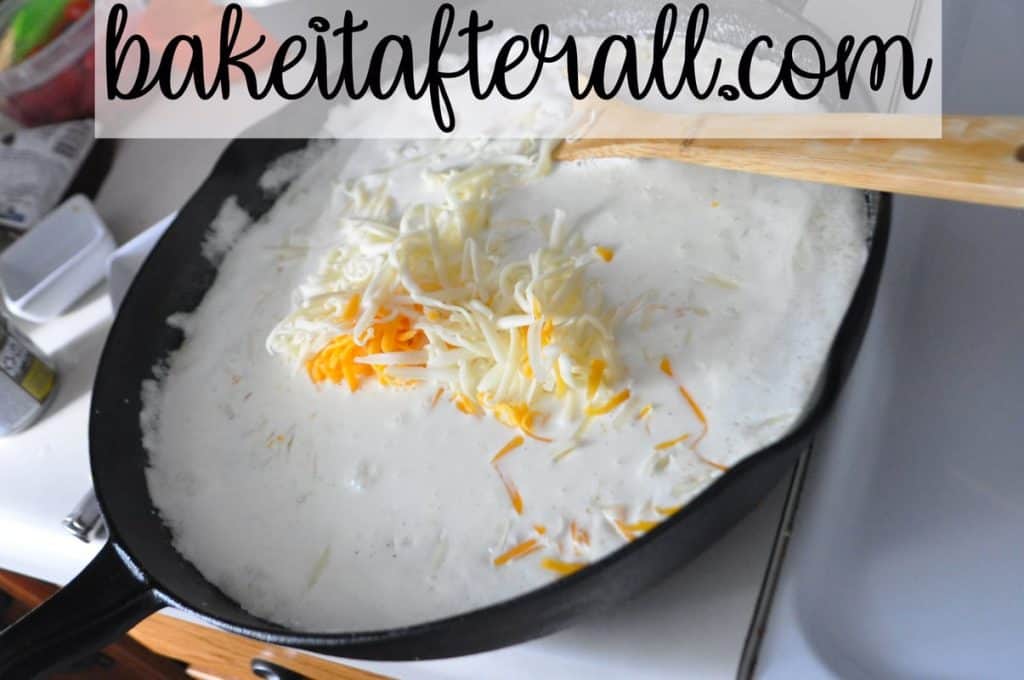 Once the cheeses are melted, the cheese sauce is complete.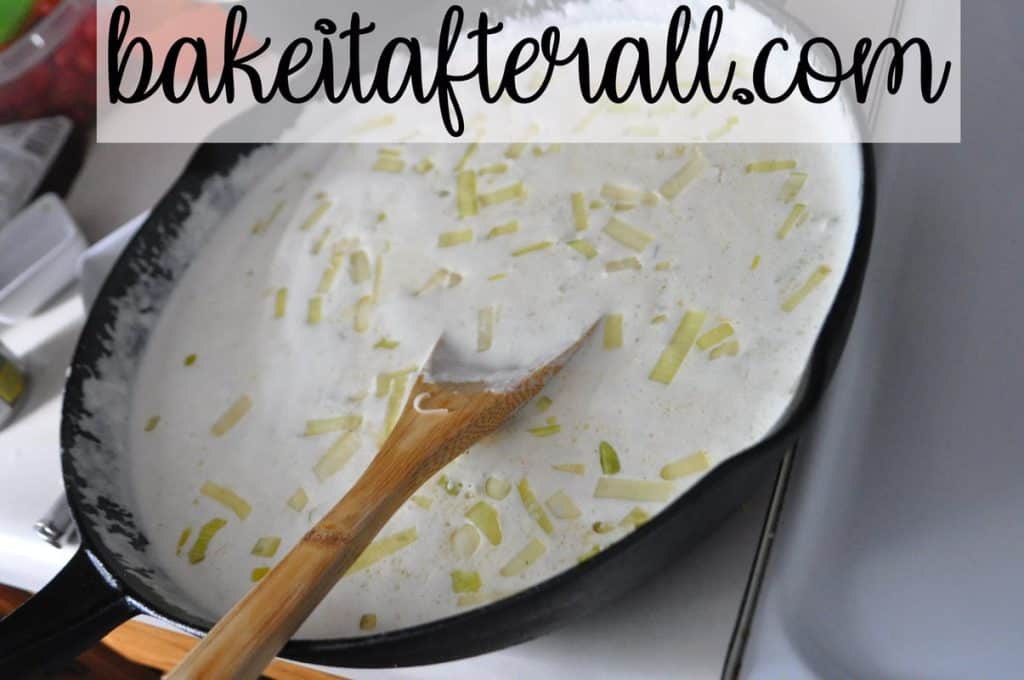 Assembling the Dish
The sliced potatoes and cheese sauce are alternately layered into a greased casserole dish, beginning with a layer of potatoes and ending with the cheese sauce on top.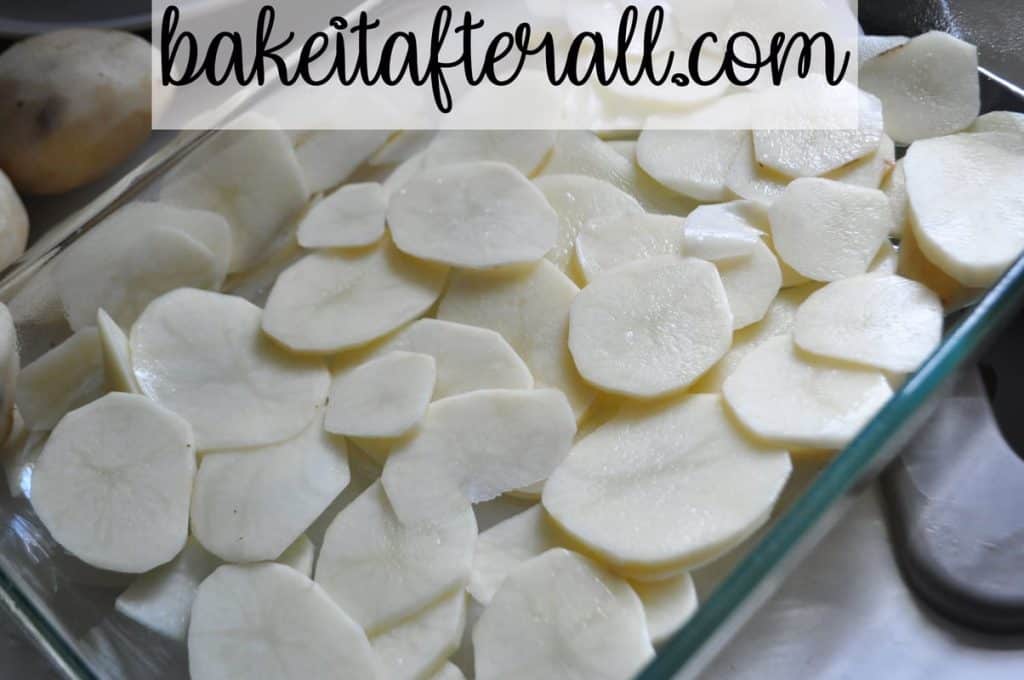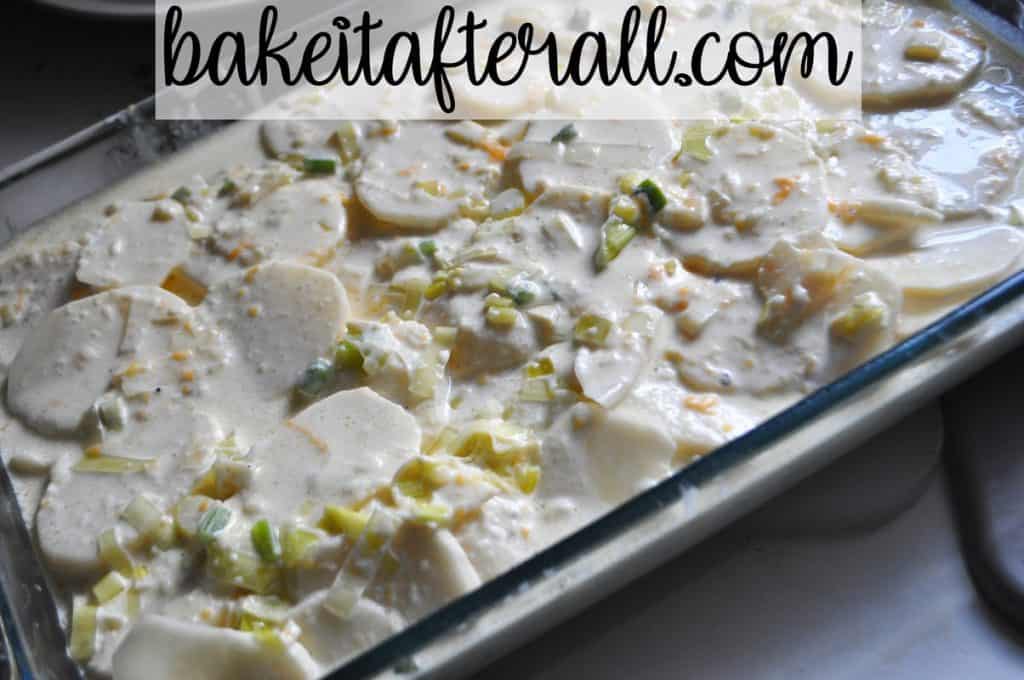 The dish is covered with aluminum foil and baked for 1 hour. Then the foil is removed and the potatoes are baked for an additional 15 minutes, or until brown and bubbly on top.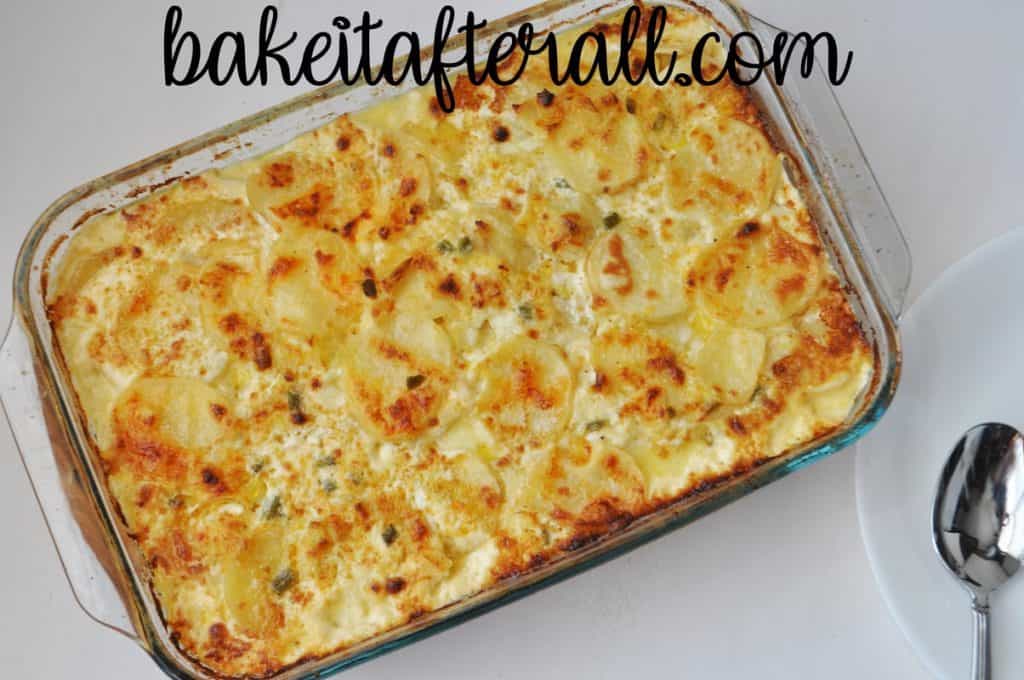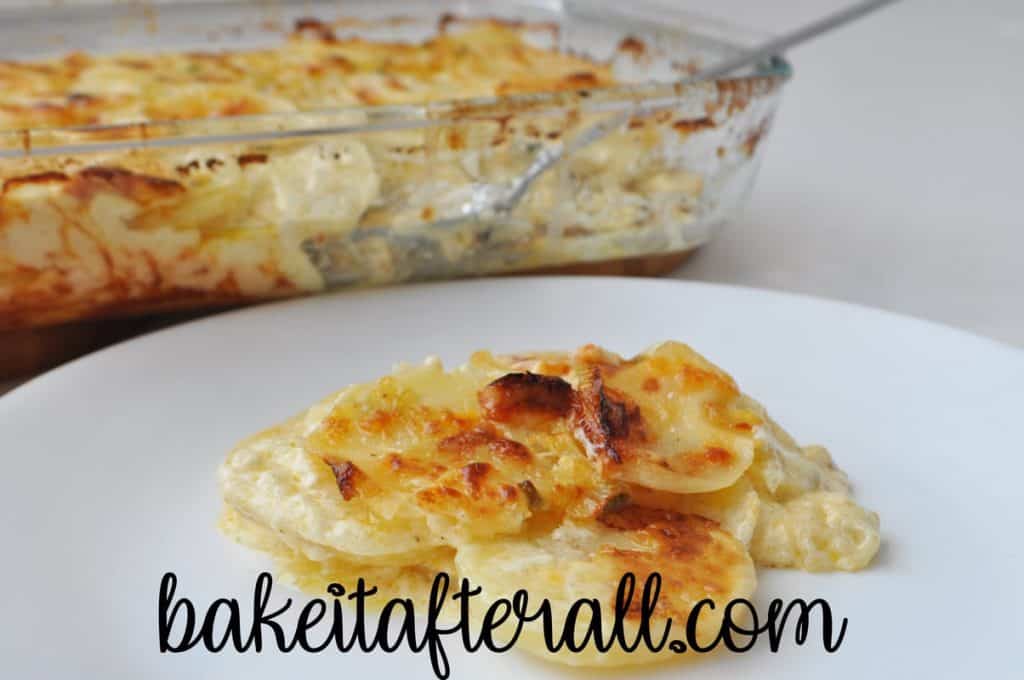 Individual Servings
At Fleming's, the scalloped potatoes are served in a small casserole dish, typically enough to feed 2 or 3 people. One option for this recipe is to make individual portions in small baking dishes, which would be nice for a dinner party.
To make these, choose small casserole dishes, layer the potatoes and cheese sauce, and bake just as you would for the large casserole dish.
Gluten Free Fleming's Potatoes
These potatoes are naturally gluten free!
Looking for More Special Occasion Dinner Ideas?
Check out these Special Occasion Dinner recipes:
Chicken with Dijon Mascarpone Marsala Sauce
Rigatoni with Sausage and Peppers
Turkey Lasagna
Baked Ricotta Cavatelli in a Mascarpone Sauce
Eggplant Parmesan
Herb Roasted Turkey Breast


And these Special Occasion Desserts:
Warm Sticky Figgy Pudding
Bread Pudding with Bourbon Caramel Sauce
Cherry Chocolate Cheesecake Bundt Cake
Mini Bailey's Irish Cream Cheesecakes
Cheesecake Factory Copycat Godiva Chocolate Cheesecake
Salted Caramel Chocolate Fudge Cake
Pumpkin Chocolate Tart
Chocolate Pear Tart
Buche de Noel
Mocha Cream Cake

Fleming's Potatoes Copycat recipe recreates the famous potatoes au gratin side dish from Fleming's Steakhouse. Thinly sliced potatoes baked in a creamy jalapeno cheese sauce, these scalloped potatoes are a truly special side dish!
Ingredients  
3

pounds

Idaho russet potatoes

3

tablespoons

jalapeños

4

ounces

leeks

1 1/2

teaspoon

Kosher salt

1

teaspoon

black pepper

1 1/2

ounces

butter

2

cups

heavy cream

1 1/2

cups

half & half

4

ounces

cheddar cheese

(grated)

4

ounces

Monterey Jack cheese

(grated)
Instructions 
Using nonstick cooking spray or butter, grease the sides and bottom of a 9×13-inch baking dish. If using individual size baking dishes, grease them accordingly.

Peel potatoes and slice thinly.

Remove seeds from jalapeños and dice finely.

Cut off fibrous end of leek. Make two cuts lengthwise across leek, keeping the root intact. Thoroughly wash the leek layers under running water to remove sand and dirt. Thinly slice the light green and white portion of the leek, discarding the root.

Place butter in large saute pan or cast iron skillet set on medium high heat. Add jalapeños, leeks, salt, and pepper, and sauté for 4-5 minutes. Add the cream and half & half and bring to a simmer.

When cream mixture is hot, pull from stove, add cheeses and blend in thoroughly.

Alternately layer the potato slices and cheese sauce into the prepared casserole dish until the dish is full, topping with the remaining cheese sauce. If using individual dishes, do the same in each of them.

Cover dish(es) with aluminum foil and bake at 350°F for 1 hour (this may be less time for the individual dishes). Remove foil and bake another 15 minutes, or until the top is golden brown.
Notes
Source:  Adapted from Epicurious
You're Gonna Bake It After All
bakeitafterall.com
---
---