Roasted Chicken with Garlic Pan Sauce
Roasted Chicken with Garlic Pan Sauce is the traditional Chicken with 40 Cloves of Garlic recipe. Gluten free, low carb, keto friendly!
This recipe is adapted from an America's Test Kitchen recipe for Chicken with Forty Cloves of Garlic. There are many of these recipes floating around, but when I'm looking for a no-fail recipe, I always turn to my America's Test Kitchen Complete TV Show Cookbook.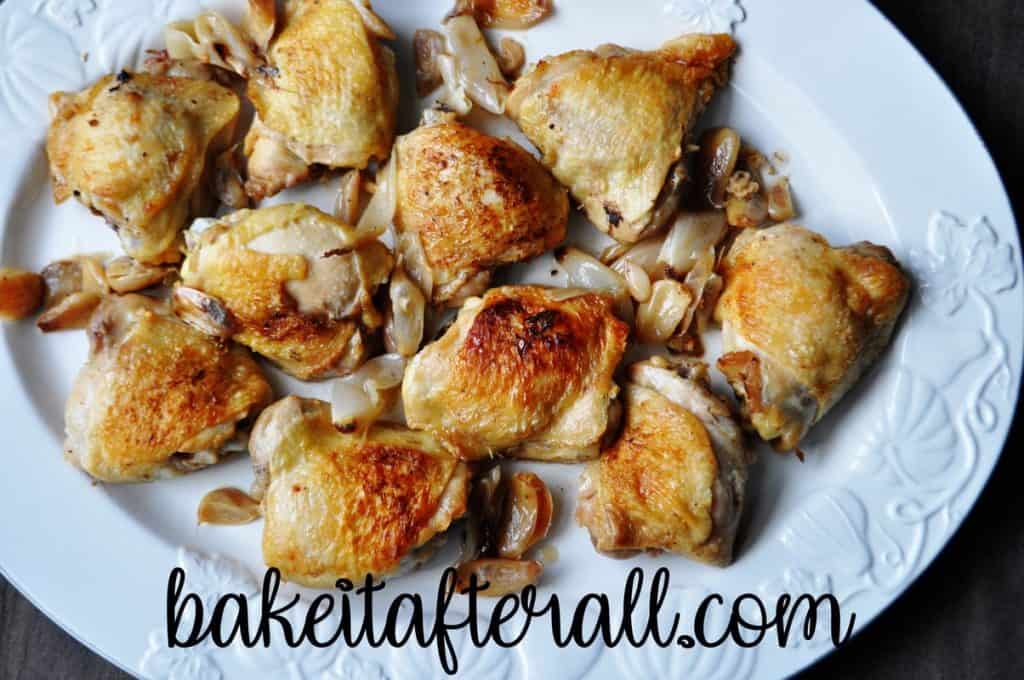 I first made this 11 years ago but never posted the recipe. I've made this several times, and we love it! It's a little more involved than your typical weeknight meal, but it's perfect for a weekend, a special dinner at home, a dinner party, or a holiday.
The garlic is roasted with shallots first to enhance the flavor. The chicken is brined before being seared and then roasted in wine, broth, herbs and garlic. Once the chicken is fully cooked, a portion of the softened roasted garlic is made into a paste that is whisked into a pan sauce. Because of the brining, the chicken is extra juicy, and the delicious sauce is spooned on top. The sauce is so good you could eat it by itself!
The roasted shallots and extra roasted garlic cloves are served alongside the chicken. The garlic is soft and can even be spread on bread.
Recipe Details
Brining the Chicken
The first step of this recipe is to make a brine. This is a simple mixture of water and salt.
The salt is dissolved in the cold water, and the pieces of chicken are added. The recipe calls for a whole chicken, cut into 8 pieces. You can purchase a cut up chicken like this at most grocery stores. You can use any kind of skin-on bone-in chicken you'd like. I used skin-on bone-in chicken thighs this time.
The pot of brining chicken is refrigerated for 30 minutes, then the chicken is rinsed, patted dry, and seasoned with salt and pepper. While the chicken brines, you can begin roasting the garlic and shallots.
Roasting the Garlic and Shallots
Because this recipe is originally titled "Chicken with Forty Cloves of Garlic," 3 heads of garlic are roasted with shallots. These garlic cloves will be roasted with the chicken later and then used to make a garlic paste that flavors the pan sauce.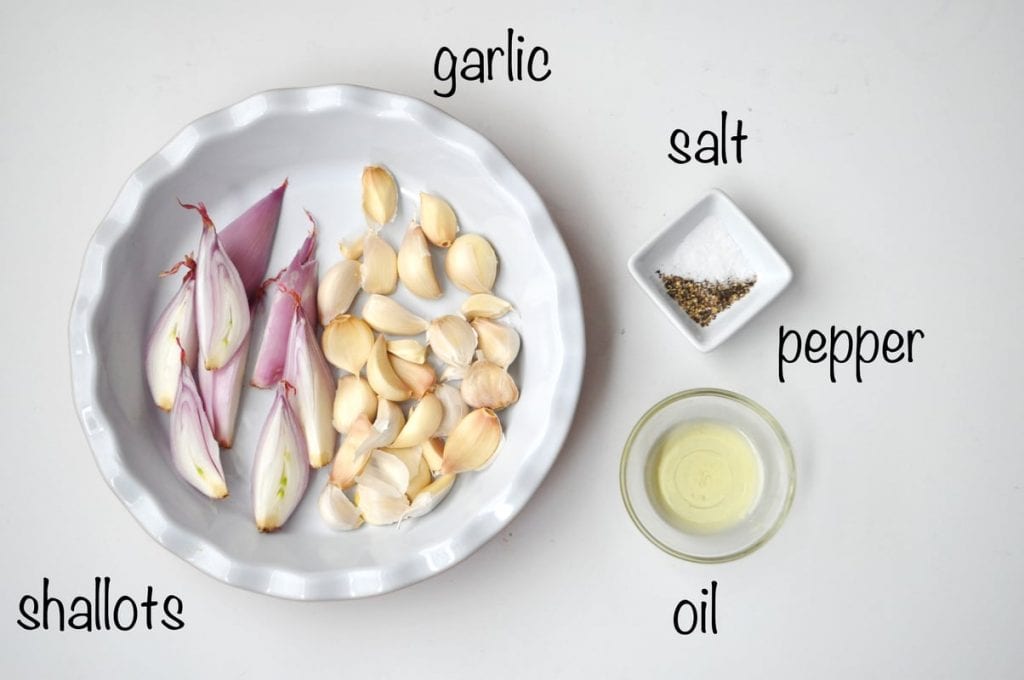 The garlic is left unpeeled and tossed with shallots and oil and seasoned with salt and pepper. This can be done in a pie plate or baking dish. The plate is covered with foil and roasted.
The garlic and shallots are set aside while the chicken is browned.
Browning and Roasting the Chicken
First, you'll make a bouquet garni to put in the pot with the chicken. A bouquet garni is simply a bundle of herbs tied together. For this recipe, a bay leaf, fresh thyme, and rosemary are secured with kitchen twine. I left out the rosemary due to personal preference.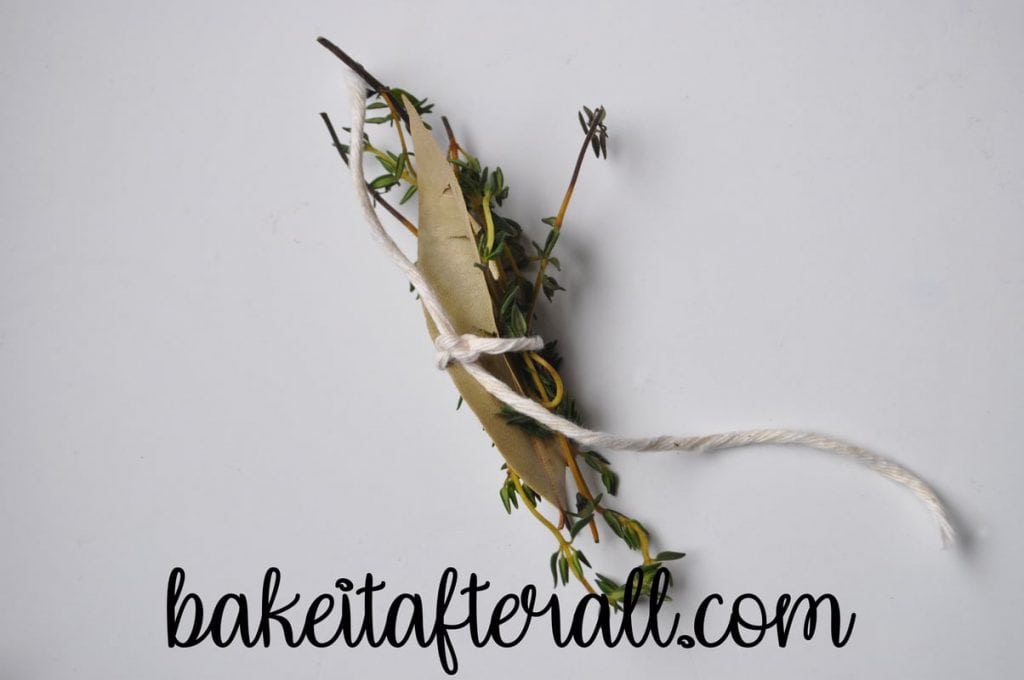 The chicken is browned on both sides in a heavy oven-safe skillet, such as a cast iron Dutch/French oven. Then, it is removed to a plate and the grease is poured out of the pan and discarded. The white wine or vermouth, chicken broth, and bouquet garni are added to the skillet, and the browned bits on the bottom of the pan are scraped up.
Add the roasted garlic and shallots to the pan and nestle the chicken on top, skin side up.
The chicken is roasted until cooked through. At the end, if you want you can broil the chicken to crisp up the skin a bit. The chicken and vegetables are transferred to a serving platter, and it's time to make the pan sauce.
Building the Garlic Pan Sauce
First, you'll make a roasted garlic paste that will be added to the pan sauce. To do this, take 10 to 12 cloves of softened garlic from the pot and place them in a small mesh strainer set over a glass measuring cup or bowl.
Using a small silicone spatula, push the garlic through the strainer. You'll probably have to scrape underneath the mesh as well to help transfer the paste to the measuring cup.
You'll end up with this lovely roasted garlic paste.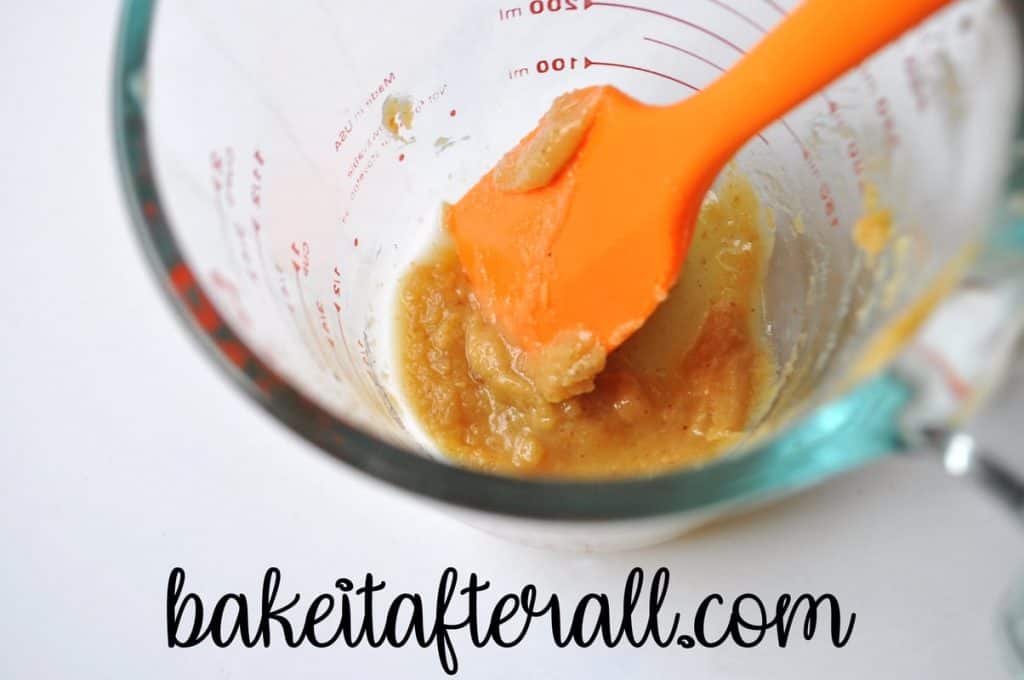 The garlic paste is then added to the roasting liquid left in the pan and brought to a simmer. To finish the sauce, the salt and pepper can be adjusted and the butter is added off heat.
Serving the Chicken
The chicken is served alongside the roasted garlic and shallots. The shallots are sweet and delicious. The garlic can be eaten whole if that's your thing, or you can spread it onto bread. The garlic pan sauce is served separately in a gravy boat.
The sauce is spooned over the chicken and can be used as a dip for bread.
Gluten Free Roasted Chicken
This recipe is naturally gluten free. It is also low carb and keto friendly!
Looking for More Chicken Recipes?
Check out these other Chicken recipes:
Mushroom and Herb Stuffed Chicken Breasts
Southwestern Roasted Chicken
Spicy Roasted Chicken
Garlic Braised Chicken Thighs with Roasted Carrots
Chicken Marbella
Lemon Chicken
Caramelized Apple Stuffed Chicken with Fontina and Cherries
Spicy Honey Brushed Chicken Thighs
Chicken Francese


Roasted Chicken with Garlic Pan Sauce is the traditional Chicken with 40 Cloves of Garlic recipe. Gluten free, low carb, keto friendly!
Ingredients  
For the Brine:
table salt

1

whole chicken

(3 1/2 to 4 pounds, cut into 8 pieces (4 breast pieces, 2 thighs, 2 drumsticks) and trimmed of excess fat, see note)
For the Roasted Garlic and Shallots:
3

large heads garlic

(about 8 ounces, outer papery skins removed, cloves separated and unpeeled)

2

medium shallots

(peeled and quartered pole to pole)

1

tablespoon

olive oil

table salt and ground black pepper
To Roast the Chicken and Make Pan Sauce:
2

sprigs fresh thyme

1

sprig fresh rosemary

(optional)

1

bay leaf

3/4

cup

dry white wine or dry vermouth

3/4

cup

low sodium chicken broth

2

tablespoons

butter
Instructions 
Adjust oven rack to middle position and heat oven to 400°.
Brine the Chicken:
Dissolve 1/4-cup table salt in 2 quarts cold tap water in large container or bowl.

Submerge chicken pieces in brine and refrigerate until fully seasoned, about 30 minutes. While the chicken brines, proceed to roast the garlic and shallots.
Roast the Garlic and Shallots:
Toss garlic and shallots with 2 teaspoons olive oil and salt and pepper to taste in 9-inch pie plate; cover tightly with foil and roast until softened and beginning to brown, about 30 minutes, shaking pan once to toss contents after 15 minutes (foil can be left on during tossing).

Uncover, stir, and continue to roast, uncovered, until browned and fully tender, 10 minutes longer, stirring once or twice. Remove from oven and increase oven temperature to 450°.
Brown and Roast the Chicken:
After the chicken has brined for 30 minutes, rinse the chicken pieces under running water and thoroughly pat dry with paper towels. Season both sides of chicken pieces with pepper.

Using kitchen twine, tie together thyme, rosemary, and bay leaf; set aside.

Heat remaining 1-teaspoon oil in 12-inch heavy-bottomed ovenproof skillet or Dutch/French oven over medium-high heat until beginning to smoke; swirl to coat pan with oil. Brown chicken pieces skin-side down until deep golden, about 5 minutes; using tongs, turn chicken pieces and brown until golden on second side, about 4 minutes longer. Transfer chicken to large plate and pour off fat to discard.

Off heat, add wine or vermouth, chicken broth, and herbs, scraping bottom of skillet with wooden spoon to loosen browned bits. Set skillet over medium heat, add garlic/shallot mixture to pan, then return chicken, skin-side up, to pan, nestling pieces on top of and between garlic cloves.

Place skillet in oven and roast until instant-read thermometer inserted into thickest part of breast registers about 165°, 10 to 12 minutes. If desired, increase heat to broil and broil to crisp skin, 3 to 5 minutes. Using potholders or oven mitts, remove skillet from oven and transfer chicken to serving dish.
Finish Garlic Pan Sauce:
Remove 10 to 12 garlic cloves to mesh sieve and reserve; using slotted spoon, scatter remaining garlic cloves and shallots around chicken and discard herbs.

With silicone or rubber spatula, push reserved garlic cloves through sieve and into bowl; discard skins. Add garlic paste to skillet. Bring liquid to simmer over medium-high heat, whisking occasionally to incorporate garlic; adjust seasoning with salt and pepper to taste.

Whisk in butter; pour sauce into sauceboat and serve.
Notes
You may use any kind of skin-on chicken, such as bone-in skin-on chicken thighs.
Serve the dish with slices of crusty baguette for dipping into the sauce and onto which the roasted garlic cloves can be spread.
Source: Adapted from America's Test Kitchen
You're Gonna Bake It After All
bakeitafterall.com
---
---