Bailey's Irish Cream Mini Cheesecakes
These Bailey's Irish Cream Mini Cheesecakes have an Oreo sandwich cookie crust (or gluten free sandwich cookies for an entirely gluten free dessert!), two layers of cheesecake flavored with Bailey's, and a chocolate ganache glaze. A bite sized dessert that is perfect for parties and potlucks!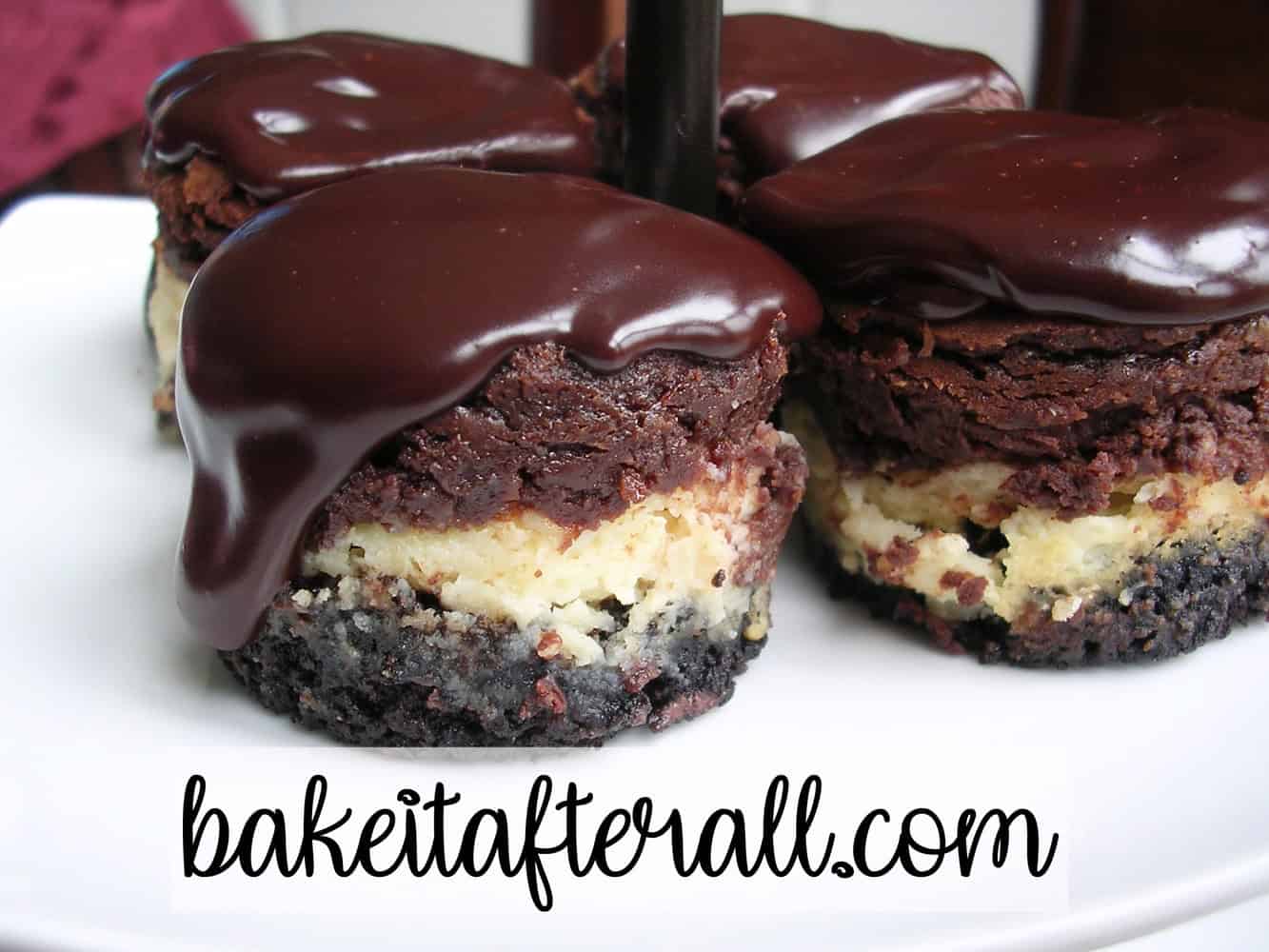 These Bailey's cheesecakes really are as amazing as they look, and I hope you'll try them and share them with friends. I make them for adult events and even Kids Tea Parties! You may also be interested in my roundup of Best Mini Cheesecake Recipes.
Bailey's Mini Cheesecakes: The Perfect Party Dessert
Bob's work Holiday Party was earlier this month, and everyone was encouraged to bring a snack or dessert. This party fell on the same weekend as our Holiday Open House, so I was already in full dessert mode – what's one more?! I thought for a while about what to make, then remembered my mini cheesecake pans. It's rare that I get the opportunity to use them, and this seemed like the perfect event for a bite-sized, easy-to-grab dessert. One of my favorite cheesecakes is the Bailey's Irish Cream Cheesecake, so I decided to adapt the recipe to a mini version.
Developing the Recipe
I wasn't sure how this would work, but they turned out great! Like I did for the Cheesecake Factory Godiva Chocolate Cheesecake Copycat, I pulled together different aspects I've liked from other recipes.
I used the Oreo/sandwich cookie crust from the Black Bottom Caramel Pumpkin Cheesecake Bites recipe, the cheesecake layers from the Bailey's Irish Cream Cheesecake recipe, and the ganache glaze from the Almost Fudge Gateau recipe. Note: if you do not have Bailey's Irish Cream or prefer not to use it, you may substitute cold coffee instead, as I did with the Cheesecake Factory Copycat Cheesecake.
These mini Bailey's cheesecakes were a big hit at the party, and I had many requests for the recipe. They are actually pretty simple to make, but certainly don't look simple.
LOVE BAILEY'S? Try these Oreo Shamrock Shakes with Bailey's in place of milk!
Mini Cheesecake Pans
I realize that very few people actually own a mini cheesecake pan. A friend of mine tried the Pumpkin Spice Magic Bar Mini's in a muffin pan and she had a very difficult time getting them out of the pan – in fact they fell apart. I can see why this happened considering the cheesecake pan allows you to push the removable bottom up to remove the cheesecake from the pan without disrupting the crust.
If you would like to make this recipe and don't have a mini cheesecake pan, go ahead and use a mini muffin pan (or regular muffin pan for larger cakes), but make sure you use paper or aluminum cupcake liners (either for mini muffins or regular muffins). You can always remove the liners before you top with the ganache to get the drip appearance – just make sure you coat the liners with nonstick cooking spray!
Making the Ganache Glaze
I use Ghiradelli Bittersweet Baking Chips for this ganache. Most recipes state not to use chocolate chips for a ganache or melting chocolate because they typically have a coating that helps them from sticking in the bag. I find that these bittersweet chips in particular melt so smoothly and give me the perfect ganache.
The scientist in me has to measure ingredients with a kitchen scale. I have an old one that, as you can see, is obviously very well loved.
The ingredients for the ganache are simply chocolate, heavy cream, and a tiny amount of light corn syrup to give it a little sheen. You can eliminate the corn syrup if you prefer.
First the chocolate is melted carefully, while the cream is brought to a boil. Then the hot cream is poured on top of the melted chocolate. When you pour it in, it's not going to look right. I use a small wire whisk to get it smooth. If it doesn't look right, just keep whisking! The corn syrup is added last for that little bit of shine you see in the photos. The original glaze recipe says to stir it in carefully, so if you'd rather do that, the small silicone spatula would be used instead of a whisk.
I mention these little silicone spatulas time and time again because I use them ALL.THE.TIME. Literally every single day. I use them with this ganache to get it all out of the bowl. You definitely don't want to waste ganache. These spatulas make "licking the bowl" so much easier! 😉
Glazing the Bailey's Mini Cheesecakes
One of my favorite parts of this recipe is how the ganache glaze drips down the sides of the mini cakes. If you prefer a more polished look, you can leave them in the pan (or with the liner on if you used a mini muffin or muffin pan) and add the ganache, then remove them after the ganache has chilled and set. It's really just a matter of personal preference on the final appearance of the dessert.
You may have to let your glaze cool for a few minutes before applying it to the cheesecakes. If it's too warm, it will run all down the sides of the cakes. You don't want it too cool too much or it will thicken and be more of a frosting than a glaze that drips. If you prefer it that way, you can let it cool more.
To apply the glaze, you can use a small spoon or small icing spatula to add a little of the glaze to the center of a cheesecake and carefully smooth it out towards the edges. Alternatively, you can pour it in the center and then use the spoon or spatula to guide the glaze towards the edges. If it starts to drip too much, let it cool a bit more before proceeding to glaze the rest of the cakes.
Gluten Free Bailey's Irish Cream Mini Cheesecakes
I've also made these using gluten free sandwich cookies instead of Oreos for an entirely gluten free dessert and had identical results!
Not into mini desserts?
You can find the full sized version of the Bailey's Irish Cream Cheesecake with a graham cracker crust HERE.
Other Mini Cheesecake Varieties
Best Mini Cheesecake Recipes
Mini Hot Cocoa Cheesecakes
Mini Red Velvet Cheesecakes
Mini Mocha Cheesecakes
Black Bottom Caramel Pumpkin Cheesecake Bites
Mini Pumpkin Cheesecakes
Mini Pina Colada Cheesecakes
Pumpkin Spice Magic Bar Minis
Mini New York Cheesecakes
Looking for more chocolate?!
Check out these recipes:

Rainbow Brownie Ice Cream Sandwiches
Cherry Chocolate Cheesecake Bundt Cake
Easy Homemade Cream Puffs
Mocha Cream Cake
Samoa Bundt Cake
Samoa Bars
Salted Caramel Chocolate Fudge Cake
Rich Chocolate Bundt Cake
Chocolate Pear Tart
Chocolate Covered Cherry Cookies
Dark Chocolate Mascarpone Brownies with Blueberry Ganache
Roasted Cherry Brownie Sundaes with Cherry Port Sauce
Graham Cracker S'mores Cookies
Homemade Dairy Queen Ice Cream Cake
Thick and Chewy Double Chocolate Cookies
Double Chocolate Banana Bread
Thick and Chewy Chocolate Chip Cookies
Looking for more cheesecakes?
Check out these recipes:

Mocha Cheesecake
Cherry Chocolate Cheesecake Bundt Cake
S'more Cheesecake Bars
Pumpkin Spice Magic Bar Minis
Cheesecake Factory Godiva Chocolate Cheesecake Copycat
Chocolate Pumpkin Cheesecake Bars
Pumpkin Chocolate Cheesecake Bars
Bailey's Irish Cream Cheesecake
Chocolate Cheesecakes for Two
Ambrosia Pie
Mexican Chocolate Black Bottom Cupcakes
Red Velvet Brownies with Cheesecake Swirl
Red Velvet Cheesecake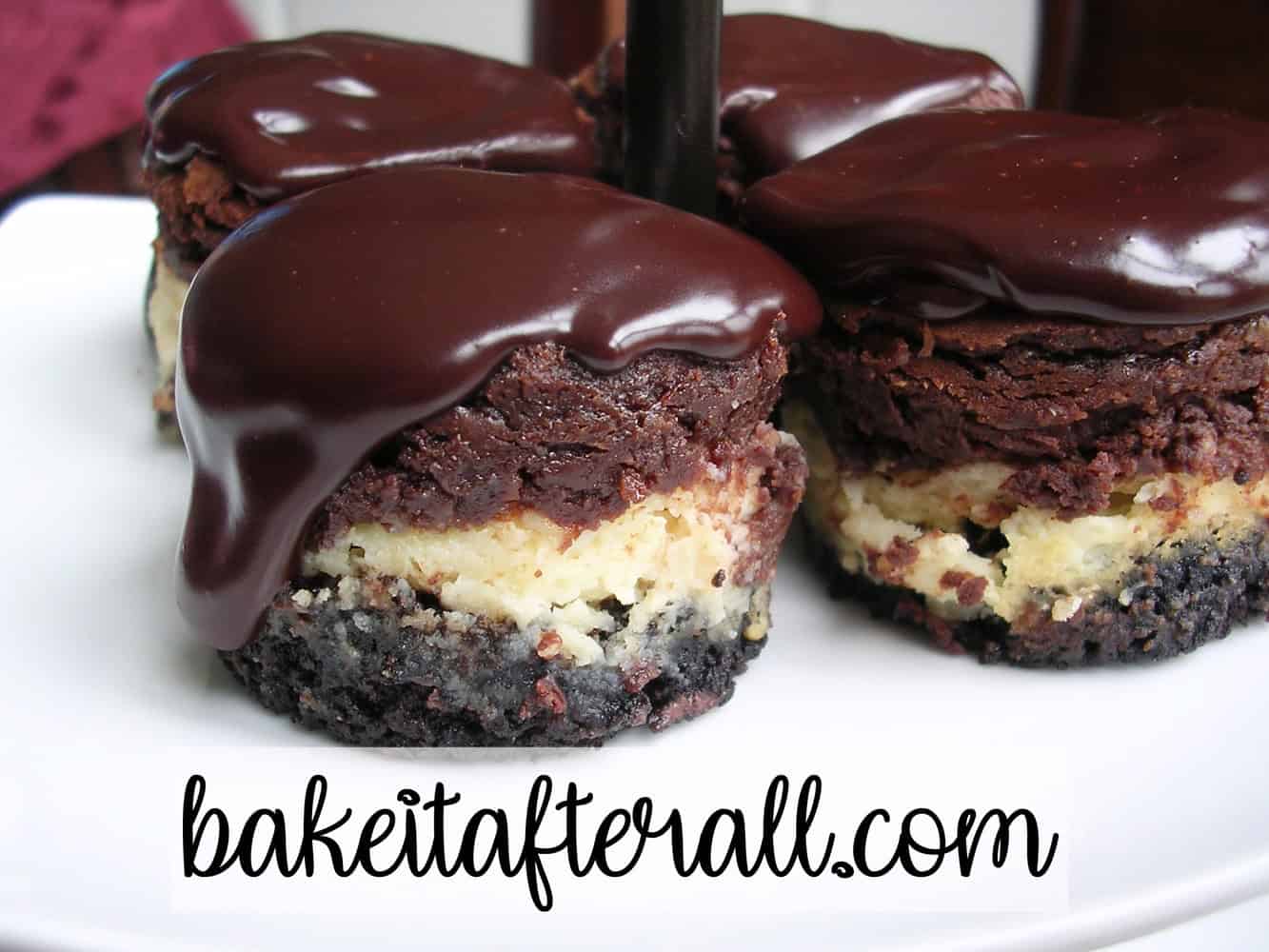 Bite sized Bailey's Irish Cream Mini Cheesecakes have an Oreo sandwich cookie crust (or gluten free cookies) and a chocolate ganache glaze.
Equipment
two 12-cup mini cheesecake pans or one 24-cup mini muffin pan or one 12-cup muffin pan
Ingredients  
For the crust:
16

whole Oreos or gluten free sandwich cookies

(finely ground in food processor)

3

tablespoons

melted butter
For the filling:
16

ounces

cream cheese

(two 8-ounce packages)

1/2

cup

sugar

2

eggs

1 1/3

cups

sour cream

3

tablespoons

Bailey's Irish Cream

(or cold coffee)

1

teaspoon

vanilla extract

4

ounces

semi-sweet chocolate

(melted and cooled slightly)
For the ganache glaze:
4

ounces

bittersweet chocolate

(coarsely chopped)

1/2

cup

heavy cream

2

teaspoons

light corn syrup

(optional)
Instructions 
If using mini cheesecake pans, the pan is ready to use. If using a mini muffin pan or regular muffin pan, line each cup with a paper or aluminum cupcake liner and spray the insides lightly with nonstick cooking spray.

Combine the ground Oreos/sandwich cookies and melted butter into a bowl until well combined. Spoon into 24 mini cheesecake or mini muffin cups. Press the crumbs into the bottom of each cup so the crust is flat. If you have a small cup or container that fits in the well of the pan, that can be used to help flatten the crust evenly. Partially bake for 10 minutes then remove from oven.

In a large bowl with a handheld or stand mixer, beat the cream cheese and sugar until light and fluffy. Beat in eggs, one at a time. Stir in sour cream, Bailey's, and vanilla.

Pour or spoon batter into cheesecake pan cups to fill to a little less than half of the cup. Then add the melted chocolate to the rest of the batter. Fill the cups to about 3/4 full. Do not overfill or the cakes will rise up over the top of the pan. Extra batter may be baked separately in a small dish.

Bake for 25-28 minutes until cheesecake is cooked through. Remove to a wire rack to cool.

Once the cheesecakes have cooled, loosen the edges with a plastic knife and remove them from the pan by pushing up on the removable bottoms. If using a mini muffin pan, you may remove the wrappers. Arrange cakes on a piece of waxed paper and make the glaze. For a cleaner look, leave the cheesecakes in the pan when applying the glaze.

To make the ganache glaze, put the chocolate in the top of a double boiler and melt above simmering water (or use microwave to melt, being careful to heat on 50% power and for short amounts of time, stirring often). The chocolate should be just melted and only warm, not hot. Meanwhile, bring the cream to a boil in a small saucepan. Pour the hot cream over the chocolate and stir very gently with a rubber spatula until the mixture is smooth and shiny. Stir in the corn syrup.

Pour the glaze over the cheesecakes and smooth the top with the back of a spoon or a metal icing spatula. Don't worry if the glaze drips unevenly down the sides of the cheesecakes, it actually makes for a pretty presentation. If you left the cheesecakes in the pan, pour the glaze on top and refrigerate until set, then run a plastic knife around to loosen before lifting each cake out.

Refrigerate cheesecakes until ready to serve. If keeping overnight or longer, wait until glaze sets, then cover loosely with foil.
---
---