Cheesecake Stuffed Strawberries
Cheesecake Stuffed Strawberries are perfect for parties! Fresh strawberries are stuffed with cheesecake flavored cream cheese fruit dip.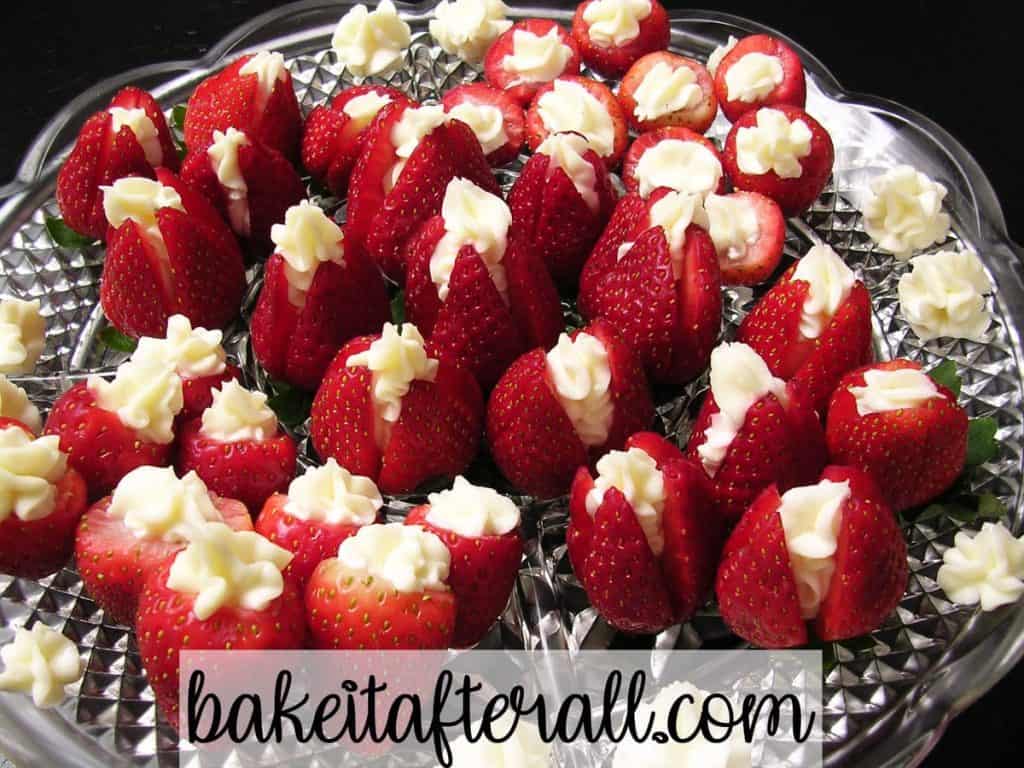 These are such a simple party snack. A sweetened cream cheese stuffed inside fresh strawberries. The cheesecake filling reminds me of the popular marshmallow fluff fruit dip. The nice thing about stuffed strawberries is that party guests can just pick them up and do not have to spoon dip onto their plates.
We served these at our annual Christmas Eve appetizer party. They were a big hit!  
LOVE STRAWBERRIES? Check out these Chocolate Covered Strawberries! Think about combining the recipes to make Cheesecake Stuffed Strawberries Dipped in Chocolate.
Recipe Details
The original recipes on Allrecipes suggests cutting off the stem so the strawberries lay flat, pointy side up. Then, cut the strawberries crisscross starting at the pointy end and ending before the stem area. The dip can be piped inside this opening.
I started doing this, then my mom showed me how to stuff them from the stem side, which is how she's seen them before. I actually thought these looked better! I did both for the platter to give a variety.
How to Core Strawberries
To stuff from the stem side, simply use a paring knife to cut around the stem. Remove the stem and use the knife to make a larger hole in the stem side of the strawberry. Pipe the cheesecake mixture into the hole.
What Else Can I Stuff Strawberries With?
Any kind of cream cheese based fruit dip would be great inside a strawberry. This includes the classic fruit dip mixtures of marshmallow fluff and cream cheese.
Another idea is to make a homemade ganache. My favorite ganache recipe is the one from the Almost Fudge Gateau. Ganache starts with a mixture of chocolate and heavy cream. This recipe has a tiny amount of corn syrup to add a little sheen. Rather than using the ganache shortly after making it, you'll want to let it sit at room temperature for a while until it's more pipeable consistency. You can speed up this process by putting it in the refrigerator but keep an eye on it so it doesn't get too solidified.
Looking for More Party Appetizers?
Check out these other appetizer recipes:
Pan Fried Onion Dip
Layered Taco Dip
Double Tomato Bruschetta
Simple Tomato Tart
Slow Cooker BBQ Chicken Meatballs
Bacon Stuffed Cherry Tomato Appetizers
Fluffy Pumpkin Dip with Cinnamon Tortillas
Buffalo Chicken Dip
Spicy Buffalo Chicken Meatballs
Jalapeno Popper Dip
For Party desserts, check out my 10 Best Holiday Dessert Recipes for an Open House!
Cheesecake Stuffed Strawberries are an easy to grab bite perfect for parties! Fresh strawberries are stuffed with cheesecake flavored cream cheese fruit dip.
Ingredients  
8

ounces

cream cheese, softened

1/2

cup

powdered sugar

1

quart

fresh strawberries
Instructions 
Beat together cream cheese and powdered sugar with electric mixer or by hand.

Wash and dry the strawberries. Cut off the stems. Make a crisscross cut down each strawberry, starting at the pointed end and ending shortly before the stem.

Alternatively, hull the strawberry and use a paring knife to make small hole in the strawberry where the stem was.

Add the cream cheese mixture to a piping bag with a star tip. Pipe into each strawberry. Serve on a platter.
Notes
Source: Adapted from Allrecipes.com
You're Gonna Bake It After All
bakeitafterall.com
---
---