Spicy Buffalo Chicken Meatballs
Spicy Buffalo Chicken Meatballs are a different take on Buffalo Chicken Wings! Easy to eat and a perfect party appetizer, dipped in ranch or blue cheese dressing!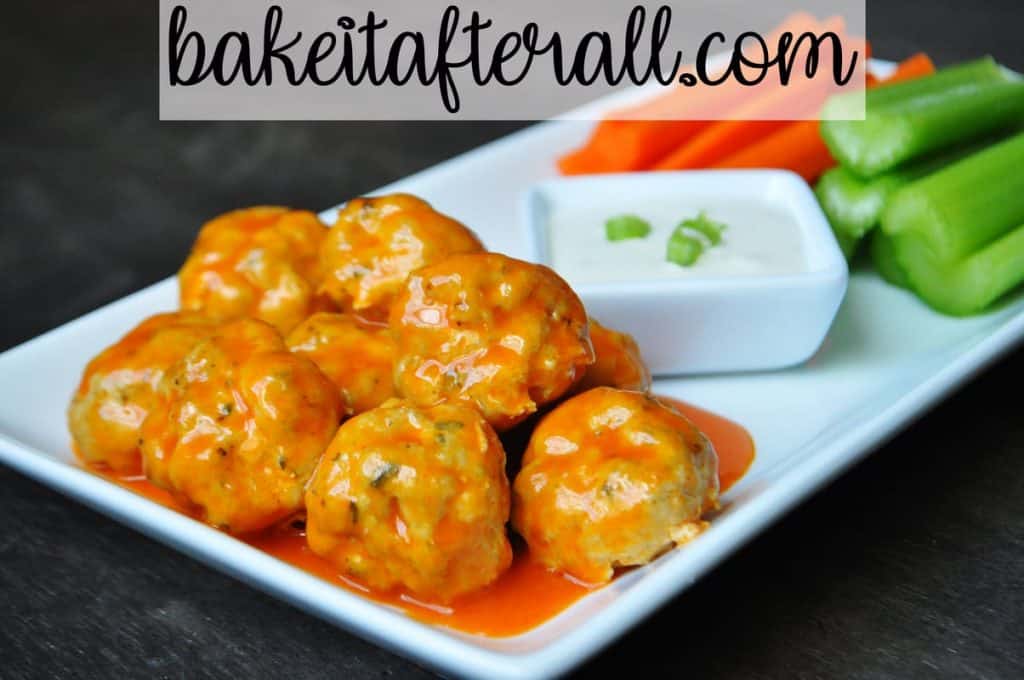 This post was originally published on December 1, 2009. It has been updated with new photos and additional commentary in November 2020.
I'm having a hard time gearing up for my holiday baking – I guess that's what happens when you leave town for 5+ days! My fridge is void of food and my Google Reader is about to burst at the seams with unread posts 🙂 Here's a post until I can get myself organized!
About a month ago, I had this great idea pop into my head – why not toss chicken meatballs in chicken wing sauce for a different spin on buffalo wings?! It combines two of my favorite appetizers, Buffalo Chicken Dip and BBQ Chicken Meatballs. I got really excited and decided to google it first to make sure no one has done this before (ok so maybe I'm really naive). Of course, Rachael Ray has! It makes me wonder how many [simple] original ideas are left with teams of people just brainstorming all day about recipes 🙂
Anyway, I decided to just follow her recipe. I have to say, her chicken meatballs aren't anything special, but I love the concept of this recipe, so I thought I'd share. Any meatball recipe will do (and any ground meat for that matter). Another different spin on buffalo wings that are much easier and cleaner to eat!
If you love Buffalo Chicken, check out this Buffalo Chicken Dip!
Yes, that's an Eiffel Tower toothpick – I have a slight obsession with Paris 🙂
Gluten Free Buffalo Chicken Meatballs
These meatballs are naturally gluten free! Be sure to check the label on your buffalo sauce for wheat ingredients.
Looking for More Party Appetizers?
Check out these other appetizer recipes:
Buffalo Chicken Dip
Slow Cooker BBQ Chicken Meatballs
Whole Foods Spinach Artichoke Dip
Layered Taco Dip
Baked Southwestern Egg Rolls
Jalapeno Popper Dip
Pan Fried Onion Dip
Double Tomato Bruschetta
Restaurant Style Hummus
Caprese Skewers
Prosciutto and Melon Bite Sized Appetizers
Restaurant Style Salsa
Simple Tomato Tart

Spicy Buffalo Chicken Meatballs are a different take on Buffalo Chicken Wings! Easy to eat and a perfect party appetizer, dipped in ranch or blue cheese dressing!
Ingredients  
1

pound

ground white meat chicken

1/2

small onion

(grated)

2

cloves

garlic

(grated)

1/2

cup

parsley, chopped

(or 2 tablespoons dried)

Salt and freshly ground black pepper

Extra-virgin olive oil for drizzling

2

tablespoons

butter

1/2

cup

buffalo wing sauce

3

scallions

(green and white parts, thinly sliced, optional)
For Serving (optional):
Blue cheese or ranch dressing

Celery and carrots sticks
Instructions 
In a large mixing bowl, combine the ground chicken with the onion, garlic, and parsley, and season with salt and pepper.

Fatten out the meat in the bowl and divide it into 4 portions. Shape each portion into 4 meatballs – for a total of 16.

Arrange the meatballs on a nonstick sheet pan and drizzle with olive oil. Place in the oven and bake until the meatballs are cooked through and golden brown, about 10-12 minutes.

Meanwhile, melt the butter in a large skillet over medium heat. Add the hot sauce and whisk to combine. Toss the baked meatballs in the hot sauce to coat. Serve with dressing(s) and optional veggies to dip.
Notes
Source: Adapted from Rachael Ray
You're Gonna Bake It After All
bakeitafterall.com
---
---