Royal Icing FAQ
Here I'll answer some frequently asked questions about royal icing. For an egg free alternative to royal icing, consider using these Iced Vanilla Shortbread Cookies. For a tutorial on how to paint egg free icing or royal icing, see my guide to Painted Watercolor Cookies.
Q: I want to try decorating with Royal Icing! Where do I begin?
A: My Royal Icing tutorial can be found HERE, including the recipe I use for Royal Icing. I refer back to this each time I make cookies decorated with Royal Icing. I include links to other blogs I have found very helpful when I began decorating with Royal Icing. It's important to choose a good cookie recipe that will hold it's shape when baked, especially when choosing a cookie cutter with a more detailed design.
Q: What cookie recipe do you recommend for decorating with Royal Icing?
A: I have several sugar cookie recipes that I have used with Royal Icing. After multiple taste tests with family, the recipe we keep coming back to is [Not My] Granny's Sugar Cookies. The dough has good roll-ability, and the flavor is classic. I use 1/4″ dowel rods or rolling pin guides to make sure they are a good, even thickness.
Q: What piping bags do you recommend?
A: I have tried several brands of piping bags and keep going back to my favorite Wilton Disposable Bags. Other bags I have used have a little seam along the side that sometimes gets in the way when piping and can disrupt the design. These are sturdy and hold up to the pressure applied when piping royal icing or buttercream.
I also use this Wilton Icing Bag Stand to help organize my different colors of icing when I'm making a design that requires several colors at once.
Q: What type of food coloring do you use?
A: I generally use Wilton Food Gels for Royal Icing and for buttercream. They are very concentrated so they don't add too much liquid to your icing. I also have some Americolor Food Gels that I like.
Q: Any tips for transferring the Royal Icing to the piping bag?
A: I use small silicone spatulas to mix up Royal Icing – first when I add the water to get it to the right consistency and also when I add the food coloring gel to mix it in. I literally have 10+ of these and use them every day but especially when I'm making Royal Icing I like to have separate spatula for each color. When I transfer the icing to the pastry bag, I put the bag into a tall water glass and fold the top of the bag down over the rim of the glass. I then use the small spatula to scrape the frosting from the bowl into the pastry bag. This is the only tool I've found that can get every bit of icing into the bag, which is particularly important when you've mixed up a custom color and want to make sure you have plenty to complete your project. I've gotten down to the wire at times and happy to have every drop. Occasionally I will run out and have to mix up more which is a big pain to try to match a custom color in a second batch!
Q: Where can I find ideas for cookies made with Royal Icing?
A: On my Home page, click on the Categories drop down menu, and select "Royal Icing" or click HERE.
Brown Sugar and Spice Mitten Cookies
Pastel Christmas Sugar Cookies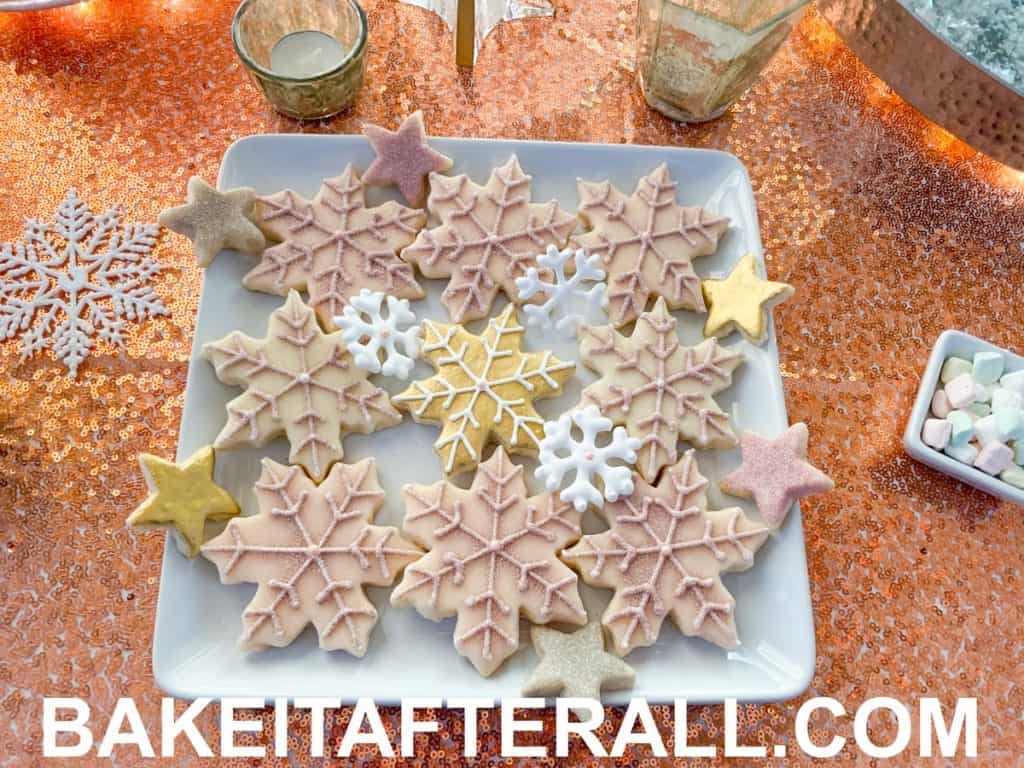 Iced Vanilla Shortbread Cookies with Royal Icing details with sanding sugar sprinkles and sugar pearls
Q: What piping tips do you use for Royal Icing?
A: I tried to include the # tip on my tutorial post. I have a Wilton Cake Decorating Kit I bought many years ago at a craft store. It is similar to this caddy and came with a bunch of Wilton tips. I always use the plastic couplers in my piping bags. The benefit of using a coupler is that you can swap out your piping tips without having to start over with a new icing bag. You may find the tip you've chosen is too large or too small for what you want to pipe or for the consistency of your icing. Sometimes the small tips may get clogged, and you may need to remove the tip to dislodge a dried bit of frosting using a toothpick or by running the tip under warm water. This is why I find it helpful to have multiple tips of the same size on hand. For example, I have a bunch of #2 tips because this is the size I choose most often. The #1 tips are very tiny, and I usually don't do anything super detailed. When working with several colors at once, especially for the wet-on-wet technique, you may be using the same size tip on multiple bags of icing at the same time, so having more than one of your favorite size tip is very helpful.
The white polka dots design on the pink background is a wet-on-wet technique. The only time I use my very small Wilton #1 tip is for details like the bird's legs, beak, and eye.
Q: How do you make the Royal Icing decorations that can be used to decorate cakes or cupcakes?
A: I have some step-by-step photos in this post that explain how the royal icing is piped onto waxed paper, allowed to dry, then peeled off later. These decorations are called "royal icing transfers" and keep for a long time. I like to add edible sugar pearls while the icing is still wet (as you can see on the cupcakes in that post) to give them extra flair.
Q: How do you make gold royal icing?
A: I have full details for how to paint with gold luster dust in my Painted Watercolor Cookies post. In brief, I tint the royal icing with gold food coloring gel the pipe on whatever design I want to be gold. This will help intensify the gold color when the gold luster dust is added next. I did this for the horns on these Unicorn Cookies.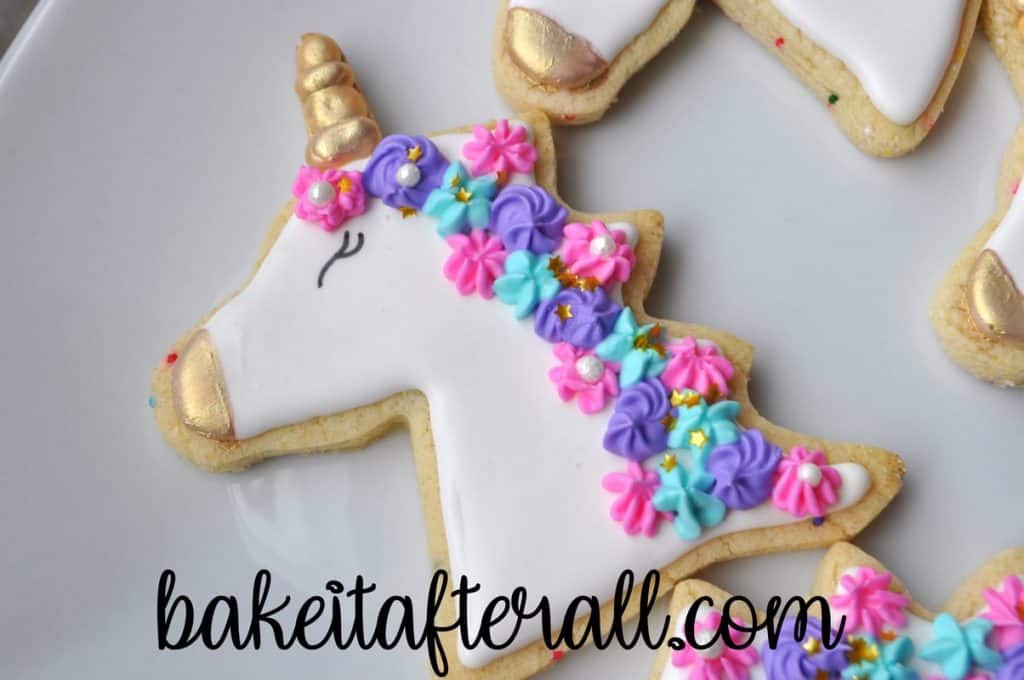 After the "gold" tinted royal icing has fully hardened (it will be more of a muted yellow color), it's time to paint it with a luster dust suspension. I add Everclear (a high proof, odorless, flavorless, colorless alcohol), drop by drop, to gold luster dust in a paint palette and mix well. I buy my luster dust locally, but I have heard great things about Truly Mad Plastics gold luster dust.
Then I paint it on using a food grade paintbrush. For the unicorn's nose, I did not color the royal icing with gold gel, so the luster dust was very muted and I had to let it dry and do multiple coats.
I drew on the eye using a black food coloring marker.
For these Nutcracker themed snowflake cookies, I painted gold luster dust suspension on iced vanilla shortbread cookies and let that dry. Then I added royal icing details.
Kids' paint palettes are perfect for mixing up luster dust or edible watercolors. They are also great for kids to use when decorating a cookie or a cupcake – just place the cookie or cupcake in the center, put sprinkles in the wells, and let them get creative!
Q: How did you do the writing on the Tinkerbell Cookies?
A: I use FooDoodler Food Coloring Markers to make intricate designs on cookies. They are basically edible sharpies! For the Tinkerbell Cookies, I used my Silhouette to make a small Tinkerbell stencil out of cardstock, I then placed the cardstock over each cookie and colored in with the black food marker. I looked up a Tinkerbell font and freehanded the text for each name.
The little star sprinkles are Wilton Edible Accents Gold Stars – I've also used these on my unicorn cookies. I have used Wilton Edible Accents Silver Stars for my galaxy cupcakes and as well as other projects.
Q: Can I paint on royal icing?
A: Yes! See my Painted Watercolor Cookies post for details. The technique can be done on royal icing or egg free icing.
Q: I have other questions you didn't address here; how can I contact you?
A: Please send me an email at mtmbakesblog [at] gmail [dot] com, and I'd be happy to help! Alternatively, you may comment on a specific post with your question, and I'll do my best to answer!