Pastel Christmas Sugar Cookies
These beautiful Pastel Christmas Sugar Cookies are decorated with royal icing tinted with soft pastels and light colored sugar pearls.
I couldn't resist making just one more batch of sugar cookies this year. I found the inspiration behind these cookies last year on Torie Jayne's post "a pretty pastel Christmas." The cookie idea is from hellonaomi.  
As a rule, I'm a purist when it comes to Christmas. I like red and green, along with some silver and gold, but you won't find blue ornaments or a white tree in my home. I actually think both of those can be very beautiful, but it's not "Christmas-y" enough to me.
These cookies are the exception. I think they are so beautiful and elegant, and it doesn't bother me that they are not traditional Christmas colors. In fact, I've seen some gorgeous pastel Christmas concepts lately that have me rethinking my stance!  
I went with a different cookie dough than I've used in the past – [Not My] Granny's Sugar Cookies. My mom, sister, and future brother-in-law all agreed that this recipe is even better than the one I had been using, so I'm officially switching. It's also easier to roll out because it doesn't stick as much to the surface and rolling pin – bonus!  
As with the Brown Sugar and Spice Winter Mitten Cookies, I used the royal icing glaze recipe – thinned mixture to outline and immediately flood, then and after sufficient drying time (24 hours for me) a thicker (but still thinned from the original thick "stock") icing for the decorations on top – some white and pink sugar pearls.
When the cookies were completely dry, I used a small food grade paint brush to brush on edible shimmer dust – I love this look! I think it elevates these cookies from pretty to spectacular, at least in person. They are so sparkly – and those of you who know me well know how much I love sparkle! 🙂  
Iced Cookies with Royal Icing Detail
If you don't like to eat cookies with so much royal icing, another option is to glaze sugar cookies or shortbread cookies with a simple icing and then add royal icing for the details only. I piped the royal icing details on these snowflakes and then sprinkled them with sanding sugar sprinkles. The gold cookies were painted with a gold luster dust suspension and then royal icing details piped on top.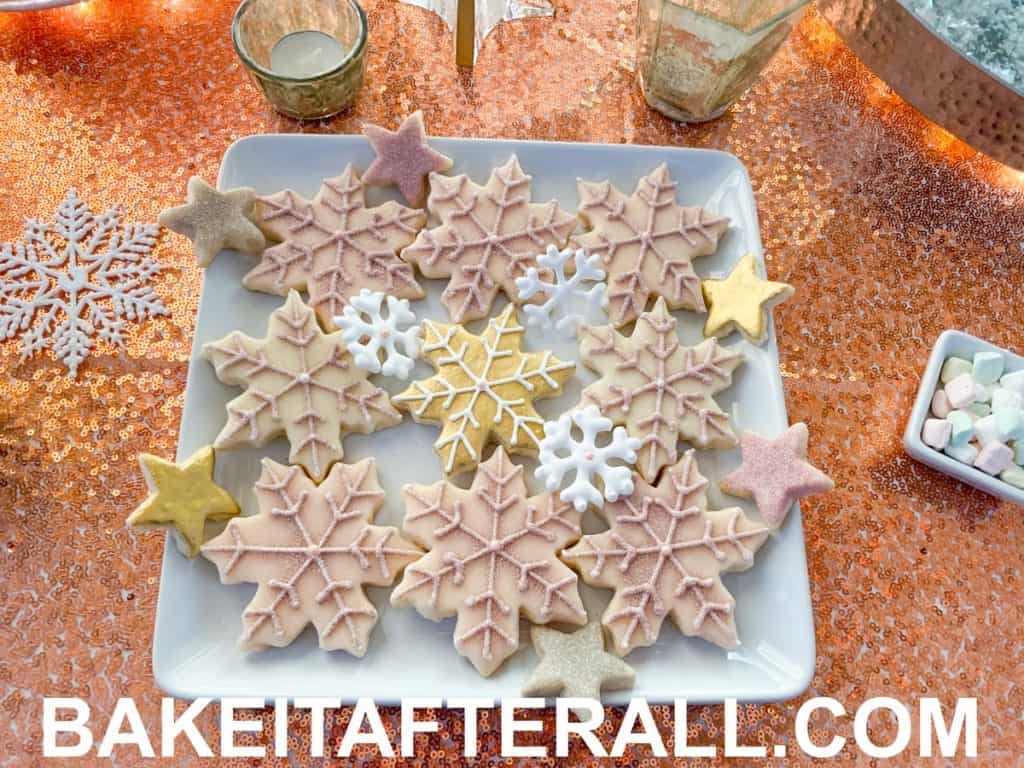 For those who celebrate Christmas, I hope you have a wonderful holiday filled with family and friends!
Looking for More Royal Icing Christmas Cookies?
Check out these Christmas Cookies decorated with Royal Icing:
Brown Sugar and Spice Winter Mitten Cookies
Snowflake Gingerbread Cookies
Looking for more Christmas Cookies?
Check out my favorite Christmas Cookie recipes:
Butter Cookies
Chocolate Butter Spritz Cookies
Oatmeal Cookies
Coconut Macaroons
Santa's Whiskers Cookies
Chocolate Covered Cherry Cookies
Triple Chocolate Biscotti
Painted Watercolor Cookies
---
---