Gluten Free Macaroons
Gluten Free Macaroons are chewy coconut cookies that can be dipped in chocolate or left plain. Great addition to a Christmas cookie platter.
This post was originally Day 9 of my 12 Days of Christmas Post. It has been updated with additional photos and commentary in November 2020.
I have loved coconut macaroons ever since I first tried them as a kid. Coconut is one of my favorite additions to baked goods, like these Carrot Cake Cupcakes. I also love it toasted with caramel in these Samoa Cookie Bars, Samoa Bundt Cake, and Samoa Cupcakes with Easy Dulce de Leche Buttercream.
Macaroons come in many forms – some are more gooey, some more cakey. I've never really had a macaroon I didn't like. This version is gluten free, and they are so chewy and delicious. The holidays seem like a great time to break out these cookies, and they are so easy to whip up, which is great during this busy time of year 🙂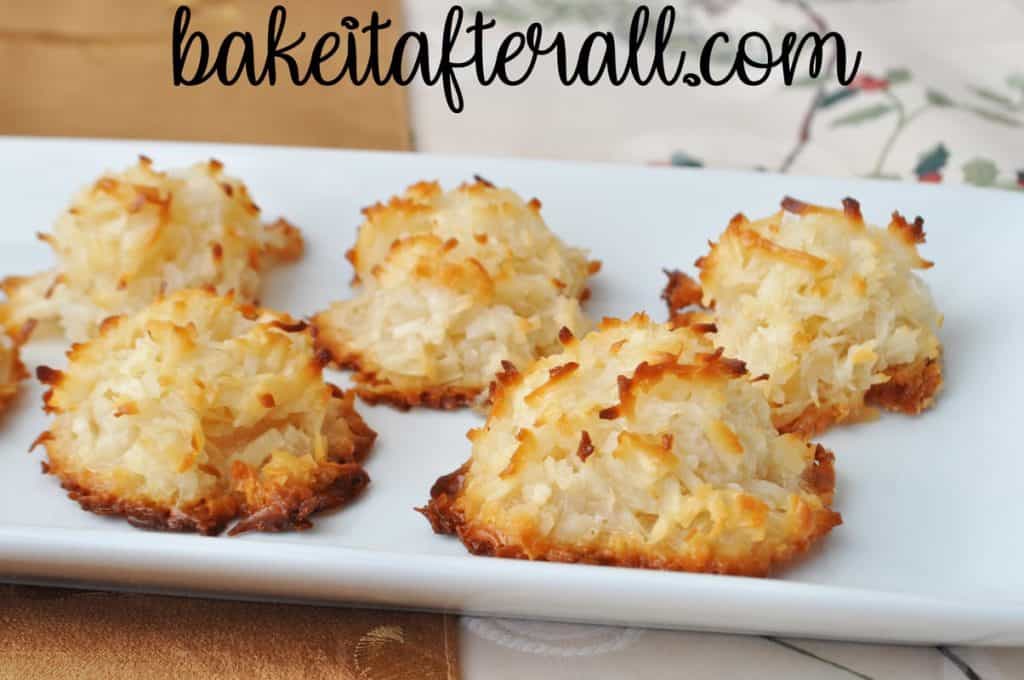 I am a major chocoholic, but I actually prefer these cookies without the chocolate. I think the chocolate masks the delicious flavor of the browned cookie bottoms. My dad loves chocolate dipped macaroons because they taste like Mounds Bars. I have included instructions on how to dip the macaroons in chocolate because I usually make half of each!
Recipe Details
Preparing the Cookie Batter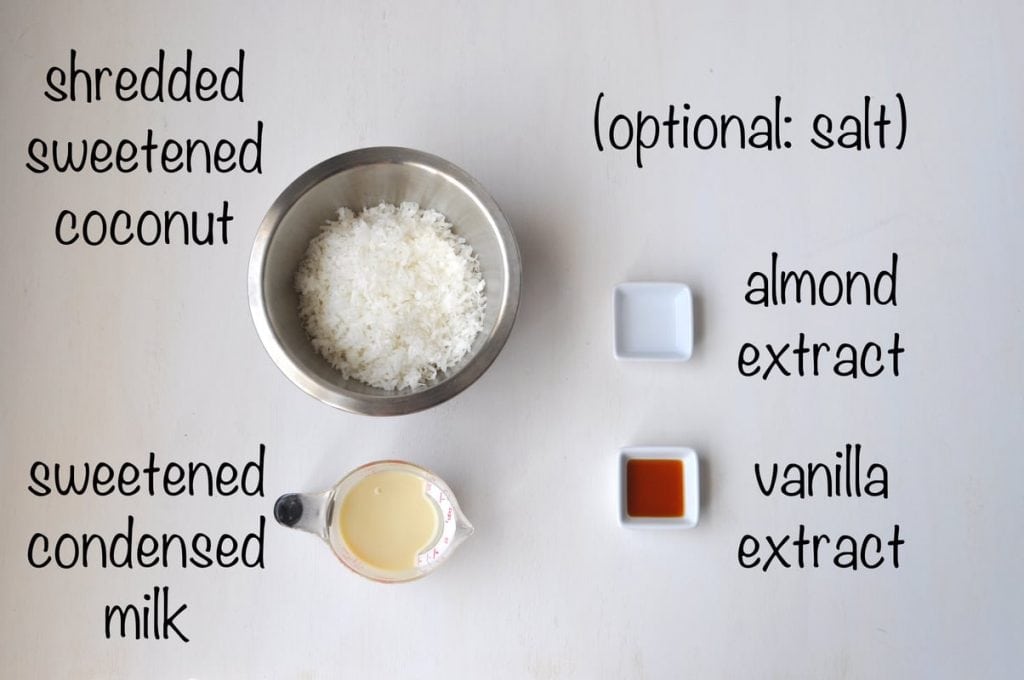 These cookies are the just about the easiest and fastest to make of any cookies! The sweetened condensed milk is mixed with the extracts and salt, and then the coconut is stirred in until well combined. That's it! The "dough" is ready to be baked.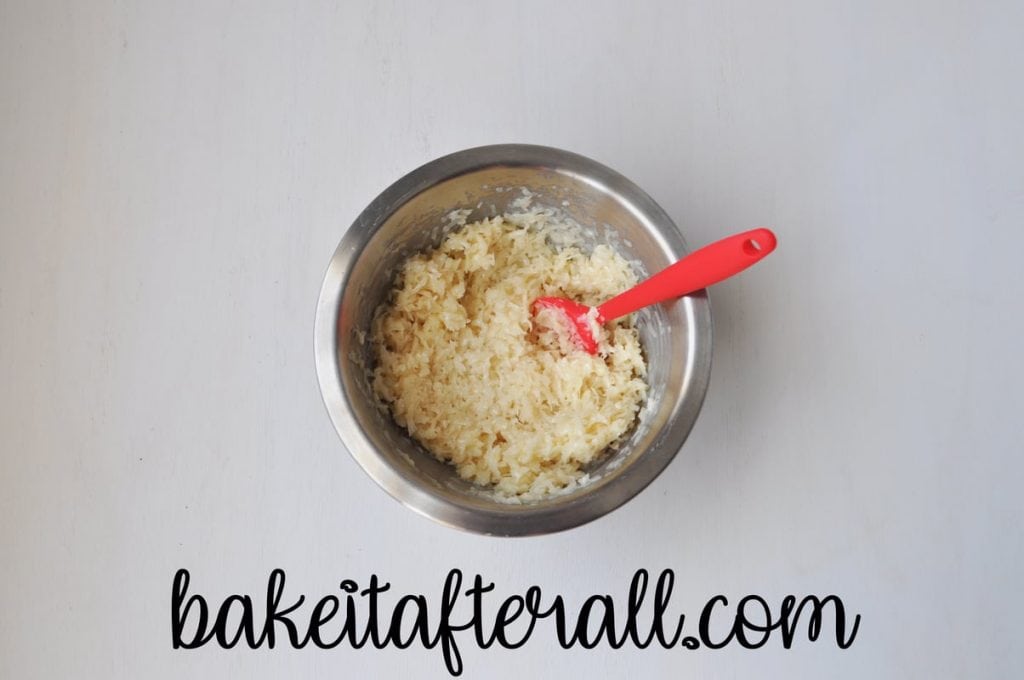 Baking the Cookies
The first step of baking it to prepare the cookie sheets. I usually like to use parchment paper lined cookie sheets for these cookies. It makes clean up so easy, and the cookies come off the paper so easily. If you don't have parchment, make sure you grease your cookie sheet well with butter. These are very sticky cookies, and you don't want them to end up stuck to the sheet.
I like to use a medium to large dough scoop to divide the batter, but you can certainly just use a spoon to make little mounds on the cookie sheet.
The mounds should be spaced 1 – 2 inches apart to prevent them from spreading and sticking together.
The cookies are baked for 8 – 10 minutes, or longer depending on your oven and the size of the macaroons. I like to make them a little larger than indicated in the original recipe. What you really are looking for is little "feet" to form on the bottom of the cookies that starts getting brown. Typically "feet" are used to describe traditional French macarons, but I like to use that term to describe the bottoms of these macaroon cookies as well. When this part of the cookie gets brown, it creates the best flavor!
The cookies need to be removed from the pan nearly immediately and transferred to a cooling rack. This prevents the cookies from sticking to the pan.
Mmmm look at all those little feet!
Chocolate Coconut Macaroons
Preparing the Chocolate
I like to melt the chocolate in the top of a double boiler. You can also use a heatproof bowl set over a pan of simmering water or microwave the chocolate in 30 second intervals at 50% power.
You can use any kind of chocolate you prefer: milk, semisweet, or bittersweet. I typically use Ghirardelli bittersweet chocolate chips. Most will not recommend chocolate chips for melting because of the coating and stabilizers on the chips. I have never had a problem with Ghirardelli chocolate chips. They melt so easily and make a super smooth chocolate. I use a small silicone spatula to stir the chocolate as it is melting.
Chocolate Dipped Macaroons
Now that the chocolate is melted, I like to just pick up each cookie and dip the bottom in the chocolate.
Then I place the cookie on a parchment lined cookie sheet to allow the chocolate to set.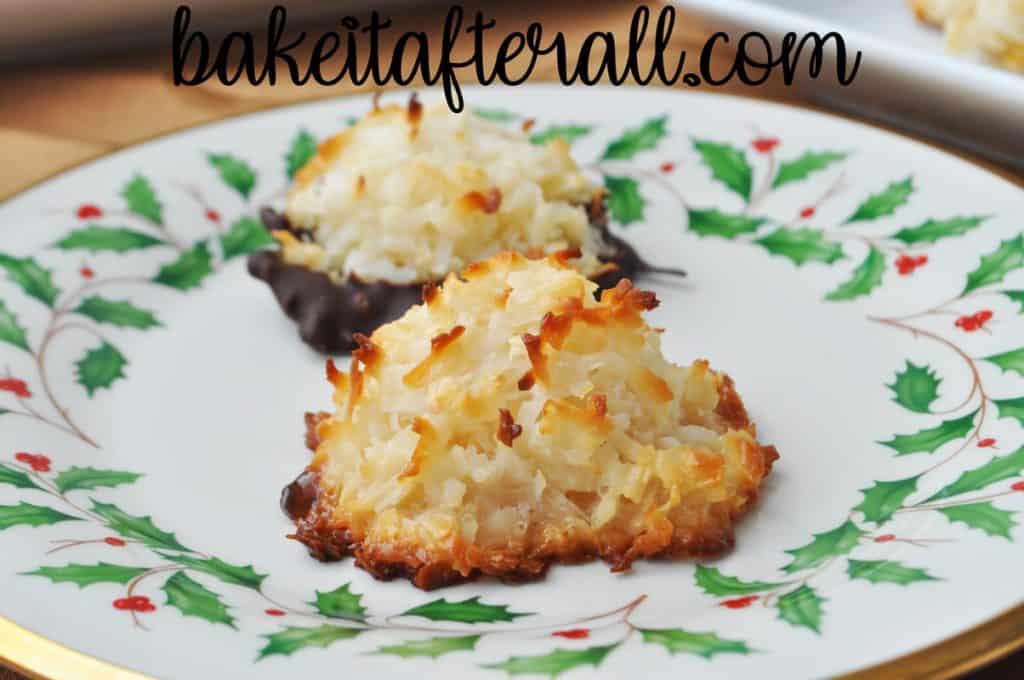 Cookies for Holiday Gifts
Many years ago I made these cookies for Holiday Care Packages. I found some cute packaging at a craft store and placed the macaroons inside. We put these macaroons on our cookie platters each year, for serving at holiday parties and gifting to friends and neighbors.
Looking for More Christmas Cookies?
Check out these recipes for Christmas Cookies and Goodies:
Santa's Whiskers Fruitcake Cookies
Chewy Oatmeal Cookies
Christmas Butter Cookies
Chocolate Spritz Cookies
Roll Out Sugar Cookies
Dark Chocolate Covered Cherry Cookies
Pineapple Carrot Bread
Poppy Seed Bread
Pumpkin Bread
Chocolate Cracker Candy
Oreo Truffles
Chocolate Chip Cookie Dough Truffles
Triple Chocolate Biscotti
Meghan
Gluten Free Macaroons are chewy coconut cookies that are perfect for the holidays. Leave them plain or dip the bottoms in chocolate!
Prep Time
10

minutes
mins
Cook Time
15

minutes
mins
Total Time
25

minutes
mins
Ingredients  
butter

(for greasing cookie sheets)

2/3

cup

sweetened condensed milk

(such as Eagle Brand)

1

teaspoon

vanilla extract

3/4

teaspoon

almond extract

(pure or imitation)

1/8

teaspoon

salt

(optional)

3

cups

shredded sweetened coconut
Chocolate for Dipping (optional):
1/2

cup

semisweet or bittersweet chocolate

(amount will vary depending on how many cookies you wish to dip)
Instructions 
Preheat oven to 350°F and line cookie sheets with parchment paper. If not using parchment paper, grease cookie sheets well with butter.

Mix the condensed milk, vanilla and almond extracts, and salt together in a large bowl. Add the coconut and stir together until well combined.

Drop the batter by spoonfuls onto the parchment lined or well-greased cookie sheet, allowing at least 1 to 2 inches of space between the cookies.

Bake until golden brown around edges, 8 – 10 minutes (may take longer depending on oven). Remove from the cookie sheet immediately and cool on wire racks.

Store cookies at room temperature in an airtight container.
Chocolate Coconut Macaroons:
Melt the chocolate in the top of a double boiler, in a heatproof bowl set above simmering water, or in the microwave in 30-second intervals at 50% power.

Once the chocolate is melted, dip the bottom of each cookie in the chocolate and place on a parchment lined surface to all the chocolate to set.
Notes
Recipe makes 2 dozen small macaroons.  This quantity will be less if you make them larger.
Source:  Adapted from a recipe in a local paper
You're Gonna Bake It After All
bakeitafterall.com
Keyword
coconut, cookies, dessert, gluten free
---
---