Christmas Butter Cookies
My Grandma's Classic Christmas Butter Cookies are a variation of a buttery spritz cookie. The dough is pressed with a cookie press into seasonal shapes.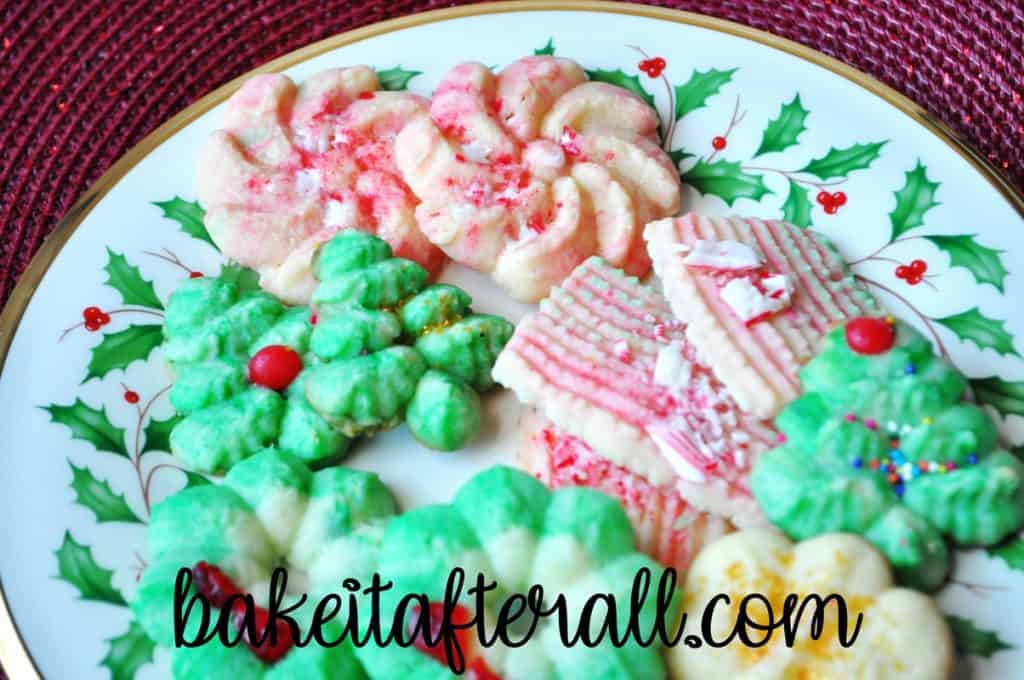 My grandma's holiday butter cookies are famous in our family. We all absolutely love them, and it seems like anyone else who tries them does too. They are a staple at Christmas time, and no cookie tray is complete without them, in my opinion. To sum it up, they are bite-sized morsels of buttery goodness. I believe they are very similar to a traditional Spritz Cookie.
This is our Christmas cookie platter, featuring these butter cookies, Gluten Free Coconut Macaroons, Chewy Oatmeal Cookies, and Santa's Whiskers Cookies.
Making Cookies with a Cookie Press
All of my aunts have at least one (if not multiple) cookie press(es), specifically for these. Growing up, these cookies were strictly for holidays. However, years ago when I was in college, my mom used this recipe to make pink heart-shaped cookies and sent them to me in a Valentine's Day care package. I have to admit, I was a little thrown off – butter cookies in February?!? Well, my roommates and I devoured them in a few days, and I realized that this recipe is good for any time of year.
When I got my own cookie press as a wedding gift, I noticed that I had a shape I'd never seen before – a pumpkin! (You may have noticed how much I love pumpkins and Fall). So, I decided that little orange pumpkin-shaped butter cookies would be a new fall tradition, and I've made them each year since!   I've also made them with lemon, lime, and orange glazes as Citrus Glazed Butter Cookies.
I served these butter cookies at Ella's Winter Wonderland 1st Birthday Party. The colors were white and pink, so we chose to do light pink flower shapes.
I have a Wilton brand cookie press that I do not recommend. I've linked the Oxo brand because it has excellent reviews.
Butter Spritz Cookies without a Cookie Press
Generally I would say these cookies work best with a cookie press. There are two instances where we hand roll the dough.
I let the girls make some of these candy cane shapes. They roll the dough into snakes like Play-Doh and then twist them. They look a little rustic, but they add some festivity to our cookie platters. Who doesn't love to eat the biggest cookie?!
The second instance is these jelly cookies. My mom rolls the dough into balls then rolls the balls in crushed pecans. Then the center is pressed down before AND after baking. The ones I show here have no nuts because I'm allergic. We keep the nut ones on a separate tray, which I did not photograph. Right before serving, we fill the center of the cookies with seedless black raspberry or blackberry jam.
If you don't have a cookie press, you could probably form these cookies into small logs and thinly slice the dough to make the cookies. You want to keep them relatively small so they bake evenly and stay crispy throughout.
What Makes these Cookies Special?
This recipe has both powdered sugar and regular sugar. My grandma always said that powdered sugar makes cookies crisp. I found this out when I serendipitously left out the powdered sugar from her famous Oatmeal Cookies and discovered they became chewy instead of crisp!
Unlike Oatmeal Cookies, which I prefer chewy, these cookies are best crisp. If they are accidentally stored in the same container with other cookies that have more moisture, they start to get soft and are not as good. The powdered sugar really does help them maintain that great texture.
Recipe Details
Making the Dough
The dry ingredients are sifted together in a bowl and set aside.
The wet ingredients are mixed in the bowl of a stand mixer or with a handheld electric mixer. Then the dry ingredients are added alternately with the milk. That's it!
Coloring the Dough and Decorating the Cookies
At this point, you may add food coloring if you choose. The cookies are pressed onto cookie sheets and decorated before baking. Here's an example of the cookie press discs and corresponding cookie shapes they make, as well as the color scheme we use and sample decorations.
The butterflies and dogs were tinted with yellow food coloring or can be left untinted.
We do green for the Christmas trees and wreaths. For the trees, we sometimes use cinnamon imperials as a tree topper.
We sometimes use cinnamon imperials on the wreaths to make a bow or we cut up small pieces of maraschino cherries to make the bow. The maraschino cherries have more moisture in them, so they tend to make the cookies softer. I store these cookies in a separate container from the rest of the cookies because otherwise they take away the crispness of the other cookies.
My absolute favorite shape is this pinwheel shape. It must be colored with variegated red and topped with crushed candy canes.
I also love these thin bar cookies that we top with crushed peppermint candy canes. The peppermint gets melty in the oven and is SO GOOD.
Bob helped me with this batch of cookies and went a little overboard on the food coloring!
Storing the Butter Cookies
We always store the butter cookies in holiday tins like this. We find that it keeps them fresh but also crisp.
As I mentioned above, if you use a decoration like maraschino cherries, make sure to separate those cookies and store them separately or they will make the other cookies soft.
Gluten Free Butter Cookies
I have made these using Bob's Red Mill Gluten Free 1 to 1 Baking Flour in place of all purpose flour. The cookies are slightly more fragile and crumbly, but the taste is spot on!
Looking for More Cookie Recipes?
Check out my favorite Cookie recipes:
My Grandma's Chewy Oatmeal Cookies
[Not My] Granny's Sugar Cookies
Browned Butter Sugar Cookies
Dark Chocolate Covered Cherry Cookies
Thick and Chewy Double Chocolate Cookies
Santa's Whiskers Cookies
Nut Free Linzer Cookies
Coconut Macaroons
Snowflake Gingerbread Cookies
Brown Sugar and Spice Winter Mitten Cookies
Graham Cracker S'mores Cookies
Soft Frosted Sugar Cookies
Meghan
My Grandma's Christmas Butter Cookies are a variation of a buttery spritz cookie. The dough is pressed with a cookie press into seasonal shapes.
Prep Time
20

minutes
mins
Cook Time
10

minutes
mins
Total Time
30

minutes
mins
Servings
5
dozen (or more depending on shape)
Ingredients  
2 1/4

scant cups flour

1/2

teaspoon

baking powder

1/2

teaspoon

salt

1

cup

butter, softened

(2 sticks)

1/2

cup

granulated sugar

1/2

cup

powdered sugar

1

egg yolk

1

teaspoon

vanilla extract

2

teaspoons

milk

food coloring/gel

(if desired)
Instructions 
Sift flour, baking powder, and salt together in a medium bowl, and set aside.

In the bowl of a stand mixer or in a large bowl using a hand mixer, cream the butter. Add the sugars and beat until well blended. Add the yolk and vanilla and mix until well combined.

Add the dry ingredients to the wet ingredients alternately with the milk by adding half of the dry mixture, 1 teaspoon of milk, then repeating.

Stir in food coloring liquid/gel and mix to achieve desired color.

Add the dough to the barrel of a cookie press fitted with your disk shape of choice and press the cookies onto ungreased cookie sheets.

Bake for 6-10 minutes, depending on the shape of the cookie and how brown you prefer them. Remove to a wire rack to cool. Store at room temperature in an airtight container.
Notes
You're Gonna Bake It After All
bakeitafterall.com
Keyword
cookies, dessert, holiday
---
---