Nut Free Linzer Cookies
Nut Free Linzer Cookies are jam filled crispy shortbread sandwich cookies dusted with powdered sugar. Nut and egg allergy safe cookies that are great for Christmas or Valentine's Day!
Many Linzer Cookie recipes have almond flour. Years ago when I was searching for a recipe without nuts, I discovered that Ina Garten's recipe was a basic shortbread cookie made with all purpose flour. We all love these cookies! Please note that because they are not made with almond flour, the cookies are crispy rather than soft. We prefer them this way. If you prefer a softer egg/nut free cookie, try this Vanilla Shortbread Cookies recipe and cut with the Linzer cutters, omit the icing step, then continue with this Linzer recipe for dusting with powdered sugar and filling with jam.
I have made these Linzer Cookies for both Christmas and Valentine's Day Tea Parties for Kids. The red jam is so festive, and the powdered sugar looks like snow on top of the cookies. I'm including a sample Valentine's Tea Party menu below with links to recipes.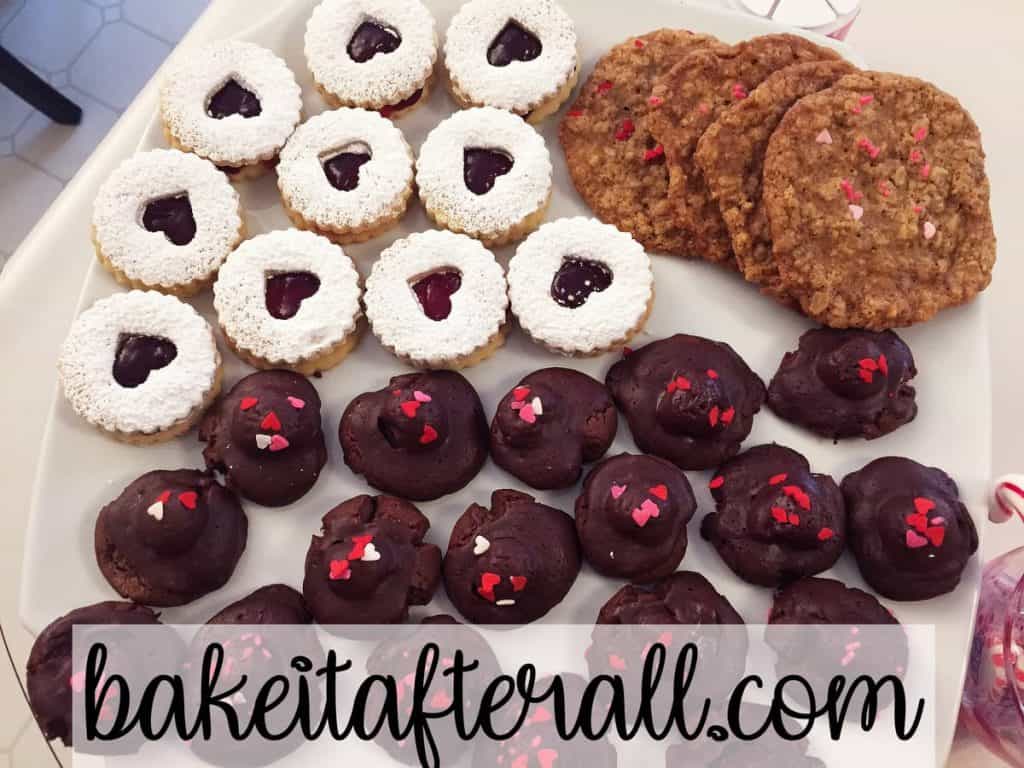 I like using a 3 tiered serving platter for tea parties, like this pink 3 tiered serving platter with little butterfly cut outs.
Recipe Details
The dough is a simple shortbread dough that come together quickly and is chilled before rolling.
Rolling the Dough
Ina's recipe calls for rolling the cookies to 1/4-inch thick. The first time I made them, I followed that instruction and the cookies ended up way too thick. Since these are sandwich cookies, that's 1/2-inch thick before jam! Since then, I've rolled my cookies to 1/8-inch, and the result is much better!
My favorite way to roll out cookies to an even thickness is to use wooden dowel rods as rolling pin guides. I take 2 dowel rods and space them on my floured workspace just smaller than the width of my rolling pin. Then I put the dough in the middle and roll it in each direction, until the rolling pin hits the dowel rods. This prevents uneven rolling. You can also use rolling pin guide rings that slip onto the ends of your rolling pin.
Cutting the Linzer Cookies
Although not required, I use a Linzer Cookie Cutter set to make these cookies.
This set comes with 6 interchangeable inner cookie cutter shapes. I use the heart and the star for Christmas or Valentine's Day.
These little cookie cutters twist into place in the outer cutter so that you are cutting both the outer round fluted shape and the inner shape at the same time with half of the cookies. The other half are just cut with the round shape because serve as the bottom of the sandwich cookie.
Here's what the cutter looks like with the heart shape locked into place. If you want, you can bake the dough cut with the inner shape to make some cute tiny cookies! They can be sprinkled with colored sugar or sprinkles.
Because you are making a sandwich cookie, you'll cut half of cookies with just the outer cutter and half with the outer and inner cutters. I like to bake all of the bottom cookies together and all of the top cookies together, just in case they need slightly different baking times.
Do I Need a Linzer Cookie Cutter Set to Make Linzer Cookies?
You do not need to use a Linzer Cookie Cutter set to make these cookies. You can use a small round or fluted biscuit cutter or cookie cutter to cut out the cookies. Then just use a very small shaped cookie cutter to cut a shape out of the center of half of the cookies before baking.
Assembling the Cookies
After the cookies are baked, you'll separate them based on whether they are a top cookie or a bottom cookie.
The top cookies (the ones with the small cut out) can be laid in a single layer on a work surface with the side of the cookie that had been facing the baking sheet facing down. The tops are sprinkled with powdered sugar.
The bottom cookies (the ones without a cut out), are spread with preserves on the side of the cookie that faced the baking sheet. I like to use seedless raspberry jam. My kids prefer seedless, and I like how red raspberry jam is a brighter red than just raspberry jam. Once the jam is spread, the powdered sugar dusted top cookies can be placed on top so the jam shows through the cut out.
How to Store Linzer Cookies
You can store the cookies assembled with the jam, but the shortbread may not stay crispy. Alternatively, only assemble as many as you'll need and keep the rest of the cookies in an airtight container to be assembled at a later date.
Valentine Tea Party Menu Ideas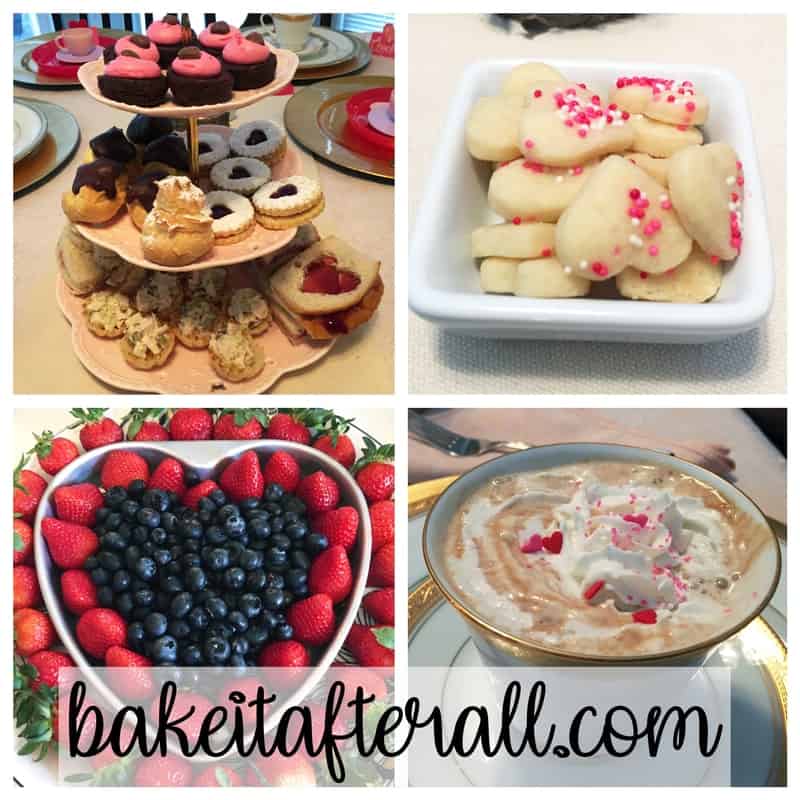 DRINKS:
Fancy Hot Chocolate
Pink Citrus Punch

SCONES:
Classic Cream Scones
Dark Chocolate Chip Scones
Skinny Chocolate Chip Scones
Red Lobster Copycat Cheddar Bay Biscuits
Cheddar Dill Scones

SAVORIES:
Turkey Cranberry Tea Party Sandwiches
Simple Tomato Tart

SWEETS:
Mini Red Velvet Cheesecakes
Mini New York Cheesecakes
Bailey's Irish Cream Mini Cheesecakes
Mini Hot Chocolate Cheesecakes
Mini Mocha Cheesecakes
Valentine's Day Oreo Truffles
Chocolate Covered Strawberries
Strawberry Pretzel Jello Salad
Cranberry Christmas Cake
Thick and Chewy Double Chocolate Cookies
Triple Chocolate Biscotti
Easy Homemade Cream Puffs
Dark Chocolate Cupcakes with Vanilla Swiss Meringue Buttercream or Easy Vanilla Buttercream and Valentine's Sprinkles
Santa's Whiskers Cookies made with all red cherries for Valentine's Day
Dark Chocolate Covered Cherry Cookies
Chewy Oatmeal Cookies with Valentine Sprinkles
Butter Cookies with Valentine's Sprinkles or pressed into hearts
Red Velvet Cheesecake Brownies
Cherry Chocolate Cheesecake Bundt Cake
Gluten Free Linzer Cookies
I have not tried it myself with this recipe, but I have had good luck using a measure for measure flour, such as Bob's Red Mill Gluten Free 1 to 1 Baking Flour, in place of all purpose flour in cookie recipes. I find gluten free flour to require more moisture than all purpose flour. As shortbread doughs tend to be a bit drier to begin with, I recommend starting with less flour (perhaps 3 cups) and adding small amounts at a time to get to the correct consistency.
Meghan
Nut Free Linzer Cookies are jam filled crispy shortbread sandwich cookies dusted with powdered sugar and great for Christmas or Valentine's Day. Nut and egg allergy safe.
Prep Time
20

minutes
mins
Cook Time
25

minutes
mins
Chill Time
45

minutes
mins
Total Time
1

hour
hr
30

minutes
mins
Ingredients  
1 1/2

cups

butter, at room temperature

(3 sticks)

1

cup

granulated sugar

1

teaspoon

pure vanilla extract

3 1/2

cups

flour

1/4

teaspoon

salt

3/4

cup

seedless raspberry preserves

powdered sugar

(for dusting)
Instructions 
Preheat the oven to 350°F.
Prepare the Dough:
In the bowl of an electric mixer fitted with the paddle attachment, mix together the butter and sugar until they are just combined. Add the vanilla.

Sift together the flour and salt in a medium bowl. Add this mixture to the butter mixture. Mix on low speed until the dough starts to come together.

Turn out dough onto a surface dusted with flour and shape into a flat disk. Wrap in plastic and chill for 30 minutes.
Roll and Bake the Cookies:
Roll the dough 1/8-inch thick and cut 2-inch rounds with a plain or fluted biscuit cutter or cookie cutter. With half of the rounds, cut a hole from the middle of each round with a small shaped cookie cutter, such as a heart or star, or use a Linzer Cookie Cutter set to cut the shapes. Place all the cookies on an ungreased or parchment lined baking sheet and chill for 15 minutes.

Bake the cookies for 10 to 20 minutes, until the edges begin to brown. Allow to cool to room temperature.
Assemble the Cookies:
Dust the top of the cookies with the cut-outs with powdered sugar.

Spread the preserves on the flat side of each solid cookie (the side that faced the cookie sheet).

Press the flat sides (pan facing) of each cookie together, with the preserves in the middle and the powdered sugar on the top.

Store the unfilled cookies in an airtight container at room temperature.
Notes
These cookies are crispy shortbread cookies. If you prefer a softer egg/nut free cookie, please use the Vanilla Shortbread Cookie recipe and cut with Linzer cutters, omit the icing step and continuing with this recipe for the powdered sugar and jam steps.
Source: Adapted from Ina Garten
You're Gonna Bake It After All
bakeitafterall.com
Keyword
cookies, dessert, holiday, nut free
---
---