Strawberry Pretzel Jello Salad
Strawberry Pretzel Jello Salad has a pretzel crust, a sweet cream cheese filling, and a strawberry jello top layer with real strawberry pieces. It is the perfect summer dessert and so festive for patriotic holidays!
Strawberry Pretzel Jello Salad is one of my family's favorite summer desserts. In fact, we often serve it as a side dish! It is the perfect balance of sweet and salty. It's a "salad," so it has to be healthy right?!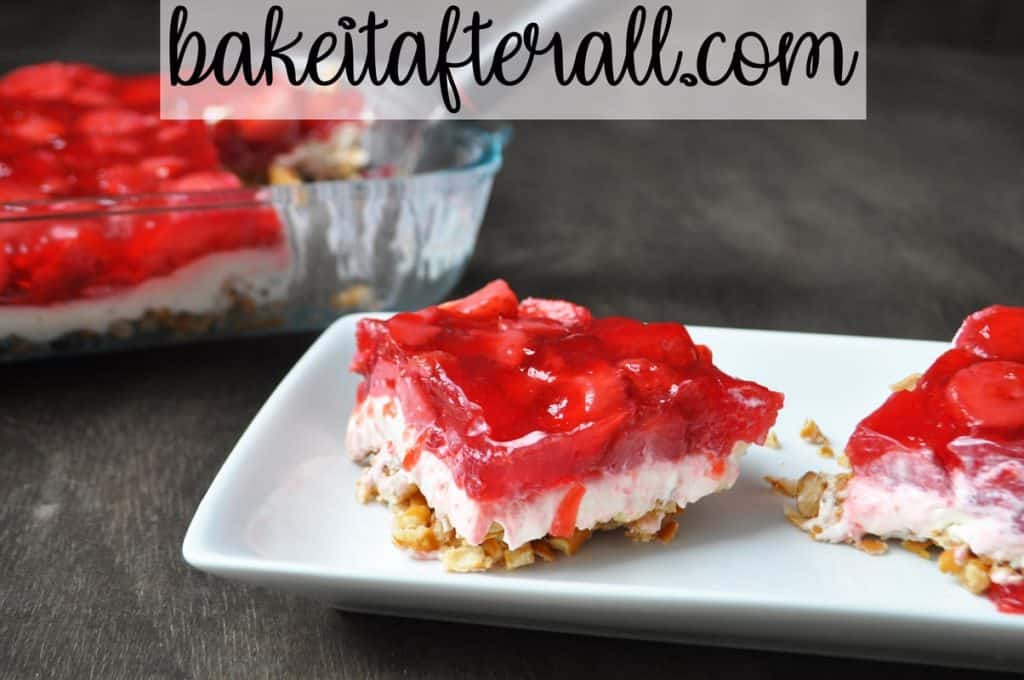 This recipe is pretty popular, and I don't have an original source for it, but it's likely you've had it before at a potluck or BBQ. If not, it's time to change that!
This is only the second Jello recipe on my blog. The first was my First Post of Watermelon Jello Jiggler Snacks. As a rule, I'm not a big Jello fan, but there are certain situations where I really enjoy it, this layered jello salad being one of them!
Like Jello Salads? Try this Pineapple Pretzel Salad! It has pina colada flavors!
The bottom layer is sweetened pretzel crumbs, which is baked then cooled. The next layer is a sweetened cream cheese, and that is topped with a layer of strawberry Jello mixed with thawed frozen strawberry slices. While these layers may not seem to go together, they just balance each other out perfectly.
With Labor Day coming up, I decided to make a few of my squares red, white, and blue by piping cool whip on top and adding a blueberry. This dessert is perfect for summer BBQs!
Preparing the Pretzel Crust
For the crust, you want to crush the pretzels. You can process them in a food processor or put them in a plastic resealable bag and crush them with a rolling pin. I recommend crushing your pretzels a bit more than I did. My crust didn't hold together quite as nicely as it would have if I had crushed the pretzels more. In my defense, my 1st grader was yelling at me that she couldn't hear her PE teachers on Zoom when I was using the food processor!
I used gluten free pretzels this time, but any pretzels will work. The pretzel crumbs are mixed with sugar and melted butter.
Preparing the Cream Cheese Filling
The cream cheese filling is super simple and consists of cream cheese, sugar, and Cool Whip.
I beat the cream cheese and sugar and then slowly mixed in the Cool Whip. You could use whipped cream if you prefer.
Preparing the Strawberry Jello Topping
For the topping, the frozen strawberries need to be thawed at room temperature.
Then, water is boiled and mixed with the jello powder. Then the thawed strawberries are mixed in.
This jello needs to set up a bit in the fridge until it is cool and spoonable.
Assembling the Layered Jello Salad
To assemble the jello salad, the crust is spread into the pan then baked for 10 minutes. The crust is allowed to cool while the filling is prepared. The filling is spread over the cooled crust and chilled while the jello mixture is prepared. This is then added on top of the filling. Here is the sequence of assembly:
The jello salad is chilled and then cut into squares.
For a patriotic decoration, add a little extra Cool Whip or whipped cream with a blueberry on top!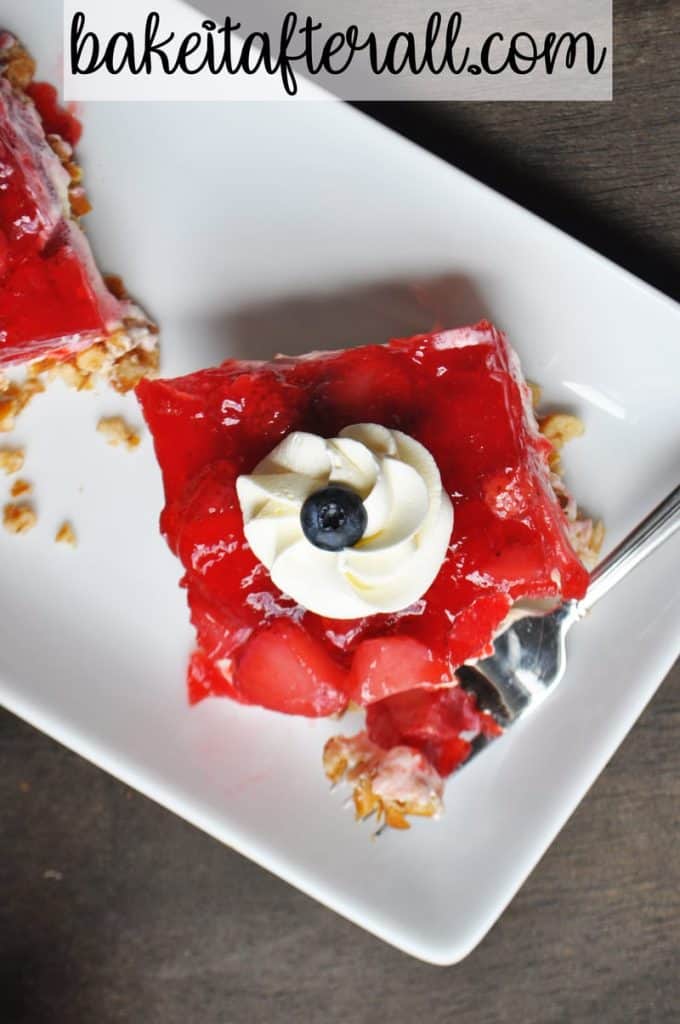 Gluten Free Strawberry Pretzel Jello Salad
Use gluten free pretzels for an entirely gluten free dessert!
Looking for More Sides for a BBQ?
Check out my favorite sides and desserts for a picnic or backyard BBQ:

SIDES
Pineapple Pretzel Salad
Panzanella Tomato Bread Salad
Roasted Vegetable Orzo
Parmesan Potatoes
Potatoes and Onions
Summer Vegetable Pasta
Garlic Bread

BAR DESSERTS
Graham Cracker S'mores Cookie Bars
S'mores Cheesecake Bars
Key Lime Pie Bars
Frosted Sugar Cookie Bars
Samoa Bars
Seven Layer Bars
Blueberry Crumb Bars


A salty and sweet dessert that is perfect for a picnic or BBQ.
Ingredients  
For the Crust:
2

cups

crushed pretzels

(8 ounces)

12

tablespoons

butter

(melted)

3

tablespoons

sugar
For the Filling:
8

ounces

cream cheese

(softened)

1

cup

sugar

2

cups

Cool Whip

(thawed)
For the Topping:
6

ounces

strawberry Jello

(one 6-ounce package or two 3-ounce packages)

2

cups

boiling water

32

ounces

frozen strawberries

(thawed)
Instructions 
Combine pretzels, butter, and sugar. Press into an ungreased 9×13-inch baking dish. Bake 10 minutes. Set aside to cool.

Beat cream cheese and sugar until smooth. Slowly mix in Cool Whip topping until fully incorporated. Spread over crust and chill.

Dissolve Jello in boiling water. Stir in thawed strawberries with any syrup generated during thaw. Chill until partially set.

Spoon Jello mixture over cream cheese filling. Chill 4-6 hours or until firm. Cut into squares.
Notes
You're Gonna Bake It After All
bakeitafterall.com
---
---