Dairy Free Soy Free Chocolate Chip Cookies (MSPI)
You would never guess these Dairy Free Soy Free Chocolate Chip Cookies have no dairy or soy protein! They are compliant with the MSPI Milk Soy Protein Intolerance diet. My family actually preferred these to the traditional butter version!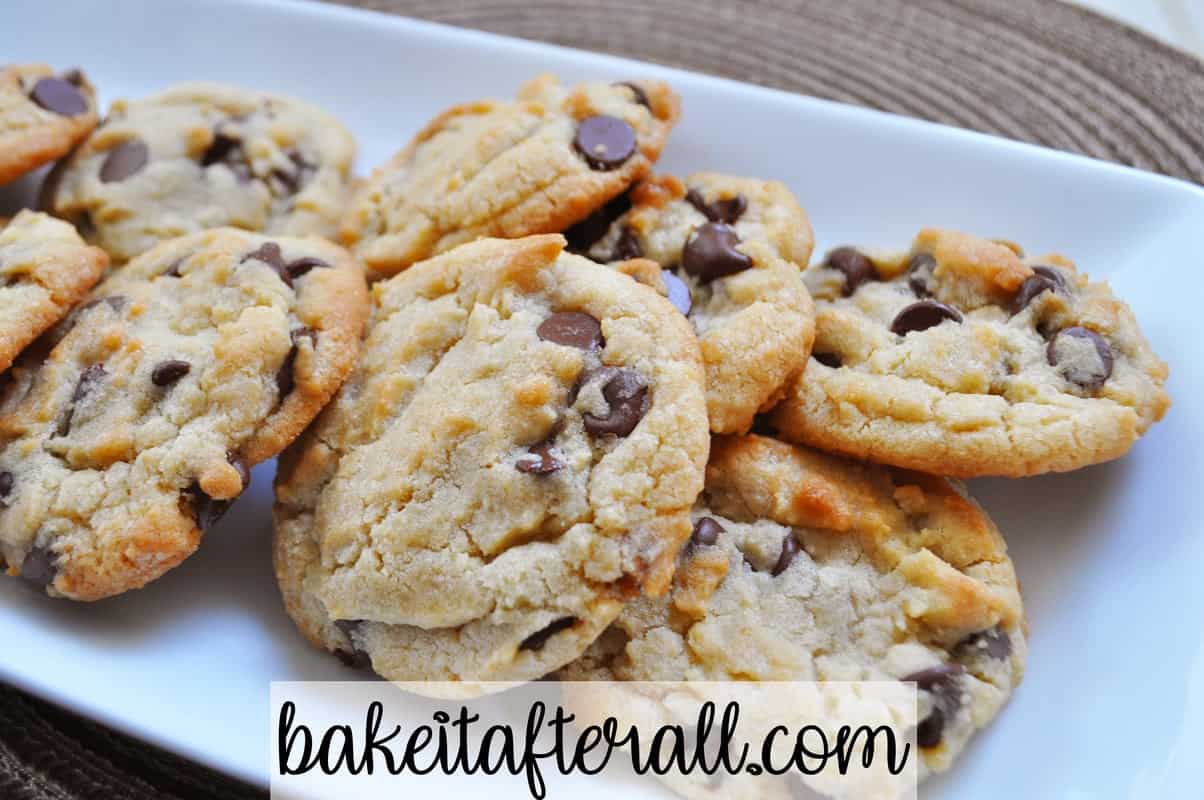 Here is another recipe from my days of following the MSPI (Milk Soy Protein Intolerance) diet while nursing my second baby. Normally I am not a fan of cooking with Crisco, but when you absolutely cannot have butter, these types of priorities often take a back seat. One nice thing about working with Crisco is that it's stored at room temperature. You don't have to wait for it to soften like butter!
My mom and sister really loved these cookies and actually preferred them to the typical all butter chocolate chip cookie.
During my MSPI days, I relied on dairy free / soy free chocolate chips. "Enjoy Life!" Brand is my favorite and thankfully my local grocery store carries them in the health/organic food aisle. These chocolate chips were so good – you would never know they were dairy free!
This recipe is actually adapted from the Nestle Toll House Cookie recipe, so you know it won't disappoint!
DISCLAIMER: Crisco contains soybean oil. Many people with MSPI can consume soybean oil without problem because it does not contain the soy protein, just the oil (similarly to how I can have very pure peanut oil but I'm allergic to peanuts). If you have a sensitivity to soybean oil, please substitute the Crisco with a butter flavored coconut oil or a dairy free soy free buttery spread. I have not tried this myself, so the amount may need to be adjusted if using a Crisco alternative.
Gluten Free Option for Dairy Free Soy Free Chocolate Chip Cookies
Use a gluten free flour in place of all purpose, such as Bob's Red Mill Gluten Free 1 to 1 Baking Flour.
Looking for more MSPI Recipes?
Check out these other recipes that contain no dairy and no soy:
Brownie (MSPI)
MSPI Chicken Fried Rice (MSPI)
Spicy Honey Brushed Chicken Thighs (MSPI)

I also highly recommend the blog MSPI Mama. She has a Quick Start guide with recipes for those moms suddenly finding themselves having to avoid milk and soy and not knowing where to begin! The site has not been updated in a long time, but all of the original recipes are there. It's a great resource that got me through those stressful first few weeks of having to revamp the way I cooked.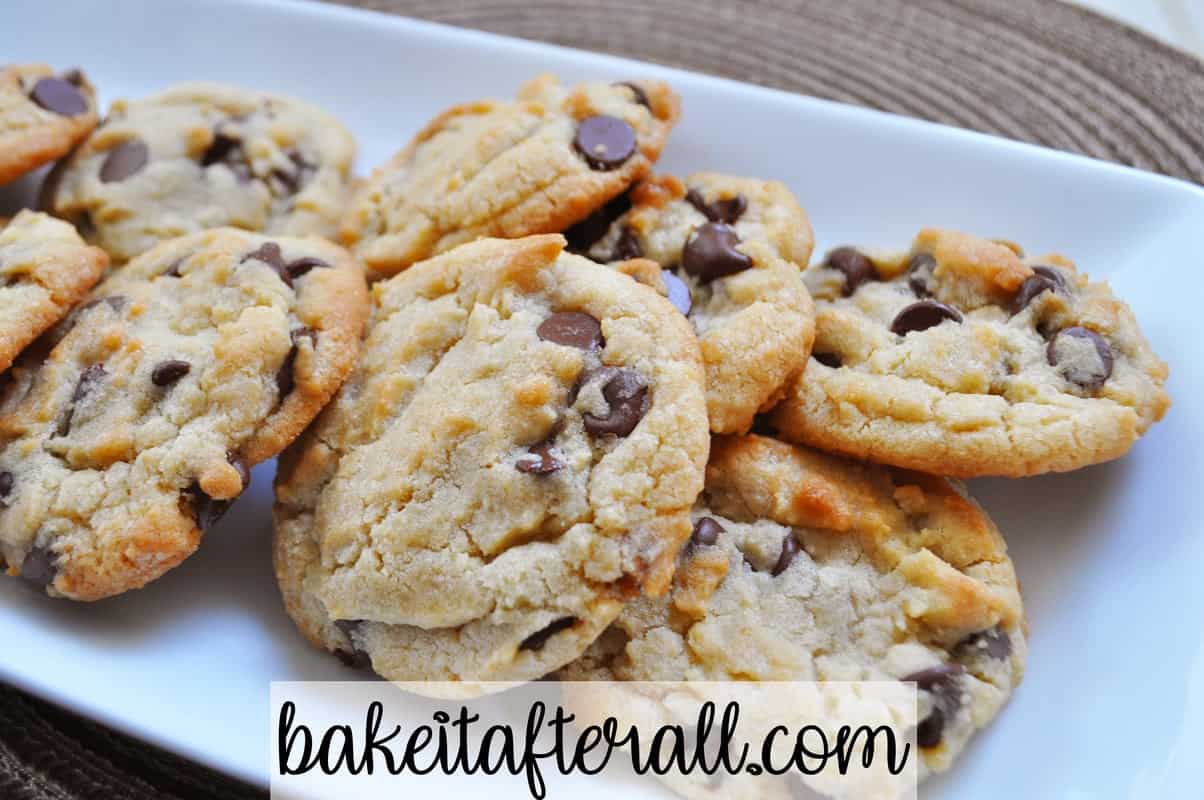 Meghan
A tollhouse chocolate chip cookie recipe modified to avoid dairy and soy but with all the flavor of a good bakery cookie.
Ingredients
2 1/4

cup

all purpose flour

1

teaspoon

baking soda

1

teaspoon

salt

1

cup

Crisco

(traditional or butter-flavored)

3/4

cup

granulated sugar

3/4

cup

light brown sugar

(packed)

1

teaspoon

pure vanilla extract

2

large eggs

2

cups

dairy free soy free chocolate chips

(such as Enjoy Life brand)
Instructions
Preheat oven to 375 degrees F.

Combine flour, baking soda, and salt in a small bowl. Set aside.

Beat Crisco, sugars, and vanilla extract in a large mixer bowl until creamy. Add the eggs, one at a time, beating well after each addition. Gradually beat in the flour mixture. Stir in the chocolate chips.

Drop by rounded tablespoon onto ungreased cookie sheets.

Bake for 8 – 9 minutes or until edges begin to turn golden.  Cool for one minute on the cookie sheet and remove to a wire rack to cool completely.
Notes
Source: Adapted from One Ordinary Day
You're Gonna Bake It After All
bakeitafterall.com
Keyword
chocolate, chocolate chips, cookies, dessert
---
---