Instant Pot Ground Turkey Tacos
These homemade Instant Pot Ground Turkey Tacos are perfectly seasoned with a slight sweetness from brown sugar. Stove top option included. Serve with your favorite taco toppings or in a taco salad!
I found this recipe for ground beef tacos in my America's Test Kitchen Cookbook and decided to try substituting ground turkey for the beef. The only kind of ground turkey tacos I've made in the past have been with a store bought taco seasoning packet. In fact, I don't know that it ever occurred to me to make the filling from scratch!
I am so glad we tried these because they are soooo good! The spices are perfect, and the mixture is so flavorful, with a slight sweetness from the brown sugar. Bob and I have made these probably 6 times in the last few months. They are one of the few dinners that I actually made while I was pregnant to keep in the freezer and have after the baby arrived – we were sure glad to have this dinner twice in those first weeks home with Ava, when simply taking a shower is an accomplishment for the day!  
Recipe Details
First, the onion is cooked in oil. Use the saute setting of the instant pot or if making in a skillet, heat it to medium. Next, the garlic, salt, and spices are added, followed by the ground turkey.
I typically use lean ground turkey exclusively (not the extra lean) because I find it has more flavor and isn't as dry. I had Bob grocery shop for the ingredients for this recipe once, and he got the extra lean by accident. We used it anyway, and these were still phenomenal! It ended up being serendipitous because now we know that we can use the healthier turkey and not compromise on the flavor!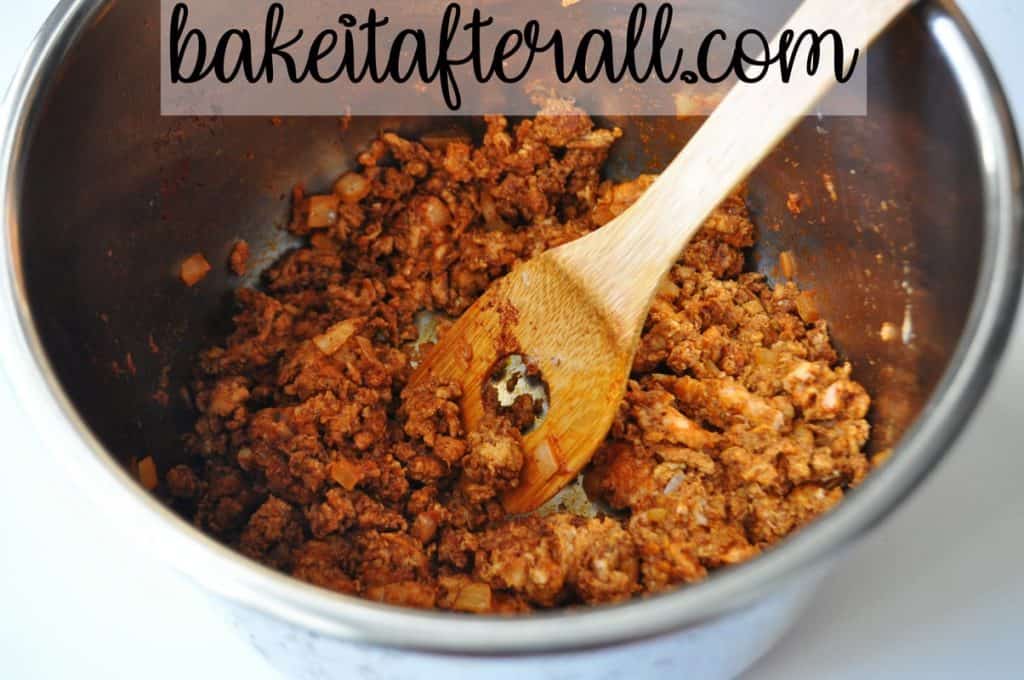 Once the turkey is no longer pink, it's time to add the sauce ingredients. I double the amount of sauce from the original recipe because we like a little more sauce. My change is reflected in the recipe below. If you prefer less sauce, just cut in half the amounts of tomato sauce, broth, vinegar, and brown sugar. The sauce is simmered until it thickens.
We have used this taco filling for taco salads and burrito bowls, and it is great with Cilantro Lime Crema on top!
Gluten Free Ground Turkey Tacos
The filling for the turkey tacos is naturally gluten free. Most brands of corn taco shells are gluten free, but please check your packaging to make sure.
Looking for More Mexican Food?
Check out my favorite Mexican and Tex/Mex recipes:
Costco Copycat Chicken Street Tacos
Cilantro Lime Crema Costco Copycat
Chicken Tortilla Soup
Grilled Chicken Fajitas
Pico de Gallo Chicken Quesadillas
Chicken Mexican Pizzas
Chicken Enchiladas with Red Chili Sauce
Skillet Chicken Fajitas
Chicken and Spinach Quesadillas
Jalapeno Popper Dip
Baked Southwestern Egg Rolls
Layered Taco Dip
Mexican Rice


These homemade Instant Pot Ground Turkey Tacos are perfectly seasoned with a slight sweetness from brown sugar. Stove top option included. Serve with your favorite taco toppings or in a taco salad!
Ingredients  
For the filling:
2

teaspoons

vegetable oil or corn oil

1

small onion

(chopped small, about 2/3 cup)

3

medium cloves garlic

(minced or pressed through garlic press, about 1 tablespoon)

2

tablespoons

chili powder

1

teaspoon

ground cumin

1

teaspoon

ground coriander

1/2

teaspoon

dried oregano

1/4

teaspoon

cayenne pepper

Salt

1

pound

ground turkey

(lean or extra lean)

1

cup

tomato sauce

1

cup

low sodium chicken broth

2

teaspoons

brown sugar

4

teaspoons

vinegar

(preferably cider vinegar)

Ground black pepper
Optional extras:
Hard or soft taco shells

Shredded cheese

Shredded iceberg or romaine lettuce

Small tomatoes

(chopped small)

Sour cream

Minced fresh cilantro leaves

Hot sauce or bottled taco sauce
Instructions 
Heat oil in the instant pot on "saute" until it is hot and shimmering but not smoking. Alternatively, use a medium skillet over medium heat, about 2 minutes. Add onion and cook, stirring occasionally, until softened, about 4 minutes.

Add garlic, spices, and 1/2 teaspoon salt; cook, stirring constantly, until fragrant, about 1 minute. Add ground turkey and cook, breaking meat up with a spoon and scraping pan bottom to prevent scorching, until turkey is no longer pink, about 5 minutes.

Add the tomato sauce, chicken broth, brown sugar, and vinegar. Allow liquid to simmer, stirring frequently and breaking meat up so that no chunks remain, until liquid has reduced and thickened (mixture should not be completely dry), about 10 minutes. If using a skillet, bring liquid to simmer then reduce heat to medium-low and simmer, uncovered, stirring frequently.

Adjust seasonings with salt and pepper. Serve immediately, passing toppings separately. For taco salads, top cut lettuce with taco meat and toppings.
---
---