Vanilla Swiss Meringue Buttercream
Vanilla Swiss Meringue Buttercream is a silky smooth buttercream perfect for any cupcake or cake recipe. Easy to color and decorate for any occasion!
Happy Valentine's Day!!!  
I have wanted to try Swiss Meringue Buttercream for a long time. I have read about it in my " target="_blank" rel="noreferrer noopener nofollow">Cake Bible and heard about it on America's Test Kitchen. After seeing this buttercream featured on Annie's Eats, I could tell from her pictures that it pipes beautifully. I took a major shortcut and used a boxed Red Velvet Cake mix so I could focus my time on the frosting. It was actually pretty simple to do, just took some time to cook the egg white mixture.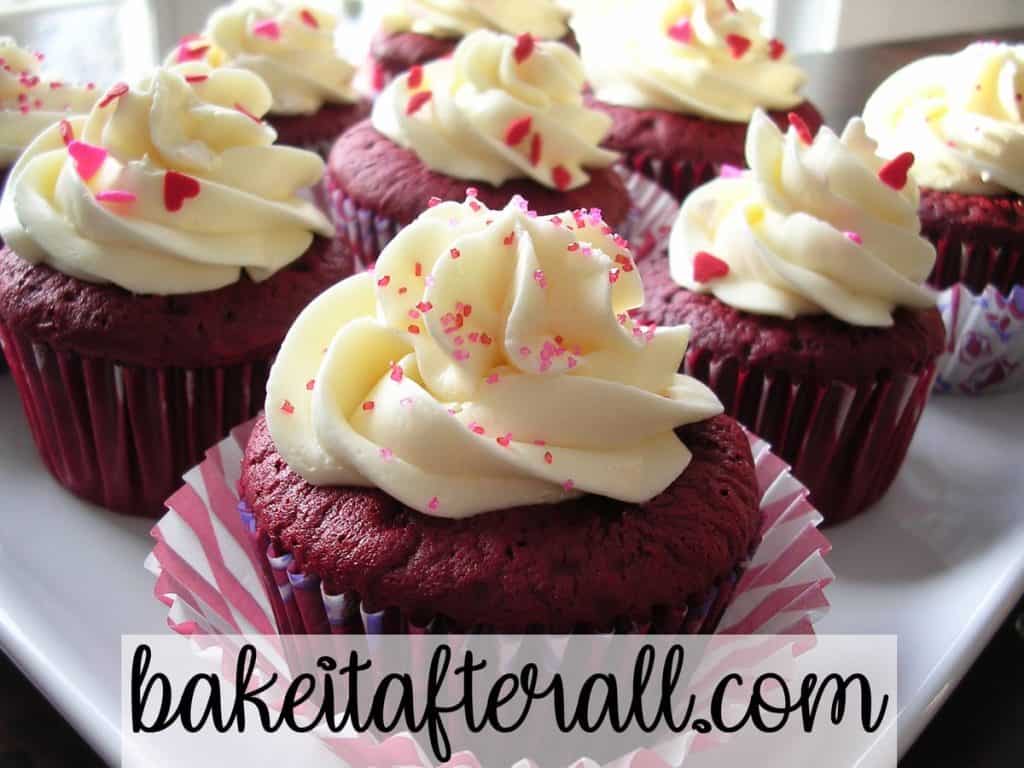 So, how does it taste? Oh.my.gosh this frosting is amazing! It is velvety smooth and buttery, with just enough sweetness. The vanilla flavor really comes through. I made regular sized cupcakes and some mini's as well.
Mini cupcakes: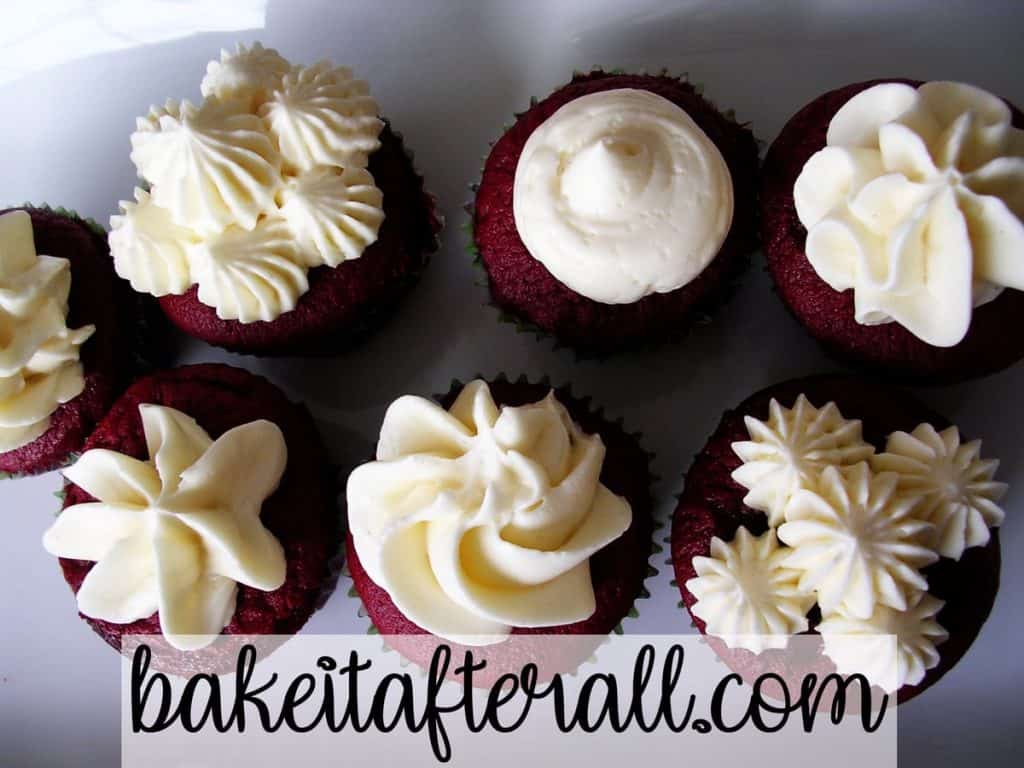 I also got to use my Valentine's Day sprinkles! I plan to use this as my go-to frosting from now on!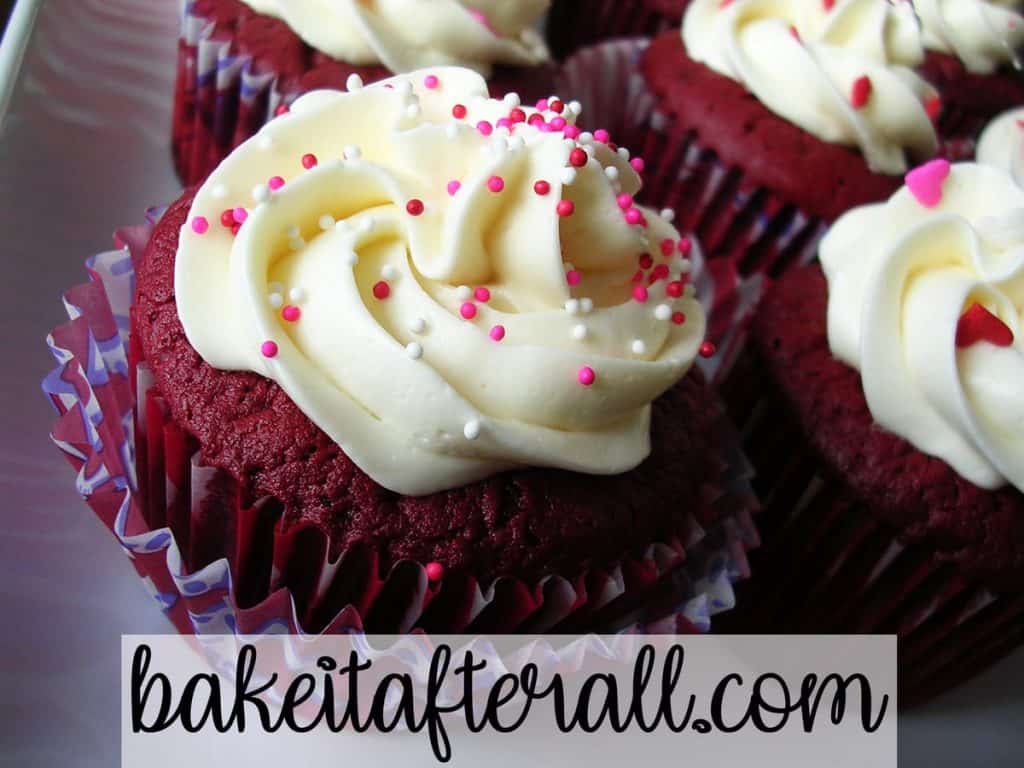 Recipe Details
First, egg whites, sugar, and salt are placed in the top of a double boiler or in a heatproof bowl set above simmering water. The mixture is heated to dissolve the sugar. Then it is beaten with the whisk attachment of an electric mixer until stiff peaks form.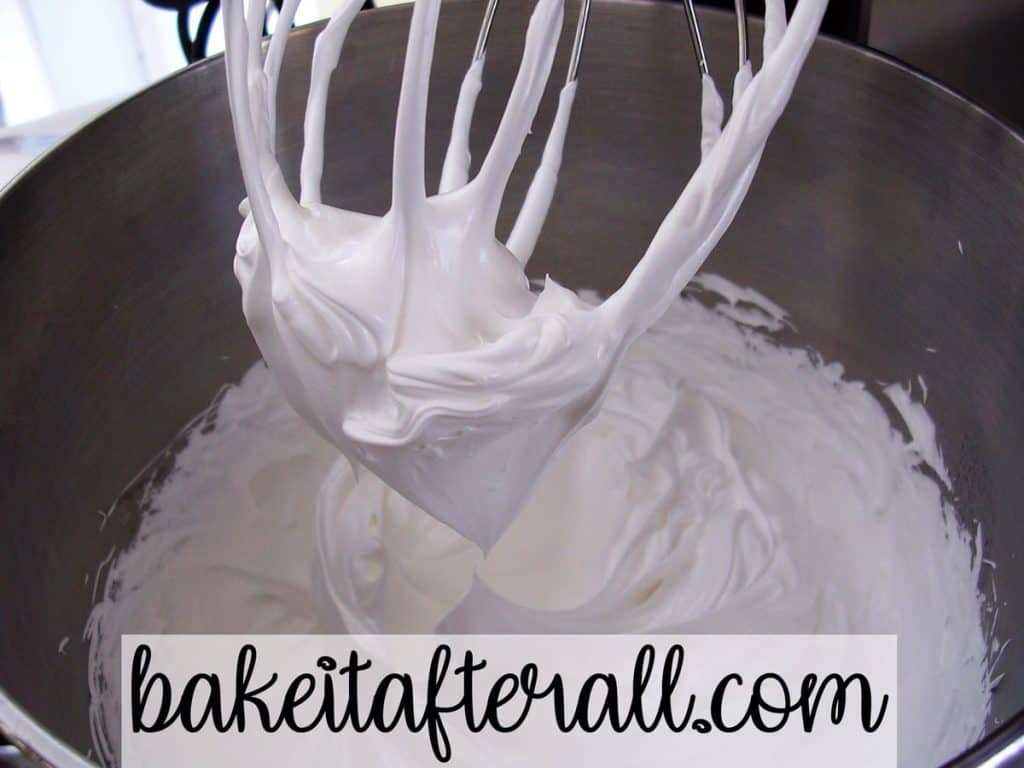 At this point, butter is added gradually while the mixture is beaten. It may look curdled at times, but keep mixing until it comes together. The finished buttercream can be tinted and piped as desired. I left mine plain and decorated with Valentine's sprinkles.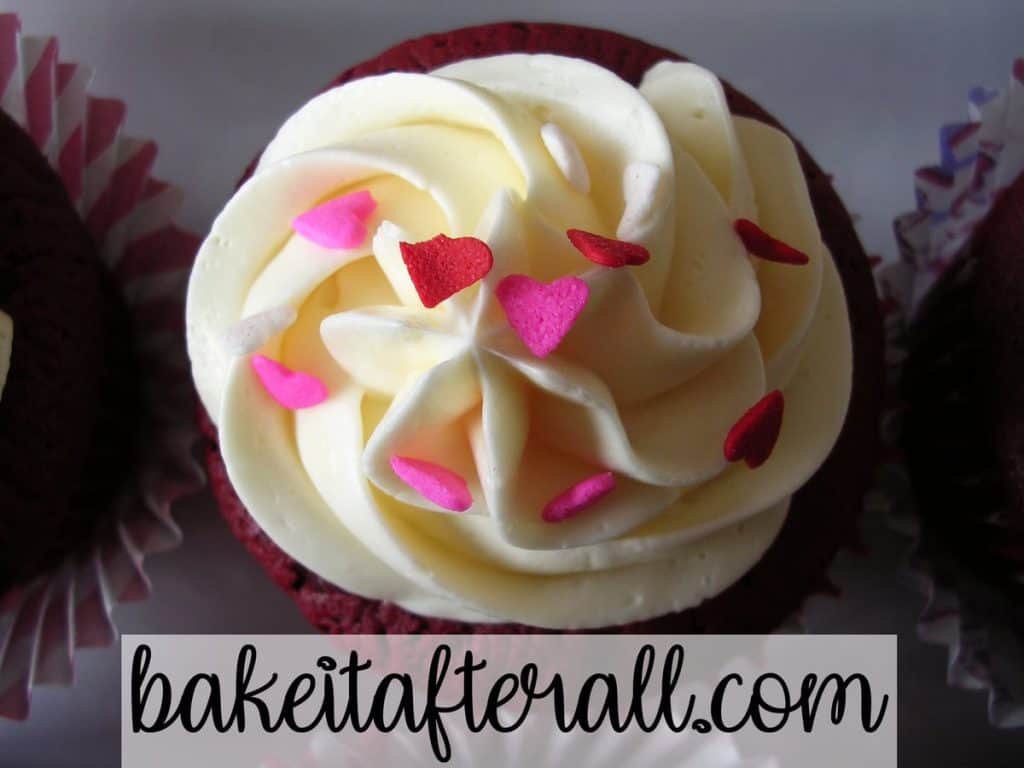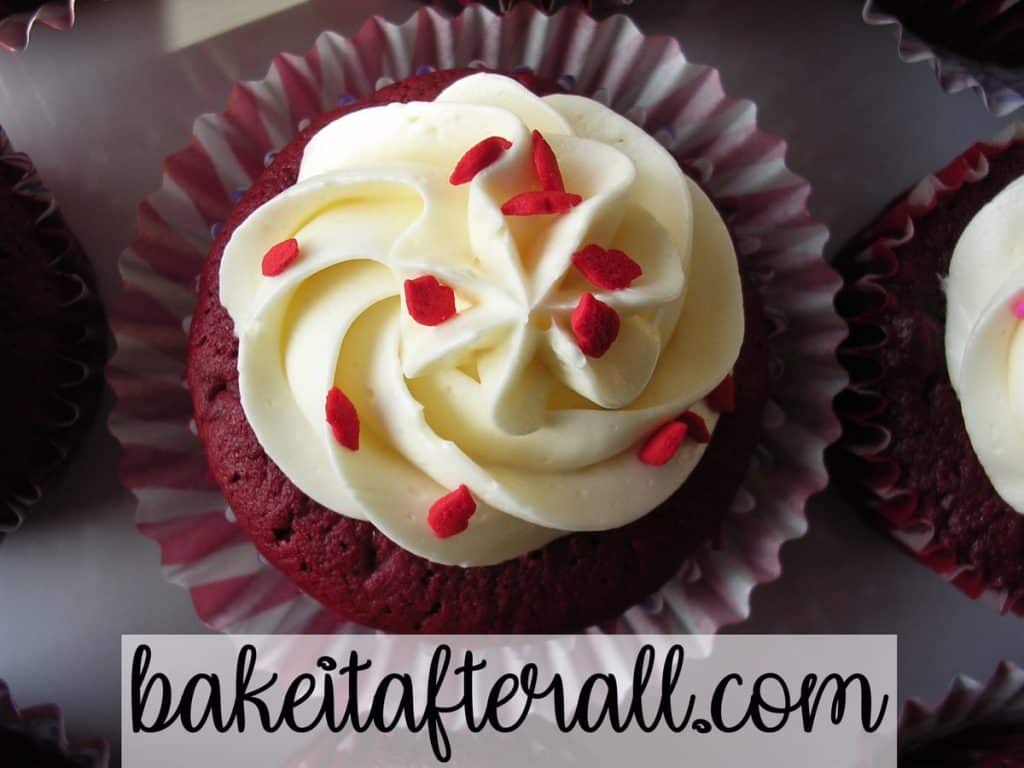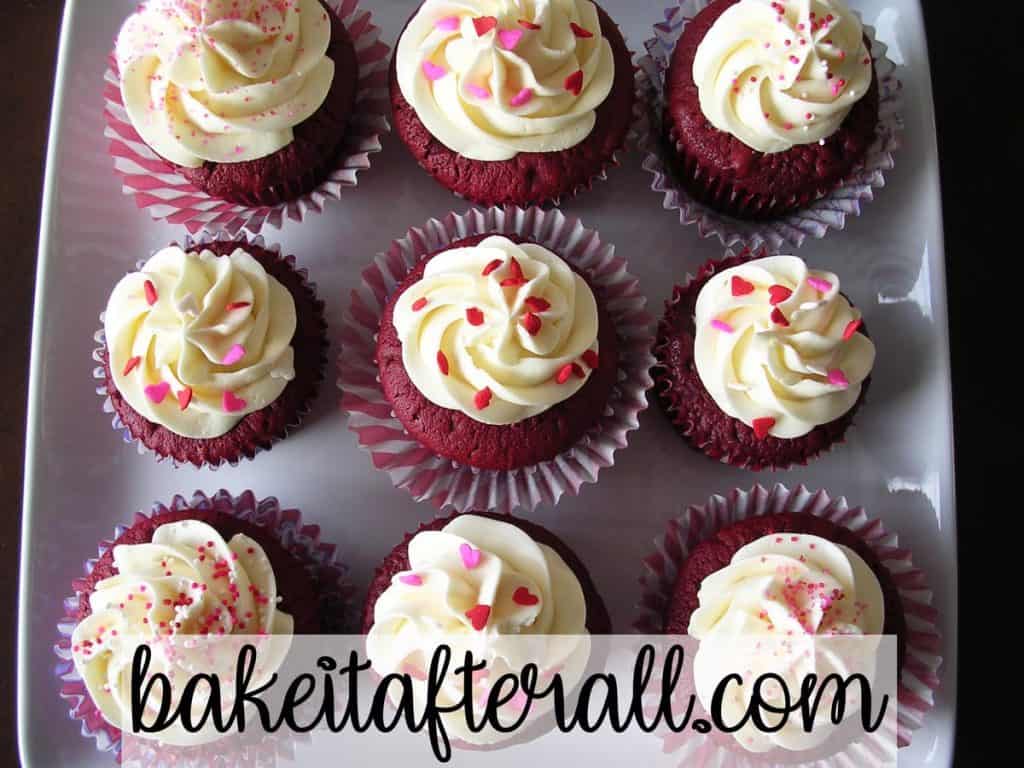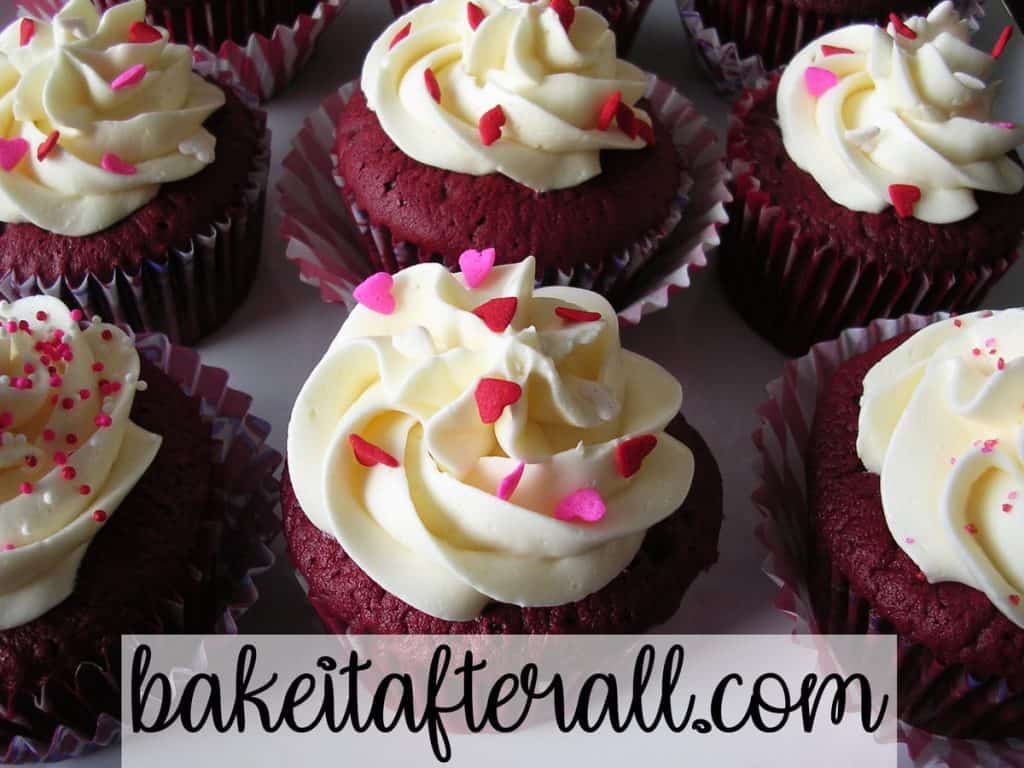 Gluten Free Swiss Meringue Buttercream
This recipe is naturally gluten free!
Looking for More Buttercream and Frosting Recipes?
Check out these recipes:
Easy Vanilla Buttercream
Easy Dulce de Leche Buttercream
Coffee Buttercream
Whipped Ganache Frosting
Blueberry Ganache Frosting
Pomegranate Cream Cheese Frosting
Classic Cream Cheese Frosting
Looking for More Valentine's Day Dessert Ideas?
Check out these great dessert ideas for Valentine's Day:
Mini Red Velvet Cheesecakes
Nut Free Linzer Cookies
Mini New York Cheesecakes
Red Velvet Brownies with Cheesecake Swirl
Roasted Cherry Brownie Sundaes with Cherry Port Sauce
Chocolate Covered Strawberries
Outrageous Brownies
Best Gooey French Brownies
Mini Hot Chocolate Cheesecakes
Bailey's Irish Cream Mini Cheesecakes
Mini Mocha Cheesecakes
Homemade Ben & Jerry's Hot Fudge Sauce
Red Velvet Cheesecake
Dark Chocolate Covered Cherry Cookies
Vanilla Swiss Meringue Buttercream is a silky smooth buttercream perfect for any cupcake or cake recipe. Easy to color and decorate for any occasion!
Ingredients  
5

large egg whites

1

cup

plus 2 tablespoons sugar

pinch

of salt

1

pound

unsalted butter, at room temperature

(4 sticks)

2

teaspoons

vanilla extract
Instructions 
Combine the egg whites, sugar, and salt in a heatproof bowl set over a pot of simmering water. Heat, whisking frequently, until the mixture reaches 160 degrees F and the sugar has dissolved.

Transfer the mixture to the bowl of a stand mixer fitted with the whisk attachment. Beat on medium-high speed until stiff peaks form and the mixture has cooled to room temperature, about 8 minutes.

Reduce the speed to medium and add the butter, 2 tablespoons at a time, adding more once each addition has been incorporated. If the frosting looks soupy or curdled, continue to beat on medium-high speed until thick and smooth again, about 3 – 5 minutes more – it will come together eventually.

Mix in the vanilla extract until just incorporated. Tint with gel icing color if desired.

Store buttercream at room temperature if using the same day, or transfer to an airtight container and refrigerate up to 3 days, or freeze up to 1 month. Before using, bring to room temperature and beat with the paddle attachment on low speed until smooth again, about 5 minutes.
Notes
Source: Adapted from Annie's Eats
You're Gonna Bake It After All
bakeitafterall.com
---
---