Ina's Outrageous Brownies
Ina's Outrageous Brownies are so rich and decadent with lots of chocolate flavor! The addition of coffee elevates the flavor.
I have to share this cool brownie pan that my sister and I gave to my mom for her birthday – the Baker's Edge Brownie Pan.  For those who love the edges and corners of brownies, this pan is perfect – practically every brownie is an edge or corner!   My dad took a picture of the first brownies they made in the pan:
This picture is just of a boxed brownie mix, but I thought I'd post the recipe for Ina Garten's Outrageous Brownies.  These brownies are so delicious.  Very rich and chocolatey.  I don't know that they'd be my 'everyday brownie' – not that I even have brownies everyday 🙂 – but they are definitely worthy of special occasions.  I found the recipe on the Food Network website, and the reviews were overwhelmingly positive.  I've made these for my family multiples times.  The original recipe is scaled for a 13 x 18-in sheet pan, which I don't own, so I cut it in half for a 13 x 9 pan.  I don't have a picture of these to post, but they look like your typical fudgy brownie; they just taste much better!
Recipe Details
Here's the ingredients for the brownies.
Now we'll break it down into steps.
Chocolate and Espresso Powder
These are the brands of chocolate and espresso powder I recommend. Ghirardelli chocolate melts super smooth, and I have great luck using it, even when recipes say not to use chocolate chips. I first found this brand of espresso powder at a small Italian specialty food shop located at the base of the Hancock Building. I now get it at my local grocery store (located near the instant coffee), but it is also available online.
Prepare the Wet Ingredients
In the top of a double boiler, or a heatproof bowl set above a pot of simmering water, add butter, semisweet chocolate chips, and unsweetened chocolate. Set aside to cool slightly.
In a small bowl, mix together the eggs, espresso powder, vanilla, and sugar.
Add the egg mixture to the cooled chocolate mixture.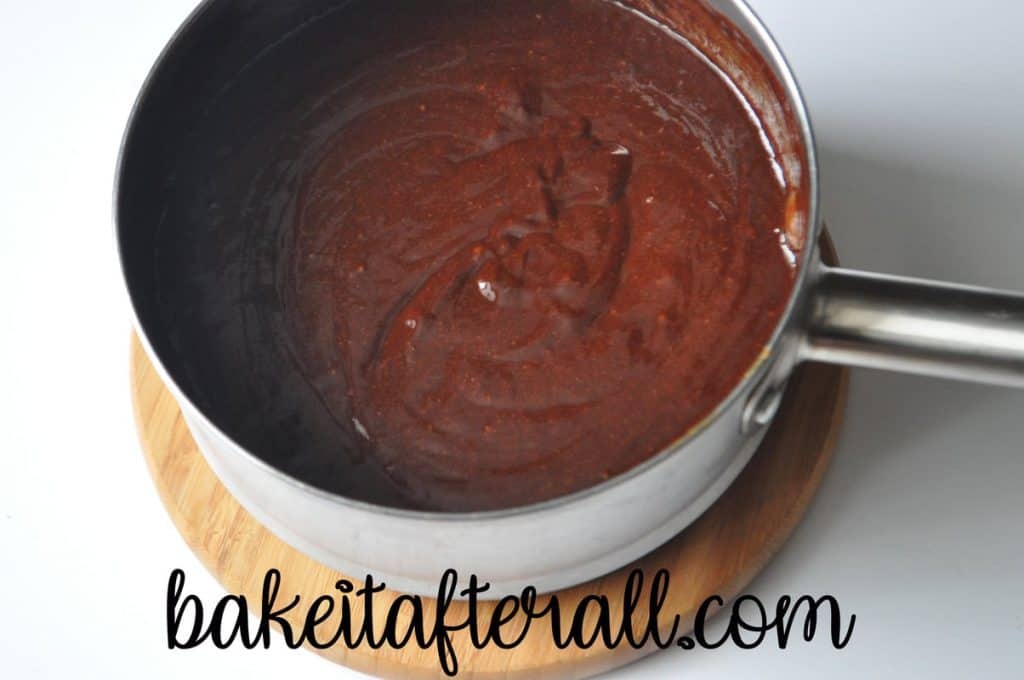 Prepare the Dry Ingredients, Assemble, and Bake
In a separate bowl, mix together flour, baking powder, and salt. This mixture is folded into the wet ingredients.
In another small bowl, toss the remaining chocolate chips with 1 tablespoon of flour just to coat. The purpose of this step is to prevent the chocolate chips from falling to the bottom of the batter when placed in the pan. The flour helps suspend them evenly throughout the brownies. For that reason, I strain out the excess flour using a small strainer. I discard the excess flour.
The chocolate chips are then folded into the batter.
The batter is then poured into the prepared pan. The brownies are ready to bake!
If you prepare your pan with an overhang of parchment on each side, it's easy to pull out the cooled brownies for cutting.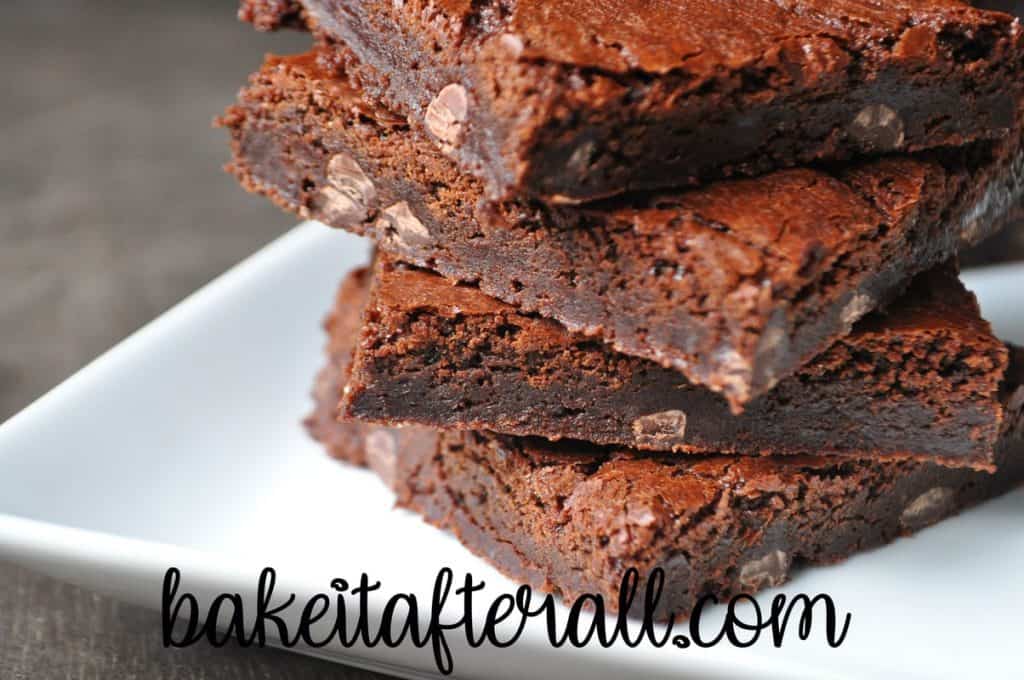 Gluten Free Brownies
Use a measure for measure such as Bob's Red Mill Gluten Free 1 to 1 Baking Flour in place of all purpose flour to make these brownies gluten free.
Looking for More Brownie Recipes?
Check out these other Brownies:
Best Gooey French Brownies
Roasted Cherry Brownies
Chewy Fudgy Brownies
Dark Chocolate Mascarpone Brownies with Blueberry Ganache
Rainbow Brownie Ice Cream Sandwiches
Dairy Free Soy Free Brownies (MSPI)
Red Velvet Brownies with Cheesecake Swirl
Coconut Butterscotch Chip Brownies
Pumpkin Spice Kiss Brownies
Outrageous Brownies are originally Ina Garten's recipe. I've scaled them down, eliminated the nuts, and adjusted the recipe.
Ingredients  
1/2

pound

butter

(2 sticks )

8

ounces

semisweet chocolate chips

3

ounces

unsweetened chocolate

3

large or extra large eggs

1 1/2

tablespoons

instant coffee powder

1

tablespoon

real vanilla extract

1

cup

+ 2 tablespoons sugar

1/2

cup

all purpose flour

1/2

tablespoon

baking powder

1/2

teaspoon

kosher salt
Mix In
1

tablespoon

all purpose flour

6

ounces

semisweet chocolate chips
Instructions 
Preheat oven to 350 degrees F.  Grease and flour a 13 x 9 x 1 1/2-inch sheet pan.

Melt together the butter, 8 ounces of chocolate chips, and unsweetened chocolate on top of a double boiler. Cool slightly.

Stir together the eggs, instant coffee, vanilla and sugar.  Stir in the warm chocolate mixture and cool to room temperature.

Stir together 1/2 cup of the flour, baking powder, and salt.  Add to cooled chocolate mixture.

Toss the 6 ounces of chocolate chips with 1 tablespoons flour to coat. Strain the chocolate chips through a fine mesh sieve/strainer to remove excess flour, then add the chocolate chips to the batter. Pour into prepared pan.

Bake for about 30 minutes, or until tester just comes out clean.  Halfway through the baking, rap the pan against the oven shelf to allow air to escape from between the pan and the brownie dough.  Do not over-bake!

Cool thoroughly, refrigerate well, and cut into squares.
---
---