Chocolate Chip Cookie Cake
Who doesn't love a Chocolate Chip Cookie Cake?! Both kids and adults will love this cake version of a classic chocolate chip cookie. Decorated with vanilla buttercream and sprinkles, this cake can be customized to any holiday or party theme!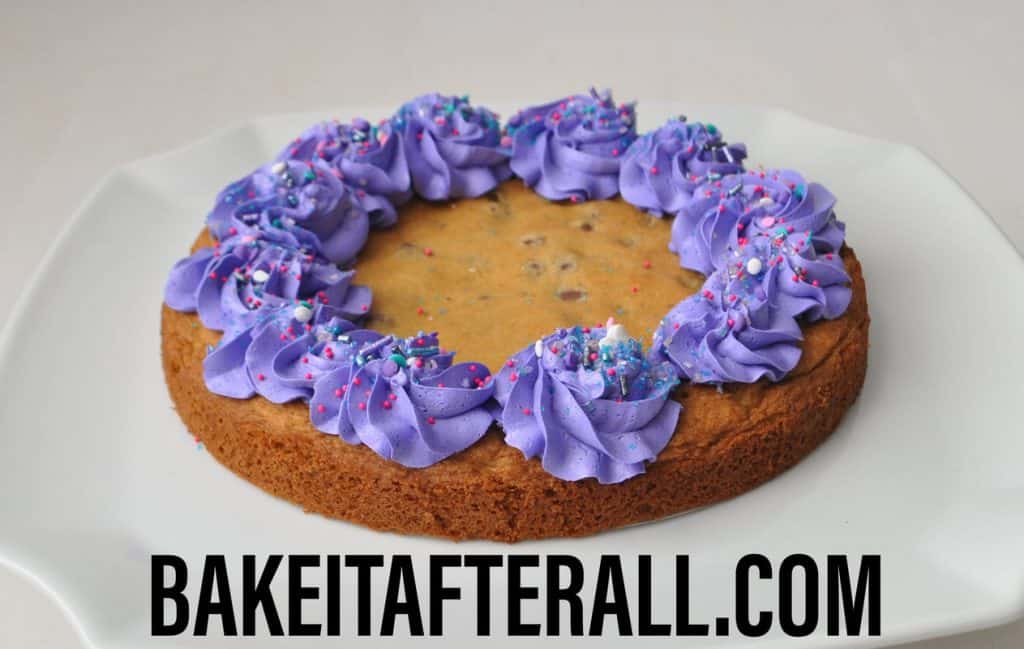 My aunt has always made amazing Chocolate Chip Cookie Cakes and decorated them with with buttercream frosting. I remember requesting these for my birthdays often as a child! Now that I make the birthday treats for my girls, I figured it was time to have my own recipe.
I like the look of a big round cookie with buttercream swirls on the perimeter, so I started with my favorite classic chocolate chip cookie recipe that I used for the Chocolate Chip Cookie Ice Cream Sandwiches and cut it down to be made in a round springform pan. This recipe has an extra egg yolk and a small amount of cornstarch to make a softer cookie, which is what I wanted for this cake.
I've made these cookie cakes for holidays and birthdays using either Easy Vanilla Buttercream or Swiss Meringue Buttercream. The light colored buttercream is the perfect blank canvas that you color with food gel to fit any theme or holiday, then top with your favorite sprinkles. The possibilities are endless – any birthday theme, Halloween, Valentine's Day, fall, winter, Christmas, etc.
This purple cake was for my daughter's Sofia the First themed birthday. I used a Betty Crocker sprinkle mix from a local store, but there are some gorgeous sprinkles out there!
I made a red, white and blue version for one of the American summer holidays last year. I used my favorite Wilton edible silver stars for some added flair. These patriotic sprinkles would have been very cute as well!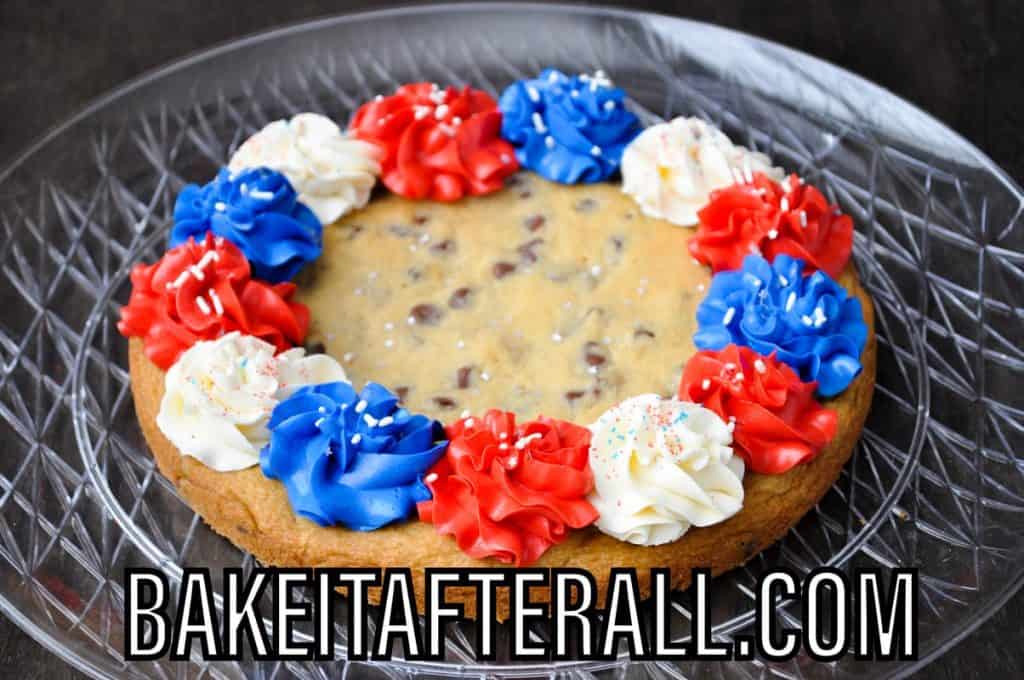 Recipe Details
Prepare the Pan
To prepare the pan, I use a baking spray (spray that contains flour) on the bottom and sides of a 9-inch round springform pan. You can also use just butter or butter plus a dusting of all purpose or gluten free flour. I trace the pan and cut a circle of parchment paper to fit inside the bottom of the pan, then spray the top of the paper as well.
Make the Cookie Dough
Just like in a typical chocolate chip cookie recipe, this recipe starts with combining dry ingredients in a separate bowl. Then beating the butter and sugars, adding the eggs and vanilla extract, and slowly adding the dry ingredients into the wet ingredients until just combined. For the last step, chocolate chips are folded into the batter.
Fill the Pan and Bake Cookie
The cookie dough is spread in an even layer to the sides of the pan. The cookie will spread and end up thicker on the edges if you have the dough running all the way up to the sides, so if you prefer a more even surface, you can leave a small 1/2-inch border around the edges for the dough to spread into during baking.
The cake is baked and then cooled before carefully removing the springform.
Decorate the Cake
I have used both Easy Vanilla Buttercream and Vanilla Swiss Meringue Buttercream to decorate cookie cakes. Both are delicious. The first recipe is super quick to make, so I use it for all of my cake decorating because I'm usually pressed for time! The Swiss Meringue recipe takes more time and requires a cooking step, but it produces velvety smooth buttercream. I have used both buttercreams for the filling in No Bake Banana Split Cake, and have even made the Banana Cake and Cookie Cake for the same party and used the same buttercream for both!
My favorite way to decorate the cake with buttercream is to make large swirls with a large 1M or 2D piping tip. You can easily do this with a disposable piping bag. Then I add color coordinating sprinkles on top of the buttercream. Easy!
Gluten Free Chocolate Chip Cookie Cake
Use a gluten free flour blend, such as Bob's Red Mill Gluten Free 1 to 1 Baking Flour, in place of all purpose flour for a gluten free dessert.
Looking for More Cakes and Cookies?
Check out these other cake and cookie desserts:
Soft Frosted Sugar Cookies
Frosted Sugar Cookie Bars
Chocolate Chip Cookie Ice Cream Sandwiches
No Bake Dairy Queen Copycat Ice Cream Cake
Brownie Peppermint Ice Cream Cake
Brownie Ice Cream Sandwiches
Thick and Chewy Chocolate Chip Cookies
A classic Chocolate Chip Cookie cake that can be decorated with buttercream and sprinkles to fit any occasion.
Ingredients  
1

cup

+ 2 tablespoons flour

(all purpose or gluten free)

1

teaspoon

cornstarch

1/2

teaspoon

baking soda

1/4

teaspoon

salt

8

tablespoons

butter, softened

(1 stick)

1/2

cup

brown sugar

1/4

cup

granulated sugar

1

egg + 1 egg yolk

1

teaspoon

vanilla

1

cup

chocolate chips
Instructions 
Preheat oven to 375°F.

Butter or spray the bottom of a 9-inch springform pan, then place a parchment or waxed paper round inside to cover the bottom of the pan. Butter or spray the paper and the sides of the pan.

Sift together the flour, cornstarch, baking soda, and salt in a small bowl. Set aside.

Cream together the butter and sugars. Add the egg and egg yolk with the vanilla and beat to combine well.

Slowly add the dry ingredients to butter mixture and mix until just combined. Stir in the chocolate chips.

Transfer the cookie dough batter to the prepared pan and smooth surface evenly, leaving about 1/2-inch of space from the edge of dough to the sides of the pan for spreading.

Bake for 12 – 18 minutes, until browned and cooked through.

Cool for 10 minutes, loosen edges of cookie carefully with a plastic knife, then cool completely.

Remove springform ring and slide cookie onto a serving platter. Decorate with your favorite buttercream and sprinkles.
---
---