Pomegranate Cream Cheese Frosting
Pomegranate Cream Cheese Frosting is a simple cream cheese frosting with homemade pomegranate juice reduction. Perfect for cupcakes or cake!
In the fall I was sent some POM Wonderful Pomegranate Juice to try for recipes. I immediately went on the POM website and found this recipe for POM Velvet Cupcakes with POM Cream Cheese Frosting. They looked so delicious, so I decided to try it out for my girls holiday potluck lunch in December.
Since there would be other desserts at the party, I made mini-cupcakes. The full recipe makes 30 regular cupcakes, so I figured a half batch would be good for 24 mini cupcakes with a little batter left over. Well, I ended up with a ton of batter left over – enough for 12 full-sized cupcakes! This wouldn't have been such a problem if I hadn't run out of frosting after 14 mini-cupcakes. It may have been my fault, since I was a little heavy on the frosting, but I highly doubt the frosting recipe is enough for 30 regular cupcakes frosted as heavily as shown in the picture on the POM website. For that reason I have adjusted the yield in my recipe card.
As far as taste goes, the cupcakes were just ok in my opinion (although Bob liked them). Good flavor but a little bit dry. Definitely not a prominent pomegranate flavor coming through. I really hate when I go to the trouble of making a homemade cake and it comes out worse than if I would have just made a box mix. And this cake was a big of pain with the double-sifting and multiple bowls of dry ingredients. For these reasons, I'm not posting the cupcake recipe. If you're looking for an amazing chocolate cake recipe, try this Chocolate Layer Cake or the cake portion of this Salted Carmel Chocolate Fudge Cake!
The frosting on the other hand was great! Most people can't pass up cream cheese frosting, but I loved the added flavor of the pomegranate juice reduction. I would definitely make the frosting again, but the only thing I would change would be to add a little red food coloring. It had a pink tint when first made but by the time I got to my party it had faded to a grayish color – not too appetizing. Oh and did I mention that on my drive to the party the sealed container of cupcakes fell off the back seat and flipped upside down, destroying my piping? Yeah, that was fun …grrr.
Recipe Details
The first step of this recipe is to reduce Pomegranate juice by simmering. The Pomegranate reduction is then cooled.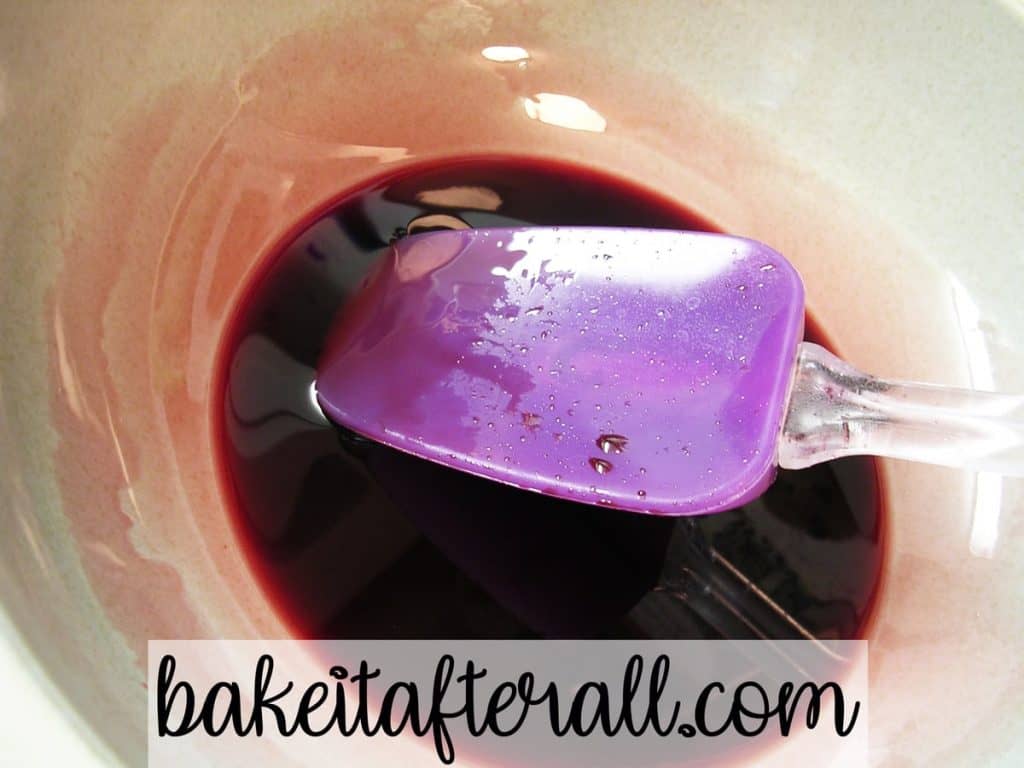 Then butter and cream cheese are combined, and powdered sugar and the reduction are added to finish off the frosting.
Gluten Free Cream Cheese Frosting
This frosting is naturally gluten free!
Looking for More Frosting Recipes?
Check out my other favorite buttercream and frosting recipes:
Classic Cream Cheese Frosting
Vanilla Swiss Meringue Buttercream
Easy Vanilla Buttercream
Coffee Buttercream
Easy Dulce de Leche Buttercream
Blueberry Ganache Frosting
Whipped Ganache Frosting
Pomegranate Cream Cheese Frosting is a simple cream cheese frosting with homemade pomegranate juice reduction. Perfect for cupcakes or cake!
Ingredients  
1 1/2

cups

POM Wonderful 100% Pomegranate Juice

4

ounces

unsalted butter

(softened)

8

ounces

cream cheese

(at room temperature)

14

ounces

powdered sugar

red food coloring gel or liquid

(if desired)
Instructions 
In a saucepan over low heat, reduce the pomegranate juice down to 3 fluid ounces. Allow to cool.

Place butter into an electric mixer bowl with paddle attachment and cream on medium-high speed for 1 minute. Add the cream cheese and continue to mix for 2 more minutes.

Turn the speed down to low and slowly add in the powdered sugar and the pomegranate juice reduction. Mix until the sugar is fully combined. Add food coloring now if desired.

Remove icing from the mixer and place into a piping bag with a round or star tip to decorate cooled cupcakes.
---
---