Cheesecake
Cheesecake Stuffed Strawberries are perfect for parties! Fresh strawberries are stuffed with cheesecake flavored cream cheese fruit dip.
The BEST Mini Cheesecake Recipes rounded up in one place with gluten free cheesecake options! Instructions for baking in different pans.
Mini Red Velvet Cheesecakes have chocolate cookie crust and red velvet cheesecake filling with a cream cheese topping. Gluten free option!
Mini New York Cheesecakes are the classic New York Style Cheesecake in a bite sized dessert. Top with cherry or strawberry pie filling.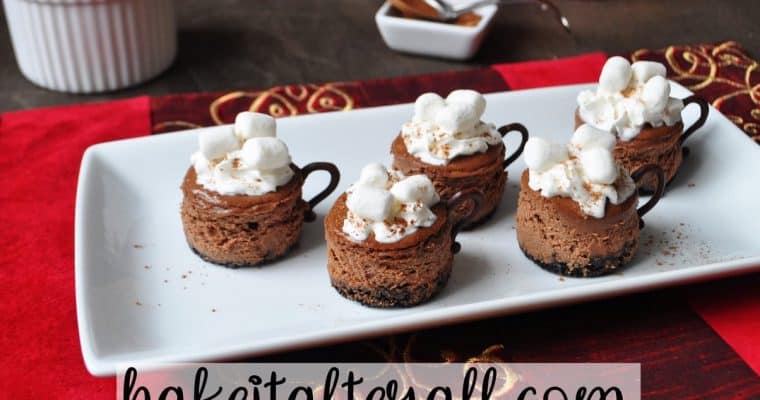 Mini Hot Chocolate Cheesecakes have a smooth chocolate filling and a chocolate cookie crust, then decorated to look like hot cocoa mugs!
Mini Mocha Cheesecakes have a smooth, creamy chocolate mocha flavored filling on top of a chocolate sandwich cookie crust.
Mini Pumpkin Cheesecakes have a spiced graham cracker crust and a creamy pumpkin cheesecake filling in a bite-sized form perfect for parties!
Mini Pina Colada Cheesecakes have a graham cracker crust, creamy pineapple coconut cheesecake, and a crunchy toasted coconut topping.
Cherry Chocolate Cheesecake Bundt Cake features the BEST chocolate cake, studded with cherries, filled with cheesecake and brushed with a cherry glaze. It can be made gluten free!
---
---