Tres Leches Coconut Cupcakes with Dulce de Leche Buttercream
These tres leches coconut cupcakes are topped with a homemade dulce de leche buttercream and toasted coconut. Dress them up as Spring Chicks for a perfectly adorable dessert!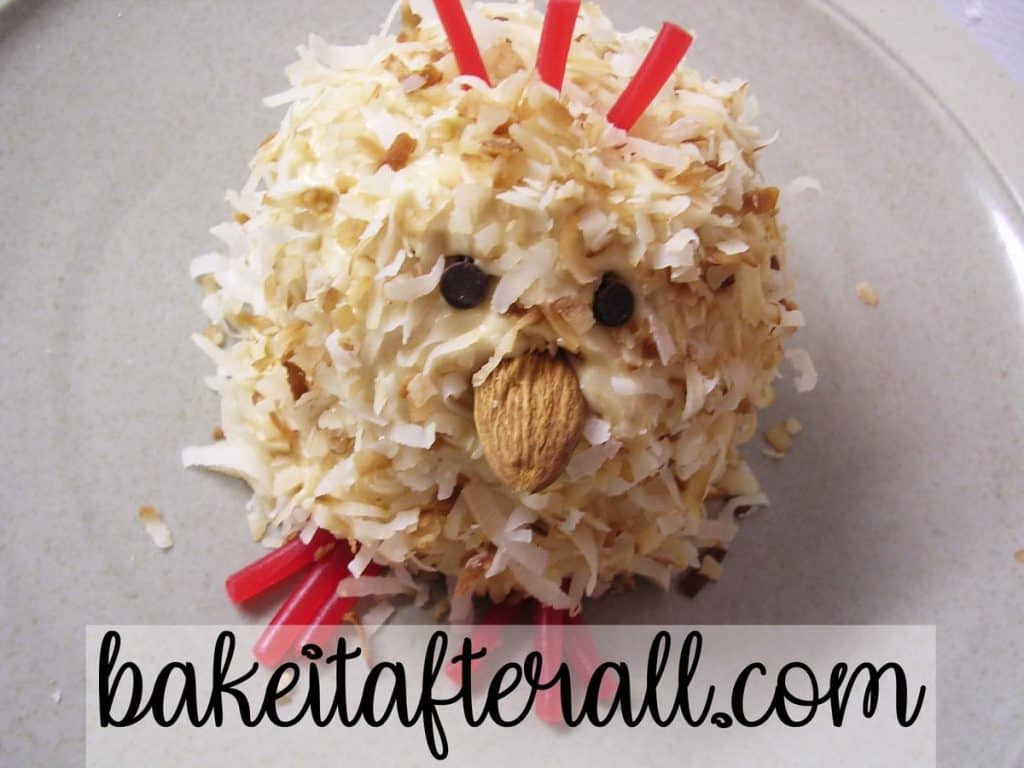 I saw Lorie Roach make these cupcakes on Food Network's Ultimate Recipe Showdown last year, and she won in the cupcake category. I absolutely love coconut (and tres leches cakes), so they have been on my list of desserts to make since then. I finally decided it was the right time to make them after stumbling upon this Martha Stewart idea for making these chick cupcakes, so I thought why not combine the two! The only pitfall – it makes for a LONG recipe title! 🙂
For Easter, my family always has a big coconut cake, so coconut is synonymous with Easter for me. Since Bob and I are spending Easter alone this year, I wanted to make a delicious dessert for us. I made them early because I wanted to post them before Easter in case anyone wants to try them out! Plus I am taking a bunch to work because this recipe makes 16 cupcakes!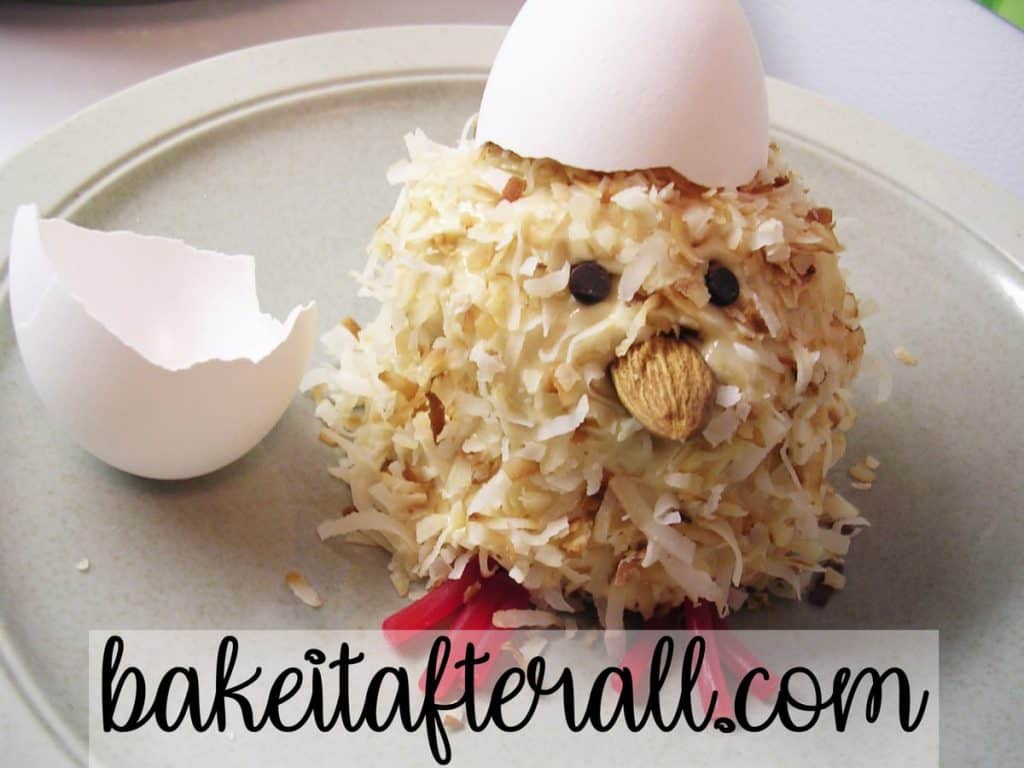 To answer your question, yes they do taste as good as they sound!!! These cupcakes are fantastic! I love the tres leches cake, and the dulce de leche buttercream is outstanding. Covering in toasted coconut provides a perfect crunch. If you've never made dulce de leche with sweetened condensed milk before – do it! I could have eaten that by itself-yum! (Recipe here for Easy Homemade Dulce de Leche).
Check back Saturday morning when I will post another Easter-themed dessert that I made alongside these chicks!!! (Update: these Carrot Cupcakes with Cream Cheese Frosting and Mock Marzipan Carrots).
Looking for More Cupcake Recipes?
Check out these other cupcakes:
Carrot Cupcakes with Mock Marzipan Carrots
Baby Bluebird Cupcakes
Samoa Cupcakes with Easy Dulce de Leche Buttercream
Dark Chocolate Cupcakes
Blackberry Vanilla Cupcakes
Blueberry Vanilla Cupcakes with Blueberry Ganache
Mexican Chocolate Black Bottom Cupcakes
Delicious yellow cupcakes soaked in tres leches and topped with homemade dulce de leche buttercream and toasted coconut. These cupcakes are a winner!
Ingredients  
For the Cupcakes:
1/4

cup

shortening

1/2

cup

unsalted butter, softened

(1 stick )

1

cup

sugar

3

eggs

(separated)

1/2

tsp

vanilla extract

1

cup

all purpose flour

1/2

tsp

baking soda

1/2

tsp

salt

3/4

cup

buttermilk
For the Coconut Tres Leches:
1/2

cup

evaporated milk

1/2

cup

sweetened condensed milk

1/2

cup

coconut milk
For the Buttercream:
14-

ounce

can sweetened condensed milk

2

egg yolks

3/4

cup

sugar

3

tbsp

cornstarch

1/4

tsp

salt

1/4

cup

water

1

tsp

vanilla extract

14

tbsp

unsalted butter

(softened to room temperature)

1/2-1

cup

powdered sugar

toasted coconut
Instructions 
Make the Cupcakes:
Preheat oven to 350 degrees F.

In a medium bowl, sift together the flour, baking soda, and salt. Set aside.

In a large mixing bowl, cream the shortening, butter, and sugar until light and fluffy on medium speed; add egg yolks 1 at a time, beating until all the yellow disappears. Add the vanilla. Add the dry ingredients alternately with the buttermilk to the creamed mixture beginning and ending with the flour mixture.

In a small bowl, beat the egg whites on high speed until stiff peaks form. Fold into cake batter.

Fill standard paper-lined muffin cups 3/4 full. Bake for 20 to 25 minutes or until a toothpick inserted in center comes out clean. Let cook in pan for 10 minutes. Transfer cupcakes to wire rack that has been placed over a baking sheet to cool.
Make the Coconut Tres Leches:
While cupcakes are still warm, in a medium bowl, stir together the evaporated milk, sweetened condensed milk, and the coconut milk.

Poke several holes in the top of each of the cupcakes with 1/4-inch wooden skewer. Pour the milk mixture over each cupcake while they are still warm, filling each hole. Refrigerate for 2 hours or overnight before adding buttercream.
Make the Buttercream:
To make the dulce de leche, pour the sweetened condensed milk into a glass pie plate or pyrex dish and cover with foil. Place pie plate into a larger roasting pan where pie plate can sit flat. Pour hot water into the roasting pan to a depth of about halfway up the pie plate/dish. Place in oven and bake for 1 hour 15 minutes. Remove from oven and let cool. Stir until smooth.

Place egg yolks in a medium mixing bowl. Stir the sugar, cornstarch, and salt together in a small, heavy saucepan. Whisk in the water first, then the dulce de leche and bring to a boil over medium heat. Boil for 1 minute, whisking constantly. Remove from heat. Gradually whisk the dulce de leche mixture into the 2 egg yolks. Stir in the vanilla. Strain through a wire mesh strainer into a small bowl and set aside to cool. Whisking the mixture inside the wire mesh strainer helps promote it through the sieve.

Beat the butter on high speed in a large mixing bowl until light and fluffy. Beat in the cooled dulce de leche mixture. Beat in the 1/2 cup powdered sugar until smooth and spreadable. Add up to 1/2 cup more powdered sugar to achieve desired sweetness and consistency.

Proceed to recipe for Spring Chicks to decorate the cupcakes as chicks. Otherwise, frost with buttercream and sprinkle with toasted coconut.
You can use any cupcake and frosting recipe for these Spring Chicks, but I recommend the Tres Leches Coconut Cupcakes with Dulce de Leche Buttercream.
Ingredients  
4

cups

sweetened shredded coconut

(toasted)

red licorice lace

16

whole almonds

32

mini chocolate chips
Instructions 
Remove paper wrappers from cupcakes, spread buttercream on cupcake top and turn them upside-down to anchor to a small plate while you are working. To make the body of the chick, use a small offset spatula to coat the sides thickly with frosting, and then mound more on top to create a dome shape.

Press toasted coconut into the frosting for the fuzzy feathers. Hold the plate at an angle while applying the coconut so the excess falls back into the bowl. At this point you may use a spatula to transfer the chick to a serving platter and then decorate, or proceed to step 3 and transfer later.

Place eyes (mini chocolate chips) on chicks using tweezers or by hand. Use a whole almond for the beak and red licorice for the feet and comb; both can be pushed into the frosting by hand. If using red licorice lace (or pull and peel like I did), you can squeeze the ends of the 3 pieces of licorice together to help the feet stay in one piece.

Use a spatula to transfer the completed chick to a serving platter.
Notes
Source: Adapted from Martha Stewart.com
You're Gonna Bake It After All
bakeitafterall.com
---
---