Bridal Shower Dessert Table
I surprised my sister with this Bridal Shower Dessert Table, including a fondant flower cake, Oreo truffles, and Bridal themed Sugar Cookies with Royal Icing. All desserts fit her wedding colors of coral and ivory!
I've mentioned this in several posts, but I threw my sister Lisa a bridal shower in March and tackled my first dessert table! When my sister got engaged last summer, I immediately started brainstorming ideas for her shower. I had never hosted a shower before, and I wanted it to be so special for her. I had such an amazing bridal shower, thanks to my sister, my aunts, and my cousins, and I wanted Lisa to feel the same way.  
Developing a Theme for the Bridal Shower
I've been inspired to do a sweet/dessert table ever since first hearing about them from my friend Kat (and seeing her amazing work!). Lisa absolutely loves desserts, and I thought this was the perfect idea for her shower.
Her wedding colors were coral and ivory, so I decided to make that the theme of the shower and dessert table. I wanted the overall colors to be as light and "bridal" as possible. After many months of planning, shopping, and sketches, here is what I came up with:
Bridal Shower Menu
I dedicated my time to planning and executing the dessert table, while my cohosts focused on the drinks and food for the shower. We did a signature drink, Pink Citrus Punch, named after my sister and her husband. The colors of the punch perfectly matched the theme!
The lunch included a simple Caesar salad, a store bought sandwich tray, Cheesy Potato Casserole, and a fruit salad.
The menu (disregard my reflection in the glass!):
Dessert Table
The table went over very well with the guests too. I think it was fun for them to get to sample a variety of desserts but still partake in the main dessert, the cake.
I will be sharing the recipes for the desserts over the course of several posts. Here is the complete run-down of the desserts so you know what to expect:
Bridal Shower Cake
One of the biggest feats was the cake! I spent a lot of time designing and prepping for this cake. It's a White Cake with Raspberry Filling and Vanilla Buttercream covered with white Homemade Marshmallow Fondant. The white cake recipe is from America's Test Kitchen. The recipe makes a 2 layer cake, so I doubled it because I wanted the cake to be 3 layers. I used the remaining cake batter to make mini cupcakes.
I made these little coral gum paste blossom flowers ahead of time and then attached them to the fondant.
The cake layers are separated with Easy Vanilla Buttercream and seedless raspberry jam.
Mini Desserts
As I mentioned above, I had extra cake batter that I used to make these mini cupcakes and frosted them with Easy Vanilla Buttercream, either tinted coral or left untinted for the ivory color. I decorated some of them with the coral blossom gum paste flowers I used on the cake. Some were decorated with royal icing transfers, some with white sugar pearls. The one in the front has an "L" on it for "Lisa." All of the cupcakes were sprinkled with cake sparkles for added shine!
I got the recipe for these ivory colored Meringue Cookies from America's Test Kitchen as well.
These Oreo Truffles were covered in white chocolate and decorated with either cake sparkles, pink or white sugar pearls, or a coral royal icing design.
These were Strawberry Cake Truffles that I made using a boxed strawberry cake that I smashed together with some Easy Vanilla Buttercream and coated with white chocolate bark. I chose strawberry cake so the inside would be pink. The truffles were stored in the freezer, hence the condensation. I decorated a few of these with coral royal icing "L"s for "Lisa."
I made Sugar Cookies decorated with Royal Icing in the shapes of wedding dresses, wedding cakes, and diamond rings. I had so much fun making each dress and cake a unique design. I used sugar pears and cake sparkles on these as well. I also painted on some shimmer dust, particularly on the silver ring bands.
These cookies were also the party favor, so I had them packaged in clear treat bags tied with coral ribbon.
These Chocolate Covered Strawberries were a little change in color scheme, but I used white chocolate for the stripes to tie them in.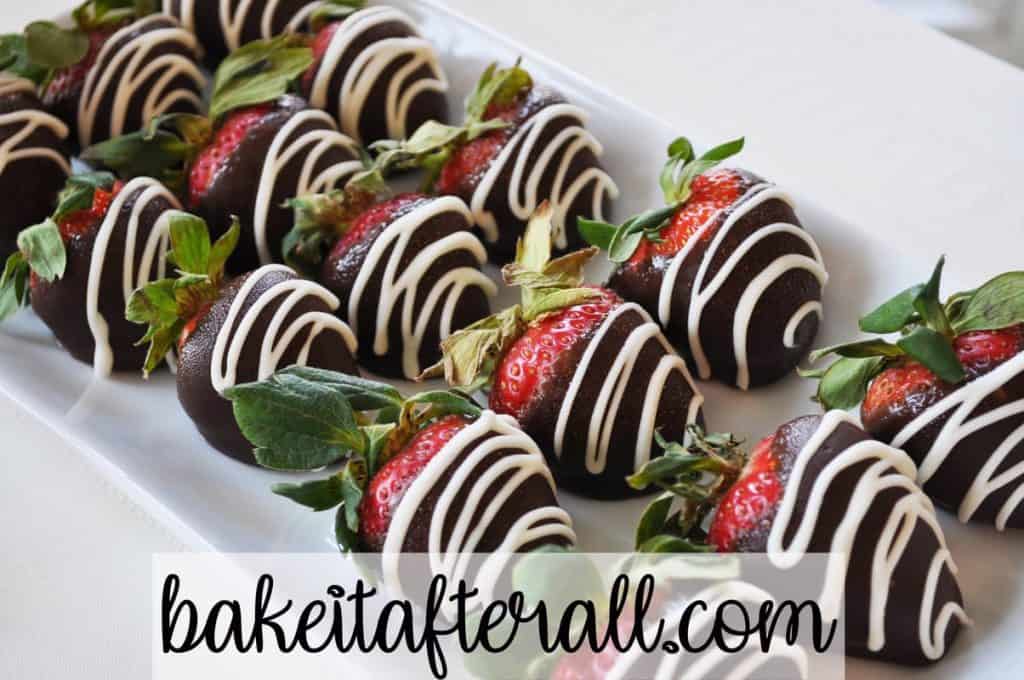 I need a couple more elements on the table to fill the table, so I filled some glass jars I have from my grandma. The first was filled with Sour Patch Cherries.
The second jar was filled with White Fudge Covered Pretzels.
I hope you come back soon to check out the fun posts I have coming up, including the recipes for these desserts, a Salsa Showdown, and the Groom's Cake I made for my sister and her new husband's rehearsal dinner! 🙂
Looking for more Dessert Table Ideas?
Check out these other tables I have designed for parties:
Holiday Party Desserts
Pottery Barn Kids Penelope Bird First Birthday Party
Daniel Tiger's Neighborhood Second Birthday Party – Daniel Tiger Cake
Disney's FROZEN Cake and Birthday Party
Cinderella Cake and Birthday Party
Winter Wonderland / ONEderland First Birthday Party
Sesame Street Birthday Party
Thomas the Train Smash Cake
Other unique party ideas:
Tea Party Ideas for Kids
Oreo Truffle Gender Reveal
Cupcake Gender Reveal
Sugar Cookie Gender Reveal
Rainbow Brownie Ice Cream Sandwiches
Rainbow Unicorn Ice Cream Cake
---
---