Daniel Tiger Cake and Birthday Party
A Daniel Tiger's Neighborhood Birthday Party is a dream come true for a toddler! See the fun Daniel Tiger Cake and Dessert Table I made for my 2 year old!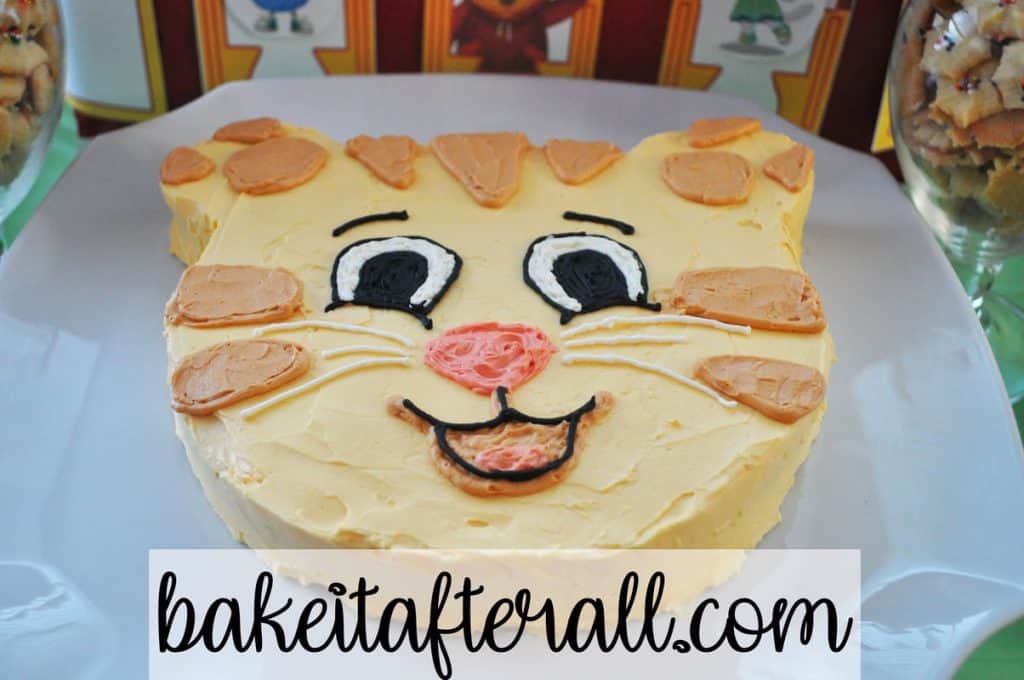 Ava was very into Daniel Tiger around the time of her 2nd birthday. She still likes DT, but now has an obsession with Disney Princesses that overshadows the little tiger. Ava was still a little young to ask for a birthday party theme, so I chose Daniel Tiger for her. I was able to find some cute, free printables and party ideas on the PBS Kids website. The bright colors that represent each DT character made it easy to find decorations consistent with the theme.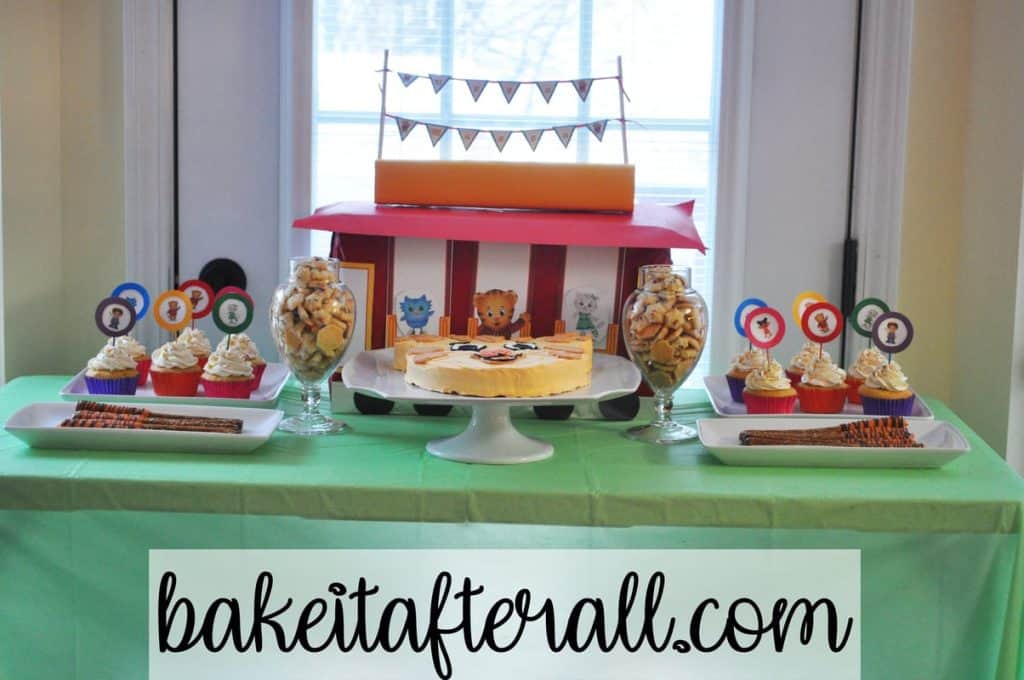 I used bright tissue paper to make tissue paper poufs and hung them with fishing line from tiny, clear 3M command hooks on the ceiling. I kept the monthly picture banner from her 1st birthday and added the monthly pictures I took from 13 – 23 months, so every month of her first 2 years was represented above the dessert table.
Desserts for the Daniel Tiger Theme
I needed 2 cupcakes for the Daniel Tiger cake below, so I baked the rest of the yellow boxed cake mix batter into cupcakes and topped them with Easy Vanilla Buttercream and round candy sprinkles with foil-lined cupcake liners. I usually stick with aluminum-foil lined cupcake wrappers to avoid grease seeping through paper ones. I attached these little circular decorations, that I made using a circular paper punch, to brightly colored toothpicks.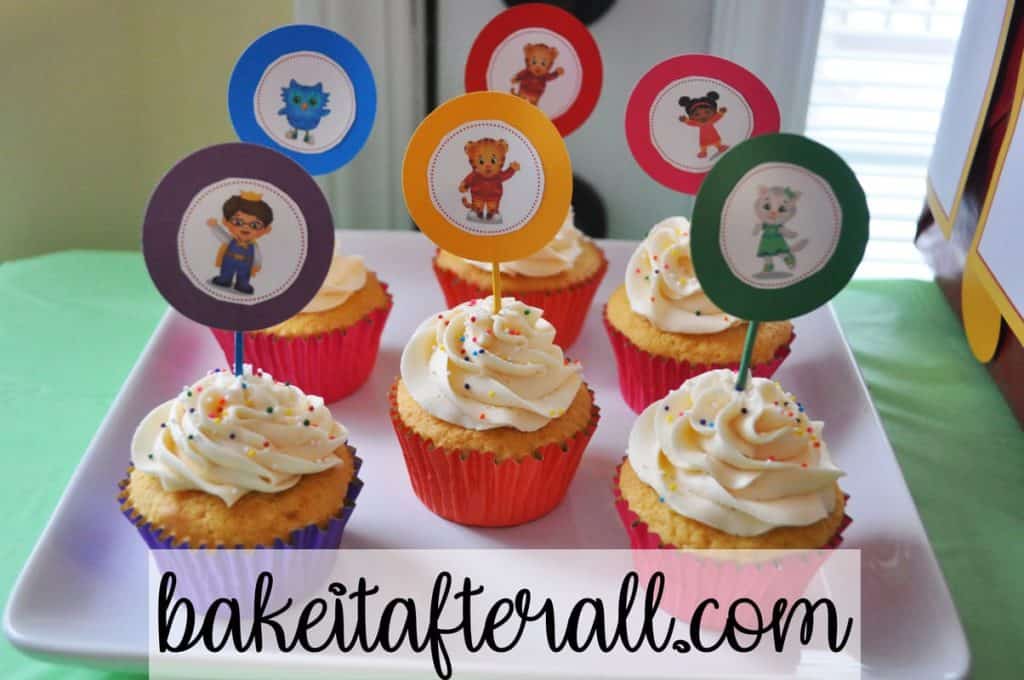 I made Tiger Striped Pretzel rods by dipping the rods in melted orange candy melts (I actually found these in the fall; they are pumpkin spice flavor!) and drizzled melted bittersweet chocolate on top for the tiger stripes.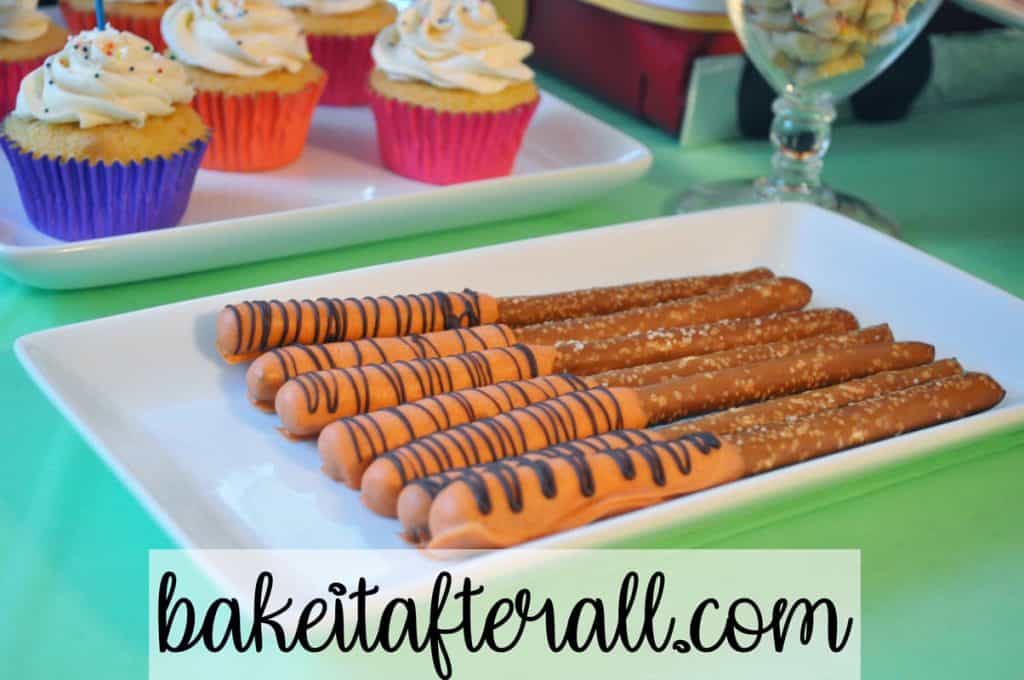 Tiny version of my grandma's recipe for Butter Cookies.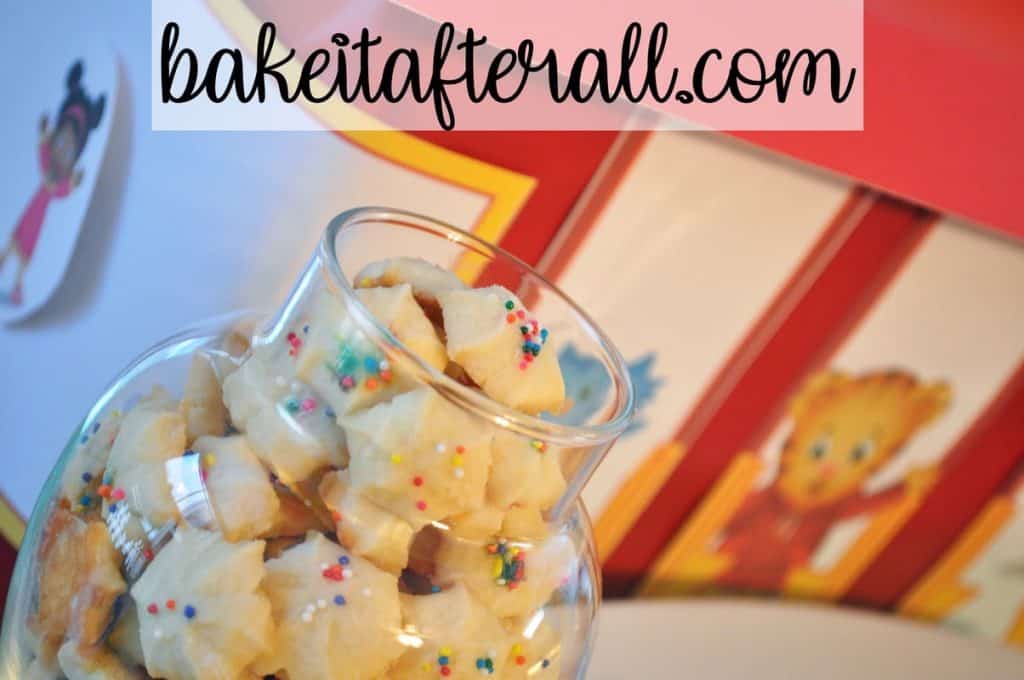 Daniel Tiger Cake
I was really nervous about the cake, but I think it turned out really cute. I used a boxed yellow cake mix to make a round, single-layer 9-inch cake. The rest of the batter I used to make cupcakes. Two of the cupcakes I used for Daniel's ears. I then covered the entire cake with tinted Easy Vanilla Buttercream. I believe I used yellow food coloring gel with a tiny bit of brown to achieve the main color of the tiger face, and then more brown to that mixture for the accent "stripes" around his face. Then a little bit of red to make the pink for his nose and part of his mouth.
I purchased a tube of store bought black frosting to do his eyes and outline his mouth and a tube of white frosting for the inside of his eyes. When I need black frosting for a cake, unless it's a large quantity, I just buy it prepared due to the mass quantities of food coloring I would need to achieve a true black. An alternative option is to start with dark chocolate frosting and then add black food coloring gel.
I chose to purchase the white frosting because the Easy Vanilla Buttercream is off white, and I wanted a bright white for the inside of Daniel's eyes. Rather than use traditional vanilla extract in the buttercream, you may use clear vanilla extract to make the buttercream lighter, but it will still be slightly off white due to the color of the butter.
While I like to purchase the frosting in a tube, I always transfer it to a disposable pastry bag and use my own plastic coupler and icing tip to pipe it on cakes depending on the design I'm going for. On this cake, I believe I used a #3 Wilton tip to pipe the fine lines around his eyes, mouth, and his eyebrows. I also piped on his whiskers.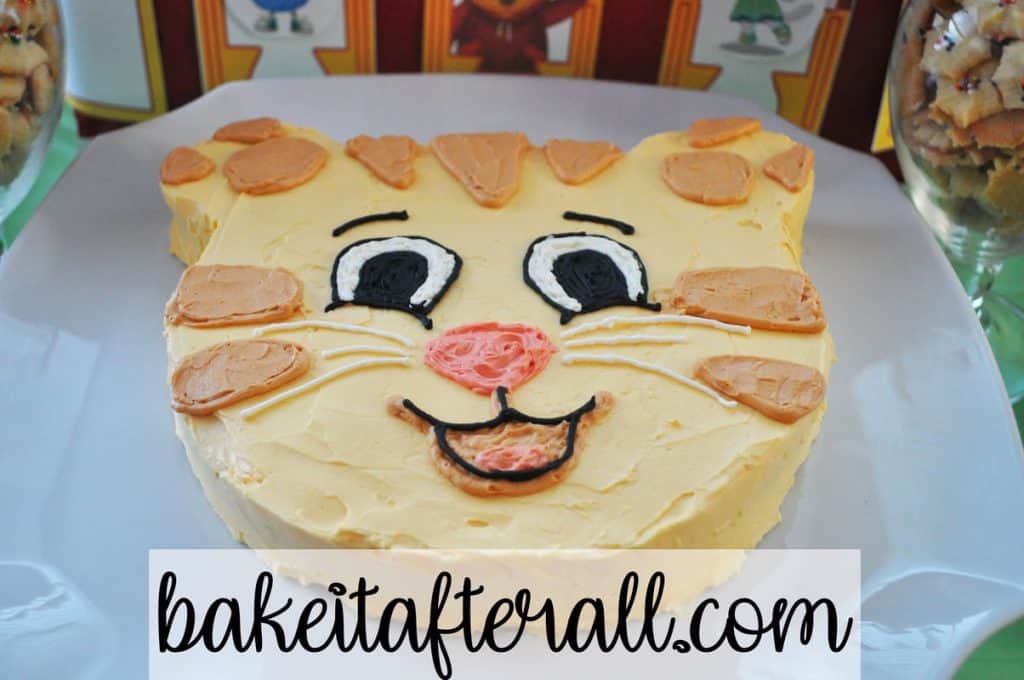 Daniel Tiger Birthday Decorations
The trolley and pennant banners on top were projects on the PBS Kids website. They provided instructions and free printables to complete.
Ava had so much fun at her party, and I was happy with how everything turned out!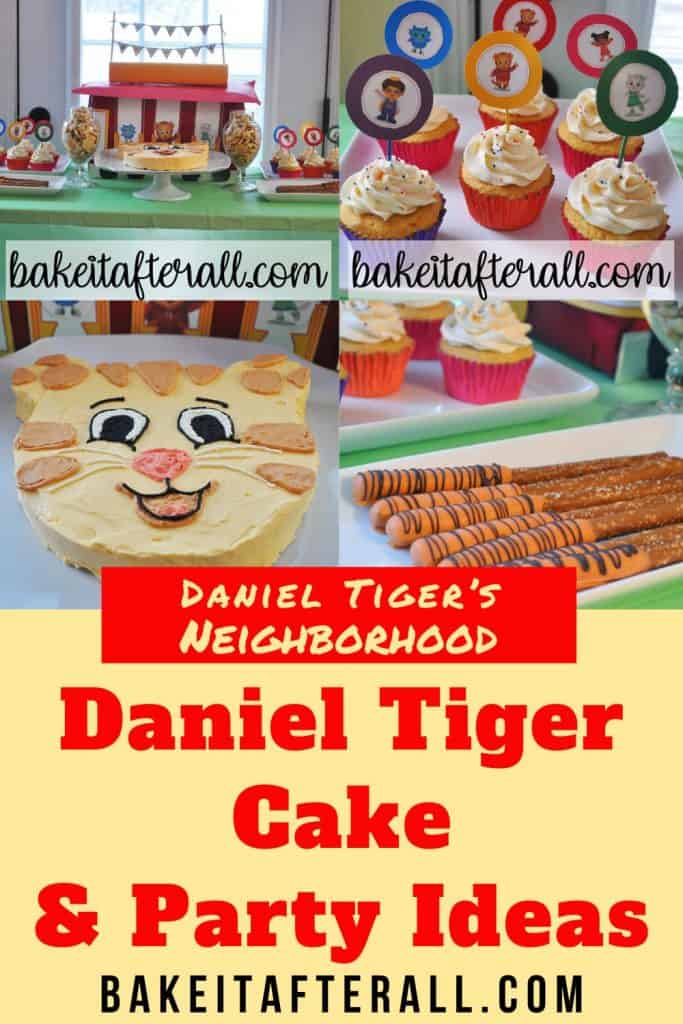 Need more birthday ideas?
Check out these posts:
Sesame Street Birthday Party and Dessert Table {Cookie Monster Cake}
Penelope Bird Birthday Party
FROZEN Birthday Party
Winder Wonderland (ONEderland) First Birthday Party
My Little Pony Rainbow Unicorn Ice Cream Cake
Cinderella Cake and Birthday Party
---
---