Very Hungry Caterpillar Birthday Ideas
I've compiled a bunch of Very Hungry Caterpillar Birthday Ideas from my youngest's Very Hungry Caterpillar First Birthday Party. Lots of Very Hungry Caterpillar Birthday decorations and food ideas, including a Very Hungry Caterpillar Cupcake Cake and Butterfly Cupcakes!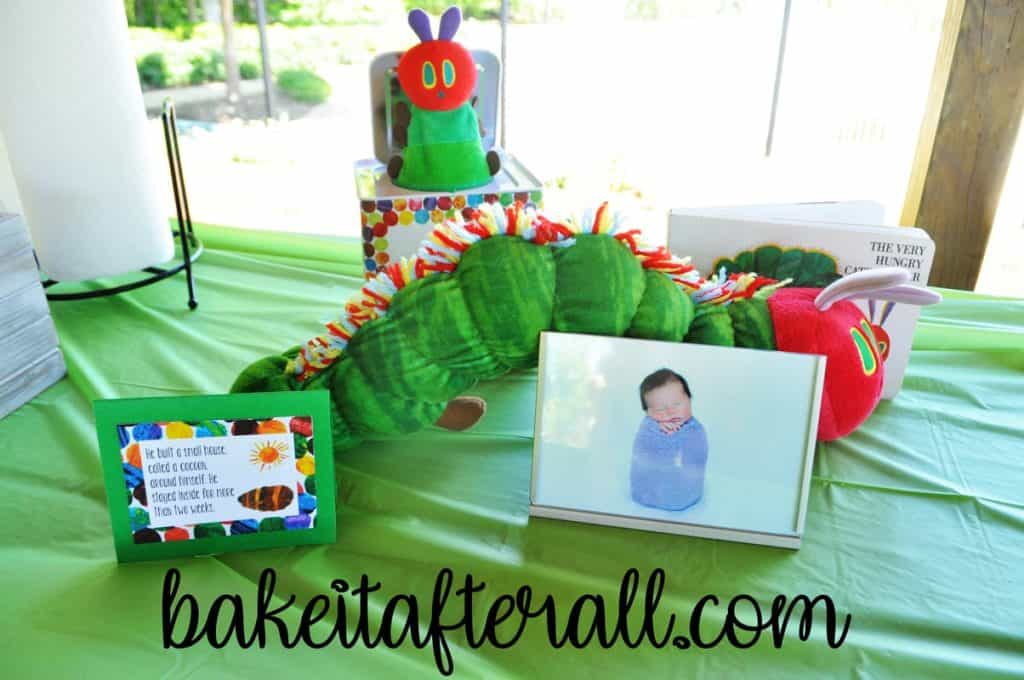 When I was expecting my third daughter, I decided to decorate her nursery with butterflies. Butterflies became a theme for some of the new outfits she was gifted. I even bought some butterfly wings for her newborn photos. While thinking of themes for her 1st birthday, one of my favorite children's books The Very Hungry Caterpillar came to mind.
When I was working with fruit flies during my postdoc, I came to appreciate how The Very Hungry Caterpillar so artfully takes children through the butterfly life cycle. I thought this was a very fitting way to celebrate the first year of our littlest baby. I included elements of both the caterpillar and the butterfly developmental stages.
The time surrounding her party was very hectic. Our region was experiencing unprecedented flooding and in order to ensure my husband could get to and from work, we had to move in with my parents for the week before the party. All 5 of us! Thankfully I had already booked a park pavilion for her party, so other than having to pack up all of my baking supplies and work in my mom's kitchen, the party was able to proceed as scheduled. I did all of the crafting ahead of time, which was a major time saver the week of the party and allowed me to focus efforts on the desserts. I'll take you through all of The Very Hungry Caterpillar Birthday party ideas I incorporated into this event.
Very Hungry Caterpillar Birthday Invitation
Even though I rarely send out paper invitations, I like to create invitations for the girls' birthday parties to print and put in their baby books. I made this in Powerpoint using the illustrations from the book. I also turned this into a jpg to add to the Evite, giving a preview to guests of The Very Hungry Caterpillar Birthday theme.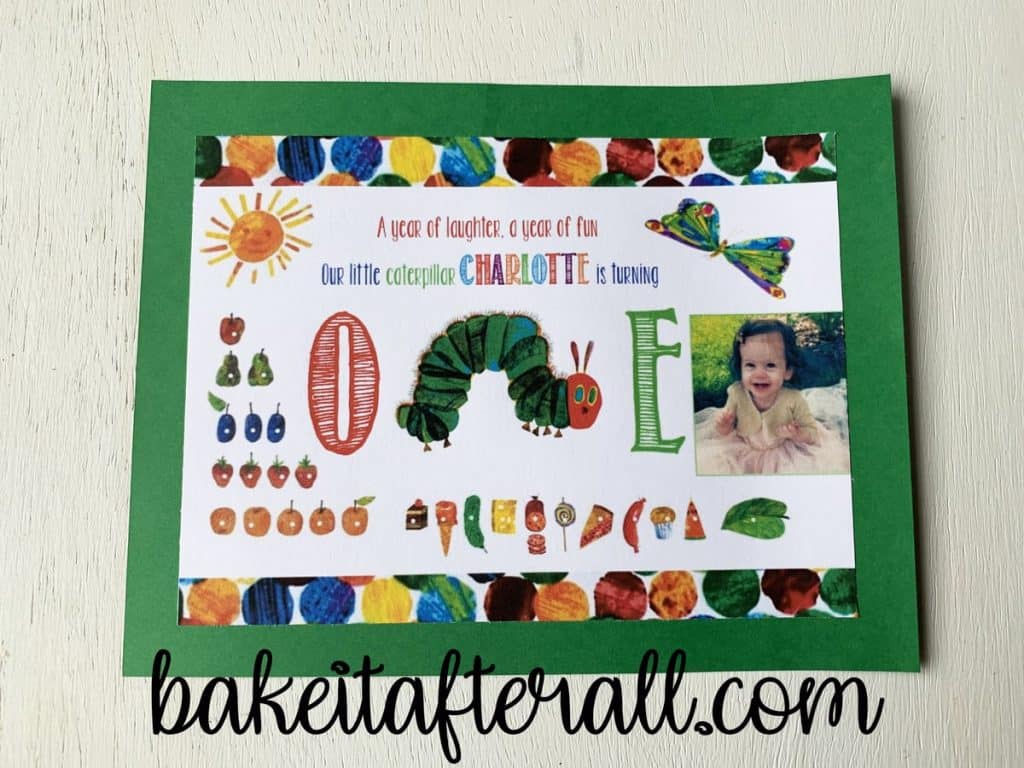 One of the most recognizable pieces of artwork from Eric Carle's The Very Hungry Caterpillar is the multi-colored dot collage pattern. My girls have learned in preschool how Eric Carle would cut out actual paintings he made to create the shapes in his illustrations, which is a really neat technique. I wanted to incorporate this pattern in as many ways as possible with the party decorations to tie them back to the book.
The fonts I used for all of the crafts are available free for personal use from Dafont. The capital lettering is "Return to Sender," and the lowercase text is "KG Two is Better than One."
Very Hungry Caterpillar Outfits
As one of my Very Hungry Caterpillar Birthday ideas, I wanted to make themed outfits for my girls. I found this adorable fabric with the Very Hungry Caterpillar dot pattern. Unfortunately, Amazon won't allow me to link to this product, but you can click on any Amazon link in this post (like HERE) and then search for "Andover The Very Hungry Caterpillar Abstract Dots Fabric by the Yard." I used it to make this simple pillowcase dress for my youngest daughter to wear to the party and this little hair clip to match. The hair accessory is layers of the fabric folded up and hot glued to a metal alligator clip (using a small circle of white felt to attach it) with a large rhinestone in the center. I made these bows for each of my 3 girls.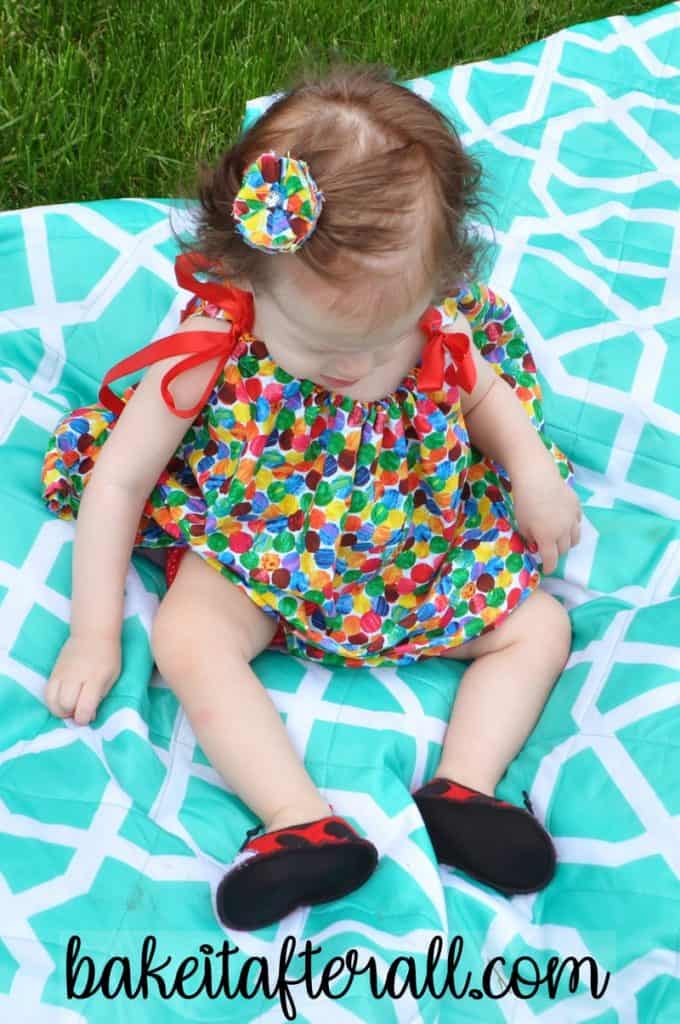 We viewed this party not only as a celebration for my youngest child but also for our family since she is our last baby. To include my older girls in the party, I made them t-shirts using the same fabric. I cut the "5" and "3" using my Silhouette with a fabric blade, and attached it to the shirt using heat n bond iron on adhesive for a no-sew technique.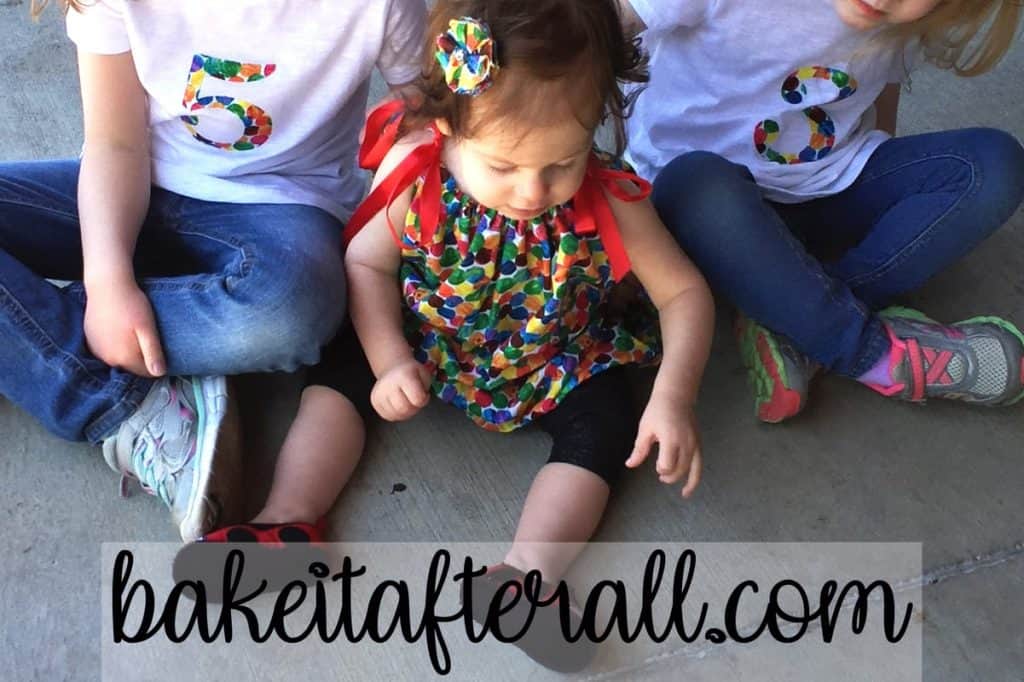 I also made a "1" onesie for my youngest to wear during the smash cake so her dress wouldn't be ruined.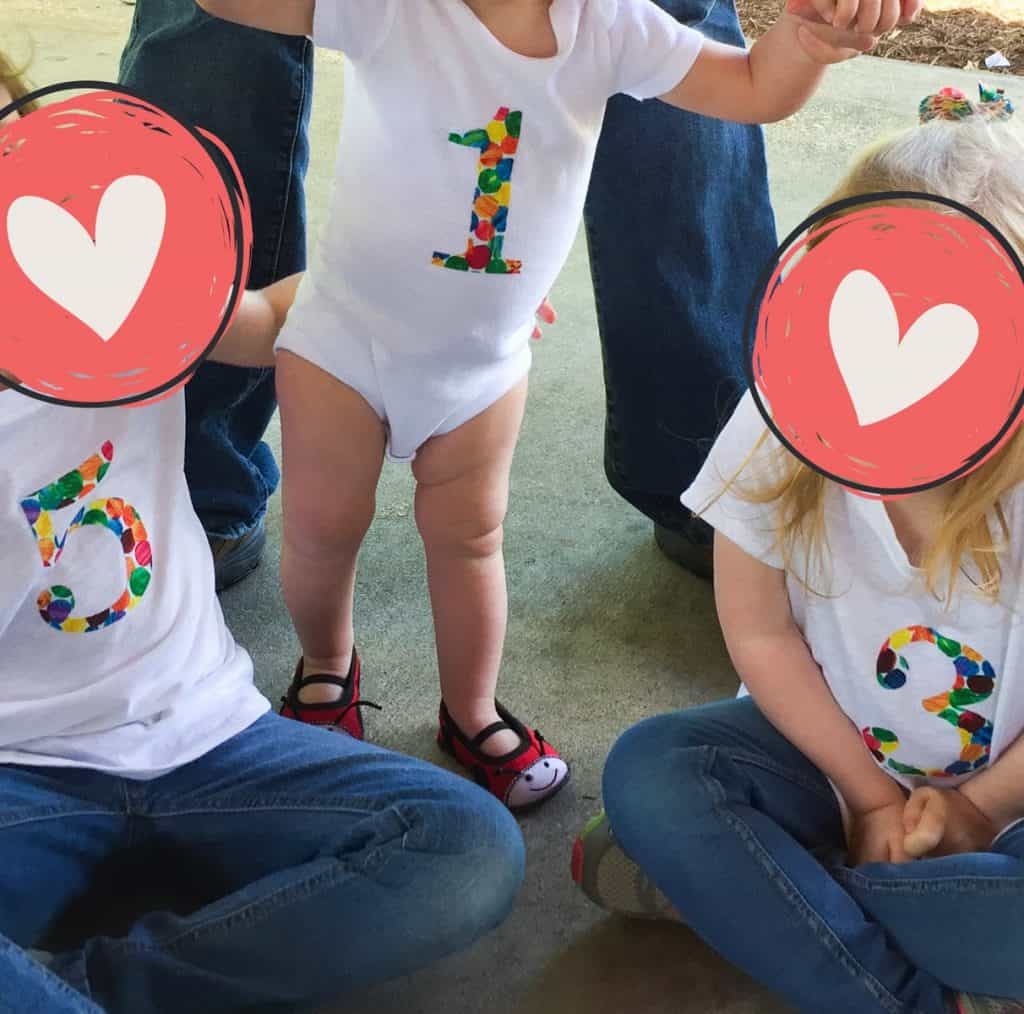 Party Disposables
As I have mentioned in other party posts, disposable plastic tablecloths are my go to for kids parties. These work especially well for the wooden picnic tables under a park pavilion since they tend to be covered in dirt or pollen and are hard to wipe down. These are an inexpensive way to add lots of color and make a clean surface for your guests to eat. You can find these at party stores or big box stores like Walmart or Target. We had to tie the corners into knots to keep the tablecloths on the tables that day due to unexpectedly windy weather!
I used green tablecloths for the 2 food tables and a mix of green and red for the tables for the guests to sit and eat. I kept the other party supplies simple: red and 2 shades of green cups, red plates and napkins, and clear cutlery. I often opt for plain colored cups, plates, and napkins to fit the color scheme rather than spending lots of money on themed disposable since I use my handmade decorations to tie together the theme.
Cardboard 1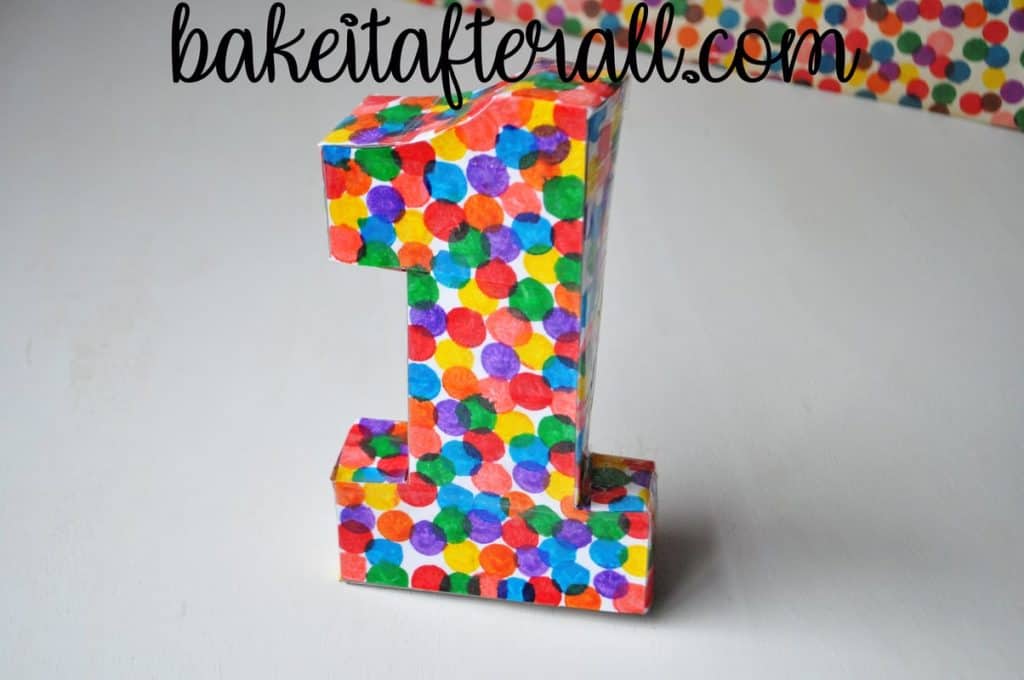 I believe I saw this idea on Pinterest to use a cereal box to construct a "1." I started out by making the multi-colored dot pattern on white cardstock using washable Bingo daubers/dot markers. I already had these for the girls to play with, so that worked out well! I also used the dot markers to make the cake board to display the Very Hungry Caterpillar Cupcake Cake.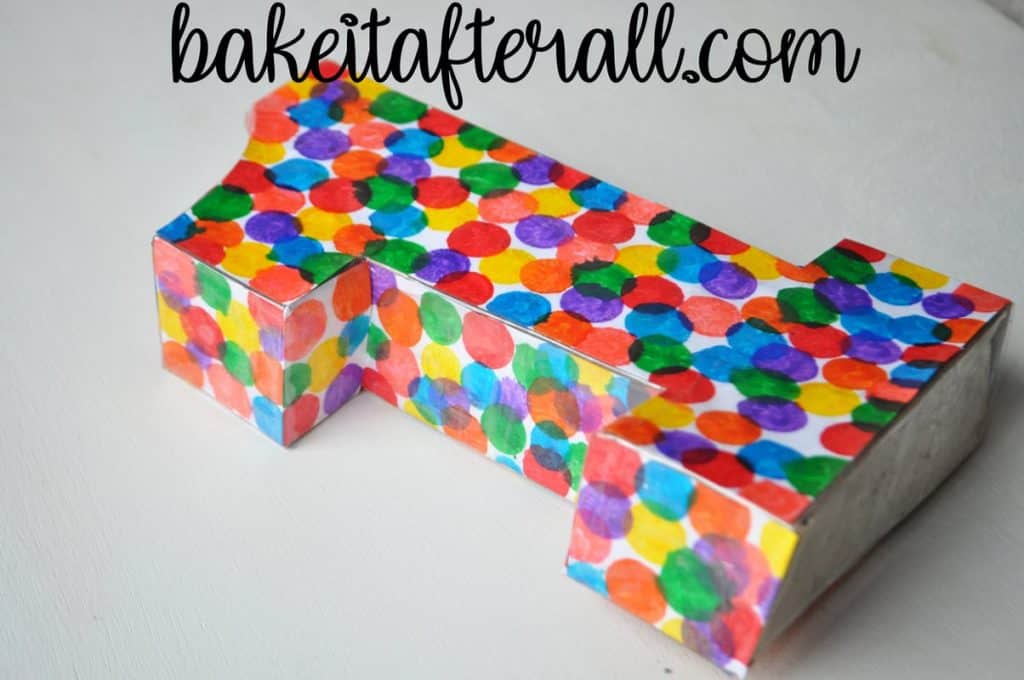 Next, I opened up the cereal box and drew a big 1, then cut that out and used it as a stencil to cut a duplicate. I also used this 1 as a stencil to trace onto the dotted cardstock to cut out two 1's from the dotted cardstock. Then I cut little strips of cereal box to wrap around the edges. I constructed the 1 by using clear packaging tape to secure each piece. Finally, I attached the dotted paper to the outside of the cardboard 1, adding clear packaging tape over every piece of dotted paper to effectively laminate the entire surface.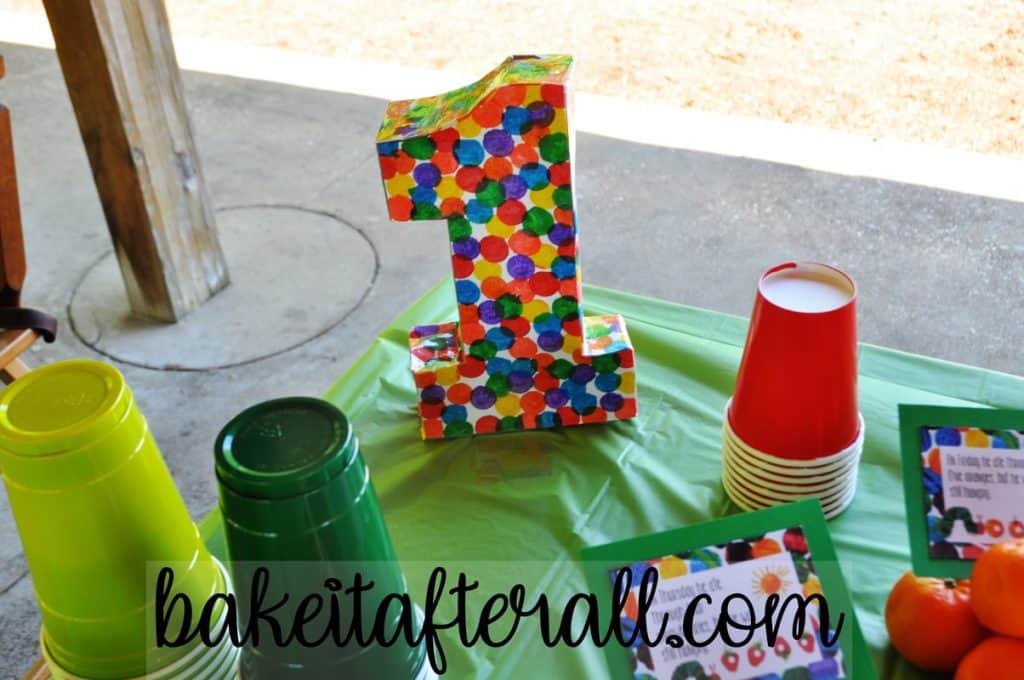 Because it was a very windy day, I ended up having to secure the 1 to the disposable tablecloth using clear packaging tape on the bottom.
Very Hungry Caterpillar Guestbook Keepsake
Parties for young children, and particularly first birthday parties, can be tough. Your child will not remember the party, so all you have to prove it happened are the photos and keepsakes that you can show them when they get older. I like to go all out for 1st birthday parties with the intent of making a photo book to show to my girls as they grow. I thought it would be nice for Charlotte to have a hard cover copy of the Very Hungry Caterpillar with special messages from the guests as a memento of the party.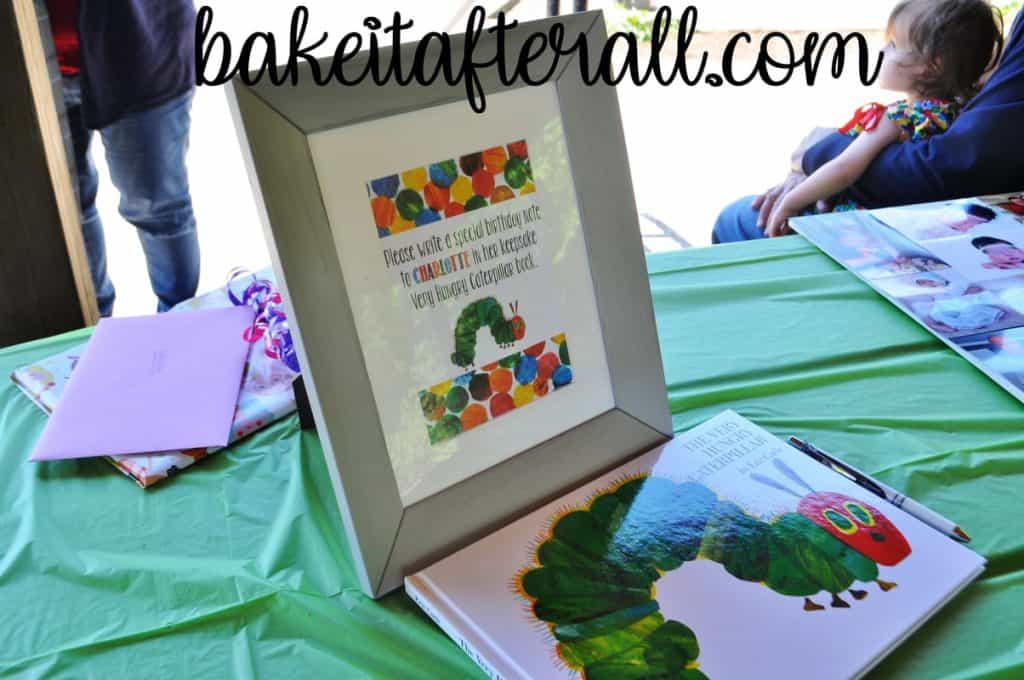 I bought a pen that claimed it would not smudge on shiny book pages. I haven't looked at every page to see if it really didn't smudge, but it seemed to work fine. I just tried to pass the word to let the ink dry a bit before closing the book.
Very Hungry Caterpillar Themed Food
I wanted to have little cardstock labels for decorations and food that went along with every part of the story. I began by dividing the story into blocks of text that corresponded to specific decor or food I was serving. I pulled images from the book to go with the text and added a border with the colorful round dots pattern famously present in the Very Hungry Caterpillar. I designed these in Powerpoint and printed them on white cardstock, then mounted them on green cardstock. I found a big pack of multi-green cardstock at a local big box store that I used for this entire project.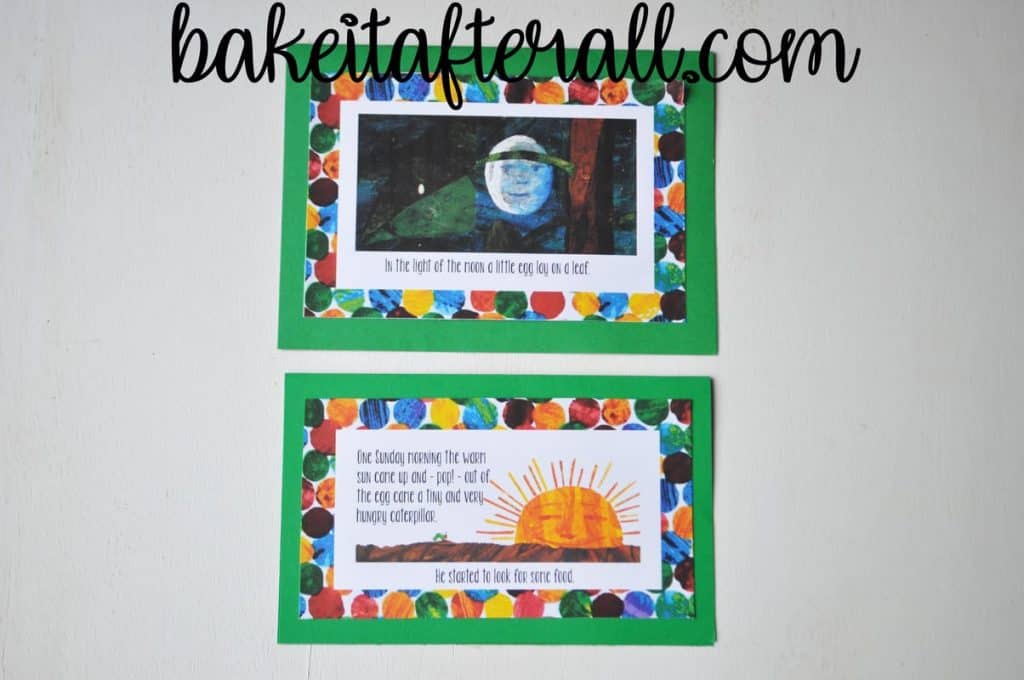 At the party, I set up one big, big food and dessert table that spanned 2 picnic tables and had the story cards move from left to right, just like when you're reading a book.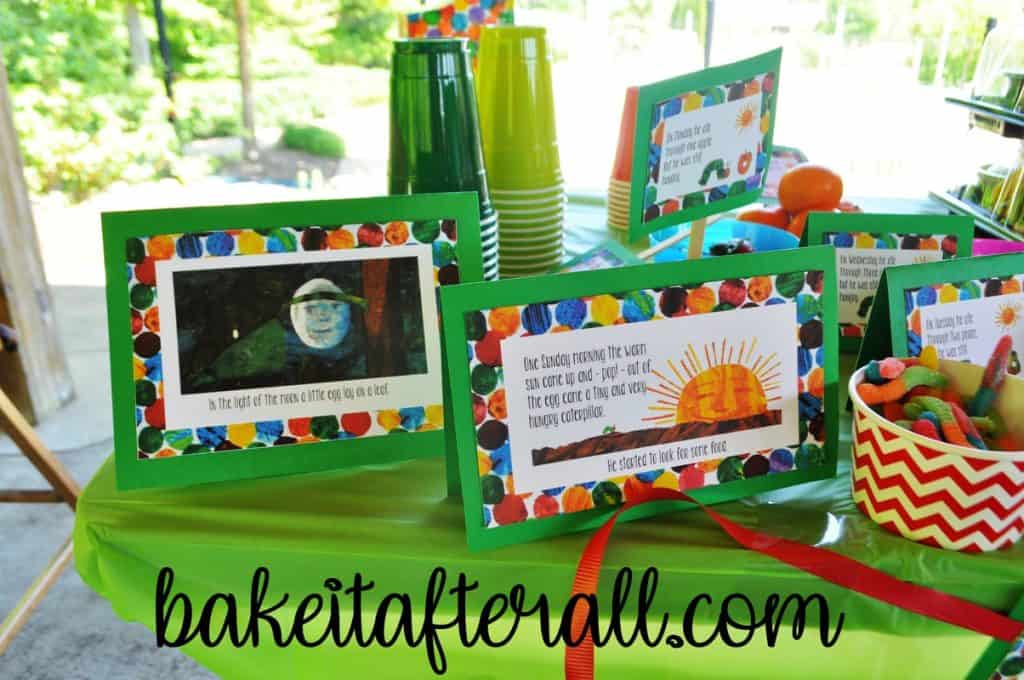 The cup of sour gummy worms represented the caterpillar as it emerged from the egg and started to look for some food.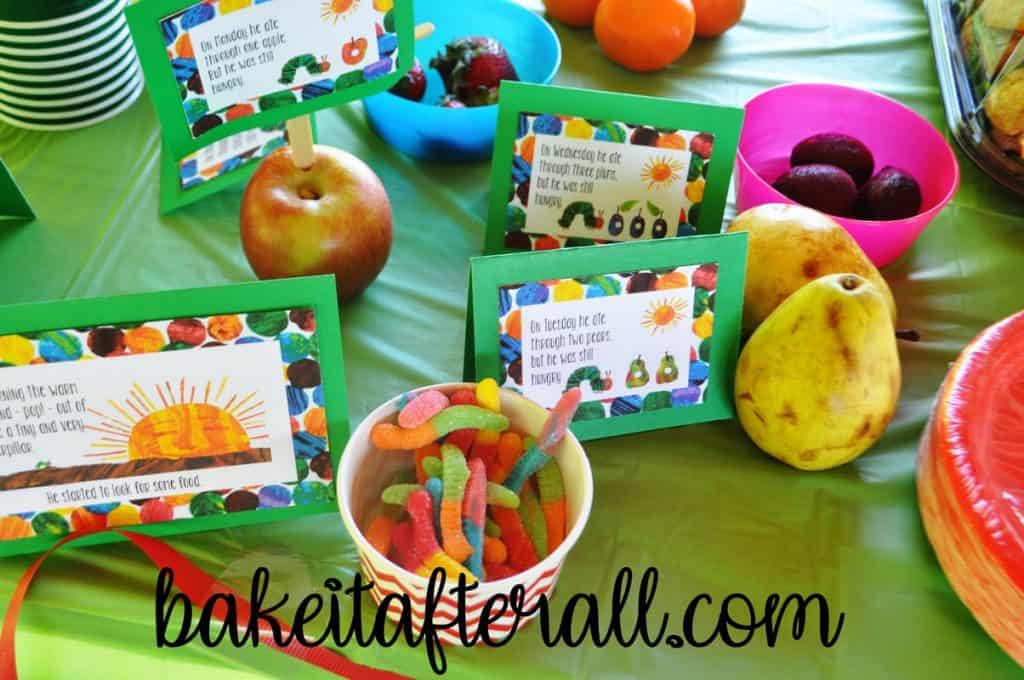 Food from the Book
Rather than serving the actual fruits listed in the book that the caterpillar ate on Monday through Friday, I decided to do a little display of the fruit and have a separate fruit tray for guests. I added popsicle sticks to some of the labels that I knew would need to be secured. For example, for "one apple," I planned to stick the sign directly into the apple.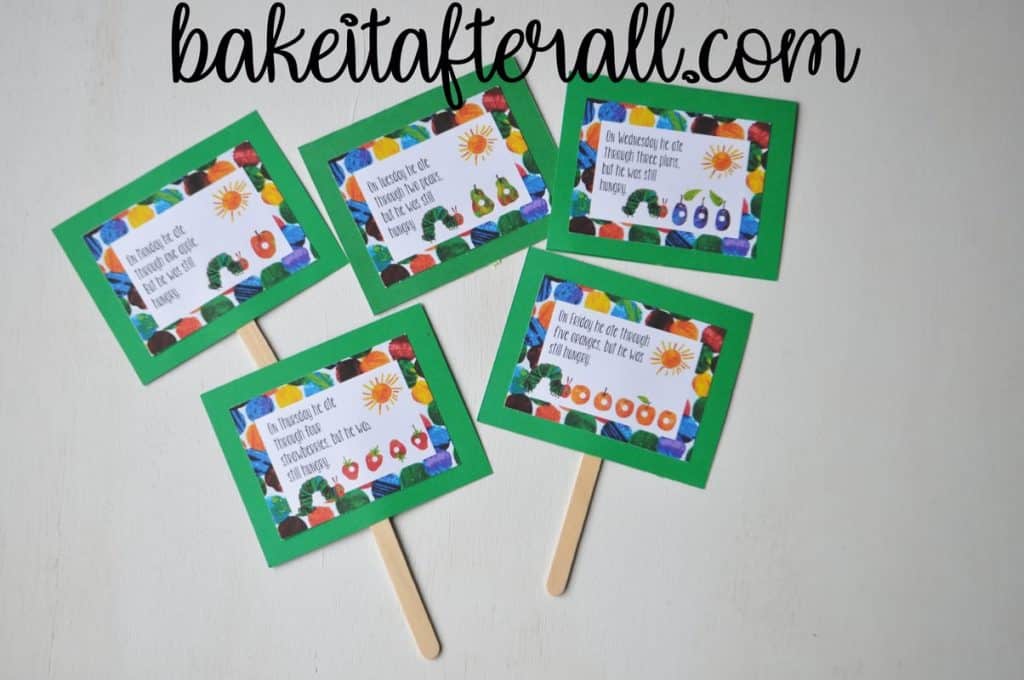 For the "2 pears," I just made a cardstock tent to stand next to the pears on the table.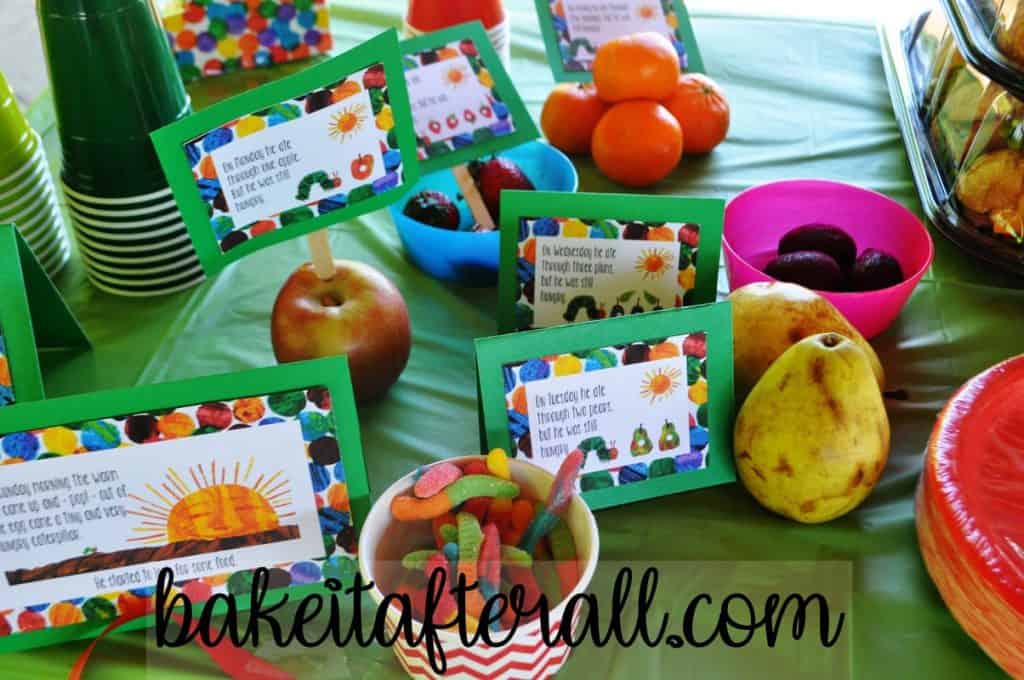 The party was in spring before plums are available in grocery stores in the midwestern US. For that reason, I used canned plums. Not exactly the look I was going for, but it was my only option other than using artificial fruit.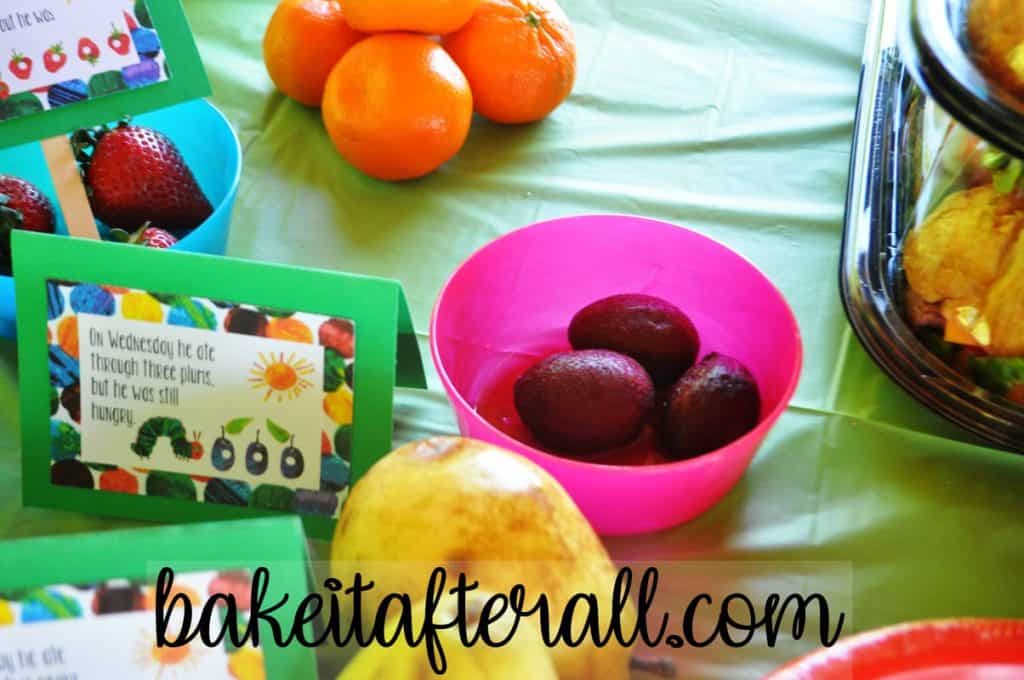 I put 4 strawberries in a bowl with a popsicle stick sign and a pile of 5 cutie oranges with the popsicle stick stuck inside to secure.
For all of the food the caterpillar ate on Saturday, I printed out the artwork from the book and mounted them on green cardstock. Then I cut small slits in each food and strung a piece of ribbon through them to create a banner that I hung on the front of the food table.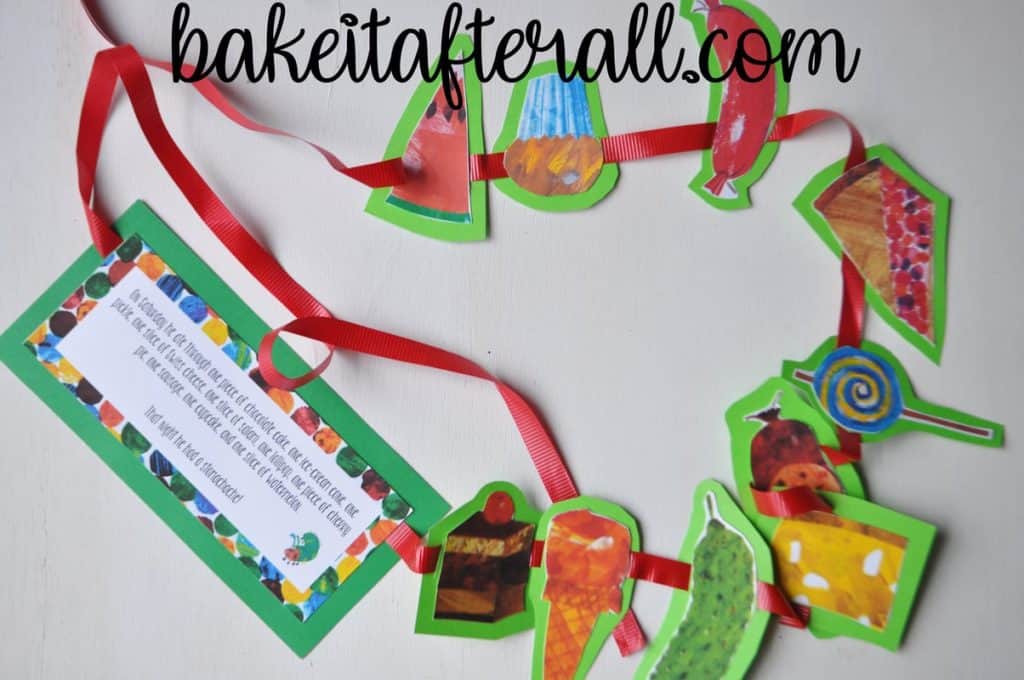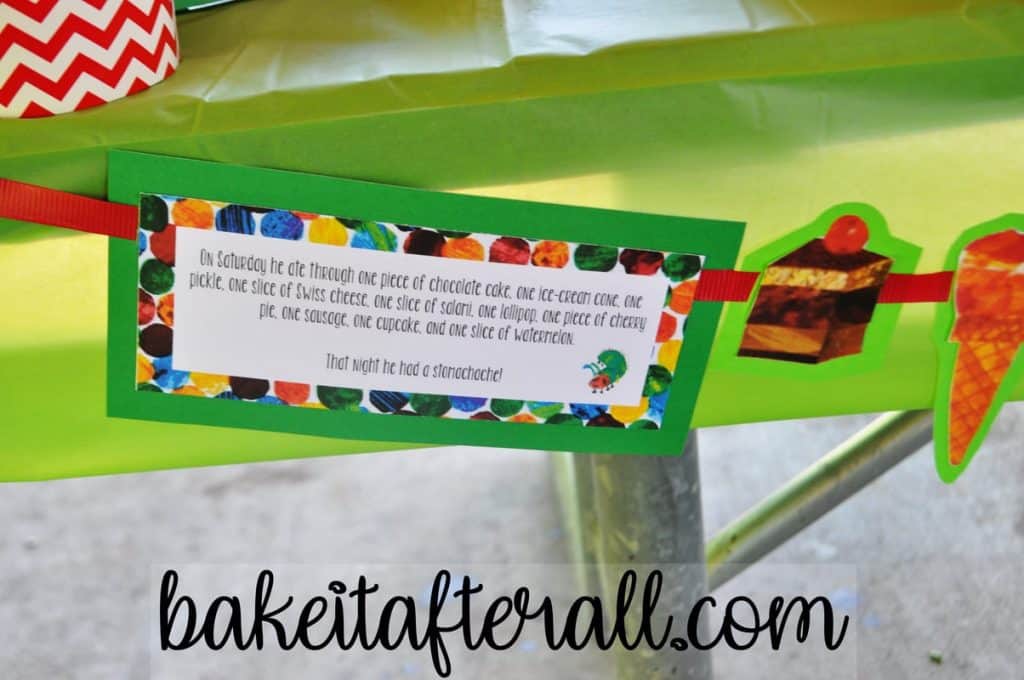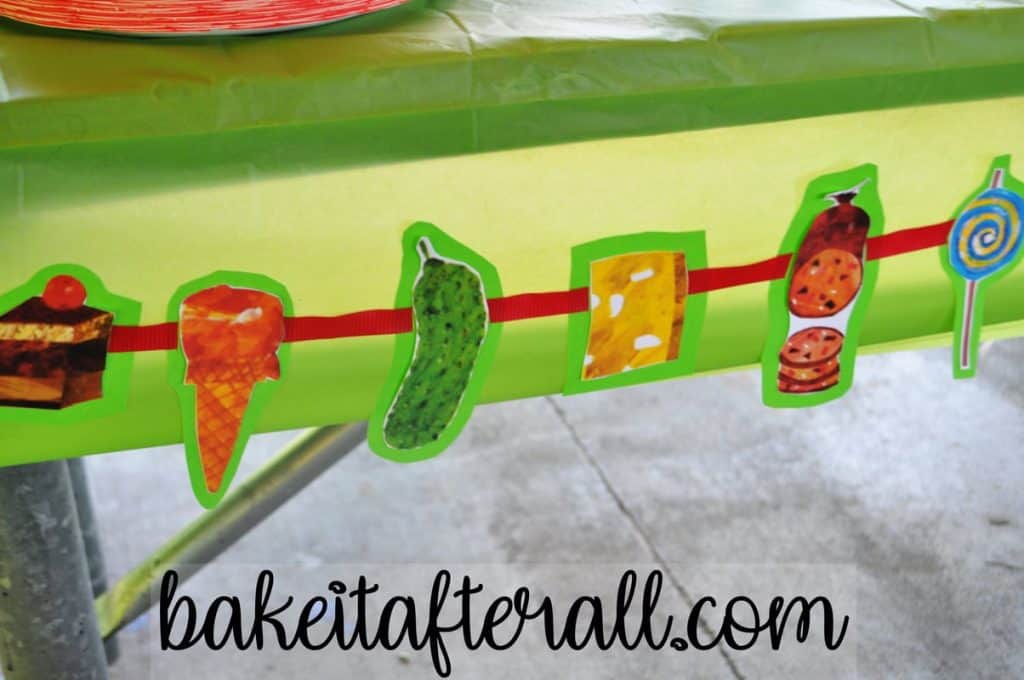 Party Food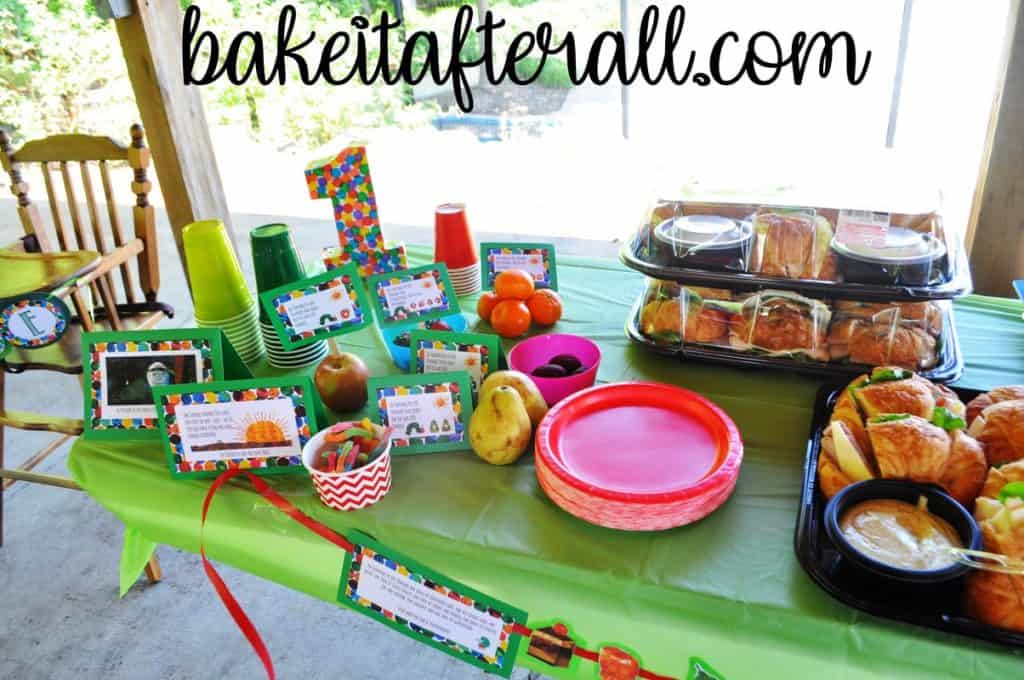 When I do birthday parties for the girls and spend a lot of time making decorations and desserts, I like to keep the food simple. I ordered croissant sandwich trays from Costco for the main dish at the lunch.
My sister makes the BEST fruit trays, and she offered to do this adorable rainbow fruit display with extra fruit in a separate serving dish.
The bowls of fruit dip represented the clouds on each end of the rainbow.
On Sunday, "the caterpillar ate through one nice green leaf." I used this label in front of the salad.
I served regular and BBQ chips to go with the sandwiches.
My aunt is famous for her neat jello creations. She offered to make this brightly colored rainbow layered jello.
I didn't get the best picture, but you see the layers from the side here.
Very Hungry Caterpillar Desserts
I chose to fit the second half of the book to the desserts.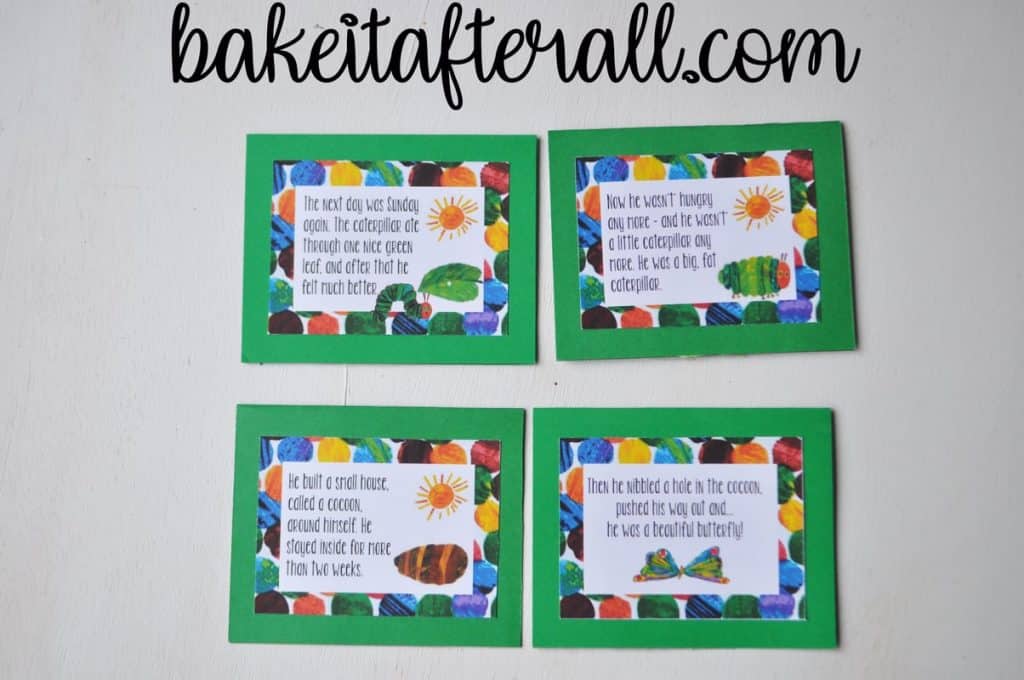 After the caterpillar eats all the food, "he was a big, fat caterpillar." This phrase fit with the Very Hungry Caterpillar Cupcake Cake due to it's large size! I also had a big plush caterpillar next to this sign as well.
Very Hungry Caterpillar Birthday Cake
Rather than try to cut and serve a large cake at a park, I decided to go with all cupcakes that would be easy for guest to grab at their convenience. Since I had to make the cupcakes at home and transport them to the park, I opted not to do a pull apart cake but just did individual frosted cupcakes that were already spaced for easy access. I have a separate entry that explains all of the details on how to make this cake.
Very Hungry Caterpillar Cupcake Cake
A Very Hungry Caterpillar Cupcake Cake for a Very Hungry Caterpillar 1st birthday party theme. This is an easy to serve cake, as guests can just grab a cupcake at their convenience.
Check out this recipe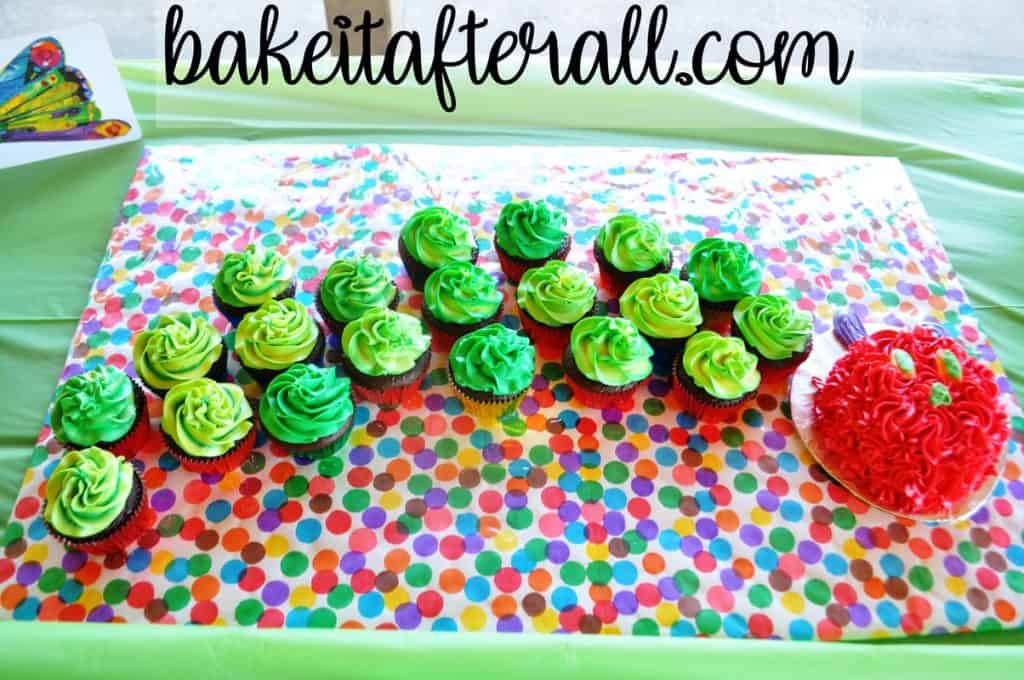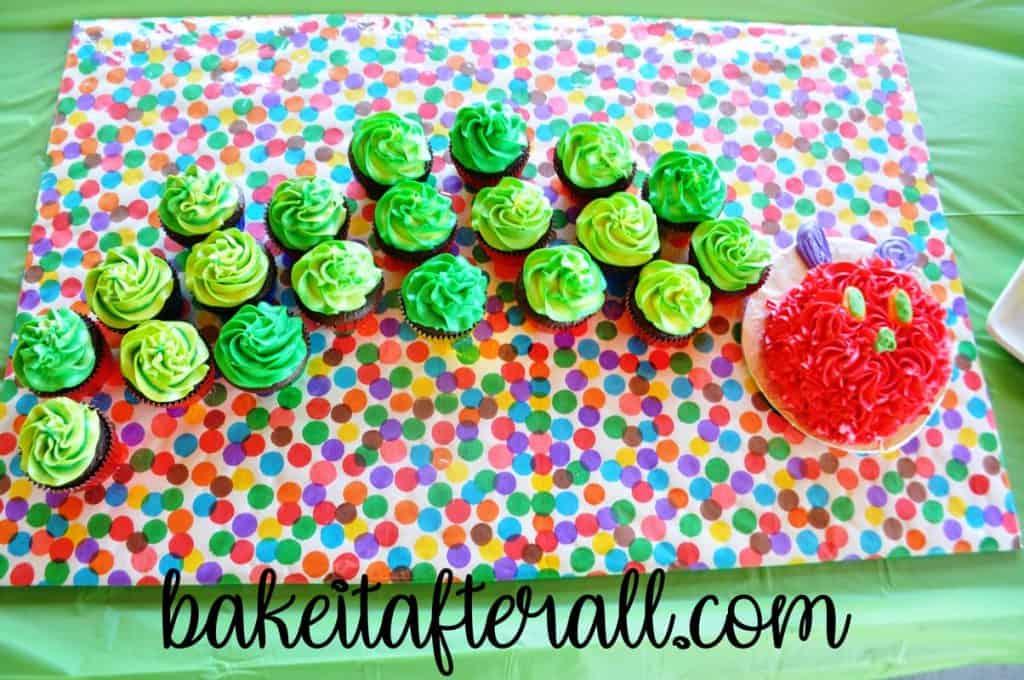 As I was doing the book text labels, I realized I didn't have anything to represent the "cocoon" but remembered one of my daughter's newborn photos where she's all swaddled and sitting up vertical. This photo reminds me of a cocoon, so I placed the sign next to the framed photo. (Fun fact: cocoon isn't the correct term in this instance, for a cocoon refers to the casing spun by a moth caterpillar. A butterfly caterpillar forms a chrysalis).
My cousin handed down this adorable Very Hungry Caterpillar Jack in the Box, which was such a cute addition to the table. Amazon will not allow me to link this product, but you can click on an Amazon link in this post (like HERE) and search for "World of Eric Carle, The Very Hungry Caterpillar Jack in the Box." Also in this grouping were the plush caterpillar and The Very Hungry Caterpillar board book we had had for years and read to all 3 of our girls.
The final page of the book is the butterfly emerging from the cocoon. I used butterflies as a theme in my daughter's nursery and one of her newborn photos has her with butterfly wings on her back.
I saw these Butterfly Cupcakes on Annie's Eats many years ago and had been waiting for the perfect opportunity to make them. This certainly was the perfect opportunity! (LOVE BUTTERFLIES? Check out these Butterfly Sugar Cookies with Royal Icing and these Butterfly and Dragonfly Cookies!)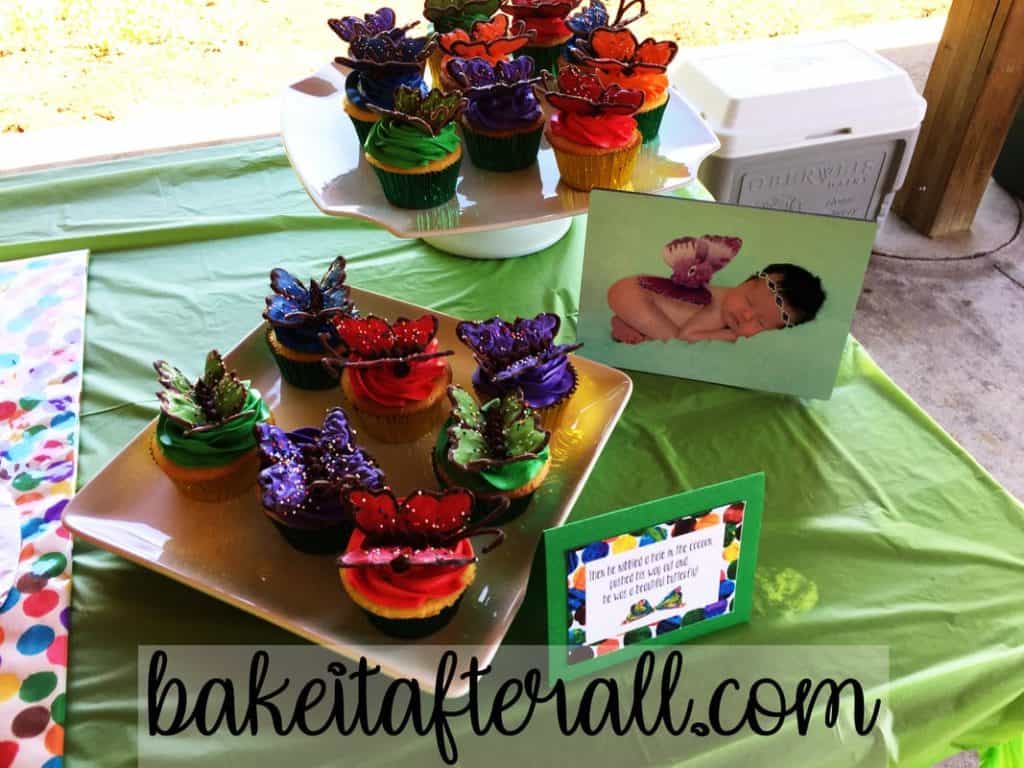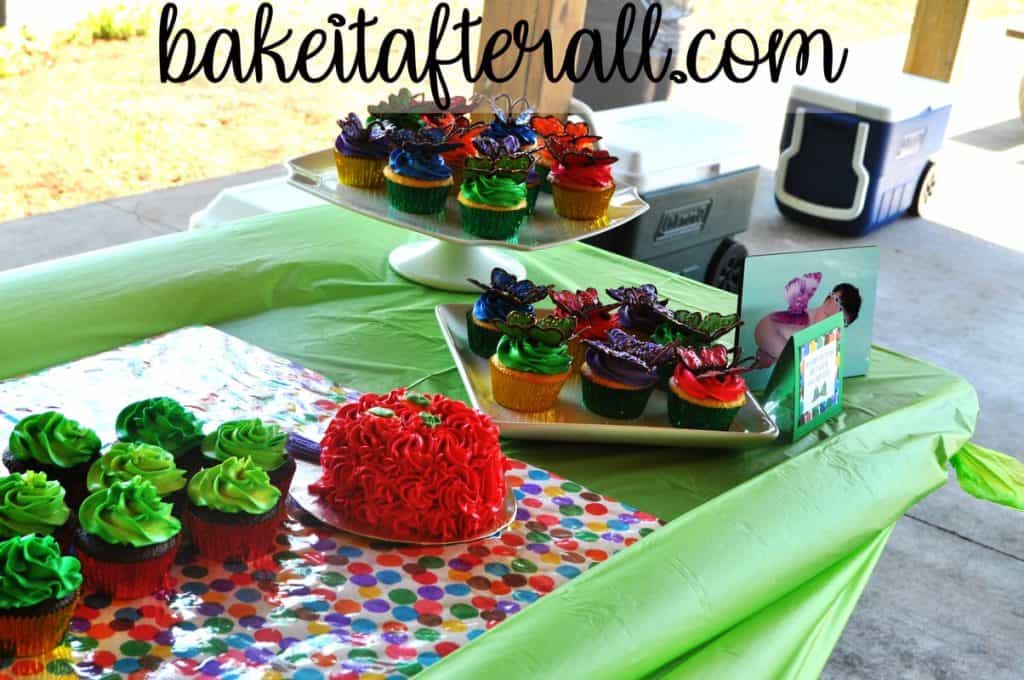 I chose bright colors to fit the theme of the book: orange, green, red, blue, and purple. I have a separate step by step photo tutorial for these Butterfly Cupcakes.
Butterfly Cupcakes
Butterfly Cupcakes with a step by step tutorial. These are perfect for a butterfly or Very Hungry Caterpillar Birthday Party!
Check out this recipe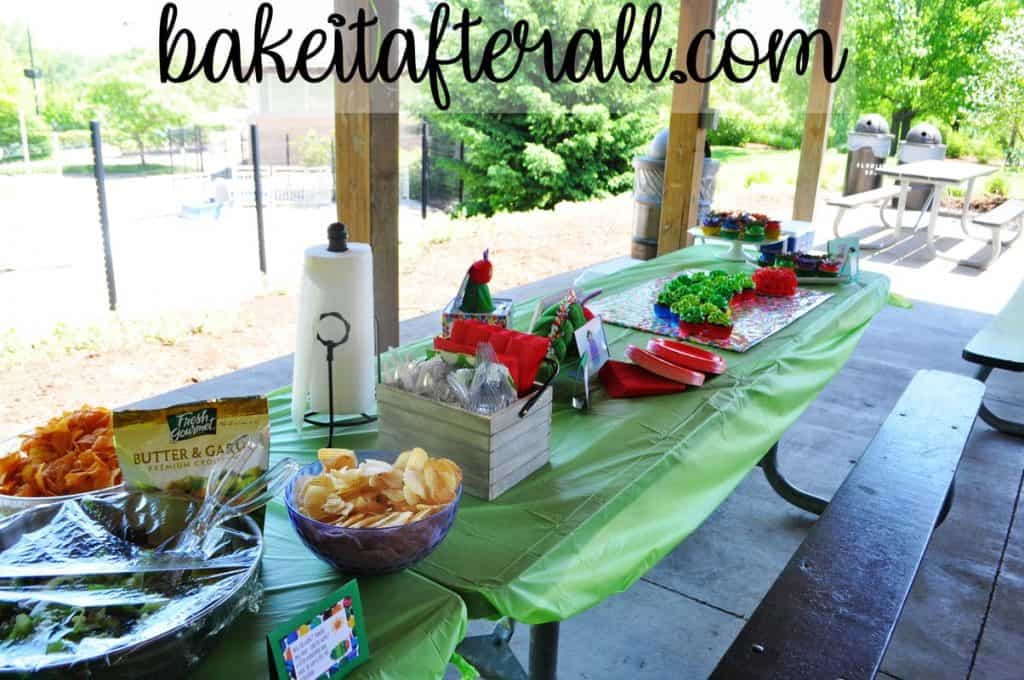 My older girls though these were so much fun and couldn't wait to try one!
Very Hungry Caterpillar Birthday Banner with Monthly Pictures
I always take monthly photos of my girls and display them in a banner on their first birthdays. It's so much fun looking back at how much they change each month! For this party, I used a segment of caterpillar for each month and made a long cardstock banner with curling ribbon than I hung between posts of the pavilion behind the food table. I did not worry about my circles being perfect because that fits with the nature of Eric Carle's illustrations. It was super windy so the sign spun around a lot!
You can see the banner hung on the wooden posts here.
Caterpillar High Chair Banner
I used the same cardstock for the monthly photo banner as for this high chair banner. Like with the food labels, I designed the letters in Powerpoint and printed them on white cardstock. Each segment was strung onto green curling ribbon.
I taped the banner to the front of the wooden high chair that we were using for the smash cake.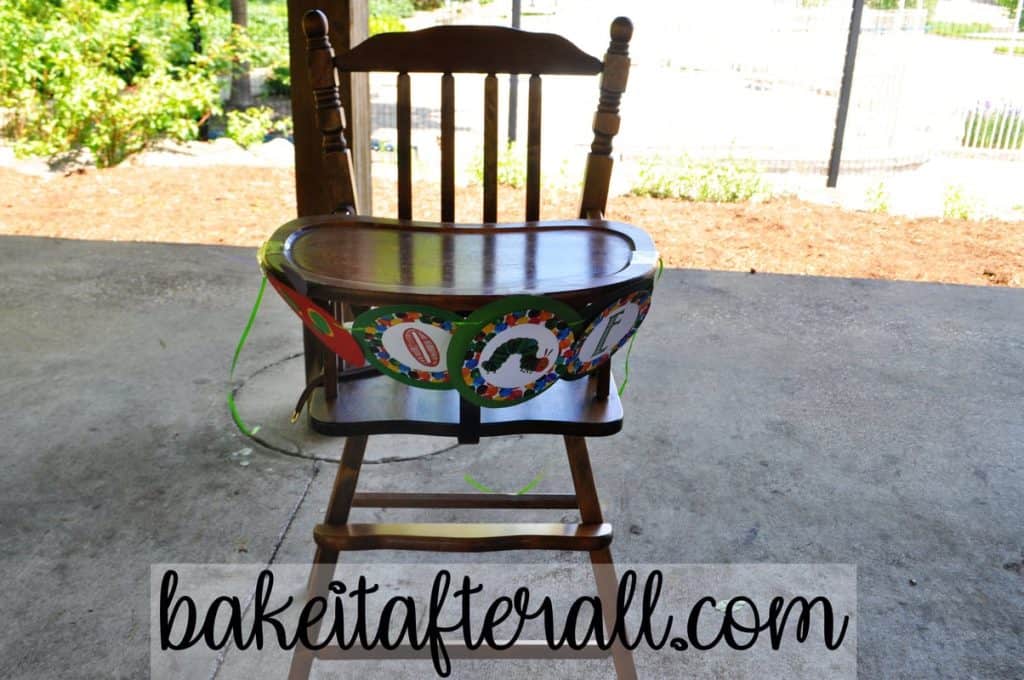 Smash Cake
While the mini cake that served as the "head" of the caterpillar in the Very Hungry Caterpillar Cupcake Cake would have been the perfect smash cake, I don't like to give that much food dye to babies (not to mention the fact that it would stain her hands, face, and clothes!) I made a small 2-layer cake, placed it on a cardboard cake circle covered in aluminum foil, then covered it in homemade whipped cream, piped on with a large star tip.
This little gold "1" candle was the perfect topper.
You can sort of see here how I changed her out of her dress and into the "1" onesie I made prior to the cake smash.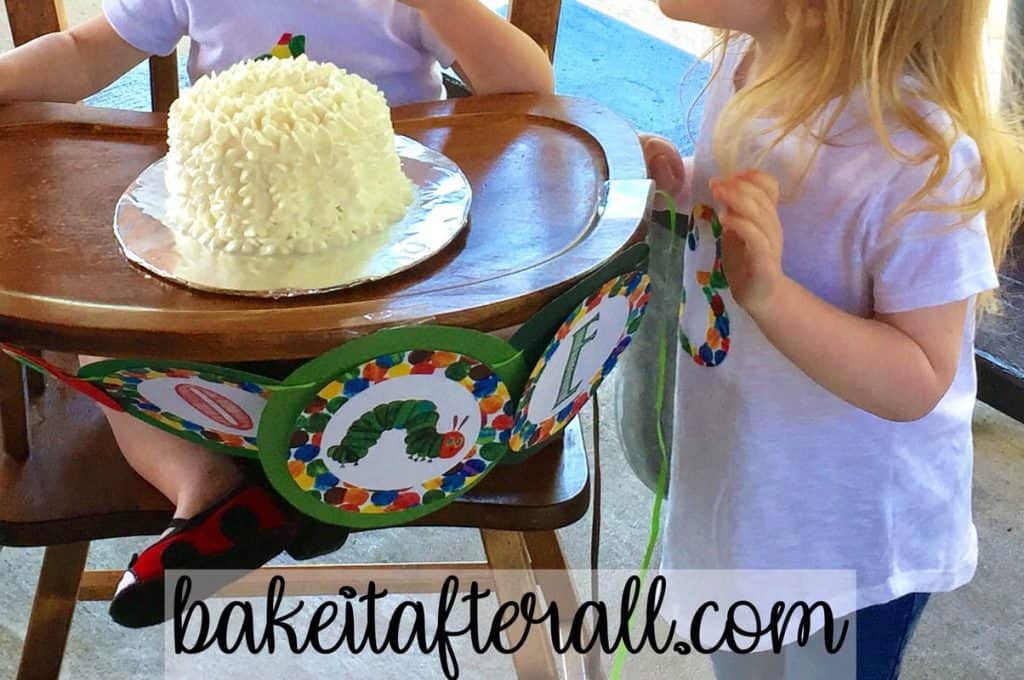 She loved her cake, and it was the perfect end to the party!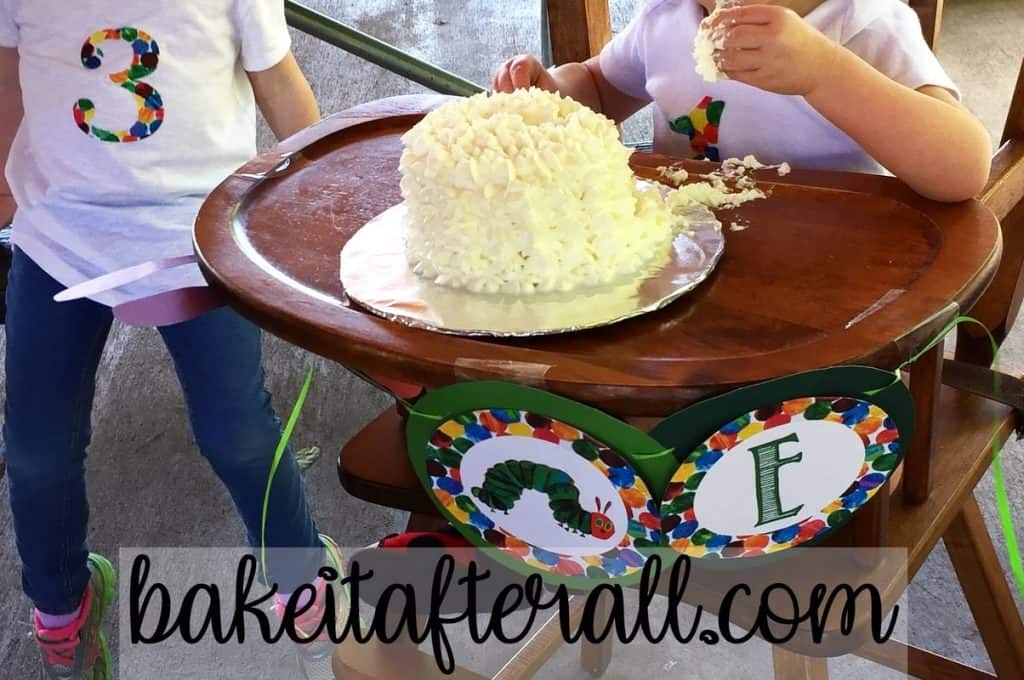 The Very Hungry Caterpillar Birthday Supplies Sources
Multi-colored dot fabric – I cannot link to this product, but you can click on any Amazon link in this post (like HERE) and then search for "Andover The Very Hungry Caterpillar Abstract Dots Fabric by the Yard."
Silhouette fabric blade
Heat n bond iron on adhesive
Metal alligator clips
Large rhinestones – for at craft store by hair accessory making supplies
Dot marker Bingo daubers
Clear packaging tape
Very Hungry Caterpillar hardcover book
Very Hungry Caterpillar board book
Chevron snack cups – purchased at party supply store but also selection available online
White cardstock
Shades of green cardstock
Cardboard cake circles
Curling ribbons
Stuffed Very Hungry Caterpillar plush
Very Hungry Caterpillar Jack in the Box – I cannot link to this product, but you can click on an Amazon link in this post (like HERE) and then search for "World of Eric Carle, The Very Hungry Caterpillar Jack in the Box"
Gold "1" Birthday Candle
Looking for More Birthday Party Ideas?
Check out these other parties and dessert ideas:
Very Hungry Caterpillar Cupcake Cake
Butterfly Cupcakes
Rainbow Brownie Ice Cream Sandwiches
Butterfly Sugar Cookies with Royal Icing
Butterfly and Dragonfly Royal Icing Cookies
Painted Rainbow Cookies
Penelope Bird 1st Birthday Party
Winter ONEderland 1st Birthday Party
Daniel Tiger Birthday Party and Cake
Sesame Street Birthday Party and Cookie Monster Smash Cake
Disney's FROZEN Birthday Party
Cinderella Birthday Cake and Party
Thomas the Train Smash Cake
My Little Pony Rainbow Unicorn Ice Cream Cake
Under the Sea Birthday Party
Mermaid Ice Cream Cake
---
---