Turkey Pastrami Reuben Sandwiches
Turkey Pastrami Reuben Sandwiches are just like traditional Reuben Sandwiches except they contain turkey pastrami in place of corned beef. They are just as delicious! An easy homemade Thousand Island Dressing makes these even better.
Each year for St. Patrick's Day, my mom hosts a dinner and makes the traditional Corned Beef and Cabbage. I used to love the Reuben Sandwiches my mom made with the leftover corned beef after St. Patrick's Day. I always get exited when the Beefsteak rye in the shamrock-packaging starts popping up in stores because it means Reuben sandwiches are getting close.
When I stopped eating red meat many years ago, my parents figured my love of Reuben sandwiches would fade away. This was not the case. I decided that turkey pastrami would be a good substitute for corned beef, and it turns out that it works really well. I've made this sandwich without meat before, almost like a Reuben Grilled Cheese, and it's great, but I really like using turkey pastrami.
Until recently I used regular turkey pastrami, which is a pink color. Lately I've used turkey breast pastrami, which is white (as in the picture below) and a little healthier. Both are delicious!  These pictures are from a sandwich my mom made for me when I was home in March 🙂 You may also use sliced deli turkey.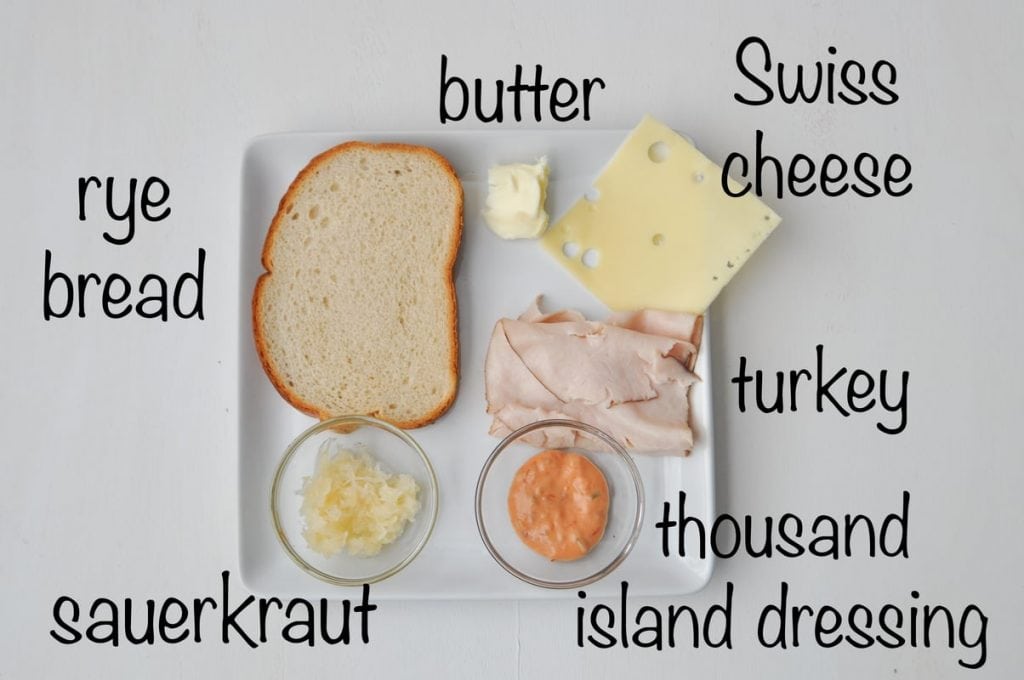 Thousand Island Dressing
You can use either store bought or homemade Thousand Island dressing. My mom just eyeballs her recipe, so I've included the 3 ingredients and it's a matter of color and taste for the ratio you prefer. I usually just mix up a small amount up for the sandwiches that I will be making, rather than a big batch of it. UPDATE: I got my mom to record her ingredient amounts and have updated the recipe card accordingly!
When my mom makes the Corned Beef and Cabbage St. Patrick's Day meal, she serves potatoes and carrots that have been cooking with the corned beef. We have Thousand Island dressing and horseradish on the side, and some of us eat the potatoes with Thousand Island with horseradish mixed in, so there are certainly more uses for leftover dressing!
P.S. I finally updated my Grasshopper Pie post with pictures!!! 
What to Serve with a Turkey Reuben Sandwich
My mom always makes tater tots with Reuben sandwiches, so I stick to that when making turkey Reubens. You could serve them with fries, such Garlic Parmesan Oven Fries, or other kinds of potato sides, like Crash Hot Potatoes. I usually serve fruit with them also.
Gluten Free Option for Turkey Pastrami Reuben Sandwiches
While any gluten free bread will do, I haven't had luck finding gluten free rye-style bread in stores. I did located this gluten free rye but have not tried it myself, although I'm tempted to now!
Looking for St. Patrick's Day Dessert Recipes?
Check out these St Patrick's Day desserts perfect for after Reuben sandwiches:
Oreo Shamrock Shakes
Bailey's Irish Cream Mini Cheesecakes
Bailey's Irish Cream Cheesecake
Painted Rainbow Cookies
Grasshopper Pie
Rainbow Brownie Ice Cream Sandwiches
Mint Chocolate Chunk Ice Cream
St. Patrick's Day Sugar Cookies with Royal Icing
A different take on Reuben Sandwiches, this version uses turkey pastrami instead of corned beef.
Ingredients  
Turkey breast pastrami or sliced deli turkey

Butter

2

slices

Rye bread

(seeded or seedless)

1

slice

Swiss cheese

sauerkraut

(optional)

Thousand Island Dressing

(purchased or homemade, amount to taste)
For the Thousand Island Dressing:
1/2

cup

mayonnaise

1/4

cup

chili sauce

(such as Heinz)

2

tablespoons

sweet pickle relish
Instructions 
Preheat a frying pan over medium heat. Butter one side of each of two slices rye bread.

To make the Thousand Island dressing: combine mayonnaise, chili sauce, and sweet pickle relish until it reaches the right consistency and color, adding more of any component that seems lacking.

To assemble the sandwich: on one slice of bread, layer turkey pastrami, a slice of Swiss cheese, sauerkraut (if using), and dressing to taste, then top with other piece of bread.

Add sandwich to pan and cook as you would a grilled cheese sandwich, browning on one side then flipping to brown on the other.
Notes
You're Gonna Bake It After All
bakeitafterall.com
---
---