Holiday Sweets and Appetizers – Recipe Round Up
Holiday Sweets and Appetizers – Recipe Round Up is a collection of my favorite sweet and savory holiday recipes perfect for entertaining!
With the abundance of Holiday parties coming up, I wanted to compile a post of my favorite Holiday recipes. Last year I did a series called the 12 Days of Christmas and presented some tried and true recipes that I've come to depend on as holiday staples.
While I am certainly trying some new recipes this year, I still turn to these classics to round out my baking. I can safely say that each and every one of these (with the exception of the Buche de Noel, for lack of time) will make an appearance in my kitchen this season. I am also including some of my favorite appetizers, because a holiday party is not quite complete without them!
SWEET TREATS
Christmas Butter Cookies are my grandma's recipe. Buttery, bite-sized, and all around perfect.
Chewy Oatmeal Cookies are also my grandma's recipe with my spin to make them chewier. Hands down the best oatmeal cookie I've ever had.
People go nuts for this Chocolate Cracker Candy! It is even referred to as "Christmas Crack"!
Pineapple Carrot Bread is a perfectly-spiced quick bread with bits of sweet pineapple.
There is no lemon in this Poppy Seed Bread! This is an incredibly moist and flavorful bread with the flavors of butter and almond extract. The sweet drizzle on the crispy top adds another dimension to this already tasty confection.
Oreo Truffles are simple yet elegant. Surprise your friends with this easy homemade candy!
Triple Chocolate Biscotti is the perfect accompaniment to a cup of coffee or tea! I am still surprised by how much I LOVE this recipe! It's one of my favorites from all of last year.
As someone who doesn't like marshmallows, I was shocked that I enjoyed these Homemade Vanilla Marshmallows. Soft and melt-in-your-mouth good. They would go great in a cup of Fancy Hot Chocolate.
One of my favorite inventions from last year:   Coconut and Chocolate Covered Homemade Marshmallows. I don't often try to develop my own "recipes," but I did for this one and I am so happy with the result. Serve these as candy!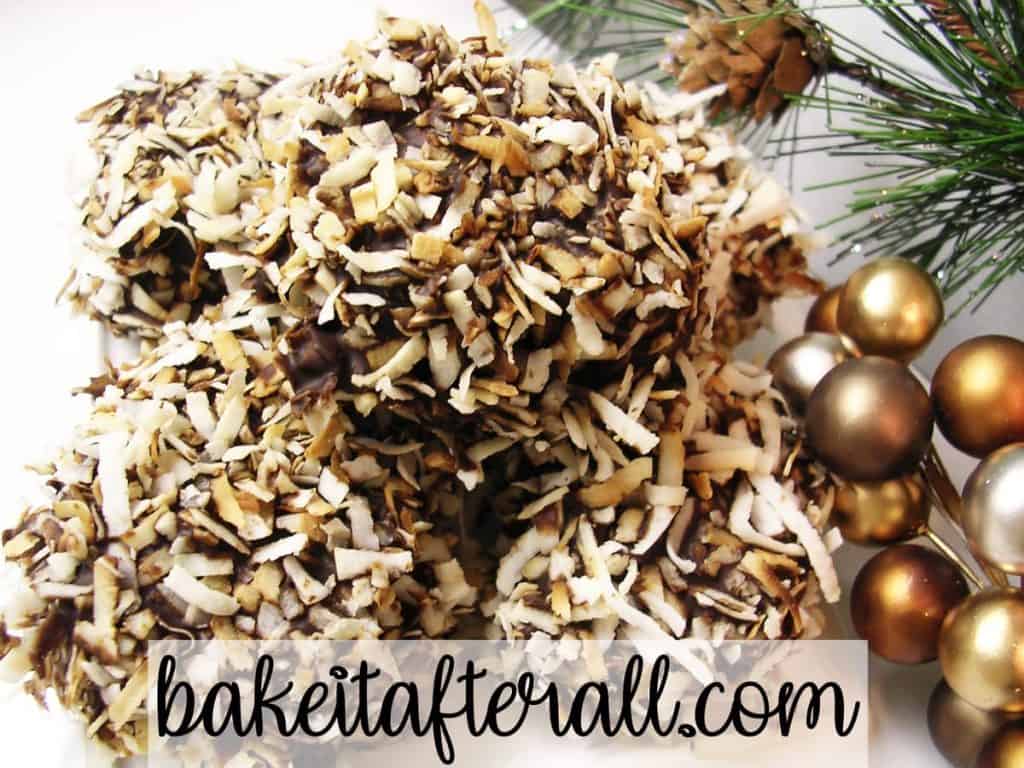 Nothing beats a good Coconut Macaroon in my book. Try dipping the bottoms in chocolate – a little tip from my friend Kat!
Chocolate Spritz Cookies are buttery goodness with a chocolate flavor. So good topped with crushed peppermint!
If you're ambitious or have an event where you want to impress others with your baking skills, this Buche de Noel is the recipe for you! This classic French dessert is fun to make and even more enjoyable to decorate!
Pink Citrus Punch, or as we call it Christmas Punch, is surely a sugar rush but this festive punch will put you in the holiday spirit and it's always a hit with kids.
Espresso Chocolate Chip Shortbread are buttery cookies with flavors of chocolate and coffee.
Convince yourself these are a healthy option at an otherwise sugar-covered table. Stuffed Strawberries are filled with sweet, fluffy marshmallow cream cheese, this finger food is easily popped in your mouth with little mess.
SAVORY SNACKS
Dill Dip in Rye Bread Round – one of my favorite holiday appetizers!
Hot Artichoke Dip is bubbly and cheesy . . . enough said.
Buffalo Chicken Dip is one of our favorite party snacks!
Slow Cooker BBQ Chicken Meatballs are tangy and delicious. Kids and adults love these!
This Double Tomato Bruschetta is unbelievably good. I am always amazed each time I make them. These are always a crowd favorite!
Layered Taco Dip features common ingredients that come together in an uncommonly good dip.
Pan Fried Onion Dip is a homemade onion dip that goes well with chips or veggies.
Spicy Buffalo Chicken Meatballs showcase the flavors of buffalo wings without the mess!
Whole Foods Copycat Spinach Artichoke Dip is an awesome dip without the hefty price tag!
You can rarely go wrong with bacon, and people go crazy for these Bacon Stuffed Cherry Tomato Appetizers. Try using turkey bacon for a slightly healthy alternative.   
That's it for the round-up! I will post details about my holiday party next week! (UPDATE: see my post on the 10 Best Holiday Dessert Recipes for an Open House). Have a happy and safe weekend! 🙂
---
---