Potatoes and Onions
Potatoes and Onions is a simple side dish that is easy to make but so delicious! With only a handful of ingredients, this is the perfect side for parties!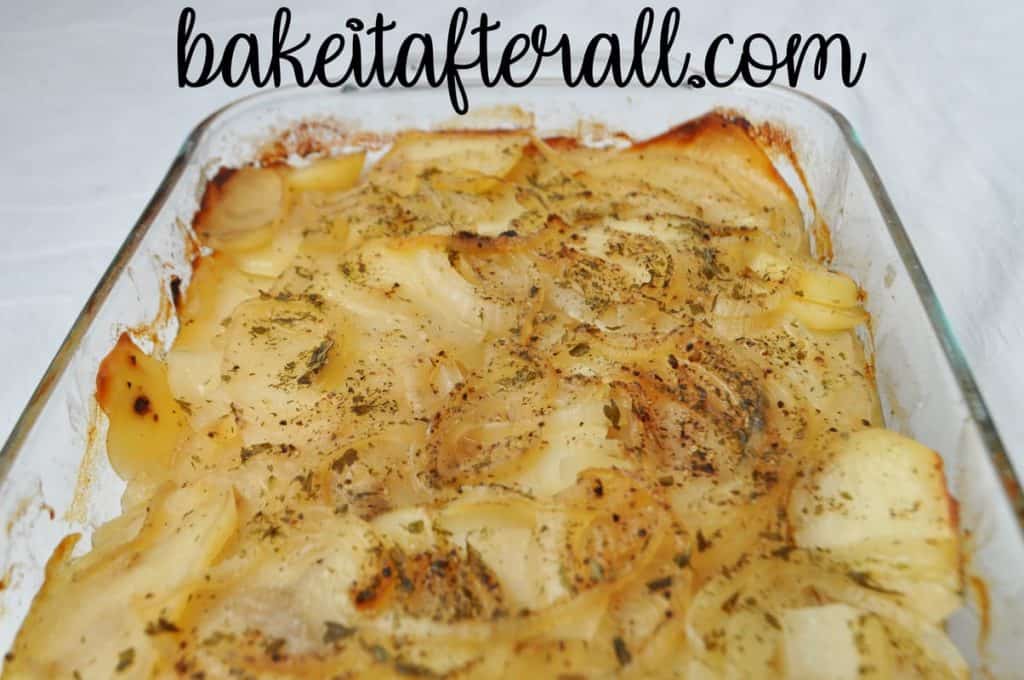 Finally, the last of the Easter recipes! It's about time!  
My mom has made these Potatoes and Onions for as long as I can remember. She takes them to family dinners and BBQ's with friends, and everyone loves them.
When you cook them long enough, they form a nice, buttery crust on the bottom and edges of the dish – so delicious. Baking them covered ensures that they stay moist and 'juicy,' if you will. The list of ingredients is brief. This is a simple recipes that's simply tasty!  
You can see the browned buttery edges here:
When taking these to a party, I always use a casserole dish carrier to make sure it stays hot. Mine came with a heat pack that I microwave and put under the glass dish to keep it hot on the way to the party. I think I have this one, but I wasn't happy how the material started splitting. This one looks much sturdier.
Bob and I had these potatoes for Easter dinner with Spicy Roasted Chicken and roasted asparagus topped with Hollandaise. It was a great dinner!
These potatoes go great as a side dish for chicken, hamburgers, BBQ'd meat, and so on. This is one of those dishes that the pictures just don't do it justice. If I could add in a sample to tastes on this post, I would!
Recipe Notes
To make this layered casserole, Russet potatoes are washed, peeled, and sliced thin.
The potato slices are layered with onion slices in a casserole dish. They are dotted with pieces of butter and generously sprinkled with salt and pepper. This pattern is repeated until all of the potatoes and onions have been placed in the casserole dish.
The dish is sprinkled with parsley and then baked.
The key to this recipe is baking the potatoes long enough. You want to make sure the sides and bottom start to brown. That's where this delicious flavor comes in. If your potatoes are still pale on the bottom, keep cooking them! You may want to move them down to a lower rack if you're worried about cooking them too long. This will help direct the heat to the bottom of the dish.
Gluten Free Potatoes and Onions
This side dish is naturally gluten free! It is also egg free.
Looking for more Side Dishes?
Check out my favorite Side Dish Recipes:
Fleming's Potatoes
Parmesan Potatoes
Mashed Potato Layered Casserole
Garlic Bread
Italian Charcoal Grilled Corn
Crash Hot Potatoes
Garlic Parmesan Oven Fries
Spinach Souffle
Chinese Slaw
Roasted Vegetable Orzo
Smashed Sweet Potatoes for Two
Cilantro Coconut Rice
Mexican Rice
Hericots Verts with Shallots
Garlic Roasted Cauliflower
Potatoes and Onions is a simple dish that is so easy and so delicious! The longer cookie time ensures that the bottom will start to brown and have so much more flavor.
Ingredients  
6-8

large potatoes

(peeled and sliced)

3

medium to large sized onions

(sliced)

Butter

(cold, diced into small pieces)

Salt and pepper to taste

Dried or fresh parsley
Instructions 
Preheat oven to 400 degrees F.

Grease a 13×9-inch baking dish with butter. Place a single layer of potatoes in the bottom of the dish. Cover with a layer of onion slices. Add small dices of butter sporadically on top of the onions. Sprinkle with salt and pepper.

Repeat layers until the dish is filled. Sprinkle parsley on the top.

Cover dish with aluminum foil and bake for at least 1 hour. Baking longer produces a delicious, browned layer on the bottom and edges of the dish.
Notes
You're Gonna Bake It After All
bakeitafterall.com
---
---