Easter Sugar Cookies with Royal Icing
Easter Sugar Cookies with Royal Icing use a wet on wet technique to make beautiful decorated eggs, bunnies and chicks for Easter.
Hi everyone! I have been really slacking on the blog this week because I'm in St. Louis preparing for our big move in May. We signed a lease, Bob had some job interviews, and I've been getting in some quality family time (and shopping!) I have been busy ever minute, but it's been a lot of fun.  
My mom, my sister, and I decided that this year, instead of dyeing Easter eggs we would decorate sugar cookies! After seeing several posts about Easter cookies, I couldn't resist trying them out. I love the technique of using toothpicks to drag out lines or dots into beautiful patterns. We had so much fun playing around with different designs!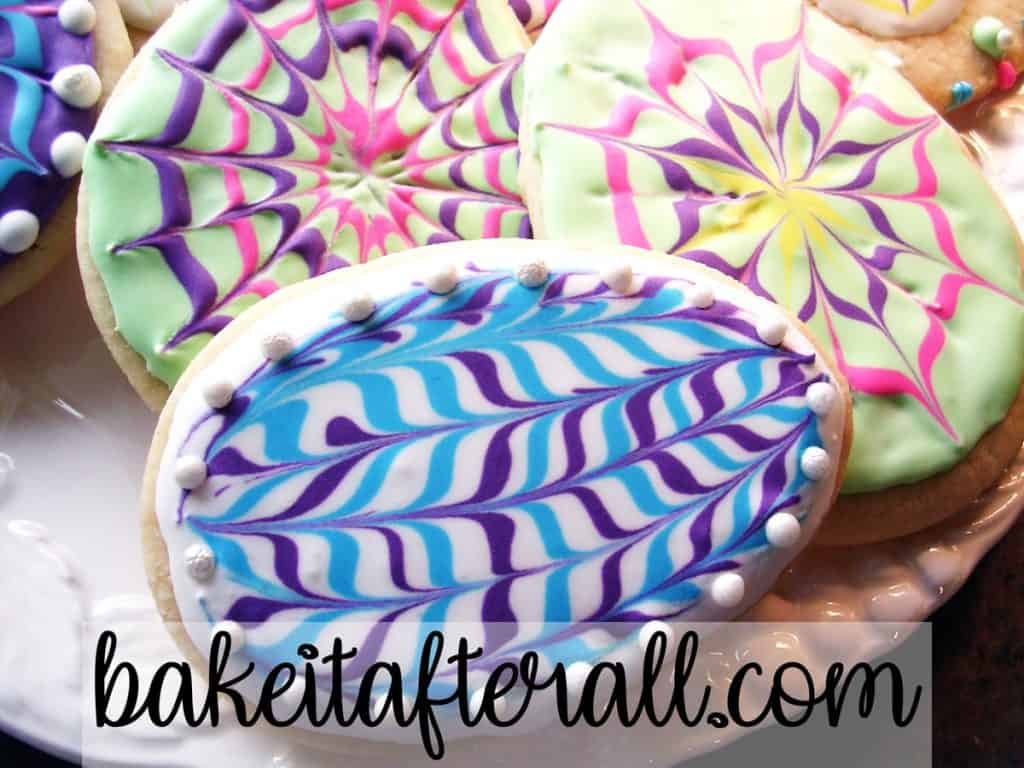 Each time I've used Royal icing (St. Patrick's Day Cookies and these Money Face Cookies), I used a different recipe for the icing and a different sugar cookie recipe (see a great sugar cookie comparison post here).
I keep thinking I'll find one that is better than the last time, but really they all seem very similar to me. I'll provide links to the recipes I used this time below, but know that these techniques work on any cookie, and I'm sure any royal icing recipe.   UPDATE: My favorite recipe for roll out sugar cookies is the [Not My] Granny's Sugar Cookies.
The one thing I did differently this time was to use only one consistency icing per color and to use it for both outlining and flooding, which were done at the same time, rather than what I've done in the past: outline, wait for it to dry, then flood. When using the same color for outlining and flooding, the outline blends in nicely. Of course this might not work for the Monkey Face Cookies where having a distinct outline is essential, but for these cookies it worked very well.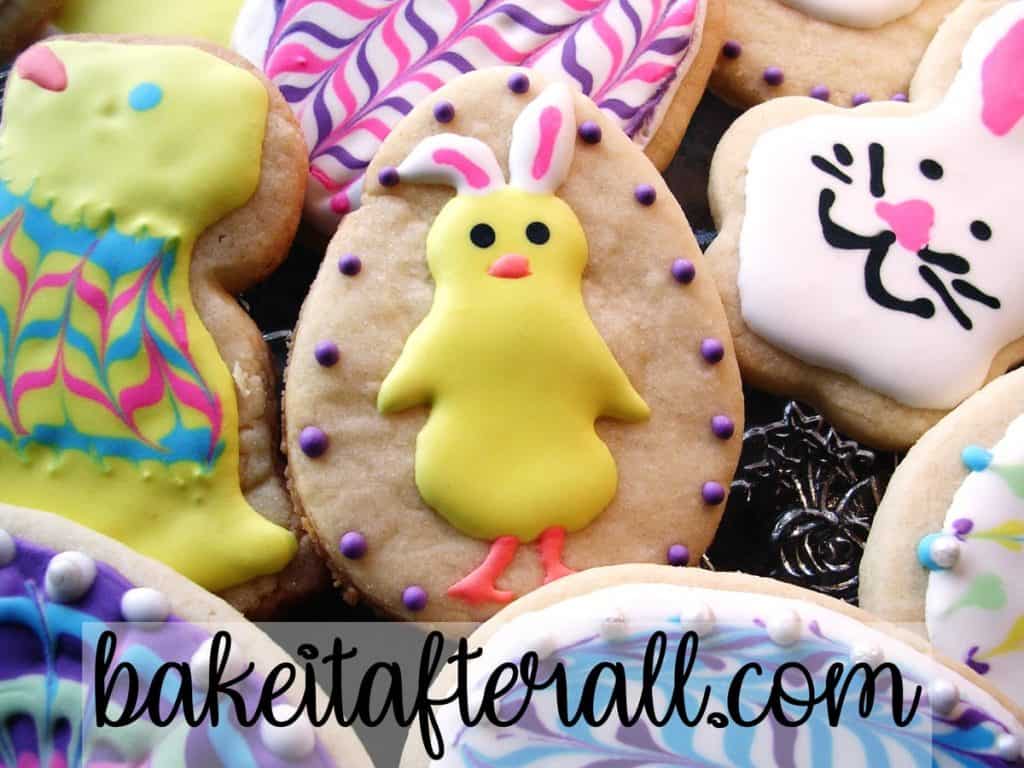 This time, I drew inspiration from a number of different sources. I first saw a post on the King Arthur flour blog about these fun wet on wet techniques for Easter cookies. Then I saw a guest post on Bake at 350 from Sweetopia, which led me to other posts at Sweetopia. Each of these blogs have some great tips for working with royal icing.
Easter Cookie Designs
We did a bunch of different designs that I'll take you through.
The are the bunnies. We used some sanding sugar crystals for some of them. This was sprinkled on while the icing was still wet. Some of the bunnies have white sugar pearl noses.
Chick wearing bunny ears:
Chicks wearing sweaters (my mom invented these!):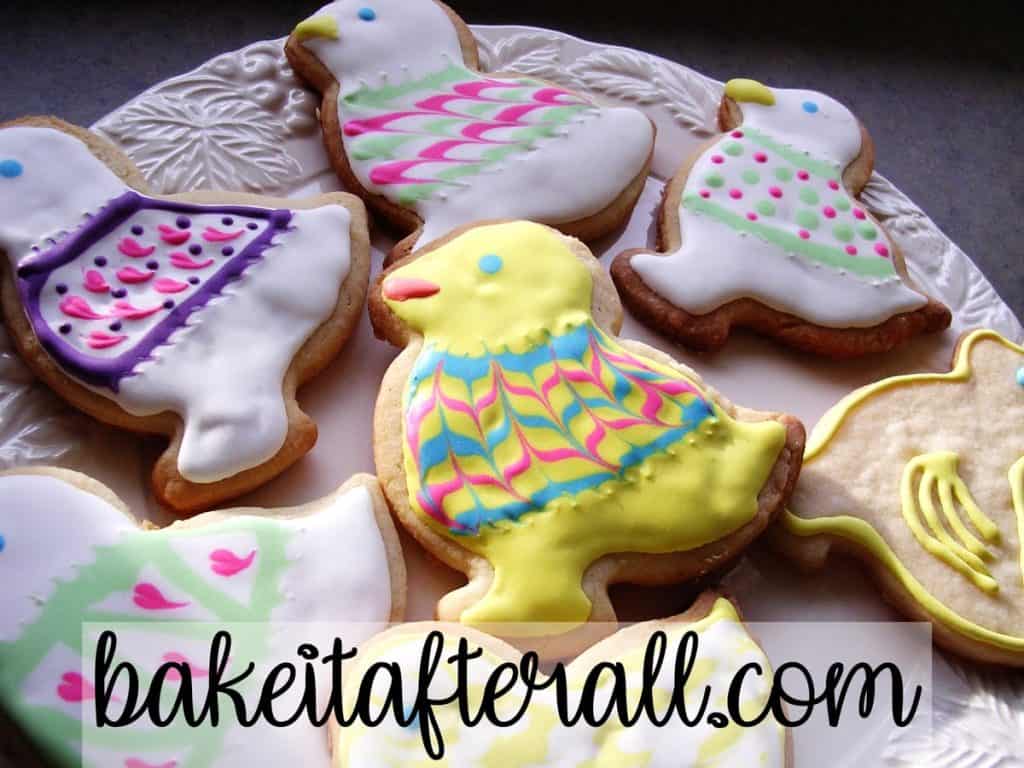 My mom's creation – remind you of anyone?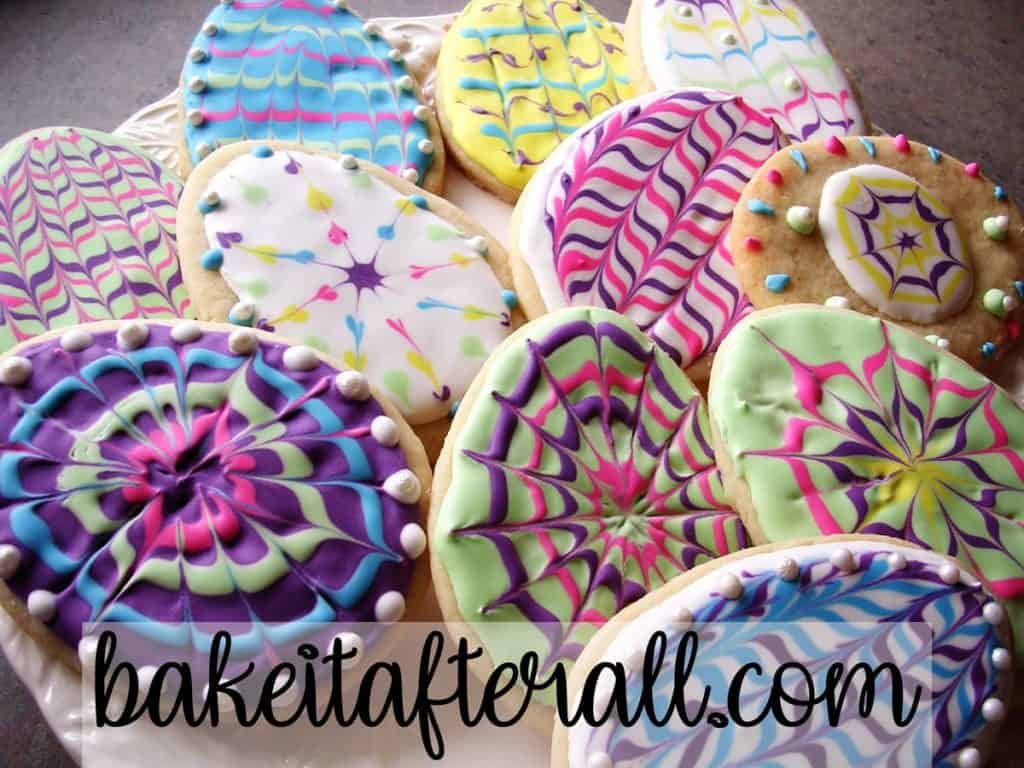 Can you guess which one my dad did? 🙂
For those of you who celebrate Easter, you still have time to try these out before Sunday – so get to it! 🙂 Or see the sidebar for some other great Easter treats.   Have a great Easter, Passover, or a nice relaxing weekend!  
Recipe Details
Sugar Cookie Recipe – Roll-out Sugar Cookies by The Way the Cookie Crumbles, UPDATE: my favorite recipe for sugar cookies is the [Not My] Granny's Sugar Cookies
Royal Icing Recipe – Bake at 350, UPDATE: my go to royal icing recipe
Looking for More Royal Icing Cookies?
Check out my other Royal Icing Cookie posts:
Butterfly and Dragonfly Cookies with Royal Icing
Butterfly Sugar Cookies with Royal Icing
Halloween Sugar Cookies with Royal Icing
Monkey Face Cookies with Royal Icing
Penelope Bird Cookies
St. Patrick's Day Cookies with Royal Icing
Sugar Cookie Gender Reveal
Bridal Shower Sugar Cookies with Royal Icing
Baby Shower Sugar Cookies with Royal Icing
Snowflake Gingerbread Cookies
Brown Sugar and Spice Winter Mitten Cookies
Pastel Christmas Sugar Cookies with Royal Icing
And for decorated cookies without the royal icing, try my Painted Watercolor Cookies!
Looking for More Spring Desserts?
Check out these other desserts perfect for spring:
Baby Bluebird Cupcakes
Carrot Cake Cupcakes with Cream Cheese Frosting
Spring Chick Cupcakes
Samoa Cupcakes
Painted Rainbow Cookies
---
---