Lighter Quicker Eggplant Parmesan
Lighter, Quicker Eggplant Parmesan uses an oven fry method rather than deep frying the eggplant. The casserole dish consists of layers of breaded eggplant, a homemade tomato sauce, and cheese. A restaurant quality meal!
This year on Friday nights during Lent, I've been trying to make filling meatless meals that stand on their own, rather than just eliminating the meat from our favorite dishes. One of my favorite vegetarian entrees is Eggplant Parmesan. Ever since I tried some of my friend's at Maggiano's in high school, I've been hooked.
When I saw this in my Cook's Illustrated All-Time Best Recipes Cookbook that came with my subscription, I knew I had to make it. Annie posted this recipe as well and raved about how great it was, so I knew it had to be good.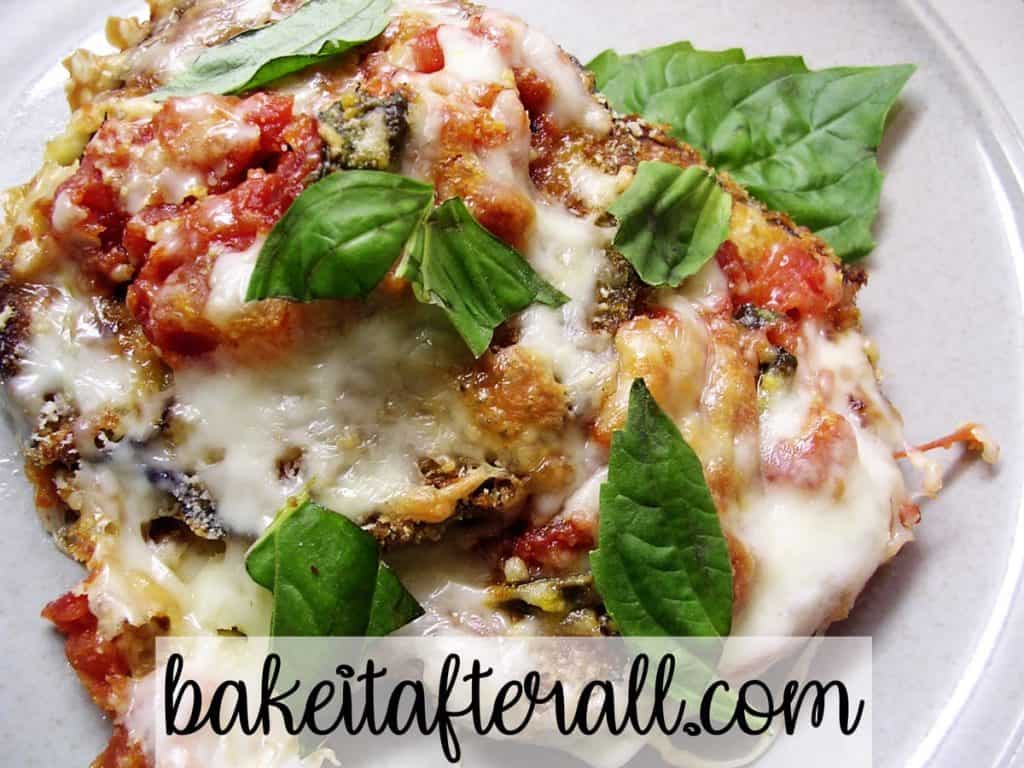 This recipe is called "Lighter, Quicker Eggplant Parmesan." Well, it's not exactly "quick," so I guess that's a relative term. I admit that, because it was Friday night, I went at a leisurely pace and did not utilize the time when the eggplant slices were draining, so that added on some extra time.
The "lighter" term is relative too, because yes this dish uses less oil than if you fry the eggplant, but it still has a ton of yummy Parmesan and mozzarella. Just thinking about it makes me want some! It was really, really delicious. The breading on the eggplant is great with lots of Parmesan and bakes up nice and crisp. It even stays crisp after being topped with the tomato sauce and cheese.
I really love the quick little sauce in this recipe; it has a ton of flavor and a nice spicy kick from the red pepper flakes. As good as this was the first night, Bob and I actually thought it was better the next day (and the next day, and the next day – it make a lot!)
Gluten Free Eggplant Parmesan
Use a gluten free bread to make the homemade breadcrumbs and a gluten free flour, such as Bob's Red Mill Gluten Free 1 to 1 Baking Flour, in place of the all purpose flour.
Looking for More Restaurant Quality Main Dishes?
Check out my favorite restaurant quality recipes:
Baked Chicken Parmesan
Chicken with Dijon Mascarpone Marsala Sauce
Mushroom and Herb Stuffed Chicken Breasts
Grilled Shrimp with Spicy Lemon Garlic Sauce
Turkey Sausage and Peppers Rigatoni
Shrimp Fra Diavolo with Linguine
Baked Ziti Sorrentino
Garlicky Shrimp Pasta
Caramelized Apple Stuffed Chicken with Fontina and Cherries
Baked Ricotta Cavatelli in a Mascarpone Cheese Sauce
Turkey Lasagna St. Louis Style
Garlic Bread
Caprese Stuffed Chicken
Lighter, Quicker Eggplant Parmesan uses an oven fry method rather than deep frying the eggplant. The casserole dish consists of layers of breaded eggplant, a homemade tomato sauce, and cheese. A restaurant quality meal!
Ingredients  
For the Eggplant:
2

pounds

globe eggplant

(2 medium eggplants, cut crosswise into 1/4-inch thick rounds)

1

tablespoon

kosher salt

8

slices

high-quality white sandwich bread

(about 8 ounces, torn into quarters, or gluten free bread)

2

ounces

Parmesan cheese, grated

(about 1 cup)

table salt and ground black pepper

1

cup

unbleached all purpose flour

(or gluten free)

5

large eggs

6

tablespoons

vegetable/Canola oil
For the Tomato Sauce:
3 14.5-

ounce

cans diced tomatoes

2

tablespoons

extra-virgin olive oil

4

medium garlic cloves

(minced or pressed through garlic press, about 1 generous tablespoon)

1/4

teaspoon

red pepper flakes

1/2

cup

coarsely chopped fresh basil leaves

table salt and ground black pepper

8

ounces

whole-milk or part-skim mozzarella, shredded

(2 cups)

1

ounce

Parmesan cheese, grated

(about 1/2 cup)

10

fresh basil leaves

(torn, for garnish)
Instructions 
Prepare the Eggplant:
Toss half of the eggplant slices and 1 1/2 teaspoon kosher salt in a large bowl until combined; transfer salted eggplant to a large colander set over a bowl. Repeat with remaining eggplant and kosher salt, placing second batch in colander on top of first. Let stand until eggplant releases about 2 tablespoons liquid, 30 to 45 minutes.

Arrange eggplant slices on triple layer paper towels; cover with another triple layer paper towels. Firmly press each slice to remove as much liquid as possible, then wipe off excess salt.

While eggplant is draining, adjust oven racks to upper- and lower-middle positions, place an aluminum foil lined rimmed backing sheet on each rack, and heat oven to 425°F.
Bread the Eggplant:
Pulse bread in food processor to fine, even crumbs, about 15 1-second pulses, yielding about 4 cups. Transfer crumbs to a pie plate and stir in 1 cup Parmesan, 1/4 teaspoon salt, and 1/2 teaspoon pepper; set aside. Wipe out food processor bowl (do not wash) and set aside for making the sauce.

Combine flour and 1 teaspoon pepper in large zipper-lock bag; shake to combine.

Beat eggs in second pie plate.

Place 8 to 10 eggplant slices in bag with flour; seal bag and shake to coat eggplant. Remove eggplant slices, shaking off excess flour, dip in eggs, let excess egg run off, then coat evenly with breadcrumb mixture; set breaded slices on a wire rack set over baking sheet. Repeat with remaining eggplant.

Remove preheated baking sheets from oven; add 3 tablespoons oil to each sheet, tilting to coat evenly with oil. Place half of breaded eggplant on each sheet in a single layer; bake until eggplant is well browned and crisp, about 30 minutes, switching and rotating baking sheets after 10 minutes, and flipping eggplant slices with wide spatula after 20 minutes. Do not turn off oven. While the eggplant bakes, make the sauce.
Make the Sauce:
Process the diced tomatoes in food processor until almost smooth, about 5 seconds. Heat olive oil, garlic, and red pepper flakes in large heavy-bottomed saucepan over medium-high heat, stirring occasionally, until fragrant and garlic is light golden, about 3 minutes; stir in processed tomatoes and remaining can of diced tomatoes.

Bring sauce to boil, then reduce heat to medium-low and simmer, stirring occasionally, until slightly thickened and reduced, about 15 minutes. You should have about 4 cups. Stir in basil and season to taste with salt and pepper.
Assemble the Dish:
Spread 1 cup tomato sauce in bottom of a 9×13-inch baking dish. Layer in half of the eggplant slices, overlapping slices to fit; distribute 1 cup sauce over eggplant; sprinkle with half of mozzarella. Layer in the remaining eggplant and dot with 1 cup sauce, leaving majority of eggplant exposed so it will remain crisp ; sprinkle with 1/2 cup Parmesan and remaining mozzarella.

Bake until bubbling and cheese is browned, 13 to 15 minutes. Cool 10 minutes, scatter basil over top, and serve, passing remaining tomato sauce separately.
Notes
Source: Cook's Illustrated All-Time Best Recipes
You're Gonna Bake It After All
bakeitafterall.com
---
---