Caprese Stuffed Chicken
Caprese Stuffed Chicken breasts filled with mozzarella cheese, basil, and balsamic tomatoes, coated in breadcrumbs then baked to perfection.
When Bob and I traveled to Europe after we graduated college, we went with a tour group. Eight countries in 3 weeks – yes, we were one of those groups in the big buses that get to zip to the front of the line at the Vatican and the Eiffel Tower – sorry 🙂
Our tour guide Rosey was amazing. I told her upfront about my aversion to any non-bird meat, so she made sure I was taken care of at every restaurant. Because of this, she called me "Miss Chicken" the entire trip, a name that caught on with the other members of our tour group.
I started thinking about how I haven't posted that many chicken recipes on this blog. Since college, I've discovered the magic that is turkey sausage, ground turkey, and Trader Joe's chicken sausage. Don't get me wrong, I still love my traditional chicken, but it now has to share it's place with these "fancier" meats (don't you just love the word "meats"?)
Anyway, I was watching Tyler Florence over Bob's spring break (ok I took off too!), and he made this recipe for the "ultimate" Chicken Cordon Bleu, and I liked his idea of how he wrapped up the chicken to avoid using toothpicks, so I came up with this Caprese Stuffed Chicken. It might come as no surprise from past posts, but I love love love tomatoes and basil. I could probably eat the combination every day. Throw in some mozzarella – even better! I've made the recipe for 2 portions, which may or may not serve more than 2 people, depending on the size of your chicken breasts. You won't see too many original recipes from me, but this is one of them.
Recipe Details
First, a quick dressing is made with balsamic vinegar and olive oil. The tomatoes marinate in this dressing while the chicken breasts are prepared.
After the chicken breasts are flattened with a meat tenderizer, they are placed on top of pieces of plastic wrap and topped with basil, mozzarella, and the tomato mixture.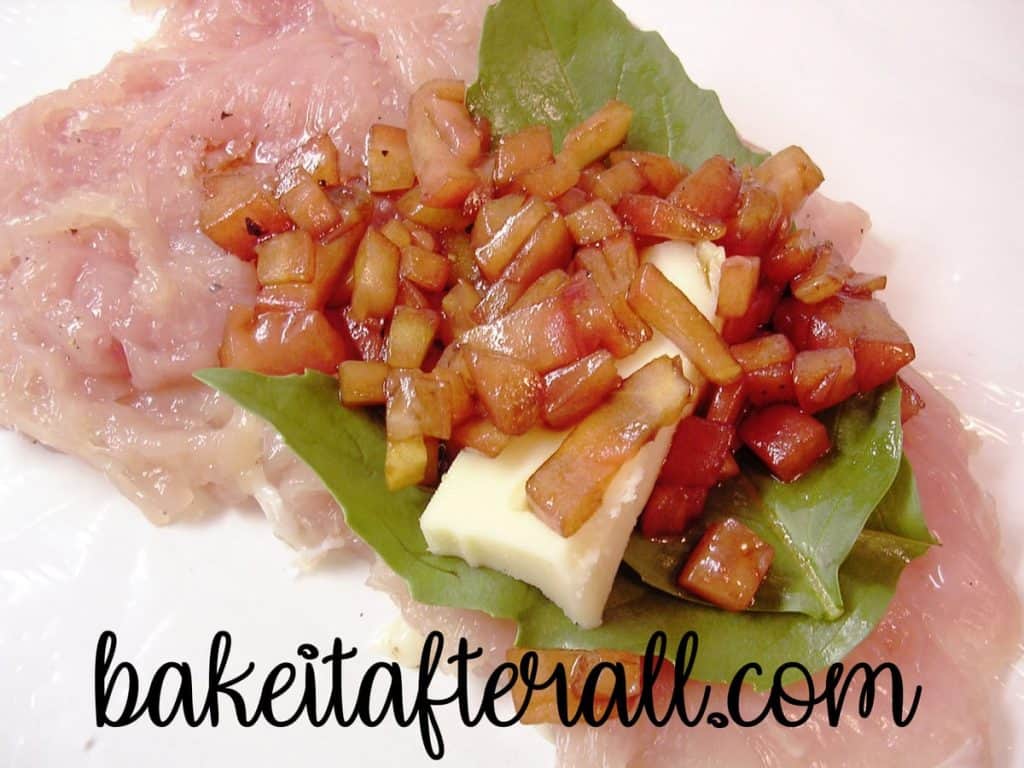 The chicken is rolled up and seasoned with salt and pepper. Then, the bundles are wrapped tightly in plastic wrap and refrigerated while the breading components are prepared.
The breading station consists of toasted panko with garlic and Parmesan, buttermilk, and a seasoned flour mixture.
The chicken bundles are first rolled in flour, then buttermilk, then the panko mixture. They are baked until golden and crispy!
Gluten Free Caprese Stuffed Chicken
Use gluten free panko breadcrumbs and a gluten free flour blend, such as Bob's Red Mill Gluten Free 1 to 1 Baking Flour to make this recipe entirely gluten free.
Looking for More Caprese Flavored Recipes?
Check out these recipes with Caprese flavors:
Caprese Salad Skewers
Double Tomato Bruschetta
Pasta with Sun Dried Tomatoes
Bruschetta Grilled Cheese Sandwiches
Oven Dried Tomatoes
Oven Dried Tomato Bruschetta
Looking for More Chicken Recipes?
Check out my other recipes featuring Chicken:
Mushroom and Herb Stuffed Chicken Breasts
Baked Chicken Parmesan
Chicken with Dijon Mascarpone Marsala Sauce
Chicken Francese
Chicken Marbella
Caramelized Apple Stuffed Chicken with and Fontina and Cherries
Garlic Braised Chicken Thighs with Roasted Carrots
Spicy Honey Brushed Chicken Thighs
Chicken and Vegetable Bake
Swiss Cheese Sour Cream Chicken Bake


Caprese Stuffed Chicken features chicken breasts stuffed with marinated tomatoes, basil, and mozzarella and coated in breadcrumbs before baking. The best flavors of a caprese salad inside chicken.
Ingredients  
2

boneless, skinless chicken breasts

1

tablespoon

extra virgin olive oil

(divided)

1/2

tablespoon

balsamic vinegar

1

Roma/plum tomato

(finely chopped)

1-2

ounces

mozzarella cheese

4

very large basil leaves

(or several more smaller ones)

1

cup

panko breadcrumbs

(regular or gluten free)

1/2

clove

of garlic, grated or minced

3

tablespoons

grated Parmesan cheese

1/4

cup

all purpose flour

(or gluten free)

1/8

teaspoon

ground cayenne red pepper

(optional)

1/2

cup

lowfat buttermilk

(see note)

salt and freshly ground pepper to taste
Instructions 
Whisk together the balsamic vinegar and 1/2 tablespoon olive oil in a small bowl to make the dressing.

Add chopped tomato to the dressing and season with salt and pepper. Thoroughly combine and set aside.

Pound chicken until very thin. Dry with paper towels and season with salt and pepper. Place each chicken breast on a large piece of plastic wrap.

On each breast, arrange 2 basil leaves, slices of mozzarella, and top with chopped tomatoes, using a slotted spoon to transfer them as to leave behind the excess dressing.

Roll the chicken very tightly, using the plastic wrap as a guide. When you are finished, the chicken should be very tightly rolled and completely covered in plastic wrap.

Place chicken rolls in refrigerator for 30 minutes to set. Meanwhile preheat oven to 350°F and prepare panko.

Heat the remaining 1/2 tablespoon of oil over medium-high heat in a small skillet. Toast the panko until golden, about 7 minutes.

Transfer panko to a shallow dish to cool. In a bowl, combine flour and cayenne (if using) with salt and pepper. Pour buttermilk into a second bowl.

Once panko bread crumbs have cooled, stir in the grated garlic and Parmesan cheese. Combine well. Line a baking dish with aluminum foil lightly greased with olive oil or cooking spray.

After 30 minutes has elapsed, remove chicken rolls from fridge. Unwrap and dip into flour mixture to coat. Tap off excess. Dip roll into buttermilk, then into panko, making sure to press the panko on if it's not sticking. Place roll into baking dish and repeat with second roll.

Bake uncovered for 40 minutes, or until chicken is no longer pink.
Notes
Buttermilk substitute:  mix 1/2 cup milk with 1/2 tablespoon white vinegar, let sit 5 to 10 minutes.
You're Gonna Bake It After All
bakeitafterall.com
---
---