Chicken Parmesan
This Healthy Oven baked Chicken Parmesan is healthier than the fried version often served in restaurants, but just as tasty!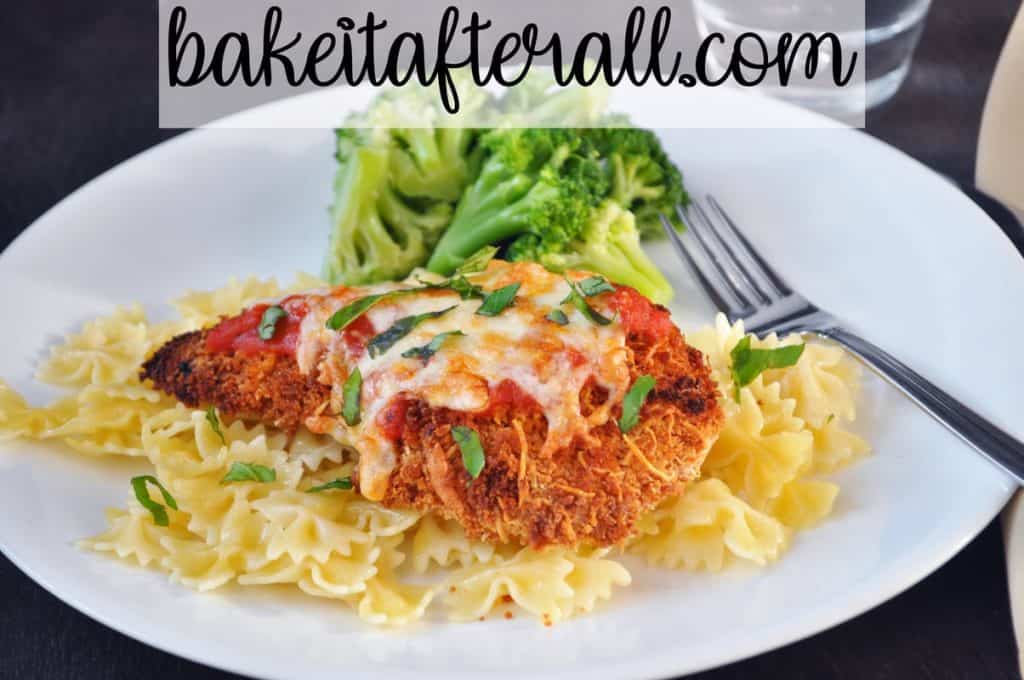 This post was originally published on March 11, 2009. It was updated in August 2020 with new photos and commentary.
This recipe for Chicken Parmesan is fantastic! Usually when I try to bake Chicken Parmesan, it comes out soggy on the bottom, but this recipe is so crispy and delicious you'd think it was fried. I have to attribute this to the toasted Panko.
The first time I made it, I had 1% lowfat buttermilk left over from the Red Velvet Cheesecake, and have seen Giada de Laurentiis dip chicken in buttermilk before breading, so I used it instead of the egg whites. The result: perfection. The second time I made it, I used 1 whole egg plus a little water, slightly beaten, because I couldn't bear to waste 3 innocent, perfectly good egg yolks. This is how I continue to make this recipe, although if you are avoiding egg, buttermilk is a good alternative.
Recipe Notes
The first step of this recipe is to toast the Panko breadcrumbs in olive oil. Panko is a Japanese style breadcrumb that is typically larger crumbs than traditional breadcrumbs. They tend to allow for a crispier crust. Toasting the Panko gives it a nice color and toasted flavor.
The cooled toasted Panko is then tossed with grated Parmesan. The chicken is first coated in a flour mixture which consists of flour, salt, pepper, and garlic powder. I used gluten free flour this most recent time with identical results.
Next, the chicken is dipped in an egg mixture. The original recipe calls for 3 egg whites. I don't like to waste innocent egg yolks, so I use a whole egg mixed with water. You can substitute buttermilk instead of the egg mixture if you prefer. Don't have buttermilk? Try making homemade buttermilk by mixing 1 cup of milk with 1 tablespoon of white vinegar.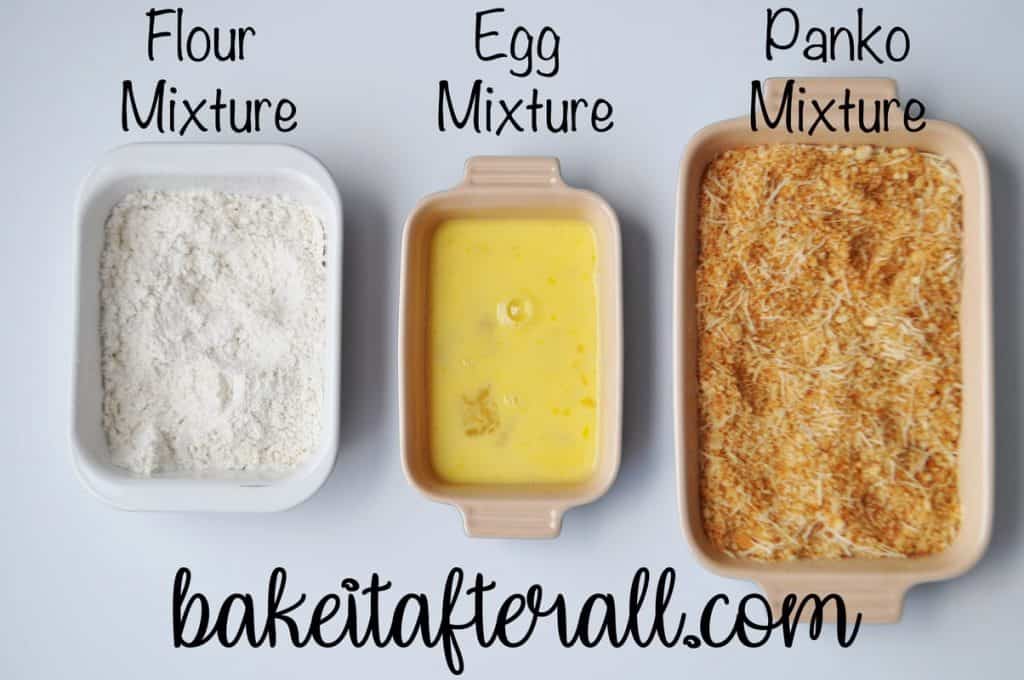 After the egg mixture, the chicken is dipped into the Panko mixture. Then it is transferred to a wire baking rack over an aluminum foil lined baking sheet. I added this step to get an even crispier Chicken Parmesan.
After the chicken is cooked through, each piece is topped with marinara sauce and shredded mozzarella cheese. I have been loving Rao's Homemade Marinara lately! I do have 1 child who refuses to eat marinara and cheese on her chicken, so I leave 1 piece plain.
Gluten Free Chicken Parmesan
Use gluten free Panko breadcrumbs and gluten free flour in place of traditional Panko and all purpose flour, respectively.
Looking for More Italian Chicken Recipes?
Check out my favorite Italian or Mediterranean recipes featuring Chicken:
Chicken with Dijon Mascarpone Marsala Sauce
Chicken Francese
Caprese Stuffed Chicken
Chicken Pizza with Nut Free Pesto
Creamy Chicken with Bowtie Pasta
Chicken Parmesan Burgers
Chicken Marbella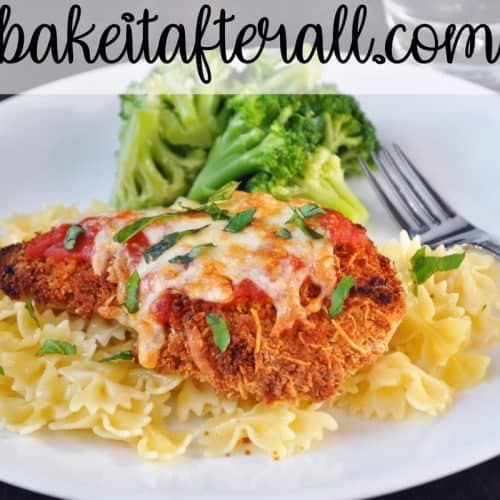 Oven baked Chicken Parmesan is healthier than the fried version often served in restaurants, but just as tasty! Serve with your favorite pasta and vegetable or salad.
Ingredients  
1 1/2

cups

Panko breadcrumbs

1

tablespoon

olive oil

1/2

cup

grated Parmesan cheese

1/2

cup

all purpose flour

(or gluten free flour)

1 1/2

teaspoons

garlic powder

salt and pepper

1

large egg

1

tablespoon

water

vegetable cooking spray

2

large boneless, skinless chicken breasts

(each butterflied and cut in half to yield 4 pieces total)

2

cups

marinara sauce

(warmed)

1/2

cup

shredded mozzarella cheese

1

tablespoon

minced fresh basil
Instructions 
Adjust oven rack to middle position, and preheat oven to 475 degrees F.

Combine the breadcrumbs and the oil in a 12-inch skillet and toast over medium heat until golden, stirring often, about 10 minutes. Spread the breadcrumbs in a shallow dish and allow to cool slightly; when cool, stir in the Parmesan.

In a second shallow dish, combine the flour, garlic powder, 1 tablespoon salt, and 1/2 teaspoon pepper together.

In third shallow dish whisk together the egg and water.

Line a rimmed baking sheet with foil and top with a wire baking rack. Spray the rack with vegetable oil spray. Pat the chicken dry with paper towels, then season with salt and pepper.

Lightly dredge each chicken piece in the flour to coat completely, shaking off the excess. Then dip into the egg mixture and finally coat with the breadcrumb mixture. Press on the breadcrumbs to make sure they adhere. Place the chicken pieces on the prepared baking rack.

Bake until the chicken is no longer pink and feels firm when pressed with a finger, about 15 minutes, or until the chicken reaches at least 165 degrees F with an instant read thermometer.

Remove the chicken from the oven. Spoon 2 tablespoons of marinara sauce over the top of each piece of chicken and top with 2 tablespoons of the shredded mozzarella. Return the chicken to the oven and continue to bake until the cheese is melted, about 5 minutes. Sprinkle with the fresh basil and serve as desired.
Notes
Source: Adapted from Annie's Eats and Brown Eyed Baker, originally from Cook's Illustrated, October 2006
You're Gonna Bake It After All
bakeitafterall.com
---
---