Oven Fried Honey Chicken Nuggets
Oven Fried Honey Chicken Nuggets are dipped in a honey and balsamic vinegar glaze before being rolled in toasted Panko breadcrumbs before baking in the oven. A healthier take on chicken nuggets!
This post was originally published on March 22, 2010. It was updated in August 2020.
I originally posted this recipe many years ago. Bob had made it for us, and it was so good! Dinner just tastes better when someone else makes it, at least that's what my mom says 🙂  
In an effort to revamp my archives, I have been rediscovering and remaking a bunch of old recipes. I knew my girls would love this one!
There's a nice sweetness from the honey, and the balsamic vinegar adds another element to balance the flavor. I love cooking with toasted Panko. It makes a nice, crispy crust.
These chicken nuggets are healthy and quick to whip up. They are great by themselves or dipped in your favorite sauce! We like honey mustard. This is a kid-friendly dinner that the adults will love too.
Chicken Nugget Ingredients and Preparation
This recipe has only a few simple ingredients. The chicken is cut into bite sized pieces, seasoned with salt and pepper, dipped into a honey balsamic glaze, then rolled in toasted Panko and baked.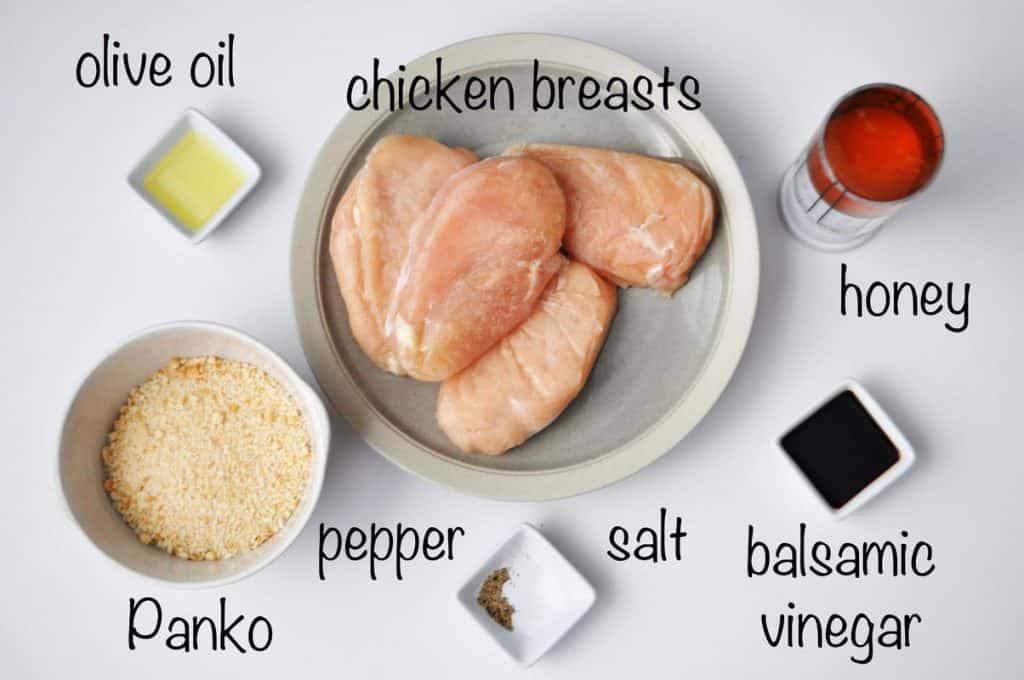 Toasting the Panko Breadcrumbs
The original recipe calls for toasting breadcrumbs in a pan with no oil. In order to get a crispier crust on these nuggets, I used the method from the Chicken Parmesan recipe, where Panko breadcrumbs are first toasted in olive oil. Panko breadbrumbs are Japanese style breadcrumbs, and they are larger than traditional breadcrumbs and often form a crispier crust. Toasting them beforehand in olive oil gives the breadcrumbs and nice, toasty flavor and color.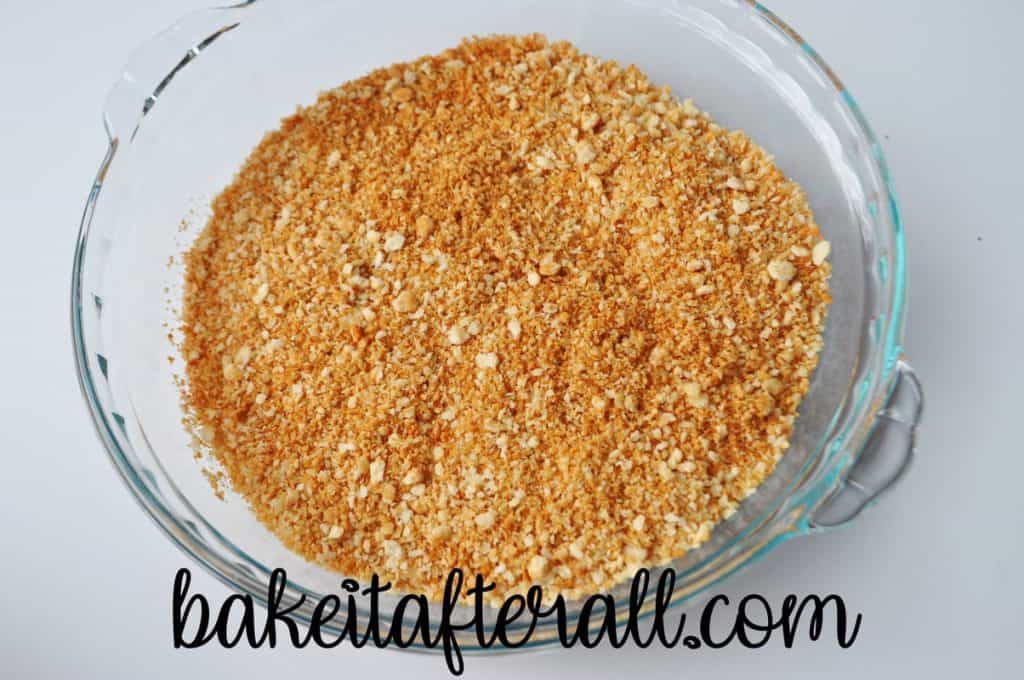 Preparing the Honey Balsamic Glaze
This recipe is unique in that rather than dipping the chicken in an egg mixture or buttermilk, the chicken is tossed in this simple glaze made of honey and balsamic vinegar. The glaze helps adhere the breadcrumbs to the chicken. To mix it, I use a small silicone spatula or a small wire whisk.
Coating the Chicken
The chicken pieces are dipped in the glaze and then rolled in the breadcrumbs before being placed on a foil lined baking sheet. The nuggets are baked until cooked through.
These nuggets are crispy and flavorful. They are slightly sweet and so delicious!
"Kid food" is not just for kids!
Gluten Free Oven Fried Honey Chicken Nuggets
Use gluten free Panko breadcrumbs in place of regular Panko. I think they taste the same!
Looking for More Chicken Recipes?
Check out these other Chicken recipes:
Chicken Parmesan
Coconut Crusted Chicken Tenders
Lemon Chicken
Chicken Street Tacos – Costco Copycat
Honey Chicken Kabobs
Chicken Francese
Ultimate Chicken Fingers
Caprese Stuffed Chicken
Chicken Marbella
Chicken breast pieces dipped in a honey balsamic glaze and rolled in toasted Panko then baked. Slightly sweet, crispy oven fried nuggets are sure to please both kids and adults!
Ingredients  
Nonstick cooking spray

1

pound

boneless, skinless chicken breast

salt and pepper
Glaze:
1/2

cup

honey

2

tablespoons

balsamic vinegar
Toasted Panko:
1

tablespoon

olive oil

1 1/2

cups

Panko breadcrumbs
Instructions 
Preheat oven to 375 degrees F.

Line a large baking sheet with foil. Spray with cooking spray.

Cut chicken into bite-sized pieces. Season with salt and pepper.

In a shallow bowl, whisk together honey and balsamic vinegar. Set aside.

Place olive oil and bread crumbs in a small saute pan and toast lightly over medium heat for until golden brown, about 10 minutes. Transfer toasted bread crumbs to a shallow dish or pie plate.

Dip chicken in honey mixture, then roll in bread crumbs. Place on prepared baking sheet in a single layer.

Bake for 20 – 30 minutes, or until cooked through.
---
---