Classic Apple Pie
Classic Apple Pie is a great basic recipe that is perfect for fall baking. With warm cinnamon spiced apples and a flaky buttery crust, this pie is everything you look for in a traditional apple pie.
Fall is my favorite season. Although fall does not officially start until later in September, I usually start getting out my fall decorations on August 31. I know that is a little early for some people, but now that we are past Labor Day, I think it's fair game to start thinking about fall baking.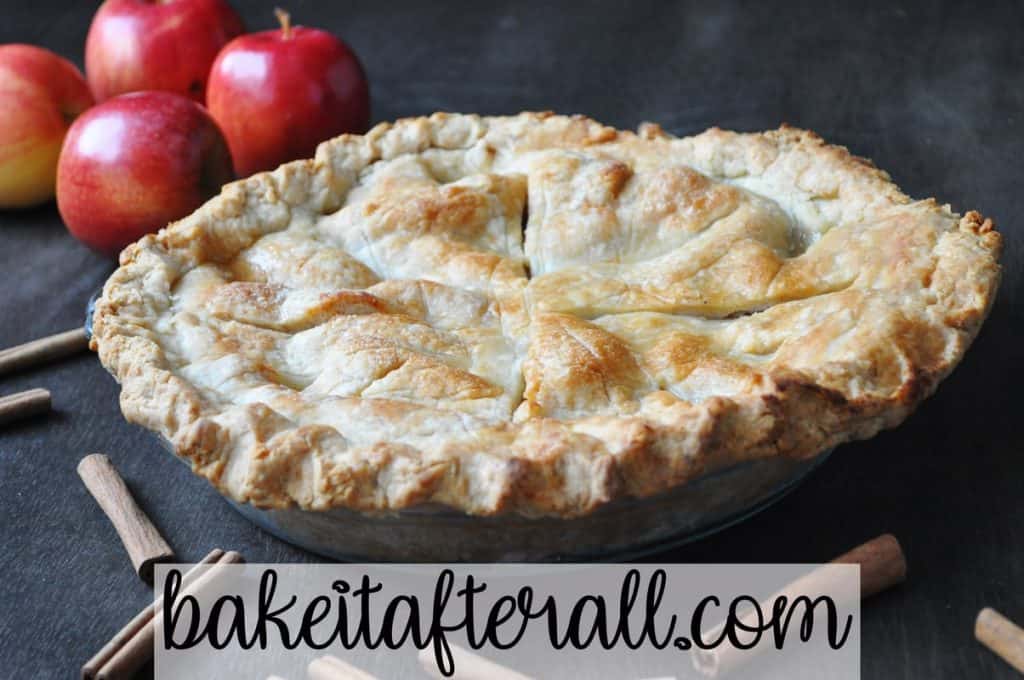 If July is all about peaches and August is all about blueberries, then September is all about apples. I can't believe I've never posted a Classic Apple Pie recipe before! I have shared the Apple Crumble Pizza Pie recipe, which is one of our favorites, but each fall I have to make a traditional apple pie. The girls have come to associate early fall with apple pie baking, almost as much as they look forward to homemade Apple Cider Doughnuts.
Pie Crust Recipe
I use my favorite all butter pie crust for all of my fruit pies. I've recently shared how I adapted this recipe to make a gluten free pie crust. In my post on Fresh Peach Pie, I show some tips for rolling out the gluten free pie dough, as it is more fragile than traditional pie dough.
Apple Pie Filling
For the filling, I combine apple pie recipes from my Betty Crocker Cookbook and from America's Test Kitchen Complete TV Show Cookbook.
I like to keep the filling ingredients simple. Sugar for sweetness, flour for thickener, and to give some seasonal flavor: cinnamon and nutmeg. A bit of lemon juice adds some brightness, and a little salt helps balance the sweet.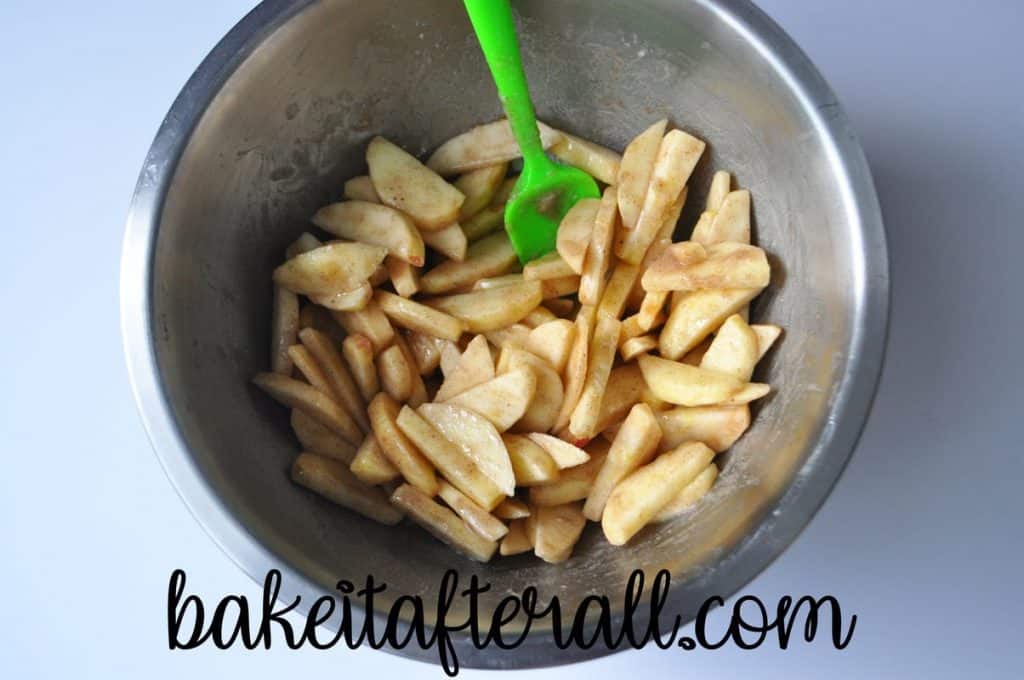 What kind of apples to use for apple pie filling?
Most cookbooks recommend using tart apples for apple pie. You'll even hear people refer to apples as "pie apples" and "eating apples." Typically a more tart apple like Jonathan or Granny Smith is recommended for pie. Some recipes suggest a mixture of tart and sweet apples.
I tend to lean toward using the kind of apples you like to eat. When we go apple picking, we mainly get Golden Delicious, and I've had success using these apples in apple pie. I've also used Fuji apples for pies, and they're delicious. Although both of these varieties are sweeter apples, I don't usually notice too much of a difference. My advice is not to stress about the type of apple. Use what you have or what you like!
Assembling the Pie
The apple filling is placed inside a pastry-lined pie plate. I like to use a glass pie plate so that I can monitor how the bottom crust is baking. I could have even added more apples to this pie, but I ran out of apples!
The top crust is added, edges are sealed and fluted, and slits cut into the top crust to vent. Then the top crust is brushed with water or cream using a pastry brush and sprinkled with sugar.
How to Bake the Perfect Pie
I have one major tip for baking the perfect pie: foil is your friend. My favorite way to bake a perfect pie is to use an aluminum foil ring. This ring allows you to adjust how the inner versus outer crust is baked. At this point, you can make a decision: 1) add the foil ring from the start and remove it once the inner crust has browned or 2) add the foil ring after the outer crust has browned.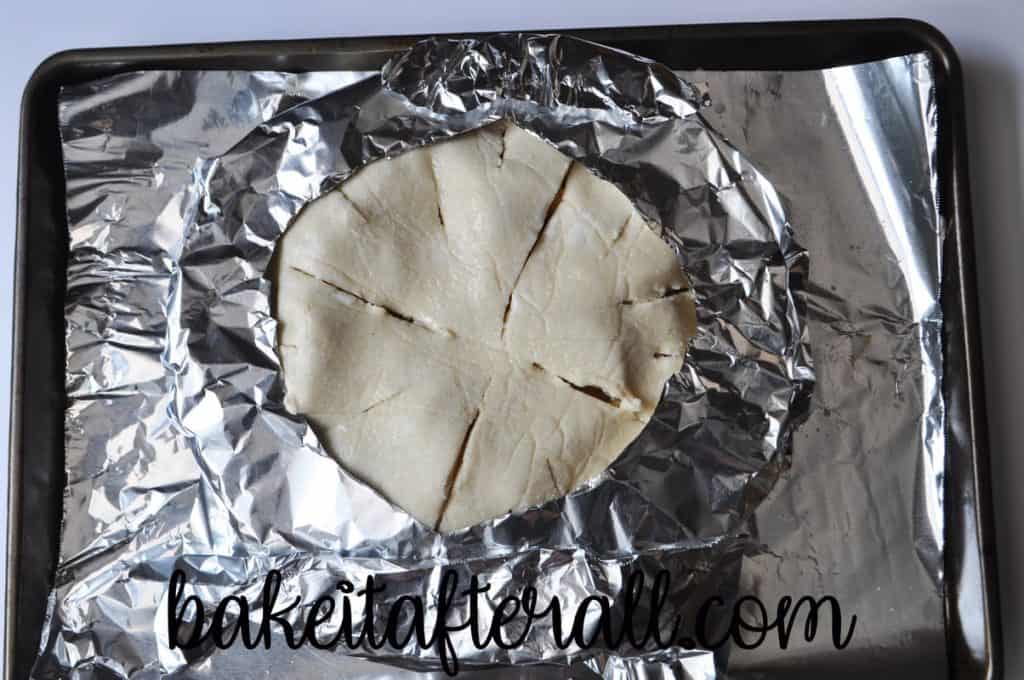 I usually start off with the foil ring on and remove it later. Lately, I've had some trouble with the foil sticking to my gluten free pie crust. I even tried adding a little nonstick cooking spray to the foil and it still stuck. For this reason, I suggest baking the pie for at least a little bit before adding the foil ring if you are using a gluten free crust. I don't remember having this issue with traditional pie crust.
The best part about the foil ring is that you can remove it and add it back if needed. Often I will remove it and then realize that I'd like the inner crust to be a little more brown, so I just add it back.
Top Crust Baked Before Bottom Crust
One major benefit of using a glass pie plate is that you can see the color of your bottom crust and know whether it is properly browning. Sometimes the entire top crust is nice and brown, but you can tell that the bottom crust is not done. What to do? Remember, foil is your friend!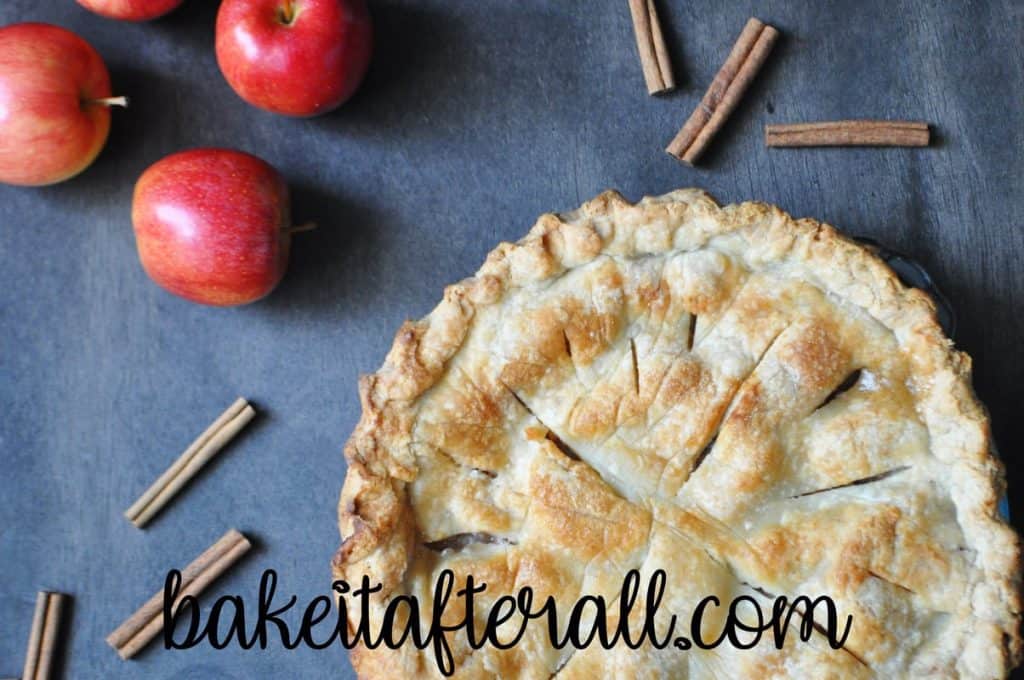 Add a piece of foil loosely over the entire top of the pie and move the pie to the lowest rack in your oven. This will focus the heat to the bottom of the pie and prevent the top from further browning. You don't want to cover the pie tightly with the foil. We want a crispy top crust. We do not want the steam from the apples to soften that beautiful, flaky crust!
Gluten Free Classic Apple Pie
To make an entirely gluten free apple pie, use this all butter gluten free pie crust recipe for the crust and substitute a gluten free flour in place of all purpose flour in the apple pie filling. I like to use Bob's Red Mill Gluten Free 1 to 1 Baking Flour.
Looking for More Apple Recipes?
Check out these other Fall recipes featuring apples:
Apple Crumble Pizza Pie
French Apple Cake
Apple Cider Doughnuts
Caramel Apple Bars
Apple Pie Ice Cream Floats
Apple Cider Caramels
Browned Butter Cookies with Apple Cider Caramels
A basic, classic apple pie recipe with the flavors you expect from this seasonal dessert.
Ingredients  
For the Filling:
1/2

cup

sugar

1/4

cup

flour

(all purpose or gluten free)

3/4

teaspoon

ground cinnamon

1/4

teaspoon

ground nutmeg

1/4

teaspoon

of salt

1

tablespoon

lemon juice

6

cups

thinly sliced peeled apples

(approx. 6-8 medium)

2

tablespoons

firm butter

(if desired)
For the Crust:
pie crust for a double crust pie

(see note)

2

teaspoons

water

(or cream )

1

tablespoon

sugar
Instructions 
Heat oven to 425 degrees F. Line a baking sheet with aluminum foil and set aside.

Roll out the bottom crust dough and fit into a 9-inch pie plate. Roll out the top crust and set aside.

In a large bowl, combine the sugar, flour, cinnamon, nutmeg, and salt. Stir in the apple slices and lemon juice.

Transfer the filling mixture into the pie plate lined with the bottom crust. Cut butter into small pieces and sprinkle over apples.

Cover the apples with the rolled top crust. Seal the edges of the pie and flute the crust using your index finger on one hand and your thumb and index finger on your other hand. Cut slits in the top crust to vent.

Use a pastry brush to brush water or cream over top pastry and sprinkle with sugar.

Cover the edges of the crust with a ring of aluminum foil to protect the outer crust from browning too quickly. Alternatively, you may start to bake the pie and add the aluminum foil ring when the outer crust looks brown. (See note).

Place pie plate onto the aluminum-lined baking sheet and plate into oven.

Bake 40 to 50 minutes or until crust is golden brown and and juices begin to bubble through the slits. Once the center of the top crust has started to brown, remove the foil ring and allow the outer crust to brown. If the outer crust begins to brown faster than the inner crust, replace foil ring and continue to bake until the inner crust is properly baked.

Remove pie and cool for at least 2 hours before serving.
Notes
You're Gonna Bake It After All
bakeitafterall.com
Find the All Butter Pie Crust Recipe HERE and All Butter Gluten Free Pie Crust Recipe HERE
An aluminum foil ring is your tool to adjust how the outer crust bakes relative to the inner crust. Without a foil ring, the outer crust tends to cook more quickly. You may choose to start off baking the pie with the foil ring on then remove it once the inner crust starts to brown, or you may allow the outer crust to brown then add the ring to allow the inner crust to continue to bake. If at any point your outer crust is looking brown before your inner crust, add the foil ring and continue to bake.
---
---