Apple Cider Doughnuts
Homemade Apple Cider Doughnuts are the ultimate fall treat! An apple cake doughnut dipped in a cider glaze and coated in cinnamon sugar.
Apple picking is one of my favorite fall activities. My mom and aunt used to take my sister and I apple picking when we were kids. When I lived in Chicago, my BFF Kathleen and I decided to carry on the tradition. We found this awesome orchard County Line and looked forward to our yearly visits. One of our favorite parts was the apple spiced donuts! They were best fresh – warm and slightly crispy on the outside, perfect spiced apple cake-doughnut texture on the inside, covered in loads of cinnamon sugar! We would even stop at a gas station on the way in or out and get some milk to have with the doughnuts!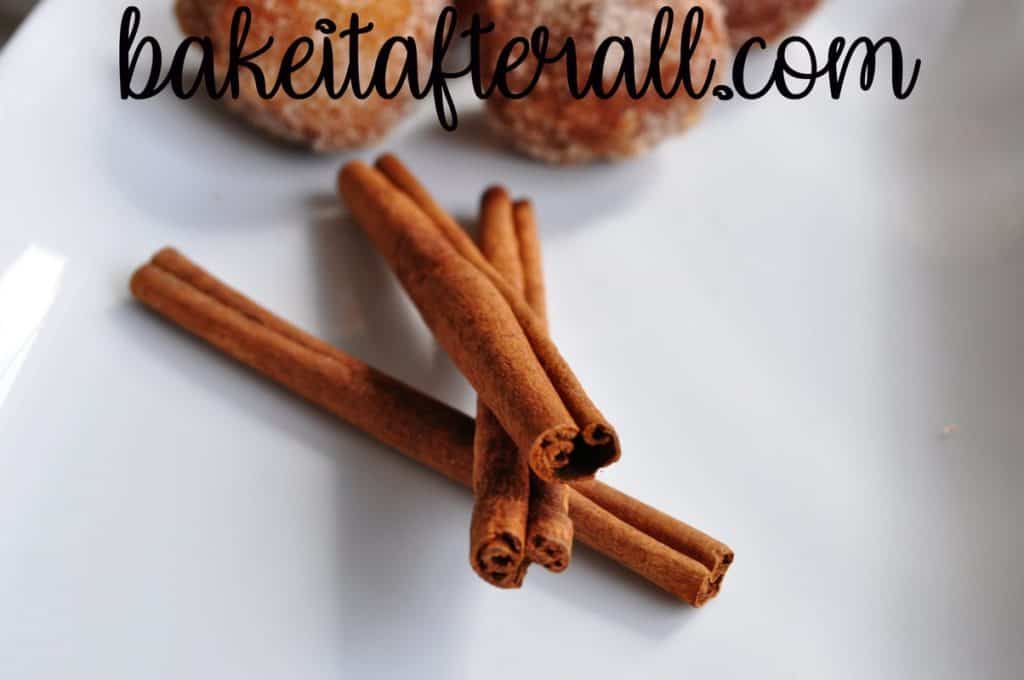 When we made the big move to St. Louis last year, I knew that I would be missing out on the apple doughnuts. We still pick apples here, but to my knowledge the local orchards don't serve these doughnuts…in fact, a lot of people around here have never heard of them.
Last fall, when I saw Megan post this Apple Cider Doughnut recipe, I got really excited that it might closely mimic my favorite orchard doughnuts! We had a very busy fall last year – moving into our house, still settling into our new jobs, getting our home ready to host our first Thanksgiving – things were a little hectic. The thought of making homemade doughnuts wasn't an option. Plus, I didn't have a proper vessel to use for deep frying… Then this spring, Kathleen used her amazing discount for the kitchen store she works for to help me purchase something I've been dreaming about for years – a Le Creuset French Oven!
The Le Creuset is perfect for deep frying, so I made these doughnuts a priority this year. I have to admit, I was a bit nervous to deep fry. I've never done it before, but I had a candy/fry thermometer and some baking soda/fire extinguisher on hand, so I went for it. I got fresh apples and apple cider from a local orchard on a Saturday, made the dough on Saturday night, and on Sunday morning we enjoyed these babies. And I have to say, they were better than the ones at County Line! Bob said they are probably his favorite thing I've ever made! Wow – that is huge. He's surprisingly picky. I invited my sister and brother-in-law over since they've actually made homemade doughnuts before, and they loved these as well. Everyone commented on how the real flavor of the apples and the cider comes through. I love that! I'm thinking the doughnuts sold at orchards are probably from a mix, not from fresh apples and cider!
This recipe isn't difficult, but it does take some patience. Fresh apples are simmered in apple cider until soft, then pureed into a fresh apple sauce, which is reduced and incorporated into a cake doughnut dough. The dough chills for at least 2 hours (preferably overnight). Once chilled, the dough can be shaped however you'd like – traditional doughnuts or doughnut holes – and then fried, dipped in a reduced cider glaze, and rolled in cinnamon-sugar. YUM!
I think we've decided to make these doughnuts a yearly tradition in our house. I hope our daughter will love apple picking as much as I do, and I'm sure she'll love these doughnuts! 🙂
Tips for Frying Doughnuts
I like to use an enameled cast iron pot for frying these doughnuts. I have a Le Creuset, but Amazon has a bunch of great ones. I've heard the Lodge brand is very good and similar quality to its pricier competitor. Amazon also offers their own brand at a reduced cost.
Two other tools that make frying easier were gifted to me by my sister and brother-in-law for my birthday one year. They are a fry thermometer and a wire spider strainer.
The candy/fry thermometer is crucial to maintaining a good temperature. It clips to the side of the pot and remains there during frying. When you add the cold doughnuts, the temperature of the oil drops, so you'll have to wait a bit in between batches to get the temperature back up.
The wire spider strainer makes it so easy to flip and remove the doughnuts from the oil. You can even use it to lower the uncooked doughnut into the oil if you don't want to risk the oil splattering from dropping them in by hand.
While you still have the oil out and hot . . . consider making some of these AMAZING Onion Strings with the leftover buttermilk!
Gluten Free Apple Cider Doughnuts
I haven't tried it myself yet, but I have very good luck using a measure for measure gluten free flour in place of all purpose in baked good. My favorite is Bob's Red Mill Gluten Free 1 to 1 Baking Flour.
Looking for More Apple Recipes?
Check out these other sweet apple treats:
Caramel Apple Bars
Classic Apple Pie
Apple Crumble Pizza Pie
French Apple Cake
Apple Pie Floats
Homemade Apple Cider Doughnuts are the ultimate fall treat! An apple cake doughnut dipped in a cider glaze and coated in cinnamon sugar.
Ingredients  
For the Doughnuts:
2

apples

(such as Cortland, McIntosh, or Golden Delicious)

1 1/2

cups

apple cider

3 1/2

cups

all purpose flour

(plus more for dusting)

4

teaspoons

baking powder

1/4

teaspoon

baking soda

1 1/2

teaspoons

ground cinnamon

1

teaspoon

salt

1/4

teaspoon

nutmeg

2/3

cup

granulated sugar

3

tablespoons

vegetable shortening

1

egg plus 1 egg yolk

1/4

cup

buttermilk

1

teaspoon

vanilla extract

Vegetable oil

(for frying, about 2 1/2 quarts)
For the Glaze:
2

cups

apple cider

1/2

cup

confectioners' sugar
For the Topping:
1 1/2

cup

sugar

1

tablespoon

ground cinnamon

(feel free to add more if you prefer a higher cinnamon to sugar ratio)
Instructions 
Make the Doughnuts:
Core and coarsely chop the apples (do not peel). Combine the apples with 1 1/2 cups cider in a medium saucepan over medium heat; cover and cook until softened, about 8 minutes. Uncover and continue cooking until the apples are tender and the cider is almost completely reduced, about 5 minutes.

Pour the mixture into a food processor, and puree until smooth (or use an immersion blender). Pour the applesauce into a measuring cup. If you have more than 1 cup, return the applesauce to the saucepan, and boil until reduced to 1 cup. (I had to do this step). Let cool slightly.

While the apples are cooking, whisk the flour, baking powder, baking soda, 1 1/2 teaspoons cinnamon, salt, and nutmeg in a medium bowl.

In bowl of electric mixer fitted with the paddle attachment, combine 2/3 cup granulated sugar and the shortening, and beat on medium speed until sandy.

Beat in the egg and yolk, and then gradually mix in the applesauce, scraping the bowl. Mix in half of the flour mixture, then the buttermilk and vanilla, and then the remaining flour mixture. Mix to make a sticky dough; do not overmix.

Scrape the dough onto a lightly floured sheet of parchment paper laid on a sheet pan turned upside down. Roll dough in the flour to lightly coat (I added this step, as the dough stuck to the parchment so perhaps this will help). Pat dough into a 7-by-11-inch rectangle, about 1/2 inch thick. Cover with plastic wrap and refrigerate for at least 2 hours or overnight. (Overnight is recommended because the colder the dough is, the easier it is to work with. It's a very sticky dough.)
Heat the Oil:
When you're ready to make the doughnuts, heat 2 inches of vegetable oil in a large heavy-bottomed pot over medium-high heat until a deep-fry thermometer registers 350 degrees.

While the oil is heating, make the glaze (see below).
Make the Glaze:
Simmer 2 cups cider in a small saucepan over medium heat until reduced to 1/2 cup. Whisk in the confectioners' sugar, and set the glaze aside.
Make the Topping:
Mix 1 1/2 cups granulated sugar and 1 tablespoon (or more) cinnamon in a shallow bowl or pie plate; set the topping aside.
Fry the Doughnuts:
Line a baking sheet with paper towels, and set it near the stove.

Cut the chilled dough into rounds, using a floured-dipped 3-inch biscuit cutter. Cut out the centers of the doughnuts, using a 1- or 1.5-inch biscuit cutter. Or simply use the small biscuit cutter to cut all doughnut holes. (The dough expands when it hits the oil, so I ended up halving the doughnut holes made with a 1.5-inch biscuit cutter). At this point, I found it useful to lightly dust/roll the doughnuts in flour so they weren't so sticky. This really helped and didn't affect the frying process or the resulting taste of the doughnuts.

Using a skimmer, tongs, or your hands (be very careful!!!), slip 2 or 3 doughnuts or 4 or 5 doughnut holes at a time into the hot oil and fry until golden brown, 1 to 2 minutes per side for regular doughnuts, approximately 3 1/2 – 5 minutes for doughnut holes (this will depend on the temperature of the oil. I had a hard time regulating it with my electric range…perhaps gas is better for this?) I suggest starting out with one doughnut hole and seeing how long it takes to get the center totally cooked. This will give you a good idea of the outside color when the inside is cooked. Our first doughnut hole was gooey on the inside, but every other doughnut after that was perfectly cooked.

Transfer to the paper towels to drain. If you prefer to eat the doughnuts hot and fresh (like we did!), only allow the doughnuts to drain for a minute or so, then drop a doughnut into the cider glaze, roll around using tongs, and then transfer to cinnamon-sugar mixture and roll around to coat entirely. The original recipe suggests to just dip one side of each doughnut, but we like them totally coated in cinnamon-sugar!

Repeat with remaining dough. Check the oil temperature periodically, and adjust the heat as needed.
Notes
Note: You may want to return the remaining dough to the fridge in between fry batches so it doesn't get too warm and sticky. I found it helpful to keep plenty of flour on hand if the dough is sticking too much.
Source: Adapted from Delicious Dishings, originally from Food Network Magazine
You're Gonna Bake It After All
bakeitafterall.com
---
---