Pumpkin Chocolate Tart
Pumpkin Chocolate Tart is rich pumpkin pie filling inside a spiced chocolate tart shell that is coated with a layer of semisweet or bittersweet chocolate. All the flavors of fall in a festive, eye catching dessert!
UPDATE August 2020: This post was originally published on October 8, 2009. This pumpkin tart has been a staple at our Thanksgiving meal for years now. It's my girls favorite Thanksgiving dessert, and I look forward to it too. For my Thanksgiving tart, I use fall themed cookie cutters (like leaves, a pumpkin, or a turkey) and put melted bittersweet or semisweet chocolate chips inside, then remove the cutter and let the chocolate set. This creates festive little chocolate decorations that I place on the tart before serving. I serve this tart with whipped cream.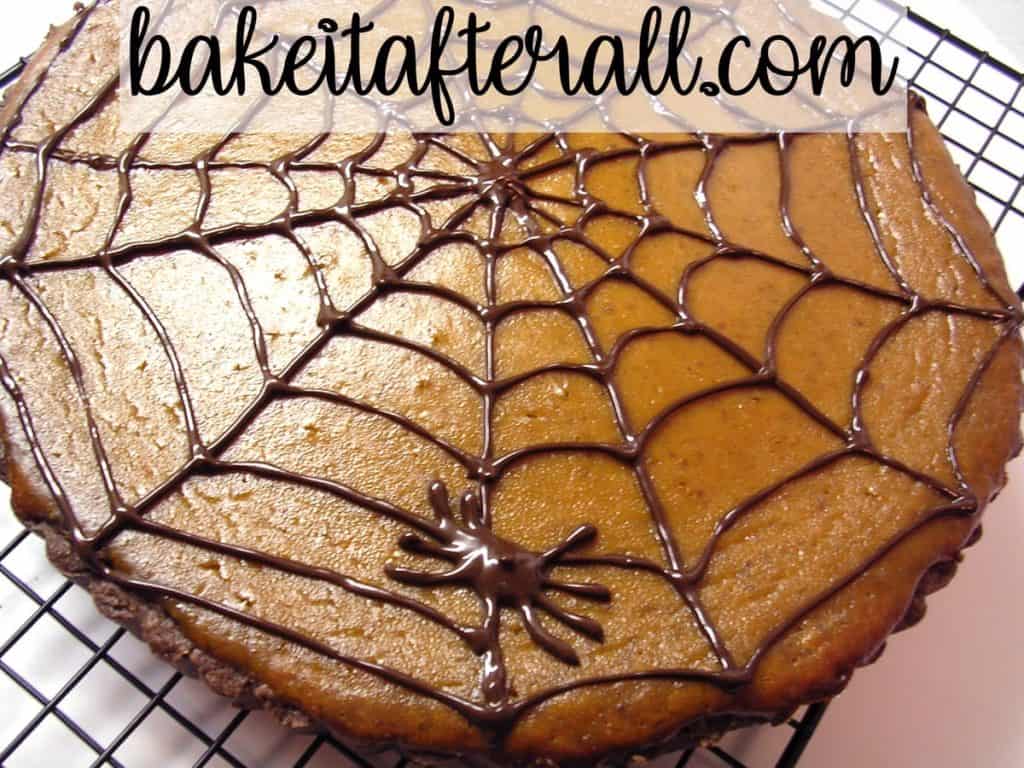 Last week I saw Martha Stewart on the Today Show featuring some sweet and savory pumpkin dishes. The first thing that caught my eye was this pumpkin tart, mainly because I loved the spider web design! Since I've been trying to come up with a dessert to make in my new mixer and take to lab meeting, this was perfect. First of all, the mixer is awesome!!! Love it! It mixes so wonderfully and is very easy to operate and clean. I can't wait to start challenging it with meringues and yeast doughs!  
This tart was pretty simple to make, and even the design was fairly easy. I guess I didn't use enough flour when rolling out the crust dough because it was a bit sticky, so it started to fall apart when I transferred it to the tart pan. I simply just pressed it together like you might do for crumb type crusts, and it was fine.  
Now for the taste: The crust has some nice spiciness to it because of the cinnamon and cloves. I thought the spices paired nicely with the chocolate; it almost tasted like gingerbread. One thing I loved about the crust was the layer of chocolate on top – seriously good. One member of my lab even commented that the crust can be used for a number of recipes. The pumpkin filling was really delicious – with all of the 'moistness' and spiciness you expect from a pumpkin pie. I really, really like this dessert. I think the combination of chocolate and pumpkin is fantastic. It was simple to put together, and everyone loved it – especially the design!
Gluten Free Pumpkin Tart
I have made this several times using my favorite Bob's Red Mill Gluten Free 1 to 1 Baking Flour instead of all purpose, and you'd never be able to tell a difference! The dough is just as workable and the exact same flavor!
Looking for More Pumpkin Desserts?
Check out these other dessert recipes featuring pumpkin:
Mini Pumpkin Cheesecakes
Chocolate Pumpkin Cheesecake Bars
Pumpkin Chocolate Cheesecake Bars
Chocolate Chip Pumpkin Bread
Pumpkin Scones
A spiced chocolate crust, coated with solid chocolate, and filled with a creamy pumpkin pie filling. This dessert is perfect for fall!
Equipment
10-inch tart pan

fine mesh sieve/strainer
Ingredients  
For the crust:
1

cup

all purpose flour

(plus more for work surface)

1/4

cup

plus 1 tablespoon sugar

1/4

cup

unsweetened cocoa powder

1/2

teaspoon

salt

1/2

teaspoon

ground cinnamon

1/4

teaspoon

ground cloves

1/2

cup

cold butter, cut into small pieces

(1 stick)

1

large egg

4

ounces

best-quality semisweet or bittersweet chocolate

(finely chopped)
For the filling:
15

ounces

canned pumpkin puree

3/4

cup

firmly packed light-brown sugar

8

ounces

creme fraiche or sour cream

3

large eggs

1

teaspoon

ground cinnamon

1

teaspoon

ground ginger

1/4

teaspoon

ground nutmeg

1/8

teaspoon

ground cloves

1/4

teaspoon

salt
Instructions 
To make the crust:
In the bowl of an electric mixer fitted with the paddle attachment, combine flour, sugar, cocoa, salt, cinnamon, and cloves. Add butter; mix on low speed until butter is the size of small peas, about 5 minutes. Add egg; mix until ingredients come together to form a dough.

Preheat oven to 350°F. On a lightly floured working surface, roll out dough to just thicker than 1/8 inch. Brush off excess flour; transfer dough to a 10-inch tart pan with a removable bottom. Press dough into bottom and up sides of pan; trim excess to make flush with edge. Lightly prick bottom of dough all over with a fork. Chill until firm, about 30 minutes.

Bake shell until firm, about 15 minutes. Immediately sprinkle chocolate over bottom of shell; smooth with a spatula.
To make the filling:
In a medium bowl, whisk together pumpkin puree, brown sugar, creme fraiche/sour cream, eggs, cinnamon, ginger, nutmeg, salt, and cloves until smooth. Pass mixture through a fine mesh sieve/strainer set over a clean bowl; discard solids. Pour filling into prepared crust.

Bake until filling is set, about 40 minutes. Transfer to a wire rack, and let cool at least 30 minutes.

Decorate as desired.

Refrigerate until well set, at least 1 hour and up to 1 day.
A spooky addition to the top of your tart, this chocolate spider web pattern is sure to be a hit!
Ingredients  
1

prepared Pumpkin Chocolate Tart

2

ounces

best-quality semisweet or bittersweet chocolate
Instructions 
Set a heatproof bowl, or the top of a double boiler, over a pan of barely simmering water. Melt chocolate in bowl, stirring occasionally; remove from heat.

Place melted chocolate in a resealable bag with a corner cut off or in a disposable pastry bag with small circular tip (such as a #2 tip).

To make the web, pipe the long lines across the entire tart, like you would slice a pizza. Then pipe the curved lines to connect the long lines.

To make a spider, pipe a quarter sized circle of chocolate and then pipe 4 legs on each side of body.

Allow the chocolate to cool and set, then refrigerate tart until ready to serve.
Notes
Source: Adapted from Martha Stewart
You're Gonna Bake It After All
bakeitafterall.com
---
---