Chocolate Babka
This Chocolate Babka is a lighter yeast bread dough swirled with cinnamon and chocolate with a streusel topping. Less calories, full flavor!
I like to have TV on in the background when I'm cleaning, blogging, or lately, packing. Luckily I found an "I Love Lucy" marathon the other day! One of my favorite episodes came on – where Lucy and Ethel take on the roles of Pioneer Women and make their own bread and butter. Lucy mistakenly uses 13 cakes of yeast in her bread; the recipe called for 3. What ensues is kind of ridiculous, but pretty funny, and got me in the mood to make a yeast bread!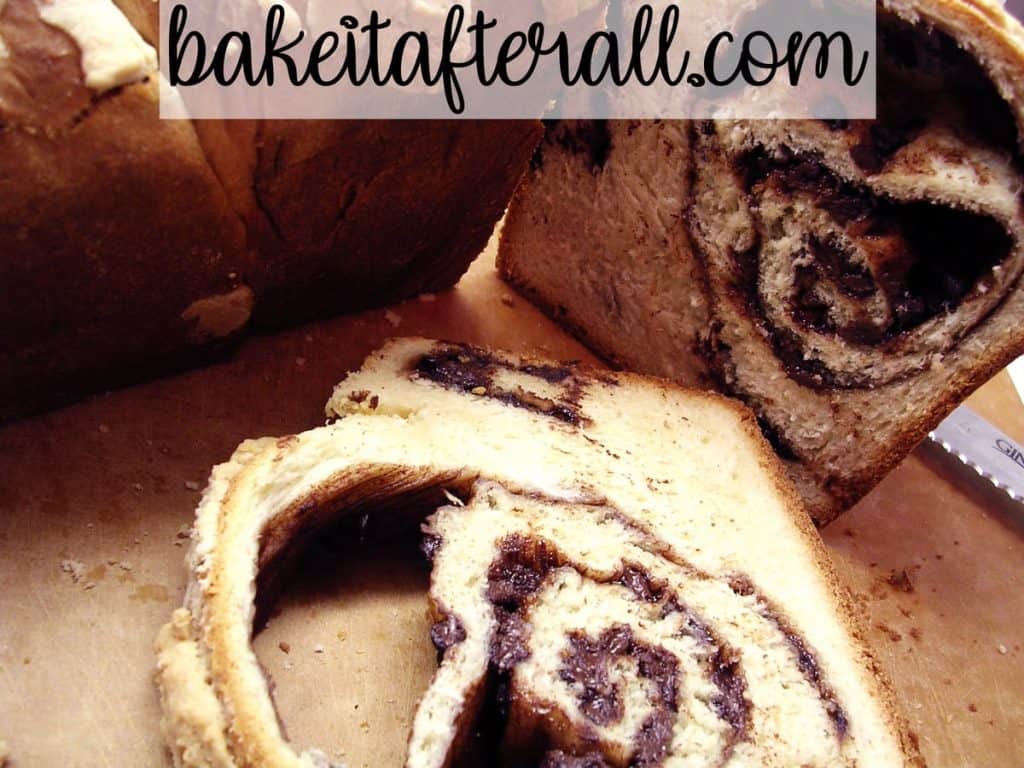 I've been saving this recipe since January when I saw it on Sugar Plum and finally decided to make it. My Polish relatives used to bring homemade babka to family functions. I've never made any sort of babka before, so I thought I'd practice with this one before attempting my family recipe. Plus, a Cooking Light recipe that involves chocolate and cinnamon? Sign me up!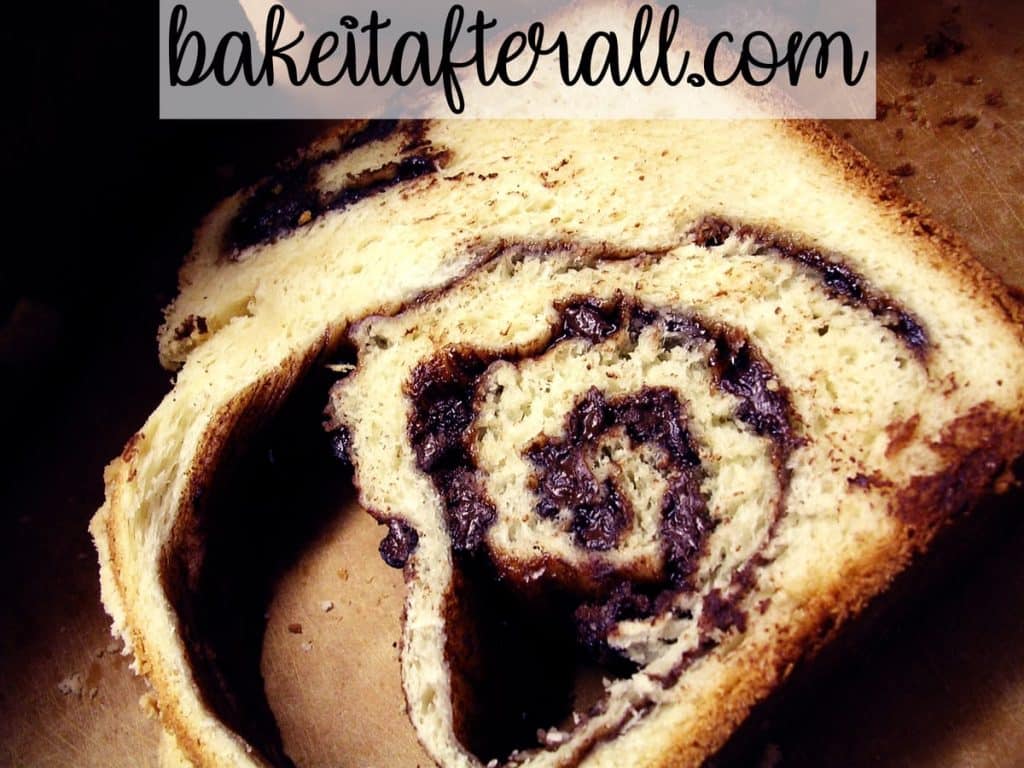 A quick Wikipedia search turned up that this version of babka is a spin on the Eastern European Jewish tradition. Different from the Polish version I've had in the past, but certainly delicious sounding!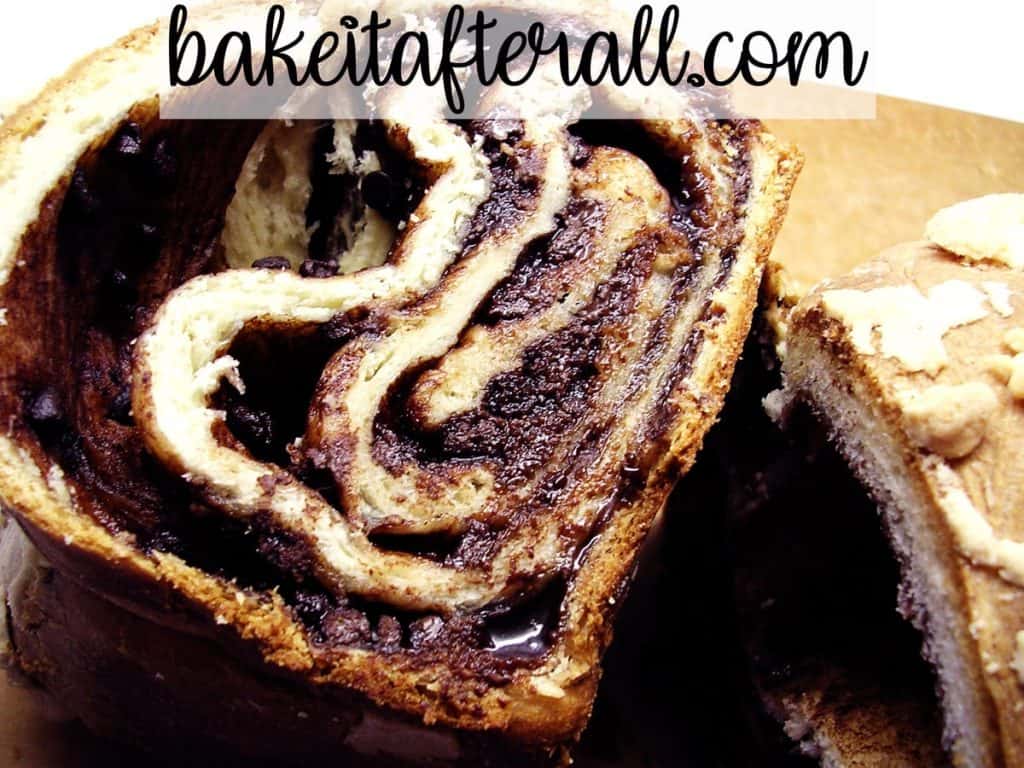 I really should have read the recipe reviews first, because although they are overwhelmingly positive, they would have alerted me to a mistake in the recipe. The streusel topping calls for softened butter, rather than cold. This goes against everything I've ever read about streusel, but I went with it. The mixture turned into a paste rather than crumbs. I decided to just use it anyway and it looks, well…interesting 🙂 I've made the change in the recipe card.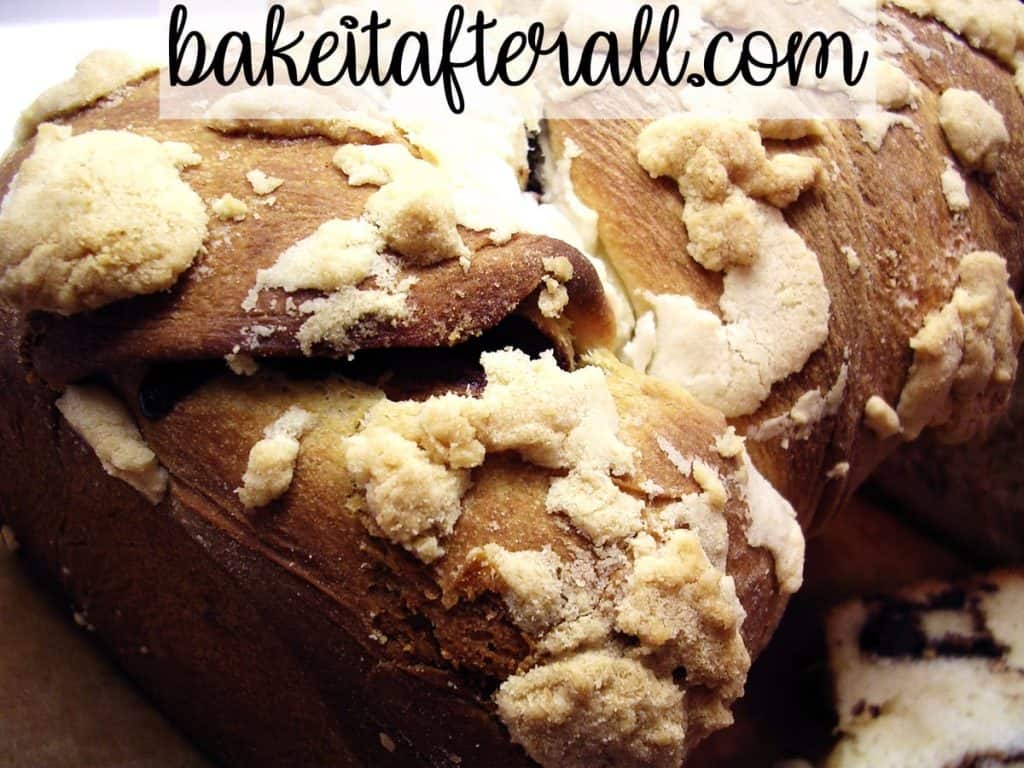 One other problem with my bread is that the top layer seems to have separated from the others on one end of the loaf, maybe because the other layers didn't rise as well during baking? Or maybe I just didn't roll it up tight enough. Like I said, I need practice with this before I try to make our family recipe!
Regardless, the bread was still delicious. We love the cinnamon and chocolate flavors together! I'm happy to report that this bread certainly doesn't taste "light." Bob was really surprised by how much he liked it. He took out the butter and a knife prepared to slather his slice, but soon realized he didn't need it. His words: "I usually don't like dessert breads that much, but this is great" and "I would pay for this stuff!" I'd say this recipe is a keeper!
Gluten Free Babka
Although I have good luck using Bob's Red Mill Gluten Free 1 to 1 Baking Flour in baked goods, I have trouble using it in yeast breads. The breads don't rise properly. If you decide to try this recipe with gluten free flour, please let me know how it turns out!
Looking for More Breakfast Recipes?
Check out these other recipes perfect for Breakfast:

SCONES:
Skinny Chocolate Chip Scones
Classic Cream Scones
Dark Chocolate Chip Scones

QUICK BREADS:
Blueberry Boy Bait
Cranberry Christmas Cake
Pineapple Carrot Bread
Poppy Seed Bread
Zucchini Bread
Ultimate Banana Bread
Double Chocolate Banana Bread

MUFFINS:
Allspice Crumb Muffins
Best Blueberry Muffins
Healthy Chocolate Banana Muffins

OATMEAL:
Baked Oatmeal
Ultimate Steel Cut Oatmeal

PANCAKES & WAFFLES:
Blueberry Buttermilk Pancakes
Blueberry Ricotta Pancakes
Blue Cornmeal Pancakes
Pumpkin Pancakes
Pumpkin Waffles

SAVORY BREAKFAST:
Perfect Crispy Potatoes and Breakfast Skillets
Quiche Lorraine Florentine
Breakfast Chicken Sausage Patties

This Chocolate Babka is a lighter yeast bread dough swirled with cinnamon and chocolate with a streusel topping. Less calories, full flavor!
Ingredients  
For the Dough:
1

teaspoon

granulated sugar

1

package active dry yeast

(about 2 1/4 teaspoons)

3/4

cup

warm 1% low-fat milk

(105 – 110 degrees F)

6

tablespoons

granulated sugar

1/2

teaspoon

vanilla extract

1/4

teaspoon

salt

1

large egg yolk

(lightly beaten)

7.5

ounces

all purpose flour

(about 1 2/3 cups, divided)

5.85

ounces

bread flour

(about 1 1/4 cups)

5

tablespoons

butter

(cut into pieces and softened)

Cooking spray
For the Filling:
1/2

cup

granulated sugar

3

tablespoons

unsweetened cocoa powder

1/2

teaspoon

ground cinnamon

1/4

teaspoon

salt

4

ounces

semisweet chocolate

(finely chopped )
For the Streusel:
2

tablespoons

powdered sugar

1

tablespoon

all purpose flour

1

tablespoon

butter

(cold)
Instructions 
Prepare the Dough:
Dissolve 1 teaspoon granulated sugar and yeast in warm milk in the bowl of a stand mixer; let stand 5 minutes.

Stir in 6 tablespoons granulated sugar, vanilla extract, 1/4 teaspoon salt, and egg yolk. Add 6 ounces (about 1 1/3 cups) all purpose flour and the bread flour to milk mixture; beat with dough hook attachment at medium speed until well blended (about 2 minutes).

Add 5 tablespoons butter, beating until well blended. Scrape dough out onto a floured surface. The dough will be very sticky. Knead until smooth and elastic (about 10 minutes); add 1.5 ounces (about 1/3 cup) all purpose flour, 1 tablespoon at a time, to prevent dough from sticking to hands (dough will be very soft). **I used my mixer to knead the dough. I just set it to medium speed and used the dough hook to knead for 10 minutes. I added the 1.5 ounces of flour, 1 tablespoon at a time, to the dough every minute or so, until it was completely incorporated.

Place dough in a large bowl coated with cooking spray, turning to coat top. Cover and let rise in a warm place (85°), free from drafts, 1 1/2 hours or until doubled in size. Gently press two fingers into dough. If indentation remains, dough has risen enough. Punch dough down; cover and let dough rest 5 minutes. While the dough is rising, prepare the filling.
Prepare the Filling and Assemble the Loaf:
For the filling, combine 1/2 cup granulated sugar, cocoa, cinnamon, salt, and chocolate in a medium bowl; set aside.

Line the bottom of a 9 x 5–inch loaf pan with parchment paper; coat sides of pan with cooking spray.

Place dough on a generously floured surface; roll dough out into a 16-inch square. Sprinkle filling over dough, leaving a 1/4-inch border around edges. Roll up dough tightly, jelly-roll fashion; pinch seam and ends to seal. Holding dough by ends, twist dough 4 times as if wringing out a towel. Fit dough into prepared pan.

Cover and let rise 45 minutes or until doubled in size. Meanwhile, preheat oven to 350°F and prepare streusel.
Prepare the Streusel and Bake the Babka:
For the streusel, combine powdered sugar, 1 tablespoon all purpose flour, and 1 tablespoon cold butter, stirring with a fork until mixture is crumbly.

Sprinkle streusel evenly over dough. Bake for 40 minutes or until loaf is browned on bottom and sounds hollow when tapped.

Cool bread in pan 10 minutes on a wire rack; remove from pan. Cool bread completely on wire rack before slicing.
Notes
Source: Adapted from Cooking Light
You're Gonna Bake It After All
bakeitafterall.com
---
---