Leek and Potato Soup
Potato Leek Soup is a velvety soup based on a Julia Child recipe. Simple ingredients like potatoes, leeks, and butter.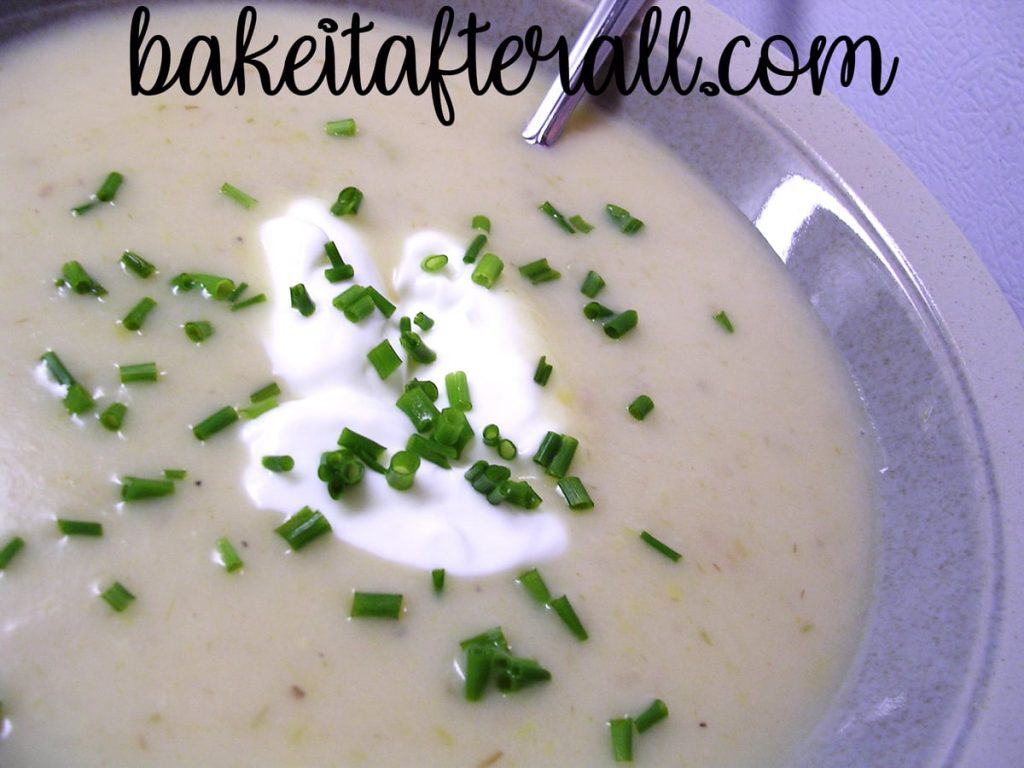 The first time I tried Leek and Potato Soup was at California Pizza Kitchen. I was in junior high, and I had never even heard of a leek! I was glad that I went ahead and tried it because it was such a delicious soup!
My sister sent me this Julia Child recipe several weeks ago after she made it. This was fantastic! It's the first Julia Child recipe I've ever made and hopefully not the last! It has surprisingly little butter for a Julia Child recipe, and many options so you can personalize the soup to your taste.
Gluten Free Potato Leek Soup
This recipe is naturally gluten free!
Looking for More Soup Recipes?
Check out my favorite soups:
Chicken Tortilla Soup
Homemade Turkey Soup
Roasted Tomato Soup
Butternut Squash and Apple Soup
Black Bean Soup
A classic, velvety soup with the flavors of potato and leek.
Ingredients
3

tablespoons

butter

3

cups

sliced or minced leeks

(white parts only, or onions, or a combination of both)

3

tablespoons

flour

2

quarts

hot water

(or 4 to 6 cups water plus milk added at end of cooking)

1

tablespoon

salt

ground black pepper

(to taste)

1

cup

tender green part of the leeks

(sliced or minced)

4

cups

potatoes, peeled, and roughly chopped

(about 1 1/2)

1/3 to 1/2

cup

heavy cream or sour cream

2 to 3

tablespoons

butter

(optional )

2 to 3

tablespoon

minced fresh parsley and/or chives
Instructions
Melt butter over moderate heat in a 3- to 4-quart heavy-bottomed saucepan. Stir in the leeks and/or onions, cover pan, and cook slowly for 5 minutes without browning.

Blend in the flour, and stir over moderate heat for 2 minutes to cook the flour without browning. Remove from heat, let cool a moment, and gradually beat in a cup of hot water. Blend thoroughly with the flour and vegetables, then stir in the rest of the water. Note: If you want to use milk, add it at the end of the cooking – it will curdle if you add it now.) I used 6 cups water now and 2 cups milk at the end.

Stir in the salt and pepper, optional green of leeks, and the potatoes. Bring to a boil, and simmer partially covered for 40 minutes, or until vegetables are thoroughly tender.

For a peasant-type soup, mash the vegetables in the pan with a mixing fork or potato masher. For a smoother texture, put through medium blade of a food mill. I used an immersion blender and it worked perfectly.

"Final enrichments": To serve the soup, stir in the milk if using, and blend in as much of the cream/sour cream as you wish. Add salt and pepper to taste. Off heat, stir in the extra butter if desired. Decorate each serving with more cream/sour cream and a sprinkling of herbs.
---
---